原文标题:Book on Gandhi's leadership qualities to hit stands in China
原文链接:http://timesofindia.indiatimes.com/world/china/Book-on-Gandhis-leadership-qualities-to-hit-stands-in-China/articleshow/15289684.cms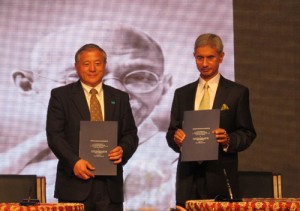 BEIJING: A book written by veteran Indian diplomat Pascal Alan Nazareth on Mahatma Gandhi's outstanding leadership qualities, which have great relevance in today's world plagued by violence and terrorism, has been translated into Mandarin and will soon hit the stands in China.

The Mandarin edition of Nazareth's book entitled "Gandhi's Outstanding Leadership" will be published in China at a time when the new generation of Chinese intellectuals is showing interest in the Gandhian principles despite being influenced by Chairman Mao Zedong's revolutionary ideals.



印度资深外交官帕斯卡尔·艾伦·纳扎里斯先生所著《甘地:杰出的领导力》一书在遭受暴力和恐怖主义困扰的当今世界中有很大意义。该书的中文版不久会在中国上架发行。





纳扎里斯先生所著《甘地:杰出的领导力》一书的中文版将在这样的背景下发行,即尽管受毛革命理想的影响,中国新一代知识分子还是对甘地主义原则显示出兴趣。



An MoU in this regard was signed today by Indian Ambassador S Jaishankar and Yu Dianli, CEO of the Commercial Press China, at a function at the Indian embassy here. Nazareth has written extensively on Mahatma Gandhi. His book on Gandhi's leadership published in 2006 was translated into Spanish and Portuguese, besides several Indian languages.

Incidentally, this is the second book on Gandhi in Mandarin to be released in China. It will come out in markets next year. 'The Gandhi Memories', written by American journalist William L Shirer, recently hit the stands in China.



印度驻华大使苏杰生和中国商务出版社首席执行官于殿利在印度大使馆签署谅解备忘录。纳扎里斯撰写的有关圣雄甘地的著作颇丰。他所著的《甘地:杰出的领导力》一书在2006年发行,随后被翻译成西班牙语和葡萄牙语,此外还有几种印度语言。





顺便说下,本书是在中国发行的第二本圣雄甘地题材的中文版书籍,将于明年面市。美国记者威廉·L·夏勒所著《甘地的回忆》一书最近在中国上架发行。



Speaking on Nazareth's book, Jaishankar said the publication of the Chinese edition is timely as it would highlight the importance of soft power and the limitations of hard power. The book also highlights the distinction between progress, modernisation and westernisation, dwells on the role of ethics in leadership and how national leaders acquire universal relevance, he said.

Shang Quanyu, the history professor of the South China Normal University who translated the book, said it was a trail blazer because it was a rare book that highlighted Gandhi's leadership qualities and Mahatma's ideas on leadership, which have great relevance today.



在谈及纳扎里斯的著作时,苏杰生说该书中文版的发行是及时的,因为它强调了软实力的重要性和硬实力的局限性,进步、现代化及西化之间的区别,道德在领导力中的作用,国家领导人如何获得普遍认可等。





该书的译者——华南师范大学历史教授尚权余说,《甘地:杰出的领导力》一书是迄今第一部,也是唯一一部专门探讨甘地领导力和领导思想的著作,在当今世界有重要的意义。




以下是印度网民的评论:




Zio (india) 20 hrs ago
How about translating the Vedas Upanishads Mhabharat Ramayan and other Old Indian books like Panchtantra etc into chinese? Its a REAL REAL SHAME two neighbourswho are such ancient civilizations knwo so little about one another AT THE COMMON MAN LEVEL
Agree (16)Disagree (3)Recommend (8)



你们认为把吠陀经的《奥义书》、Mhabharat Ramayan和其他诸如《五卷书》等那样的古老印度书籍翻译成中文怎么样?如此古老的两个文明邻国的老百姓相互知之甚少真是遗憾。
MAHESH KG (Delhi)
I find a good biz potential here. Translate all epics to Chinese...!!
Agree (4)Disagree (2)Recommend (2)



我发现了巨大的商机。把所有史诗翻译成中文!
kapil garg (delhi)
Sonia is denying us Jan Lok Pal.... she along with bunch of Jokers wants indian to be back ward and slaves of Nehru Gandhi dynasty....
Agree (14)Disagree (4)Recommend (4)



索尼娅否定了我们的《公民检查法案》...他想与一群小丑一起让印度人保持落后和成为尼赫鲁甘地王朝的奴隶...




Sunil (New Delhi) replies to kapil garg 19 hrs ago
That is not true. It is us the Indian people who are enslaving ourselves. We can't say we have no voice, if we keep on voting in a party that is run by a family, who's fault is it? We have to take responsibility for our actions.
Agree (9)Disagree (1)Recommend (3)




那不是真的。是我们印度人在奴役自己。我们不能说自己没得选择。如果我们老是给一个家族统治的政党投票,那么是谁的错?我们必须得对自己的行为负责。




kapil garg replies to Sunil
In india most of votes are purchased.... poor people votes for 200 rs aur 100 rs daru.. educated them is a long process... and it is not possible...
Agree (2)Disagree (1)Recommend (0)




在印度,大多数选票被收买了...穷人为了200卢比而投票...教育他们是一个长期过程...并且是不大可能的...



Derrick Dias (Goa)
This proves that although China is leading the world in many fields it can still learn some thing from India ! What worries me is that they will come up with the book with the MADE IN CHINA stamp !
Agree (6)Disagree (9)Recommend (4)



这证明中国虽然在许多领域领先世界,但是仍向印度学习一些东西!令我担忧地是他们可能会给这本书贴上"中国制造"的标签。
Drs Sears Appalswamy (Breda, Netherlands) 19 hrs ago
I met young Chinese tourists in Thailand recently and they told me that they learn about Indian culture and history at school. I was surprised to note that these young Chinese people pray to the Murti of Lord Buddha. Chinese and Indians are very close spiritually and culturally. Closer than we thought. It is not impossibel for India and China to develop stronger relationships.
Agree (9)Disagree (4)Recommend (5)



我最近在泰国碰到年轻的中国游客。他们跟我说他们在学校里有学印度文化和印度历史。我吃惊地发现这些年轻中国人也拜释迦摩尼佛祖。中国人和印度人在精神上和文化上非常相近,比我们所想象的还更近。中印发展更强大关系并非不可能。




Simon Lee (UK) replies to Drs Sears Appalswamy
The most famous Chinese children book 'journey to the west' is about a monk and his followers travel to India to seek wisdom and the teaching of Buddha. All Chinese children learn about this book at the very young age and most probably the first book that read to them.




中国最著名的儿童图书《西游记》讲的是有关一个和尚和追随者前往印度取经的故事。所有中国孩子很小时就学这本书,很可能是他们读的第一本书(译文来源:三泰虎)。



darkknight17july (DoesItMatter)
Not something to be proud of .... We have put Gandhi on currency notes and it is the source/root of corruption/violence and most importantly GREED & POWER
Agree (4)Disagree (2)Recommend (0)



不是什么值得自豪的事情...我们已经把圣雄甘地印在纸币上了,纸币可是腐败和暴力的根源啊,最重要的是,它也是贪婪和权利的根源。
Ramesh Sargam (Bangalore, India)
It is highly possible to develop a better relationship with China. But the only hindrance is - politics. People of both the nations are good. But the politicians of both the nations are crooked. Unless these politicians behave properly India and China cannot expect a cordial relationship. So, as soon the book on Gandhi is released, 'gift' a copy to each of the Indian and Chinese politicians. Let them read it well and understand it well.
Agree (6)Disagree (1)Recommend (3)



中印发展更友好关系是很有可能的。唯一的障碍是政治。两国人民是友善的。但是两国的政客是狡诈的。除非这些政客行为正当,否则中印无法期望友好关系。所以一旦这本有关甘地的著作发行,应该给中印的每名政客送去一本。让他们读一读以便理解。
G.Ramachandran (MUMBAI) 18 hrs ago
With the Nehru family only interested in propagation of their dyansty and its doings, and the BJP with its RSS's anti Mahatma attitude,it is no wonder the Mahatma is getting more attention and reverence in countries other than India.
Agree (9)Disagree (1)Recommend (3)



尼赫鲁家族只对发扬光大他们的王朝感兴趣,而且印度人民党的极右翼组织秉持反甘地主义的态度,难怪圣雄在印度以外的其他国家受到更多的注意力和尊敬。
hashim (Sultante of Oman)
Gandhigiri will start in China too, hope so.
Agree (3)Disagree (1)Recommend (1)



甘地主义运动也会在中国开启,希望是这样。
tang (shanghai) 16 hrs ago
LOTS OF CHINESE WORDS FORM INDIA ,MY TEACHER TOLD US.
Agree (5)Disagree (4)Recommend (5)



我的老师告诉我们,许多中文词汇来自印度(译文来源:三泰虎)。




indian (Mumbai) replies to tang 15 hrs ago
Maybe Gandhi's thoughts are somewhat relevant to the Chinese but I feel with conviction that instead of criticizing the policies of the PRC at every opportunity, we should try to emulate their sheer hard working abilities and practical approach to problems and the way they have handled foreign policy to their benefit.We need to know more about China and the Chinese way of doing things.Let us have exchanges of thoughts and discussions in future.After all, let us not forget it was the Chinese who taught us the ways of the world in 1962, else we would have been ninnies andd would have let our national interests die a slow death.Hindi-Chini Bhai Bhai!
Agree (9)Disagree (2)Recommend (4)




也许甘地思想与中国人有点相关。不过我怀着这样的信念,即与其抓住每个批评中国政策的机会,倒不如努力模仿他们辛勤工作的能力、解决问题的实用方法、他们利己外交政策的处理方式。从今往后,让我们交流思想,相互讨论。别忘了,让我们不要忘记正是中国人在1962年教我们处世之道,否则我们还会是傻子,会让我们的国家利益慢慢消失。中印亲如兄弟!



Pronoy Kumar Ghose (Silchar)
A Great initiative, now Chinese people will be able to understand the value of non-violence and democracy
Agree (4)Disagree (7)Recommend (3)



伟大的创举。中国人现在能看懂非暴力和皿煮的价值了。




indian (Mumbai) replies to Pronoy Kumar Ghose 15 hrs ago
You are right, but only upto a point.Rather it is we Indians who need to learn from the Chinese, instead of the other way round.Remember, both our nations are populous and started with significant poverty levels which hampered our growth.But today the Chinese are light years ahead of us.We need to know how they did it.Everything cannot be explained by them having no democracy or elections.Burma is an example,no democracy and no progress either.




Even at the individual level Indians who have Chinese ethnicity in Kolkata, Ahmedabad, Mumbai, Bangalore and other places show great levels of industriousness and have made a success of their lives far above what their extremely small numbers in India would justify, be it in restaurants,leather industries,as dentists etc.Just proves, we need to be more appreciative of them, maybe some good will rub off on us too.
Agree (12)Disagree (3)Recommend (5)




你说得对,不过只有在某种程度上是对的。确切地说,是我们印度人需要向中国人学习,而不是反过来。记住:两国均是人口众多的国家,都是一贫如洗中起家,这种贫穷当时妨碍了我们的发展。但是中国人如今遥遥领先我们。我们需要了解他们是如何办到的。不能把一切都以没有皿煮或者没有选举来解释。缅甸就是个例子,没有皿煮,也没有进步。




甚至在个体层次上,加尔各答、阿默达巴德、孟买、班加罗尔和其他地方的印度华裔也表现出了很高的勤勉精神。他们在印度的人数非常少,但是他们的成功远远超过了其人口规模本该展现的正常水平。不管是在餐馆、皮革行业、牙医等,都是如此。我只是在证明我们需要赏识他们,也许我们能因接触他们而受到一些正面影响。



RAGHUPATHY JAGADEESAN (Coimbatore)
It is something to be proud of every Indian! Forget about modern Gandhis and think about the true philosophy and principles of our father of the nation! Every one has something to learn out of it! Let it become the Light of the Universe!
Agree (4)Disagree (2)Recommend (3)



这是值得每个印度人自豪的事情!别提现代的甘地家族了,想想我们国父的真正哲学和原则吧!每个人都能从中学到一些东西!让它成为宇宙之光吧!
RK (India) 14 hrs ago
Excellent! Chinese will slowly understand India and Indians - Positive as I hope!!!!!
Agree (6)Disagree (1)Recommend (2)



棒极了!中国人会慢慢理解印度和印度人。我希望是正面的!
I am Nobody (United States Of INDIA) 14 hrs ago
China Sucks............China Need Chanakya nor Gandhi.
Agree (2)Disagree (15)Recommend (1)



中国真烂...中国不是需要圣雄甘地,而是需要考底利耶。





(三泰虎注:考底利耶,古印度政治家,哲学家,摩揭陀国孔雀王朝大臣,曾协助旃陀罗笈多一世建立孔雀王朝。擅长权谋,后人称之"印度的马基雅维利")




somebody (Jai Rajputana) replies to I am Nobody 13 hrs ago
india neds chanakya , not mahatma gandhi.. the philosiphy of gandhi has made indians a loosers and cowards..
Agree (3)Disagree (3)Recommend (2)




印度需要考底利耶,不需要圣雄甘地...甘地主义让印度人成为了失败者和懦夫...




deep (Chennai) replies to somebody 12 hrs ago
You will get to know who are losers when Eurozone & US which are suffering from Downgrade of their economy falls. If you think Culture of Lavish spending (with out thinking of others) of money make them Loins and who spends money judiciously are slaves or loosers, then you are a fool. This is also one of the ghandian priciples.
Agree (0)Disagree (1)Recommend (0)




当欧元区和美国因经济恶化而倒下时,你会获知谁是失败者。如果你认为(不顾及别人情况下的)奢侈消费文化让他们成为狮子,认为谨慎花钱的人是奴隶或者失败者,那么你就是个傻瓜。这也是甘地主义的一个原则。




Somebody replies to deep 10 hrs ago
Living lavishly or simplicity is self perception of individual , for eg Laptop can be lavish for someone or it may be essential for others. This is unfortunate that that people think living poverty life is the virtue and if someone is wealthy he is greedy. nO doubt Bollywood has played key role for it. According to Sanatan Dharma there are 4 purushartha of human being Dharma artha kaam moksha ... Artha and Kaam are required and necessary for every one but that should be under Dharma ... Howsoever Gandhian philosophy was different , i am not against his simplicity life philosophy , coz he never said to be poor. I am just against his so called Strict non violence policy,, Non violence is already there in Sanatan Dharma , but it is not like Gandhian Non violence...
Agree (1)Disagree (0)Recommend (1)




奢华生活或者简单生活是个人的自我感觉,比如笔记本对于某些人来说是奢侈的,但对于其他人来说或许是必要的。不幸地是,人们认为生活贫穷是一种美德,认为如果有人富裕,那么他就是贪婪成性。毫无疑问,宝莱坞电影在其中发挥了重要作用。根据永恒之法,人类有四个追求目标:正义、成功、快乐、解脱...成功和快乐是每个人都需要的,不过必须在正义的前提下获得...然而甘地主义不一样。我不是反对他的简单生活哲学,因为他从来没有说简单生活就是指贫穷。我只是反对他所谓的严格非暴力不合作政策。永恒之法也有非暴力,但是和甘地主义的非暴力不一样...(译文来源:三泰虎)



Anup (Sydney) 14 hrs ago
It simply means nothing much for India or Indian values, its about Chinese progress towards knowledge. India as well need to learn from this and start translating all important literature in the world in local languages like Punjabi, Hindi, Marathi, Gujarati, Kannad, Tamil etc. Let knowledge be the focus and not the medium. Once IT and immigration rush will be over (it may have may be) then knowledge is the only asset to help us.
Agree (2)Disagree (1)Recommend (2)



对于印度或者印度价值来说,这并不算什么,只是中国人对知识的追求而已。印度也需要效仿,把世界上所有重要的著作翻译成旁遮普语、印地语、马拉地语、古吉拉特语、卡纳德语、泰米尔语等本地语言。让知识成为焦点,而不是关注知识媒介。一旦IT和移民潮结束,那么知识是唯一能帮助我们的资产。
Deen Kumar (Hyderabad)
in spite of economic competition, cultural interactions should be encouraged between the people of different nations
Agree (3)Disagree (1)Recommend (2)



尽管存在经济竞争,还是应该鼓励各国人民进行文化交流。
Atheist (Singapore) 12 hrs ago
Does that book make it VERY CLEAR that the Gandhi clan - Sonia Gandhi, Rahul gandhi, Indira Gandhi - HAS NOTHING TO DO WITH MAHATMA GANDHI??
Agree (4)Disagree (0)Recommend (1)



那本书是否有清楚阐明一点,即甘地家族——索尼娅·甘地、拉胡尔·甘地、英迪拉·甘地——与圣雄甘地之间是没有关联的?
Ashraf Mushahid (巴基斯坦拉合尔) 12 hrs ago
Everyone is knows that Gandhi was homosexual man who is enjoy sex with small boys and small animals like all Hindus and the stupid chinese cheinks should realize that Islamic Republic of Pakistan is nuclear power an if the cheinks is reeds India hero Gandhi books Pakistan will blow china and India to smithereens becos Pakistan is a Jihad countryu founded under principlas of love and sword of Islam by Proppet Mehmood. Pakistan Zindabad. Death to all Hindus and Cheinks of China who is not Muslims.
Agree (2)Disagree (6)Recommend (1)



大家知道甘地是男同性恋,喜欢与小男孩和印度教徒那样的小动物发生关系。愚蠢的中国佬应该认识到巴基斯坦伊斯兰共和国是核国家,如果中国佬阅读有关印度英雄甘地的书籍,那么巴基斯坦会把中国和印度碾成碎片,原因是巴基斯坦是一个在爱的原则和伊斯兰之剑的基础上建立起来的圣战国家。巴基斯坦万岁。让所有印度教徒和中国卡费勒去死吧。
Anil (Mumbai) 11 hrs ago
Give it to Assad of Syria.
Agree (1)Disagree (1)Recommend (1)



给叙利亚的阿萨德一本吧。
Paki (巴基斯坦) 11 hrs ago
Ironically Gandhi was black himself and so are the rest of indians but he dislike African people cuz they were little bit more darker than indians. Gandhi was Satan. He worshiped British and his generation is doing the same. oh plus Gandhi was gay too. His name is his best friend ..gandhi..gandh-u..:D
Agree (1)Disagree (4)Recommend (1)



具有讽刺意味地是甘地自己长得黑,其他印度人也是。但是他不喜欢非洲人,因为非洲人比他更黑一点。甘地是撒旦,崇拜英国,他的后代也是。哦,甘地还是同性恋呢...... :D




Arjan (India) replies to Paki 9 hrs ago
Gandhi is known world wide as a statesman, in ceratin foreign countires like the US they have streets and raods named after him, too bad cant say the same about Jinnah or any other paki for that matter. Heck the world didnt even know where and what pakistan was until 9/11. Saleh bhanggee ajate hain bheekh mangne
Agree (4)Disagree (0)Recommend (4)




甘地是世界著名的政治家,在美国等某些国家里,有一些街道和公路以他的名字命令。糟糕的是真纳或者其他巴基斯坦人没有这样的待遇(三泰虎注:真纳是巴基斯坦国父)。真见鬼了,在9/11之前,世界压根不知道巴基斯坦在哪.....




Davendra Naik (Rajkot (Gujarat, a Proud BJP State)) replies to Paki 11 hrs ago
Indians, please read this comment by a Paki, remember it and pass it on to your kids. This is what muslims in Pakistan think of us Indians. What chance is there of peace with these racists? Jinnah, the purported father of Pakistan said in a speech to his muslim brotherens that it was impossible for a muslim to live with Hindus and be friends with them. The prophet of islam said ordered his followers (muslims) not to make friends of Jews and Christians. There is a trend here, no prize for guessing it.
Agree (4)Disagree (2)Recommend (3)




印度人,请看巴基佬的这条评论,记住并告诉你们的孩子,巴基斯坦穆斯林就是这样看我们印度人的。和这些种族主义者哪有什么和平的机会?巴基斯坦所声称的国父真纳在一次演讲中对他的穆斯林兄弟说,穆斯林不可能和印度教徒生活在一起,彼此之间不可能成为朋友。伊斯兰教的先知命令穆斯林不要与犹太人和基督徒成为朋友。不用猜也知道,这里的趋势就是这样。



Ram Gopal (Rishikesh) 10 hrs ago
Britain learned and improved so much from Gandhi- let's hope the Chinese do as well.
Agree (3)Disagree (4)Recommend (2)



英国学了圣雄甘地的思想后进步很大,希望中国人也能有同样的表现(译文来源:三泰虎)。




Simon Lee (UK) replies to Ram Gopal
what has Britain learned from Gandhi? Passive resistence and curry?
Agree (1)Disagree (0)Recommend (0)




英国从甘地那里学到什么了?消极抵抗和咖喱?



Ramesh Babu (Chennai)
China definitely needs this book ,Because they follow Adolf's Policy ;
Agree (1)Disagree (3)Recommend (2)



中国无疑需要这本书,因为他们奉行阿道夫的政策。




Simon Lee (UK) replies to Ramesh Babu
I think the Chinese wants to learn from this book about what makes India so weak and so dependent on her colonial masters :-)
Agree (1)Disagree (0)Recommend (0)




我认为中国人想从这本书获知是什么让印度变得这么弱和这么依赖殖民宗主国 :-)



nobody (world) 3 hrs ago
india has nothing before british colonization. that's why indian believe it is "biggest democracy". that's why indian are proud of being "biggest english speaking nation" that's why indian are pround of gandi.



在英国殖民前,印度什么也没有。这就是印度人相信印度的皿煮是"最大皿煮"的原因,这就是印度人以"最大英语国家"而自豪的原因,这就是印度人以甘地为自豪的原因。
印度资深外交官帕斯卡尔·艾伦·纳扎里斯先生所著《甘地:杰出的领导力》一书在遭受暴力和恐怖主义困扰的当今世界中有很大意义。该书中文版的签约仪式在印度大使馆举行。2013年初会在中国发行。《甘地:杰出的领导力》一书强调了软实力的重要性和硬实力的局限性,进步、现代化及西化之间的区别,道德在领导力中的作用,国家领导人如何获得普遍认可等。是迄今第一部,也是唯一一部专门探讨甘地领导力和领导思想的著作。值得注意的是,有印度网友以"宇宙之光"来形容《甘地:杰出的领导力》。