中国一次性建设里程最长的万众瞩目的京沪高铁将于6月底开通运营。印度时报进行了相关报道。印度人如何看中国京沪高铁呢?在将中国的高铁和印度的铁路比较后,有印度网民感叹:"我们有子弹横飞,火车爬行,就是没有子弹头火车"。


原文题目:Now, reach Beijing to Shanghai in 5 hrs
原文链接:http://timesofindia.indiatimes.com/world/china/Now-reach-Beijing-to-Shanghai-in-5-hrs/articleshow/8856483.cms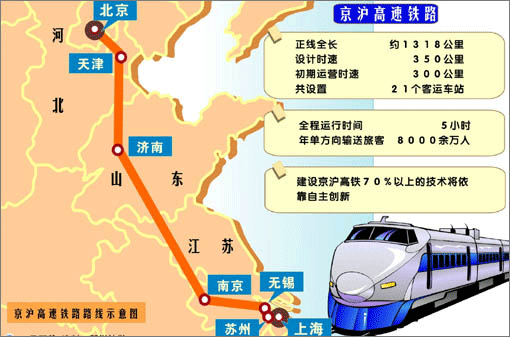 BEIJING: Sometime in end June Beijing and Shanghai would get another connection: the bullet trains. The new bullet trains linking Beijing and Shanghai will cost passengers three to four times more than what India's Rajdhani costs and run more than three times faster.



北京:六月末的某个时候,北京到上海将会增加一条路线:高铁(高速火车)。连接北京和上海的新的高速火车比印度的Rajdhani特快贵三到四倍,

速度快三倍多。



Bullet trains will nearly halve the travel time to five hours and would be of two types; one running at 300kph and another at 250kph. The fare will be 1,750 yuan for business class for the 1,300km journey between Beijing and Shanghai for the 300khp train.

Second class seats on the bullet train will cost 550 yuan, the equivalent. ''The fare is much lower at 410 yuan for second class and 650 yuan for first class for trains running at 250kph,'' China's vice minister of railways Hu Yadong said.



高速火车将几乎使旅行时间减半,将有两种类型;一种跑300公里/小时,另外一种跑250公里/小时。在上海到北京的1300公里旅程中,时速300公里/小时的高速火车的商务舱的票价是1750元。同样的旅程,二等座的票价是550元。中国铁道部副部长胡亚东说:"在250公里/小时级别的高铁,二等座票价低至410元,一等座是650元"。



Trains moving at 300kph will cover the distance in 4.48 hours. The normal express trains take about 10 hours at present.



时速300公里/小时的火车跑完全程是4.48小时(应该是4小时48分)。普通的特快目前耗时大约10小时。






以下是印度网民评论
Kaliyug (USA)
18 hrs ago (07:19 PM)
India's co ption runs faster than any Chinese Bullet train, no wonder China sees progress and India regress. China is corrupt but they do have good infrastructure, Indians do not even have a decent working toilet to boast about. Punish the thieves in the next election and improve the image and progress in India.
印度的附败比中国的高速火车还快,难怪中国进步,印度退步。中国附败,但他们确实有好的基础设施。印度甚至不能吹嘘有一个像样的能用的厕所。在下次选举中惩罚那些小偷,改善印度形象和提高进步。
原创翻译:三泰虎 http://www.santaihu.com
Nicole (Australia)
16 Jun, 2011 05:01 AM
Indians are smart people.They think and talk a lot. Just look at the quantity of comments in TOI. Chinese may not be so smart. They don't think and talk so much. See the comments in Chinese newspapers are only a tiny fraction of comments in Indian newspapers. Indians talk more. Chinese do more. Indians embrace Western democracy. Chinese have Chinese democracy.
印度人是聪明的。他们想的和说的多。看看在印度时报的评论数吧。中国人可能没那么聪明,他们想的和说的没那么多,看看中国新闻报纸上的评论吧,那只是印度新闻报纸评论的极小部分。印度人说的多,中国人做的多。印度人拥抱西方皿煮,中国人拥有中国特色的皿煮。
Saurabh (Kanpur, India) replies to Nicole
16 Jun, 2011 03:49 PM
India is a more open society than China. People discuss and implement. China is on a fast track growth path, hence boasts of some of these infrastructure improvements. They can be very well implemented in India, there is no technological gap, but red tapism. It does not prove anything about the superiority of either of these nations.
印度是一个比中国更开放的社会。人们讨论然后实现。中国在快速发展的道路中,所以能吹嘘一些基础设施的进步。那些能很好的在印度实现,没有技术差距,只是官僚主义。在两个国家之间,这些不能证明任何一个国家更优越。
sandeep singh (mumbai) replies to Nicole
16 Jun, 2011 08:55 AM
Dear Nicole,Coming to ur comment Indians comment more bcos they can and the chinese dont comment bcos they cant. Thats the beauty of your chinese democracy. R u aware of the number of ppl displaced in china for infrastructure development ? Will that be possible in any democratic country? R u aware that the ordinary chinese fears so much of any person in uniform ? thts democracy in china for u.
亲爱的Nicole,关于评论,印度人评论的多是因为他们能评论,中国人不评论是因为他们不能评论。那就是你说的中国式皿煮的美好之处。你知道在基础设施建设中,有多少人被赶离家园吗?在任何一个皿煮国家,这可能吗?你知道普通的中国人对任何穿制服的人有多害怕吗?那就是你说的中国的皿煮。
rajib replies to sandeep singh
17 Jun, 2011 04:55 PM
those who have not been to china has no idea how much more free it is than indian societies. girls are not raped for wearing small dress or going out at night, neither is someone killed for eating pork or beaf. and its true, they are extremely hardworking..definitely more than indians.
那些没有去过中国的人是不知道中国社会比印度社会有多么的自由。女孩子不会因为穿短裙或者深夜外出而被强奸,也没有人因为吃猪肉或者牛肉而被杀害。这是真的,他们非常勤劳,肯定比印度人勤劳。
GE replies to rajib
17 hrs ago (08:05 PM)
>>and in spite of this they have the money, the national pride and determination to make China the most advanced country in the world. Though co ption exists they still show advancement. India is corrupt to the core, with no vision and pride. When every person can have a meal on the table and a toilet in his home, then india will be in a position to compete.
尽管如此,他们有资金、国家自豪感和决心来使中国成为这个世界上最先进的国家。虽然附败存在,但是他们仍然展示了进步。印度是附败到核心,没有远见和自豪感。当每一个印度人在饭桌上都有饭吃,在家里都有厕所,那么印度将能处于一个竞争的位置。
hala replies to sandeep singh
16 Jun, 2011 03:41 PM
actually,india should be ashamed of you say so much,do nothing,have you ever been to china?you know her people dont have your so-called freedom of speech?i am sure that you know nothing about China,you just follow what others say
事实上,印度应该因为你说的多,做的少而感到可耻,你去过中国吗?你认为她的人民没有你所谓的言论自由?我敢肯定你对中国一无所知,你只是人云亦云。
Jim replies to sandeep singh
16 Jun, 2011 11:07 AM
Mr. Singh,u r a frog in well bottom,just can se a small part of the sky.Dont find excuse for ur india.U can go to china and u will find they have more democracy than indians.why they dont comment in newspaper so much,bcoz they just read and have less free time than indians,chinese is a hardworking nation. we can find this from their achievement.contrary,indians r much more lazy and easy to be complacent.if someone live in both india and china for years,he will find the large difference between the two countries.
辛格先生,你是井底之蛙,只能看到一小片天空。不要为你的印度找理由。你可以去中国,你将发现他们比印度人有更多的皿煮。他们不在报纸上评论那么多,是原因他们只是阅读,比起印度人来没有那么多空余时间。中国人是一个勤劳的民族,我们可以从他们的成就看出来。相反的是,印度人要懒惰的多,很容易自满。如果某人在印度和中国生活几年,他将会发现两个国家之间的很大不同。
Amitosh Kumar (BIHAR SHARIF)
15 Jun, 2011 06:42 PM
High speed rail connectivity has become need of hour in our country, China is far ahead of us in this quality infrastructure, but our go nment has only one business co ption, co ption and more co ption. Looks like its pipe dream for our country.
在我们国家,高铁的已经变得有需求了。中国在高质量基础设施方面遥遥领先我们,但是我们的政府只会附败、附败、更附败。看起来这些对我们国家来说只能是幻想。
ST (Beijing)
15 Jun, 2011 05:54 PM
My family and I recently traveled from Beijing to shanghai by the "slow" train. Imagine our surprise when we got to the station and found it spic and span and many times larger than even the Chennai international airport. When we were finally allowed to board the train our astonishment increased further. We had "soft berths" which is our equivalent to the first class in Indian trains. In your little cubicle each berth gets clean linen and blankets, a pair of throw away slippers, each berth has its own tv, light and you can adjust the ac in the cabin. The bathrooms are absolutely clean as well and cleaned by young attendants frequently. Our ministers must visit China and learn from them. Its ok complaining about the Chinese as it gives our press something to excite the population by but we need to learn from whomever we can.
我和家人最近乘坐从北京到上海的"慢"火车。当我们到火车站后,发现火车站非常干净整洁,甚至比我们金奈国际机场还大好多倍,你可以想象我们有多吃惊。当最终被允许登上火车的时候,我们更加吃惊。我们坐的"软卧"相当于印度火车的头等舱。在你的小包厢里,每个卧铺有干净的被子和毯子,一双一次性的拖鞋;每席卧铺有自己的电视,你可以在包间里调声音。卫生间一样非常干净,年轻的乘务员经常打扫。我们的部长们应该访问中国并向他们学习。抱怨中国是可以的,因为他给我们的媒体提供可以刺激大众的事情。但是我们应该向所有值得我们学习的人学习。
sudarshan (chennai)
15 Jun, 2011 04:10 PM
hi Stop ur dreaming.. bcoz in INDIA this kind of fast train will and never happen .... co ption travels fast (first) than High Tech trains.....
嗨,停止你们的幻想吧。。因为在印度这种高速火车永远不可能出现。附败比高速火车跑的更快。
Pream (Dubai)
15 Jun, 2011 03:03 PM
This shows the progress that China is making & the speed that they beleive in. In India we are still fighting among ourselves regarding the bill for co ption & unless co ption stops growth & progress cannot be made. One of our minister earlier said that Mumbai will be made like to that of Shanghai. My strong beleif is that minister has not visited Shanghai which he must visit & then probably he will withdraw his remarks.
这显示了中国的进步和他们相信的速度。在印度,我们仍然争吵有关的附败案件。除非附败终结,成长和进步将不会实现。我们的一位部长先前还说:孟买将会被建成上海那样。我坚信那位部长没有访问过上海,他若访问上海,将很可能收回他的说法。
juice waala (India)
15 Jun, 2011 02:52 PM
An accident caused in such trains would leave 0% survivors so slow trains are better as better late than never.Get airplane if you are in rush or leave early.
这样的火车如果有任何事故,没有人能够活下来,所以慢火车更好,因为迟到总比死去更好。如果你匆忙,坐飞机或者早点出发。
ST (Beijing) replies to juice waala
15 Jun, 2011 06:41 PM
I've traveled on Chinese trains and discovered that their high speed trains run on dedicated tracks which cows, dogs and humans cannot encroach on. Even with our slow trains in India, dozens die.
我坐过中国的火车,发现他们的高速火车在专线上跑,牛、狗和人妨害不到。即使在我们印度的慢速火车,许多人(在事故中)死亡。
Danchan (Bengaluru)
15 Jun, 2011 02:20 PM
We always know that if a development has to happen be it international class roads or bullet trains..;-), the 70% of the total money allocated would be spent on personal real estate and swiss bank accounts.. and with remaining 30%, we the people of india get just roads or trains.. And which go nment would ever dare to plan a new development looking towards the future..
我们都知道:如果一个项目需要上马,不管是国际水平的公路或者高速火车,70%的资金会流向个人房产或者瑞士的银行账户上。剩余的30%,我们印度人才用于公路或火车上。哪个政府会敢于规划一项新的致力于未来的发展。。
srinivas (Hyderabad)
15 Jun, 2011 02:01 PM
We first need 'big thinking' parliamentarians and a great leader as a PM at the national level, honest and dynamic leaders at the state level who place development ahead of seat saving populism. We currently have neither. The leaders who seem to come close to having these traits are not liked by many. Any attempt to privatize the Railways will first go through years of intense co ption where they will mortgage the next 10 years' future before the stage can be set up for some high tech systems. Sometime in 2020 we can see a trial run of a high speed railway by which time the whole of China will be covered by bullet trains.
我们首先需要有深刻见解的国会议员、伟大的国家首相、把发展放在保住位置之上的诚实有活力的邦领导。我们现在一个也没有。那些看起来像有这些特点的领导不受很多人喜欢。在某些高技术系统的舞台被建立起来之前,任何企图私有化铁路的尝试将面临多年的严重附败,它将耗费未来十年。在2020年的某个时候,我们或许能看到高速火车的试跑,那个时候,高速火车已经跑遍中国了。
Srinath (Germany)
15 Jun, 2011 01:30 PM
Don't worry ! India will surely get bullet trains and trans-rapids in another 500 years but then we will be still behind, because in China flying cars will become very common.
别担心!在500年后,印度肯定会有高速火车和磁悬浮列车。但是那时候,我们将仍然落后,因为会飞的汽车在中国将变的很普遍。
thakur (pune)
15 Jun, 2011 01:08 PM
Railways in india need to be privitised to allow developement of competition among players.. e.g. lets look at telecom sector, low cost airline travel, the choice of service, cost and quality of service has improved in leaps and bounds in last decade. Where as in railways we still have the decrepid infrastructure.. age old signaling methods.. Competition creates threat to complacency and players have to innovate to stay in the game.. will any policy maker listen to this..
印度的铁路应该私有化,这样对手之间才能有竞争。比如,看看电信部门、廉价航空、服务的多样化和质量在前十年的跳跃式改进。然而在铁路部门,仍然只有破旧的基础设施、老旧的信号系统。竞争使你无法自满,只有创新,你才能在游戏中生存下去。政策制定者会听这些吗?
Kaushik (Roorkee)
15 Jun, 2011 12:33 PM
China has beaten India comprehensively, in each and every sector. I think in coming future, may be 20 years, India will be a colony of China. Our Netas and beuracrats are just sleeping and enjoying lavish money from co ption. Indians should prepare themselves for becoming slaves of China
几乎在每一个领域,中国全面的击败了印度。我想在未来,可能是20年后,印度将会成为中国的殖民地。我们的官僚主义者沉迷于金钱附败。印度人应该做好成为中国奴隶的准备。
原创翻译:三泰虎 http://www.santaihu.com
NST (Pune)
15 Jun, 2011 12:18 PM
When he bacame Prime Minister first time 7 years ago, I recall Dr. Manmohan Singh promising us to have bullet trains, similar to Japan's between Mumbai and Ahmedabad. What had happened? Does anybody know whether the work is really underway?
我记得辛格在7年前成为总理的时候,向我们承诺在孟买和海德拉巴之间建造像日本那样的高铁。然后呢?有人知道这项工程是否有在进行?
mil (kol) replies to NST
15 Jun, 2011 02:43 PM
Did that cheat gave any time-frame ?
他有给他的骗局(造高铁)提出时间表吗?
Sanjay (Chennai) replies to NST
15 Jun, 2011 12:35 PM
:-) You sure do have a good memory !! Problem is , our ruling elite dont ....
:-)你确实有好的记忆!!问题是,我们的领导精英没有。。。
Karthik (Bangalore)
15 Jun, 2011 12:07 PM
The last sentence says - 'The normal express trains take about 10 hours at present'. Which means they cover 1300 kms in 10 hours...WOW. Even normal express trains in China runs at an average speed of 130 km/h. Why is it that our express trains have an average speed of 50-60 km/h while our superfast express have an average speed of 60-70 km/h only. Even rajdhani and shatabdi express runs at an average speed of 65-75 km/h. Why are we lagging behind when our tracks can allow speeds upto 160 km/h? The railways must improve speeds considerably.
最后一句说"普通的快车目前需要10小时",这意味着10小时跑1300公里。。。哇。。在中国,即使是普通的快车都能跑平均时速130公里。为什么我们的快车平均时速只有50-60公里,而我们的特快的平均时速只有60-70公里,甚至我们的rajdhani 和 shatabdi快车都只能跑时速65--75公里。我们的铁路本可以跑时速160公里,为什么我们仍然落后?铁路部门应该大幅提速。
tatya (mum)
15 Jun, 2011 11:20 AM
India has gone into a bad reverse loop, the foreign countries give us the finished products and we consume it, we can't manufactor it, because the machinery required to produce an electric motor for example has to be imported.
印度已经进入一个恶性循环,外国给我们制成品,我们消费。但我们造不出,因为我们需要进口比如用于生产电动机的机器。
sharif (KSA)
15 Jun, 2011 11:16 AM
Dont worry guys the chinese cant catch us in curruption race ,even if they have the fastest trains
别担心,伙计,即使他们有最快的火车,中国人在附败竞赛中也赶不上我们。
Mahendra (Bangalore)
15 Jun, 2011 10:15 AM
When we can see these type of trains, whatever British layed lines we just converted them to broad gauge, after 60 yeares of independence we are still in legacy of railways, whole money collected goes to Politician pockets & swiss bank, how we can see the progress.
我们什么时候才能看到这种类型的火车呢?英国人铺的铁路,我们只是把他们改造成宽轨。独立60年以后,我们仍然停留在传统的铁路上。所有的钱进入政客口袋和瑞士银行,我们怎么才能会看到进步呢。
vars58 (Telengana)
15 Jun, 2011 10:12 AM
I have travelled by the bullet train Shanghai to Suzhou, 120 kms distance in about 25 mins and trains hitting speeds of 275 kmph. Missing China!!!
我坐过从上海到苏州的高速火车,120公里,25分钟跑完,火车最高时速275公里。难忘的中国!!!
Sidharth (shanghai,china)
15 Jun, 2011 09:07 AM
Trust me people China is way ahead of us in terms of infrastructure,,our govt is so manuplated that its not possible to compete them even in next 25 years,,its a shame!! Its not our govt's mistake its us who let them do wat they want! we better WAKE UP NOW.. we are too busy in our life,lets not be so mean to our country,jai hind..
相信我,在基础设施方面,中国遥遥领先我们。我们的政府被操纵,以至于在未来的25年,我们都不可能和中国竞争,这是个耻辱!!这不是政府的错,是我们让他们为所欲为!我们最好现在清醒...我们太忙于生活,让我们对国家不要那么自私,印度万岁。
Niranjan (Vadodara)
15 Jun, 2011 08:42 AM
Good! In India it takes sometimes five hours to get across a Metro City, especially in rainy season or when a VVIP is visiting the city!
好样的!在印度,穿过一座大城市有时需要5个小时,特别是在雨季或者有重要人物访问这座城市的时候!
Rajiv (Minneapolis)
15 Jun, 2011 08:42 AM
Indian go nment is there for only to do the co ption not the development. These idiots wants to loot money and keep in swiss banks. India will never get this kind of development. Due to these idiots even a small rougue contries like pakistan threaten India.
印度政府只会附败而不是发展。那群白痴想掠夺赃款存入瑞士银行。印度永远不会有这样的发展。正因为有那些白痴,甚至连巴基斯坦那样小的无赖国家也威胁印度。
rastravaadi (Mumbai)
15 Jun, 2011 08:30 AM
such trains don't make any sense. Instead of building bullet train and costing three times the rajdhani ticket it is much cheaper to go by aeroplane economy class. No train can go faster than aeroplane. Building a straight line rail track will have to take away lot of land, cut lot of trees, build many bridges and lots more infrastructure. A aeroplane just requires two airports----one source and one destination and a aeroplane and some more things. But between you don't need to build any road, railway track, and all infrastructure associated with it.
这样的火车没有意义。与其制造这样的票价是rajdhani三倍的高速火车,还不如乘坐更便宜的飞机经济舱。没有火车能比飞机跑得更快。建造一条笔直的铁路将占用很多土地,砍掉很多的树木,建造很多的桥梁和很多其他设施。一架飞机只要两座机场---一个出发地、一个目的地,一架飞机和一些其他设施。但是在两个地点之间,你不需要建铁路和其他相关的设施。
Guptan Veemboor (Bangalore)
15 Jun, 2011 08:09 AM
We have bullets flying. Trains crawling. But alas no bullet-trains.
我们有子弹横飞,火车爬行。但就是没有子弹头火车。
Harshit (Sydney)
15 Jun, 2011 05:12 AM
I wish the story had some conversions to INR...would make more sense to the Indian public then. What say guys ? Comparison always helps. Cheers
我希望文章里能把人民币转换成卢比。那样印度公众更能看懂。说什么呢?比较总是有帮助的。谢谢
Dhananjai (Shanghai) replies to Harshit
15 Jun, 2011 06:54 AM
1 yuan = 6.91 INR.I live in shanghai and think this is awesome development.Hope we have same tech in our home country.but we can just wish!!
1元=6.91卢比。我住在上海,这是个棒极的发展。希望我们国家也有相同的技术,但是我们只能希望而已!!!
romi (china) replies to Dhananjai
15 Jun, 2011 10:27 AM
agree - me also live in china & honestly wish our nation also moves thinks & works like them but sadly all we have is democracy which unfortunately is pulling us down
同意。 我也住在中国,老实说,希望我们国家也能像他们那样思考和工作。遗憾的是,我们拥有的只有皿煮;不幸的是,正是这个皿煮拖后我们的发展。
Jaagrik123 (Goa)
15 Jun, 2011 04:05 AM
Calling Indian Engineers!!! YoooHooo....,Where Are Youuuu ???
呼唤印度工程师!!!!你们在哪里???
Sandeep (India) replies to Jaagrik123
15 Jun, 2011 04:45 AM
Indian engineers? They are all working in America/Canada/Australia
印度工程师?他们在美国、加拿大、澳大利亚工作。
who2tell (usa) replies to Sandeep
15 Jun, 2011 04:52 AM
That's why engineering in these countries is going down.
这也是为什么这些国家的工程水平下降的原因。