译文来源:三泰虎 http://bbs.santaihu.com/thread-6645-1-1.html
外文标题:Beijing police asks women to 'cover up'
外文地址:http://timesofindia.indiatimes.com/world/china/Beijing-police-asks-women-to-cover-up/articleshow/20443075.cms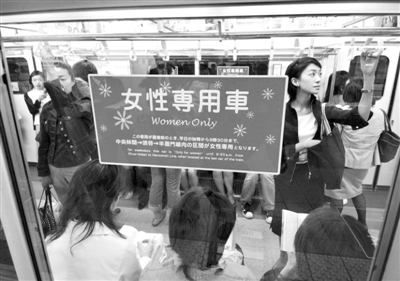 东京地铁的女性专用车厢。除了日本,骚扰频发的印度,也在火车上设立了女性专用车厢。

BIJING: As complaints of sexual harassment of women in public transport increased here, the Beijing Police has warned women against wearing "minimal clothing" like mini skirts or hot pants while travelling in buses and subways.

"Women should not wear minimal clothing, such as mini skirts or hot pants when taking public transportation and should call police promptly if they are sexually harassed," the guidelines published by Beijing police and public transport authorities said, state run China Daily reported.



随着人们对女性在公共交通工具上遭性骚扰的抱怨越来越多,北京警方警告女性搭乘公交车和地铁时切勿穿迷你裙或热裤等"小件衣服"。





《中国日报》引述北京警方和公共交通局发布的指南称,"女性在搭乘公共交通工具时不应该穿迷你裙或热裤等小件衣服,如果遭性骚扰,应立即报警。"



"Women are advised to not sit on higher levels of buses and to stand on lower stairs, to avoid being the target of inappropriate picture-taking, and they should shelter their bodies with bags, magazines and newspapers," it said.

Anyone caught harassing women would have to undergo 15 day punishment, the guidelines said.

The new regulations were published to prevent the sexual harassment of passengers on buses and subways but critics were sceptical about the efficacy of such measures, the report said.



为了避免被偷拍,女乘客被建议不要坐在公交车高一些的座位上,不要站在台阶处,可以利用背包、杂志、报纸等物进行遮挡。





骚扰女乘客者一旦被抓将面临15天的拘留。





新的条例旨在防止公交车和地铁上的性骚扰,但批评人士对这些措施能否凑效表示怀疑。




以下是印度网民的评论:




本文论坛地址:三泰虎论坛 http://bbs.santaihu.com/thread-6645-1-1.html




Oshkosh (LundOn)
RED Burqua is the answer !!!
Agree (7)Disagree (1)Recommend (4)



红色罩袍才是解决办法!
COLORFULBANDHA (Milkyway Galaxy)
absolutely apt guidelines. law abiding citizens should follow
Agree (8)Disagree (1)Recommend (4)



这些指南很适用,遵纪守法的公民应该遵守。
Rook (India)
Similar kind of women clothing laws should also be introduced in metros like Mumbai, Delhi. Since the amount of body exposure of females is increasing day by day.
Agree (11)Disagree (7)Recommend (5)



类似的女乘客穿衣规范也应该引入孟买和德里等城市的地铁,女乘客现在穿得越来越暴露了。




Manohar AM (Hyderabad) replies to Rook
Start it from your home....
Agree (2)Disagree (3)Recommend (0)




从你家开始吧.......



paki (laWhore)
the pakis have reached beijing
Agree (6)Disagree (2)Recommend (3)



巴基佬已经到了北京。




Indian Guy (India) replies to paki
ahhh now i understand, thats the reason they are asking their womens to cover themselves, poor paki chaps the moment they go there govt have imposed safety conditions of there womens...lower you gave my neighbour what have you learnt so far haan
Agree (1)Disagree (0)Recommend (0)




啊,我懂了,这就是他们要求女乘客多穿些的原因。可怜的巴基佬,他们一去那里,政服就要求女乘客遵守安全条例.......



Raphael (PB)
Chinese should wear Burkhas...........
Agree (2)Disagree (2)Recommend (1)



中国人应该披上罩袍......
Barack Obama (Whitehouse, Washington DC)
The Chinese need to learn to respect women.. or else we'll be sending A-10 Thunderbolts there to teach them a lesson!! :/
Agree (0)Disagree (4)Recommend (0)



中国人应该学会尊重女性....否则我们将派A-10雷电攻击机去给他们一个教训。




murthy (mumbai) replies to Barack Obama
This is an universal problem and Americans are no better, see Un statistics on sexual harrassment.
Agree (5)Disagree (0)Recommend (0)




这是一个普遍问题,美国人也好不到哪里去,看看联合国有关性骚扰的统计数据便知。



Innocent guy (Asia)
Looks like the Chinese are worst than Indians when it comes to disrespecting women!
Agree (5)Disagree (18)Recommend (0)



看来中国人在非礼女性方面比印度人还糟糕!




murthy (mumbai) replies to Innocent guy
Actually it is not disrespect but uncontrolled appreciation of the beauty
Agree (4)Disagree (3)Recommend (0)




不是不尊重,而是不由自主地欣赏起美女。




nearmsp (USA) replies to Innocent guy
In China taking a picture of girls legs etc is harassment. in India it is bottom pinching and vulgar language and pushing. Indian men are savages. In comparison Chinese men are more civilized particularly Han Chinese. Go visit China and see for yourself.
Agree (19)Disagree (3)Recommend (7)




在中国拍女孩的大腿就算性骚扰,而在印度要说下流语言和动手动脚才算。印度男人就是野人,中国男人相较之下更文明,特别是汉人,去中国亲眼目睹下吧。



scamnivas (Madras)
A dress code for China!
Agree (3)Disagree (1)Recommend (0)



中国的着装准则!




V.O.S (India) replies to scamnivas
Wish it applies in India too
Agree (1)Disagree (0)Recommend (0)




希望也能应用在印度。



Pandey Ji (Chandigarh)
a good move actually !!
Agree (8)Disagree (2)Recommend (4)



干得好!
somebody (somewhere)
The Only way to solve this problem by ROOT is human being becoming asexual.



从根本上解决这个问题的唯一办法是人类变成无性人。
RAK (TN)
What the eye does not see and the heart does not grieve about, so cover up before any one commits fornication with eyes
Agree (1)Disagree (1)Recommend (0)



眼不见就不会起色心,所以遮起来比较好,以免被色咪咪的眼睛看到。
Notes Of A Madman (HINDU Republic Of INDIA)
Now If the Police say the same in INDIA, so-called liberals, congressian goons, leftists, human right b@st@rds will start crying and will say Its RSS cultural terrorism.



要是印度警方也这样规定,所谓的自由派人士、国大党暴徒、左翼分子和人全混蛋就会开始大呼小叫,称这是极右翼文化恐怖主义。
catindia (Hindustan)
Crows are black every where!!! It is better they wear dress to cover body and not to expose.
Agree (0)Disagree (0)Recommend (0)



天下乌鸦一般黑!最好遮住身体,别太暴露。
Scott (Australia)
Rather than tell the females what to wear, hire more police to catch the perverts.
Agree (2)Disagree (1)Recommend (1)



与其叫女乘客怎么穿衣,倒不如多雇些警察来抓那些变态。
sushil (lucknow)
Sensible advise.China is also a developing country but much more matured than our country where women are not safe in metro towns and precisely in national capital.Women needs to be provided the special police contact no.for help in case of emergency and police should ensure quick assistance.
Agree (2)Disagree (1)Recommend (0)



这些建议是明智的。中国也是发展中国家,但比我们国家要成熟得多,女性在印度城市不安全,准确地说是在首都不安全。警方应该给女性特殊的报警号码,紧急情况下可用于求救,警察到时应确保迅速驰援。
Hussain (Benin, west áfrica)
At last , Hijaab, was recommended. The police understood, but the learned mem in this column, have no brain. Islaam is dominant everywhere. And will be dominant. Islaam, the fastest growing religión in the world, accepted mostly by women.
Agree (4)Disagree (6)Recommend (0)



罩袍最终被推荐使用,警方明白这点,但本站的有学之士没有头脑,到处是伊斯兰在统治或者将统治,伊斯兰是世界上发展最快的宗教,主要被女性所接受。
Notes Of A Madman (HINDU Republic Of INDIA)
Burqa is Suppression, Skirts are vulgar but Saree is both Moral and Modest. Even Indian, Bangladeshi and many Pakistani Muslim women prefer Saree over filthy Burqa ;-)
Agree (0)Disagree (1)Recommend (0)



披罩袍太压抑,穿裙子太粗俗,纱丽则恰到好处。就连印度、孟加拉国和巴基斯坦的许多穆斯林女性也喜欢穿纱丽甚于穿罩袍 ;-)




Abdul Kader P (Bangalore) replies to Notes Of A Madman
Saree also is more sexy which doesnot cover the needed areas. and very difficult to maintain in public places. You are having just the hate for something you have no neutal mind.




纱丽也很性感,没有把该遮住的地方遮住,在公共场所难以保持不暴露。你对一些东西抱有仇视,并不中立。



murthy (mumbai)
Why do women expose their body? Is it for comfort? is it to show off? Is it for appreciation by men or to make other women jealous? They want appreciation but do not want to be touched.All men may not have such control of their feelings and somebody may fall below the line.Can any adminstration take care of individual emotions?Is not discrtion the better part of valor?
Agree (11)Disagree (5)Recommend (7)



为什么女性要暴露身体?舒服?炫耀?为了得到男人的欣赏还是为了让其他女人嫉妒?她们希望别人欣赏,但不想让别人碰。并非所有男人能控制住的,有人可能会越线。
三泰虎6月6日译文,印度时报文章《北京警方要求女性"遮住"》。北京公交警方发布安全提示,女性在夏季乘坐地铁、公交尽量不要衣着过于暴露。如遇骚扰等不法侵害,不要忍气吞声,应立即报警。公交车前部左右两排相对的座位相对高一些,后门台阶上的第一排座位如果没有挡板,女乘客坐在这儿也容易走光。女乘客可以利用背包、杂志、报纸等物进行遮挡。喜欢穿吊带、低胸装的女孩,最好不要站在公交车的台阶处,这样很容易被居高临下的"色眼"一览无余。