As US Covid-19 cases hit 1M, many Americans opt to stay on in India
美国新冠确诊病例达100万例,很多美国人选择留在印度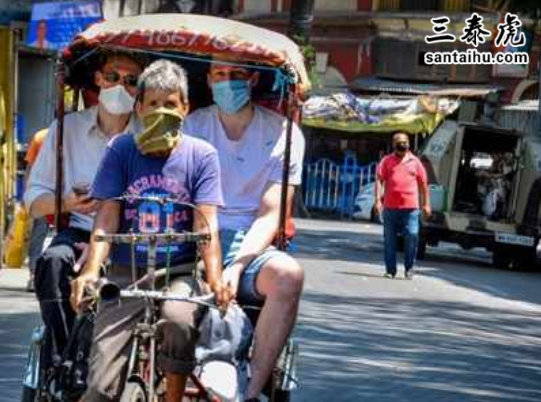 NEW YORK: Many Americans in India who had signed up for airlifts back to the US are now deciding to stay back and "ride it out" during the Covid-19 pandemic, according to the State Department's top consular offi al.
新德里:美国领事官员表示,很多在印度的美国人曾报名搭乘包机返回美国,但现在他们决定留在印度"度过"这场大流行。
Principal Deputy Assistant Secretary of State Ian Brownlee said on Tuesday that many who had enlisted for repatriation from India were not responding to offers of seats on the planes arranged by the department to take them home.
美国首席副助理国务卿伊恩·布朗利周二表示,很多报名从印度搭乘包机回国的人没有对的航班座次安排做出回应。
The number of recorded Covid-19 cases in the US reached 1 million on Tuesday, with 58,348 deaths, while India had only 31,368 offi ally recorded cases with 1,008 fatalities, according to the Johns Hopkins University tracker.
据约翰霍普金斯大学的跟踪调查,周二,美国的新冠确诊病例达到100万,死亡58348例,而印度确诊仅31368例,死亡1008例。
Brownlee said: "Two weeks ago, we had a list of folks and we were pretty sure if we called (the) folks they'd show up at the airport and say, 'Yes, please.' We're now getting to the point on that list, we're having to make multiple calls for individual seats because people are deciding 'No,' they'd just as soon ride it out where they are."
布朗利说:"两周前,我们整理了一份名单,当时我们很确定,如果我们打电话给他们,他们会准时到机场登机。我们现在不得不反复打电话确认,因为很多人都决定暂不回国了,他们宁愿留在原地。"
Last week he said that 4,000 Americans had been brought back to the US and 6,000 were waiting for airlifts.
上周他表示,已将4000名美国人接回国内,还有6000人正在等待包机。
India has cancelled passenger flights and rail transportation during the strict lockdown imposed on March 25.
3月25日开始实施严格封锁以来,印度停止了客运航班和铁路运输。
Brownlee had spoken earlier of the massive logistics effort required to bring Americans from around the vast country to Mumbai and New Delhi, the departure points for the chartered flights.
布朗利早些时候谈到,在这个幅员辽阔的国家,要把在那的美国人集中到孟买和新德里,需要做大量的后勤工作。孟买和新德里是包机的起点站。
印度时报读者的评论:
译文来源:三泰虎 http://www.santaihu.com/49790.html 译者:Jessica.Wu
Sat oel
In the oions of some, India is the safest country in the world today. Look at India's population of appromately 1.3 billion people and its crowded cities with poor hygiene conditions. Then see its performance in the control of CORONAVIRUS. Some divine power is hel India.
在一些人看来,目前印度是世界上最安全的国家。印度约有13亿人口,城市拥挤不堪,卫生条件很差。但是印度在控制疫情方面的表现可圈可点,印度如有神助啊。
Ravindra Gupta
India is CERTAINLY BETTER THAN USA FOR SAFETY FROM COVID-19 VIROUS.
AND ULTIMATELY EACH INDIVIDUAL MUST FOLLOW THE COVID-19 PRECAUTIONS FOR SELF CARE .
疫情期间,印度肯定比美国更安全,每个人都必须遵循新冠肺炎预防措施。
Ratna Joshi
Have compared the No.of tests done per million of USA with India.
应该先比较一下印度和美国的检测数量
Abhishek Savalia
India under Modi fared much much better considering our poor health infrastructure vs USA under Trump which fared the worst despite having the most cutting edge technology in health infrastructure... INDIA IS RISING while USA is slowly but surely is past it's prime...
虽然印度的医疗设施比美国差,但在控制疫情方面,莫迪领导下的印度比特朗普领导下的美国做得更好。印度正在崛起,而美国正在衰落。
Mohandas Vasu
Many foreigners who are here not willing to go back to their countries and Indian s who in foreign countries want to come back home to India
很多在印度的外国人不愿意回国,而在国外的印度人都想回到印度。
M Kumar
Thanks to Modiji's plan of lockdown India is safer than US. Modi hai toh mumkin hai
多亏莫迪的封锁计划,印度比美国更安全。莫迪万岁
M Kumar
Every Indian must follow lockdown seriously so that we don't come into situation like US.
每个印度人都必须严格遵守封城令,这样我们才不会陷入美国那样的境地。
Dinesh Dave
Let people stay in the safest country today. We have shown the world what a super power we are.
让他们呆在最安全的国家,向世界展示印度是一个超级大国。
Droid
Safe from covid, relatively yes... Superpower .. not by any means lol ... Stop with the unnecessary self praise.
目前印度确实相比安全,但印度绝对不是超级大国,哈哈…不必这么自夸。
Harsh Aggarwal
India is the safest country today in the whole world thanks to timely enforcement of lockdown by the govt. now the govt should not show haste in opening it up and risk loosing the advantage it has created by this lockdown. Economic activity will pick up again whenever the lockdown stops but human life always takes precedence over economy.
多亏了印度政府及时实施封锁,印度现在是全世界最安全的国家。现在政府不应该急于解封,风险太大。解封后,经济活动自然会恢复正常,人命总比经济更重要。
Ajithlal Gangadharan
India can declare some areas as corona free and woo foreigners to settle down if they bring in 10 million dollars as investment and give employment to at least 50 people.
印度可以将一些地区宣布为安全区,并吸引外国人定居下来,只要他们能带来1000万美元的投资,并为至少50人提供就业机会。
mrigank majumdar
Welcome to North East India, we are almost Corona free and new cases coming up only from the quarantine homes that too not.daily but weekly twice max.
We welcome foreigners to come and invest here, stay healthy, stay peacefully but generate employment, invest in a Business.
欢迎来到印度东北部,这里几乎没有确诊病例,新病例仅来自隔离家庭,每周最多两例。我们欢迎外国人来这里投资,创造就业,投资创办企业。
Hem Chandra Pant
Good decision by Americans .The death toll in USA due to coronavir s has crossed 57550
这些美国人做了正确的决定。目前,美国新冠死亡人数已经超过了57550人
Donaldendra Trumpodi
But Aamir Khan and his wife, Ravish Kuma are afraid in India.
拉维什·库马尔、阿米尔·汗及其妻子却很怕待在印度啊。
HappyTimes User
Trump is useless presi nt
特朗普是个无能的总统
D •
Lockdown and extreme cleanliness is the surest way to control the spread of vir s. In USA it was not and is not followed to the letter. That is why it spread so fast.
封城、保持高度清洁是控制病毒传播最可靠的方法。美国没有做到,这就是疫情蔓延如此之快的原因。
Mohan Acharya
India is safest.
印度是最安全的。
Godfather Senior
They all understood well, India is the safest place to live in, as of now. See the infection rates crossing 1 million in U.S and death over 50K, where as India managed to contain it with 32K as of today with death toll just crossed 1K mark. Is it not a proof that India is now certainly handling the Covid-19 pandemic in a correct way ?!
他们都很清楚,目前印度是最安全的地方。美国的感染人数超过了100万,死亡人数超过5万,而印度的确诊人数为3.2万,死亡人数刚刚超过1千,这表明印度处理疫情的方式是对的。
eu
considering the way the pential green card holders are treated over there, these people should be kicked out of india
申请美国绿卡的印度人受到了不公待遇,应该把这些美国人赶出印度
Nitin
Trump may Nominate Modi-ji As Next Candidate for US-Presi nt..!!
特朗普可能提名莫迪为下一任美国总统候选人!!
Asok Datta
Covid 19 management in India is much better than that in USA and India has put more emphasis on human lives over money unlike in USA - so Americans are feeling more secure in India than the USA
在控制新冠疫情方面,印度做得比美国好多了。和美国不同的是,印度更重视人命,而不是金钱,所以美国人觉得待在印度比待在美国更安全
Subbu India
Naturally, India is a safer place for them to live in now.
对他们来说,目前印度是一个更安全的地方。
Ramesh
Great achievement for go nment.
这是印度政府的一大成就啊。
外文:https://timesofindia.indiatimes.com/world/us/as-us-covid-19-cases-hit-1m-many-americans-opt-to-stay-on-in-india/articleshow/75440837.cms