Why doesn't the USA look like the largest economy in the world when I travel there? China's top cities look even more advanced than American.
为什么我去美国旅游的时候,美国看着并不像世界上最大的经济体?中国的一线城市看起来比美国先进多了。
以下是Quora读者的评论:
Flora Ding, lives in China
This is a common question asked by Chinese actually. Many Chinese go to America or Australia and find the cities look less fancy than the mega cities in China. Many Chinese even call Australia "coarse" and call America a "village". For some people, tall buildings, bridges, and roads are the symbols of development. Turn on any Chinese TV channel, when they talk about economy or development, they present footages of modern buildings, roads, construction… time after time, many have been misled and forgot the true meaning of development.
这是中国人常问的一个问题。许多中国人去到美国或澳大利亚,会发现那里的城市不如中国的大城市漂亮。许多中国人甚至称澳大利亚"粗俗",称美国是"农村"。对一些人来说,高楼、桥梁和道路才是发展的象征。随便打开一个中国电视频道,当他们谈论经济或发展时,他们展示的都是现代高楼、道路、建筑的画面……一次又一次,许多人被误导,忘记了发展的真正意义。
Development is not about "looking" good. There are many tall buildings in Shanghai, less tall buildings in Sydney and Washington. But where do people live in Shanghai? Small apartments floating in the air with high prices, like 12,000 US dollars per square meter? which most middle-class people find difficult to afford, so parents have to give away all their savings to buy a small flat for their kids?? Yes, I've seen so many tall buildings in Shanghai, so what? well, in Sydney, many people actually live in houses, not flats, houses may not look that fancy as high apartments, but people do have more space living in houses and feel more comfortable..so who cares about "looking" ?
发达并不等同于"看起来"很好。上海有许多高楼大厦,悉尼和华盛顿的高楼大厦较少。但在上海,人们住在哪里呢?高层建筑里的小套公寓,价格很高,每平方米可能高达1.2万美元?大多数中产阶级很难负担得起,所以父母不得不拿出所有的积蓄为他们的孩子买一套小小的公寓?是的,我在上海见过很多高楼大厦,那又怎么样?嗯,在悉尼,很多人住的是洋房,而不是公寓,洋房可能看起来不像高层公寓那么豪华,但是人们住在房子里确实有更多的空间,感觉更舒服。所以谁在乎"外表"看起来如何呢?
Also I don't just see tall buildings in Chinese mega cities, also in small cities with population having very low income… High-rises and "modern" looking have nothing to do with development, it has become some image projects and been used to generate profit for some people. Not only Shanghai, many small Chinese cities can look more "modern" than downtown Sydney.
我也不是只在中国的特大城市才看得到高楼大厦,在收入非常低的小城市也可以看得到……高楼大厦和"现代"外观与是否发达无关,它已经成为一些形象工程,并被用来为一些人创造利润。不仅是上海,许多中国小城市也比悉尼市中心看起来更加"摩登"。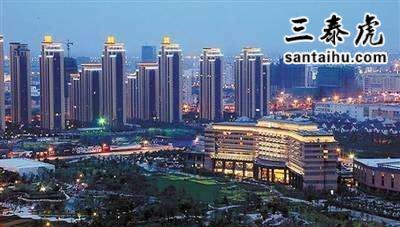 (a "modern" looking ghost town, picture from Baidu)

So let's not forget the real meaning of "development". It's not about power, nor about look. It's about making a better life for people. If Shanghai were really more advanced than Sydney or New york, then why do many people want to immigrate to the west? According to Huffpost, "Hurun Report surveyed 304 Chinese individuals with a net worth between US$1.5 million (C$1.9 million) and US$30 million (C$38 million).
所以,我们别忘了"发达"的真正含义。这与实力无关,也与外观无关。它只是为了让人们过上更好的生活。如果上海真的比悉尼或纽约更发达,那么为什么很多人想移民到西方呢?据《赫芬顿邮报》报道,"胡润百富访问了304位中国富豪,他们的净资产在150万美元(约合190万加元)到3000万美元(约合3800万加元)之间。
Slightly less than half of the respondents said they are either considering emigrating from China or planning to do so. That's actually a lower percentage than in previous surveys, when some 60 per cent of Chinese millionaires indicated they want to leave China.
略低于一半的受访者表示,他们要么正在考虑从中国移民,要么正有这个计划。这一比例低于此前的调查,当时约60%的中国百万富翁表示希望离开中国。
This year's results are "the lowest on record, but still not low," Hurun Report chairman and chief researcher Rupert Hoogewerf said in a statement."
胡润百富董事长兼首席研究员胡润在一份声明中表示,今年的业绩是"有记录以来最低的,但仍然不少"。
So if you really want to compare, focus on education, GNP, medical care and other things related to people's lives. Not tall buildings, fancy lights and other image projects. You know, a book can't be judged by its cover, neither can a city.
所以,如果你真的想要比较,可以在教育,GNP,医疗保健和其他与人们生活相关的事情上进行对比。不要在意高楼大厦、华丽的灯光和其他形象工程。你知道,不能从书的封面来判断一本书,对于城市也一样。
Geoffrey Widdison
Because there's no percentage in it.
Looking advanced, in modern times, is usually defined by mega-projects, like skyscrapers, high speed trains, and fancy looking airports.
因为没有百分比。
在现代,看起来是否先进通常是由大型项目来定义的,比如摩天大楼、高铁和外观奇特的机场。
Americans just don't like paying for those.
美国人只是不喜欢为此买单。
Here's the thing, skyscrapers are a perfect example. In most situations, skyscrapers just aren't economically warranted. The payback you get on the (fairly massive) investment is generally smaller than you could get by investing in something else. Unless you have a real reason to want huge amounts of floor space in a very expensive real estate environment (which happens, but is not especially common), it makes a lot more sense to build closer to the ground. Many companies in the US build campuses a little ways away from dense city centers, rather than skyscrapers downtown. They do that because American companies tend to be relentlessly pragmatic, and the dollars flow to whatever's most profitable.
事情是这样的,摩天大楼就是一个完美的例子。在大多数情况下,摩天大楼在经济上是没有保障的。你从(相当大的)投资中获得的回报通常比你投资于其他东西所获得的回报要小。除非你有真正的理由,想要在一个非常昂贵的房地产环境中拥有大量的建筑空间(这种情况时有发生,但并不常见),否则在离地面更近的地方建房会更有意义。在美国,许多公司把校园建在离密集的市中心不远的地方,而不是市中心的摩天大楼。他们这样做是因为美国公司比较务实,而美元会流向利润最丰厚的领域。
So, why do other countries build that vast infrastructure? There are a number of reasons. Different rules and cheaper labor may make those kinds of buildings more justified elsewhere. In many cases, at least some of the money is provided or incentivized by go nments, who are less concerned with economic justification. But the biggest reason, to my perception, is that the big buildings aren't about what makes financial sense, it's about image. A huge, distinct building is a symbol of a company's power, and an advertisement to the whole world.
那么,为什么其他国家要建设如此庞大的基础设施呢?原因有很多。在其他地方,这类建筑可能因为不同的规则和更廉价的劳动力而更合理。在许多情况下,至少有一部分资金是由政府提供或激励的,政府不太关心经济的合理性。但在我看来,最大的原因是,大型建筑不是为了钱,而是为了形象。一座巨大而独特的建筑是公司实力的象征,也是向全世界彰显实力的广告。
America's kind of gotten away from that. There was a time when we did the same thing. A lot of Manhattan's skyline was built in an earlier era in which companies competed to have taller buildings than their competitors. It was about pride and image more than about money. But we've more or less gotten over that.
美国已经摆脱了这种桎梏。我们曾经做过同样的事情。曼哈顿的摩天大楼很多是在更早的时代建造的,当时的公司竞相建造比竞争对手更高的大楼。这关乎自己的尊严和形象,而非金钱。但我们或多或少已经看淡了。
American culture tends to value practicality and at least the appearance of humility. Here's an example: this is the richest man on the planet:
美国文化比较重视实用性,至少表面看是谦逊的。举个例子:这是全世界最富有的人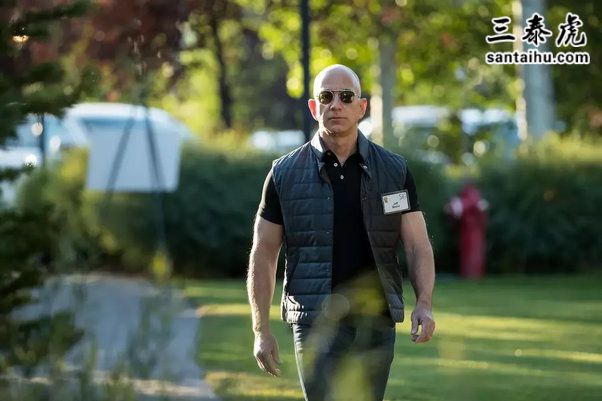 Looks pretty normal, right? you could pass this guy walking down the street and never guess that his wealth easily outstrips the GDP of Luxembourg. For that matter, so does Warren Buffet. This is where he lives:
看起来普普通通,对吧?也许你从街上走过,从这个人身边经过,永远都猜不到他的财富居然超过了卢森堡的GDP。就此而言,沃伦•巴菲特也是如此。他住在这里: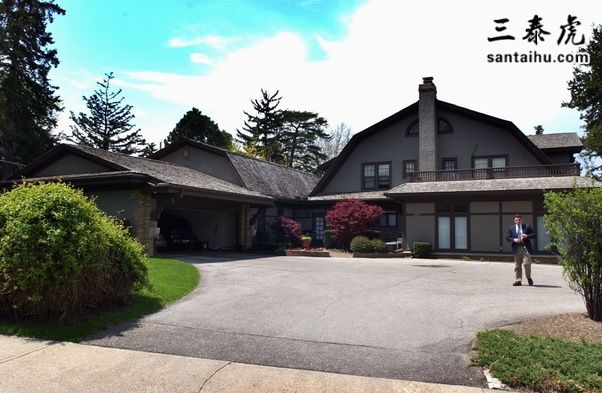 World's third richest man, and he lives in a house that any comfortable middle-class American might live in.
Mark Zuckerberg isn't quite as rich as Warren Buffett, but he's worth $50 billion, and this is where he lives:
他是世界第三富有的人,他住的房子跟美国中产阶级并无二致。
马克·扎克伯格不像沃伦·巴菲特那么富有,但他的身价也高达500亿美元,他住在这里: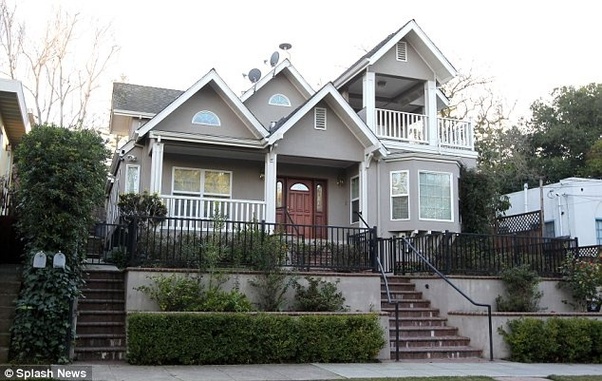 For comparison, Indian Steel magnate Lakshmi Mittal is worth $13 billion, and this is his house:
相比之下,印度钢铁巨头拉克希米·米塔尔的身价是130亿美元,而他的房子是这样的: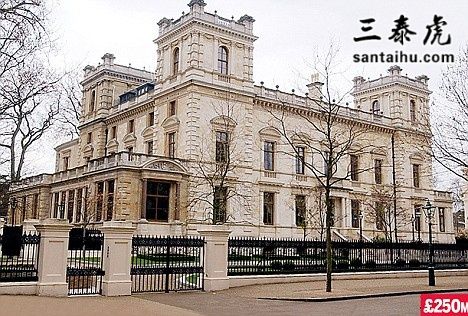 Now, I don't want to give the impression that wealthy Americans don't actually spend money on expensive things (sometimes very expensive things), nor do I mean to suggest that conspicuous consumption doesn't exist in the US. But it doesn't have the kind of social cachet that it does in other countries. If an American flaunts his wealth and builds monuments to his own ego, it's broadly seen less as a power move than a disgusting attempt by a clueless guy to feel good about himself. We tend to laud and respect wealthy people who are publicly seen to be living simply.
现在,我不想给人们留下这样的印象,即富有的美国人并不会把钱花在昂贵的东西上(有时是非常昂贵的东西),我也不是说炫耀性消费在美国完全不存在。但是这种情况没有其他国家那么严重。如果一个美国人炫耀他的财富,为他的自我建立纪念碑,这不会被人们视作实力的展示,而是一个愚蠢的家伙为了自我感觉良好而做出的令人厌恶的举动。我们更愿意赞美和尊重那些在公众眼中生活简朴的富人。
Luke Cillessen
This is Shanghai in China. This is the number 1 city in China, minus Hong Kong, with an Economic output per year of $471 billion dollars This is a very beautiful city with more than 126 skyscrapers, and tipping the scale to over 24 million inhabitants. It is home to multiple large national banks, and to hundreds of businesses such as SAIC motors, PanAn. Shanghai is also one of the fastest growing cities in the world, with a nominal GDP growth of 6.9% as compared to 2016. Millions of people head to Shanghai for work and for tourism, with a massive 2,446sq miles of space to visit. Shanghai is a massive city and looks very much developed. With tons of high rise buildings and having dozens of high profile businesses and banks setting up shop in Shanghai, it's no wonder why this is one of the fastest growing cities in the world. Now onto an American place.

这是中国上海,仅次于香港的中国第一大城市,年经济产值为4710亿美元。这是一个非常美丽的城市,有126座摩天大楼,人口超过2400万。这里有多家大型国有银行,还有数百家企业,如上海汽车、PanAn等。上海也是全球发展最快的城市之一,其名义GDP较2016年增长6.9%。数以百万计的人前往上海工作和旅游,面积多大2446平方英里。上海是个大城市,看起来很发达。上海高楼林立,数十家知名企业和银行在此设立分支机构,无怪乎上海会成为世界上发展最快的城市之一。现在看看美国的城市。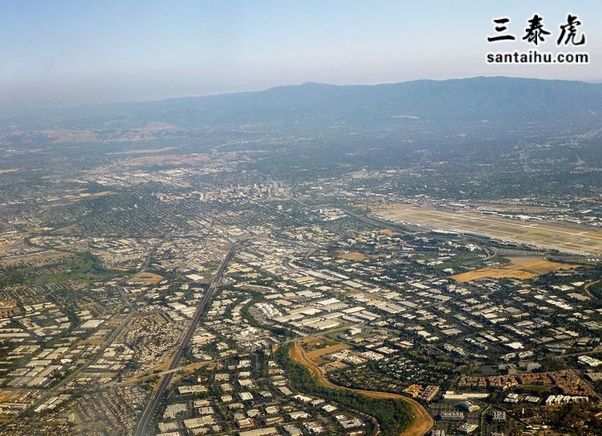 This *city* even though it is not an official city, has a GDP of over $500 billion dollars a year GDP 2017, is home to just around 3 million people and is considered the tip of the spear for human innovation. This little area is around 20 square miles in total and is the location of choice for many high profile businesses such as Apple, Google, Facebook, Wells Fargo, Visa, Chevron, AMD, HP, and Tesla just to name a few. Any guesses on where this place is? Well this little place is known as Silicon Valley, which is the majority of the San Francisco Bay Area. This might beg questions such as,
这座"城市"虽然不是正儿八经的城市,但2017年的GDP超过5000亿美元,人口只有300万,被认为是人类创新的前锋。这一小块区域总面积约20平方英里,是苹果、谷歌、Facebook、富国银行、Visa、雪佛龙、AMD、惠普和特斯拉等许多知名企业的所在地。猜猜这个地方在哪里?这个小地方被称为硅谷,它是旧金山湾区的主体。这可能会引发一些问题,比如,
Why aren't there high rise buildings?
Why do so few people live here?
How can a place with 12% of the population and less than 1% the area of Shanghai produce nearly $30 billion dollars worth of economic output more?
为什么这里没有高楼大厦?
为什么这里的人口这么少?
一个人口只有上海12%、面积不足1%的地方,是如何能够创造出比上海多300亿美元的财富呢?
Well, looks can be very very deceiving. The notion that a place must have high rise buildings or a large population in order to be considered "developed" is a false idea and where this idea is struck down very quickly when you compare two of the greatest places on earth. You must look at the inner workings of each city, and just because you can put on a good show, doesn't necessarily translate over into a large GDP or economic output.
嗯,外表是非常非常具有欺骗性的。认为一个地方必须有高楼大厦或大量人口才算"发达"的想法是错误的,当你比较地球上两个最伟大的地方时,这种想法很快就被否定了。你必须了解每个城市的内部运作,外观再好,也并不一定能转化为巨大的GDP或经济产出。
We associate "developed" with things that look straight out of a sci-fi movie. With tall buildings, lights, and vastness. These are the traits humans look for, for advanced places or places that are developed. In order to tell how developed places are, we must look to the HDI scale or Human Development Index. Currently, America has an HDI of 0.924 while China has an HDI of 0.758; with 1.0 being fully developed.
我们把"发达"和那些看起来像是直接从科幻电影里出来的东西联系在一起。高楼大厦,灯火通明,地广人稀。这些都是人类认为的先进的地方或发达的地方具备的特征。要想知道一个地方有多发达,我们必须参照人类发展指数(HDI)。目前,美国的HDI为0.924,中国的HDI为0.758;而1.0意味着完全发达。
Raghunandan R Chinna Chinnaiahgari, Born in India living in the USA since 2016.
I am living in New York right now. Moved into the city less than a month ago. So, take it for what it is worth. Before I moved here New York was my dream city in the USA. I lived in San Antonio and have been to Dallas nad Houston several times.
我现在住在纽约。是在不到一个月前搬到这个城市的。我的话你们姑且听听哈。在我搬到这里之前,纽约是我在美国的梦想城市。我住在圣安东尼奥,去过达拉斯和休斯顿几次。
But as soon as I landed in JFK I lost all my enthusiasm. Roads aren't good and there is trash every where (not on the level of some parts of India but it is extreme to what I have seen in the south). I am from India, I moved for my education into USA two and half years ago. Indian cities are by no means modern. There are newer parts of the cities that look way better than some cities USA but it's limited to certain modern purposefully redeveloped parts. But I didn't like how cities operate in USA. You can't go anywhere without a car. I lived in a small town with less than 20000 people and you need to walk 2 to 3 miles to go get some groceries. Public transportation is worst when compared to other less developed countries. Intercity public transport is almost invisible outside northeast and few parts. You can't use airplanes everywhere.
我一到肯尼迪机场,这种热情就被一盆冷水浇透了。路况不佳,到处都是垃圾(虽然没有印度某些地区那么糟糕,但比我在印度南部看到的要严重得多)。我来自印度,两年半前我来到美国接受教育。印度的城市一点也不现代。纽约有一些比较新的地区,看起来比美国的某些城市要好得多,但仅限于某些现代的、有目的的重新开发的部分。但是我不喜欢美国城市的运转方式。没有车你哪儿也去不了。我住在一个只有不到两万人的小镇上,买东西需要走2到3英里的路。与其他欠发达国家相比,这里的公共交通是最糟糕的。城市间的公共交通在东北和其他地方几乎是看不见的。你也不可能去哪儿都搭乘飞机。
But it is how they build their cities, around the car. And they have less people to build the cities for. Except for northeast, rest of the country is very sparsely populated. So, you don't find the dense infrastructure like in India or China. So, it is very easy to conclude newly built Chinese cities are more modern, but I don't think people want to live in this city long term. I don't want to be in NYC for more than a year. If I get a chance I want to move into a less chaotic place.
这是他们围绕汽车建造城市的方式。他们为更少的人建造城市。除了东北部,这个国家其他地方的人口都很稀少。所以,你找不到像印度或中国那样密集的基础设施。所以,很容易得出结论,中国新建的城市更加现代化,但我不认为人们愿意长期生活在这个城市。我不想在纽约呆一年以上。如果我有机会,我想搬到一个不那么混乱的地方。
In a single sentence, Chinese cities are more dense and newer than American or European counterparts.
一句话,中国的城市比美国或欧洲的城市更密集、更新。
And Chinese central govt spends as much money as they wish on cities American cities mostly depend on the funds secured by the city itself to build the city's infrastructure. That is if a city is losing money it's very unlikely a federal go nment will pump more money to maintain their infrastructure. They do but not a scale as in China.
中国人在城市建设上想花多少钱就花多少钱,美国城市主要依靠城市自己获得的资金来建设城市的基础设施。也就是说,如果一个城市没钱,联邦政府不太可能投入更多资金来维护其基础设施。他们有钱,但比不上中国的规模。
I'm not saying India is comparable to China, so Chinese keyboard warriors please don't shit on me in the replies. I get hatred that is almost uncalled for from the Chinese netizens when ever I give my opinion. God knows why.
另外,我并不是说印度可以和中国相提并论,所以中国的键盘侠请手下留情。我发表自己的观点,总会招致中国网友的无厘头的恶评。上帝啊,这究竟是为什么。
译文来源:三泰虎 http://www.santaihu.com/49758.html 译者:Joyceliu
Chris Grayson, I once majored in Architecture.
The United States sold China their skylines, they buy their beautiful skyscrapers from us. The three tallest skyscrapers in Shanghai are Jin Mao, World Financial Center, and Shanghai Tower.
美国向中国"兜售"了城市天际线,中国人找美国人设计美丽的摩天大楼。上海最高的三座摩天大楼是金茂大厦、世界金融中心和上海中心大厦