Coronavir s: State govts race to curb spread as hundreds from Tablighi meet show symptoms
数百名参加"塔布里·扎马特"圣会的人出现症状,各邦政府火速控制病毒蔓延
Go nment authorities are tackling a logistical nightmare as they try to map the movements of thousands of people who attended the Tablighi Jat congregation end-February and early March in New Delhi and then dispersed, many carrying the novel coronavir s to states across the length and breadth of India.
2月底至3月初,数千人参加了在新德里举行的"塔布里·扎马特"圣会,散会后,许多携带新冠病毒的人走向了印度各地。印度政府正试图追踪这些参与者的活动轨迹,这是一个难题。
The aim is to stop those who attended the congregation, and the people they came into contact with, from inadvertently creating new clusters of infection across the country. The magnitude of the task is immense: three southern states — Tamil Nadu, Andhra Pradesh and Karnataka — were trying to track at least 2,500 people, many of who had tested positive for Covid-19.
当局这么做的目的是防止参加集会的人及其接触者在全国各地造成新的感染人群。这项任务艰巨:印度南部的三个邦——泰米尔纳德邦、安得拉邦和卡纳塔克邦——正努力追踪至少2500人,其中许多人的Covid19检测呈阳性。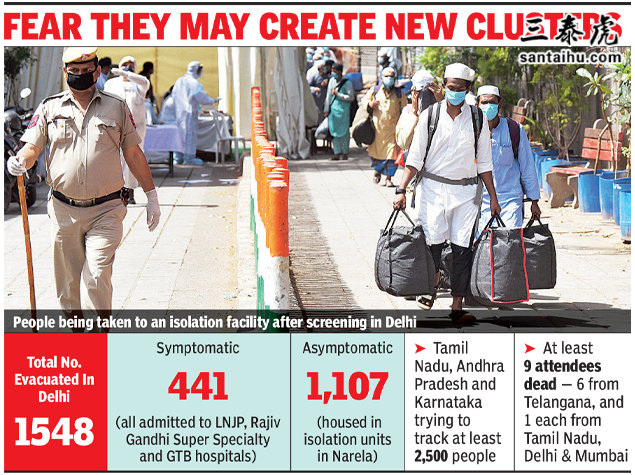 Authorities believe several clerics from Mysia, Indonesia and Thailand, who transited through the Tablighi Jat markaz (centre) in New Delhi's Nizamuddin West, may have been the original source of the infections in the cluster.
当局认为,来自马来西亚、印度尼西亚和泰国的几名神职人员可能是该人群的感染源。
In Kashmir, in the far north, 855 people (at least 167 attendees and people in contact with them) were being traced; only nine had been found. In Tamil Nadu, in the deepest south, the state was tracking at least 1,500 people, 300 of whom were still untraceable as of Tuesday night.
在克什米尔,需追踪的有855人(至少167名与会者及其接触者),但只找到9人。在印度最南部的泰米尔纳德邦,政府正在追踪至少1500人的行踪,截至周二晚间,其中300人仍未追踪到。
Nearly 300 people from across Karnataka attended the congregation, state home minister Basavaraj Bommai said on Tuesday, creating a "dangerous situation". Only 26 of the delegates (all from Bidar) have been traced. The Tumakuru preacher who attended the meet is learned to have had direct contact with at least 82 people, including 45 family members. The 26 delegates who were traced all tested negative, state health minister B Sreeramulu tweeted.
周二,邦部长Basavaraj Bommai表示,来自卡纳塔克邦各地的近300人参加了这次集会,造成了"危险的局面"。只追踪到26名代表(全部来自比达尔)。据了解,参加这次集会的图马库鲁族传教士与至少82人有过直接接触,其中包括45名家庭成员。邦卫生部长B Sreeramulu在推特上表示,追踪到的26名代表的检测结果均呈阴性。
In UP, police in 18 districts had tracked down 128 of the 157 people from the state who had attended the congregation. While 120 were found quarantined in Delhi, eight were traced to their native villages and cities and have been quarantined at home. A search is on for the remaining 29. The police also traced 95 others who had attended Jat event and were not on the list of 157 from UP shared by the Delhi police.
在北方邦,18个地区的警察已经追踪到该邦157名参与者中的128人。虽然在德里已隔离了120人,另有8人在家中被隔离,剩余的29人仍在搜寻中。警方还追踪了另外95名参加了该活动的人,但他们不在北方邦这157人名单上。
A total of 185 people from Maharashtra had attended the congregation, offi als said. Maharashtra min ity development minister Nawab Malik, however, said he had learned "from the media" that 109 people from his state had attended. "I have asked offi als to find out how many actually attended it. We are also talking to members of the Tablighi Jat to find out," he said. The Ahmednagar district administration later said it had found 35 returnees, mostly foreign nationals.
官员表示,马哈拉施特拉邦共有185人参加了此次集会。然而,马哈拉施特拉邦 发展部长纳瓦布·马利克表示,他"从媒体上"了解到,马哈拉施特拉邦共有109人参加了这次集会。"我已经要求官员查明有多少人参加了。我们也在和"塔布里·扎马特"组织的成员谈话,以查明与会人数。"Ahmednagar区行政当局后来表示,他们已经找到了35人,其中大部分是外国人。
At least 20 villages across Bandipora, Pulw, Shopian and Budgam in J&K have been identified as red zones and the administration has prepared a 50-page list of people from the UT who either attended the event at the Tablighi Jat markaz or had been on contact with attendees.
查谟克什米尔地区的Bandipora、Pulw、Shopian和Budgam至少有20个村庄被确定为红色区域,政府已经准备了一份长达50页的人员名单,这些人要么参加了此次集会,要么与参加者有过接触。
Tamil Nadu health secretary Beela Rajesh announced that by Tuesday at least 67 of the Tablighi Jat cluster had tested positive, taking Tamil Nadu's positive cases to 124, the third highest after Maharashtra and Ker; 50 of these infections were recorded on Tuesday. The TN go nment also admitted that at least 300 of the 1,500 delegates from the state were untraceable. Chief minister Edappadi K Pniswami appealed to people to come forward for screening.
泰米尔纳德邦卫生部长比拉·拉杰什宣布,截至周二,泰米尔纳德邦至少有67名与会者的检测呈阳性,泰米尔纳德邦的确诊病例也由此增至124例,仅次于马哈拉施特拉邦和喀拉拉邦,其中周二确诊了50例。泰米尔纳德邦政府还承认,在该邦1500名与会者中,至少有300人无法追踪。首席部长Edappadi K Pniswami呼吁人们主动参加筛查。
A total of 1,548 people have been evacuated from the Nizamudddin markaz. Of this, 441 have been hospitalised because they exhibited symptoms while the remaining 1,107 people have been quarantined. Of those hospitalised, 24 have already tested positive for Covid-19 and, given the symptoms and history of direct contact with positive cases, doctors said there was a high likelihood of many others testing positive.
共有1548人参加了集会,其中441人表现出症状而住院,其余1107人已被隔离。在入院治疗的患者中,已有24人的Covid-19检测呈阳性,考虑到症状及与阳性病例直接接触的历史,医生们表示,还有很多人的检测很有可能呈阳性。
The Delhi go nment's daily report on Covid-19 cases in the state cmed the test reports of the Tablighi Jat followers hadn't yet arrived yet and that an update was likely on Wednesday.
德里政府在该邦的每日病例报告中称,参加集会者的检测报告尚未收到,可能会在周三更新。
印度时报读者的评论:
译文来源:三泰虎 http://www.santaihu.com/49628.html 译者:Jessica.Wu
Logical Indian
This whole episode is no less than a conspiracy.
这完全是一个阴谋。
Citizen
Stop wasting my tax money on treating these bie rort. Just kill them.
别浪费纳税人的钱治疗这些分子上。干脆杀了他们吧。
Pradip Kumar Mishra
Leave them without treatment and do not spend my hard earned tax money.
不要给他们治疗,不要浪费我辛苦上缴的税收。
Gino Smith
Shoot them for not following the rules.
他们不遵守规定,去参加集会,他们。
Keshava Murthy
Isolate these MORONS and quarantine them without providing any treatment
隔离这些笨蛋,不提供治疗
AntiPseudoSicular
Put them in jail and let them die of corona vir s.
把他们关进监狱,让冠状病毒折磨死他们。
Bharatwasi
Only Mamta Banerjee can understand these guys
只有玛玛塔·班纳吉能理解这些人
Pangamba Meitei
All infected can be treated by bullets.
所有感染者
nanksn
Since they do not want Uniform Civil Code , just try them under the Saudi law and ex te them in a public square..
既然他们不遵守印度法律,那就根据沙特法律审判他们,在广场上公开处死。
Adrian Roy
Mobile phones are switched off so that they can't be traced, this is a deliberate act of te rorm now they're trying to spread the disease as much as possible, surely they're silently venturing into the market places, drugstore, essential commodities without wearing masks and not maintaining required distances. They know they're dying so infect Hindus as much as they can.
为了不被追踪到,他们手机关机,这是一种蓄意的主义行为,他们试图尽可能多的扩散病毒。他们在不戴口罩、不保持社交距离的情况下,悄无声息地进入市场、药店。他们知道自己要死了,想感染更多印度人。
Mahesh
Tabligi donkeys have ruined complete national effort of last 10 days
这些傻子毁了印度全国人民过去10几天来的努力啊。
Sarthak
Each one of Tablighi attendees, is traitor. They have brought big problems for Nation. They should be punished as Te rorts.
每一个与会者都犯了叛国罪,他们给国家造成了大麻烦。把他们当做分子来惩罚。
Roop Chandel
We may suffer 1 or 2 lac casualities because of these idiotic Jt.
这些白痴可能会害死10-20万人。
Da Da
Govt must find out any intention behind it when there was curfew in delhi still they ignored orders of police. They are crook people who wants to spread vir s and creat anarchy in society.
德里都封城了,但他们仍然无视政府的命令,要查明幕后黑手。他们想在社会上传播病毒,制造混乱。
Blue bell
Strict action ag inst police for allowing them to violate Curfew in capital itself.MHA needed to expn .If all temples are closed for visitors then why permission granted to mass gathering in thousands . Requesting ,not to waste your and others life .
警察允许他们违反首都封城令,要严惩警察。印度部出来解释一下吧,所有寺庙都对游客关闭了,为什么还让成千上万人聚会。不要害人害己啊。
DB HUF
First, it should also be checked if it was an intentional act, some type of bio je had. Anything is possible with brainwashed people..
首先要调查一下他们是不是蓄意为之的。对于被洗脑的人来说,什么事都做得出来啊。
Suresh
Worthless people. Send them all to prison. People who put the lives of others at risk are effectively worthless.
一群毫无价值的人,危及他人的生命,把他们都送进监狱吧。
K Mohan
The onus seems to be on Delhi govt which let loose the Jt to carry the congregation in spite of strict orders
德里政府要承担责任啊,怎么放这些人进来参加集会呢
Revres Yxorp
It's a planned te rorm move to weaken the country.
这是有计划的主义行动,目的是为了削弱印度。
Surya Singh
Shoot them as soon as appear from their holes
只要他们出门就毙了他们
umapathy rao Kasturi
When things were coming under control these fanatics have pushed us back into danger zone with their stupidity. The organizers should be put in isolation to die. Rest should be caught and isolated from the society.
当疫情得到控制的时候,这些狂热分子又让我们陷入险境。把组织者隔离至死。其余的全都抓起来隔离。
siddhraj dhadhal
the names and pictures of these super spreaders should be circulated in the media
应该在媒体上公布这些超级毒王的名字和照片啊
Subham Ghosh
Foolish people are more dangerous than illiterate people
愚蠢的人比目不识丁的人还更危险啊
外文:https://timesofindia.indiatimes.com/india/nizamuddin-corona-cases-govts-race-to-curb-spread-as-hundreds-from-tablighi-meet-show-coronavir s-symptoms/articleshow/74921860.cms