Why do Chinese build houses in such a crowded style?
为什么中国人要把房子建得这么密集?
以下是Quora读者的评论:
Magnus W. Magnusson,
Why do most (all?) people here answer by pointing out that actually other countries build just as crowded places? That does not answer the question at all. The question was, why do Chinese build like this (even if others maybe build in a similar style)?
为什么这里的大多数人(几乎所有人?)都回答说,其实其他国家的建筑也同样拥挤呢?这根本就没有回答这个问题好么。问题问的是,为什么中国人会建这样的房子(即便其他人可能也会建造类似风格的房子)?
Firstly, one has to compare apples with apples. Residential houses in China belong to the rich. With that kind of money, in the US or Europe you would expect to have a bigger garden space around your house. I am living in a 'compound' in China where the vehicle of choice is a 7 series BMW or a Hummer. Yet the size of the housing plots does not reflect that. In Shanghai you can also find compounds which have amazing, castle like houses of over 1000m2 floor area, yet they usually sit not in a park-like garden but on a very small plot of land.
首先,大家得同类比较才合理。中国的别墅属于富人特有。有了这笔钱,在美国或欧洲,可以买到四周带有更大花园的房子。我在中国住的是复式楼,选择的车型是宝马(BMW) 7系或悍马(Hummer)。但小区的大小并没有反映出这一点。在上海,你也会发现一些建筑群,它们有着令人惊叹的犹如城堡般的建筑,面积超过1000平方米,但基本都不会有公园一样的花园,相反,只会占据一块非常小的土地。
My wife (who is Chinese), told me that Chinese do not like to live too far apart from others, it does not make them feel comfortable. I do not know if this is the right explanation but it is the only one which I know so far.
我的妻子(她是中国人)告诉我,中国人不喜欢和别人的房子离得太远,这让他们感到不舒服。我不知道这个解释是否正确,但这是目前为止我知道的唯一解释。
Also developers do not sell gardens as a value proposition. Advertisements for individual houses always highlight floor space and cost per m2 of floor space. The total size of the plot comes as a second thought only. Therefore the developer has no incentive to build houses with large gardens. Rather he tries to squeeze as many villas as possible into the given space.
此外,开发商并不把花园当做卖点。房产广告总是强调建筑面积和每平方米建筑面积的成本。占地总面积只是个参考。因此开发商没有动力去建造带有大花园的房子。相反,他试图在有限的空间里建造尽可能多的别墅。
Amanda On, Chinese-American
You call THAT crowded?
Here's what a typical American suburb looks like:
你管那叫拥挤?
下面是一个典型的美国郊区: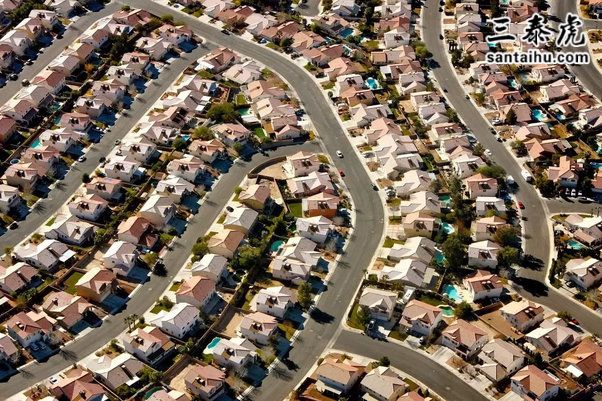 Here's what a typical British suburb looks like:
这就是一个典型的英国郊区: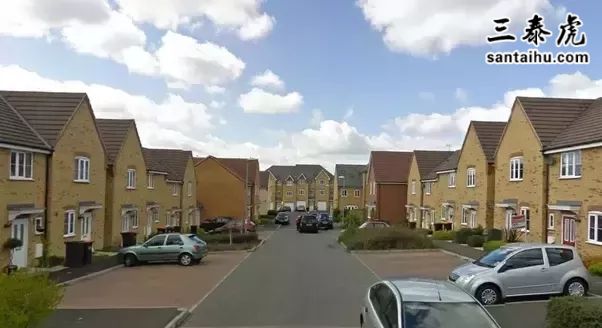 (If that looks spacious, don't be misled -- a typical suburban American house, with its plenty of land area and floor area, would go for millions of pounds in Britain. The houses in this picture are actually pretty small).
(如果你觉得看起来很宽敞,别被误导了——一座典型的美国郊区房子,占地面积和建筑面积很大,如果在英国能卖到数百万英镑。这张照片里的房子实际上很小)。
I think you get the point. Those houses in your picture actually have lots of space in between. And from what I can see, those are pretty big houses too.
我想你明白我的意思了。在你拍摄的照片中,这些房子之间其实还有很多空间。在我看来,那些房子本身也都很大。
Jacob Gadikian, Left China until go nment regains its sanity regarding the Internet
So I suspect that this is an innocent question, so I am going to roll with it. The Chinese build dense housing because there are LOTS of Chinese. In fact, this photo does not show dense living conditions in China at all, so I'd like to give a correction: (图)
我怀疑这是一个很无知的问题,所以我必须回答一下。中国人建造密集的房屋,因为中国人太多了。实际上,这张照片并没有反映出中国密集的居住条件,所以我想更正一下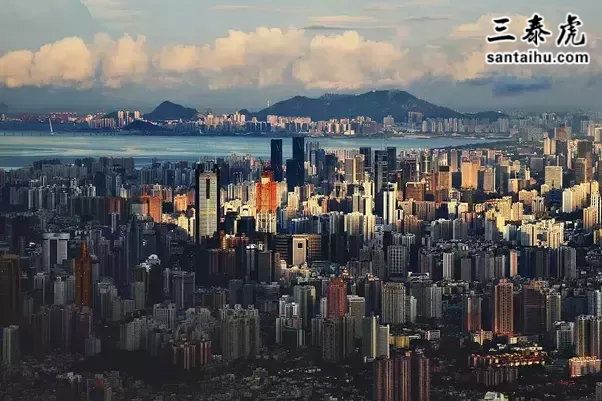 That is a dense area in China, not what your photo showed. And you know what? The quality of life in cities like the one shown here (Shenzhen) is phenomenal. I'm sure that China will get pollution under control at some point sooner than later, and it'll be even more phenomenal. About depression, did you know that because of people in big cities frequent contact with others that they're less likely to get depressed?
那是中国一个人口稠密的地区,跟你的照片不一样。你知道吗?深圳这样的城市的生活质量是惊人的。我相信中国迟早会在某个时候控制住污染。关于抑郁,你知道吗?因为大城市里的人经常与他人接触,他们不太可能抑郁。
Yusei Watanabe, Born as a mixed Chinese-Japanese
10 years ago I had the chance to be the editor of a team making a video for the President of China on the proposed growth pattern of China. Out of many things, we proposed that for cities to grow efficiently, in terms of power consumption, maximising resource, accessibility of civic structures, property value etc, China needs to grow up, not out to maximize resources and create land value. But I think most policy makers already know that and it is not anything new. Singapore is another city that is crowded and builds upwards, because they have no space. In terms of go nmental decision, building upwards makes a lot of sense. That applies to cities and not suburbs, but the advantages applies.
10年前,我曾有机会作为一个团队的编辑,为中国的制作一个关于中国增长模式的视频。我们提出,为了城市的有效增长,在电力消耗、资源最大化、城市建筑的可达性、房产价格等方面,中国需要成长,而不是为了资源最大化、创造土地价值。但我认为,大多数政策制定者已经知道这一点,这并不是什么新鲜事。新加坡也是一个拥挤的城市,建筑只能尽可能往高走,因为他们没有土地。就政府决策而言,高层建筑很合理。这适用于城市,而不是郊区,但确实有优势。
But like many other answers to debunk your assertion that "Chinese build houses in such a crowd style", it doesnt seem to be true when compared to suburbs in Japan, france, america etc etc. If anything, I found Chinese suburbs to be quite spaced out.
但是,就像其他许多反驳你所说的"中国人的房子盖得太密集"的回答一样,与日本、法国、美国等地的郊区相比,这个说法似乎并不正确。要说有什么不同的话,我发现中国的郊区很分散。
Close proximity may not equate to depression as well for Asians, who were brought up with different family values and thus many feel that living in proximity is comforting. I grew up in Malaysia is a bungalow. When my siblings left for college, I had the upper floor all to myself. Now, I stay with my wife in Singapore and there's 7 of us in a small 800ft apartment but there's more joy and warmth. I also have a friend who lives in a 5 story mansion. It is so big that if she forgets her hand phone in one part of the house, she would take a long time to find it. When she was young she grew up in a 500ft apartment and felt that it provided more family unity than now. She grew more depressed and empty as a result. So here's 2 examples where closer proximity is more appreciated.
对于亚洲人来说,贴得近并不等同于压抑,因为他们在跟我们不同的家庭价值观中长大,因此许多人觉得住得近是一种让人安心的事。我在马来西亚长大,住的是平房。当我的兄弟姐妹们去上大学的时候,我独自一人住在楼上。现在,我和我的妻子住在新加坡,我们7个人住在一个800英尺的小公寓里,但我们感受到更多的欢乐和温暖。我还有一个朋友住在5层的大厦里。房子面积是如此之大,如果她把手机忘在房子的哪里,就得花很长时间来找寻。年轻时,她在一间500英尺的公寓里长大,她觉得小房子比现在这个大房子更有利于家庭团结。结果是,她变得越来越沮丧和空虚。所以这是两个例子,说明住得越近越好。
Brendan Dobson
As others have mentioned, that picture is not one of the crowded places in China. I think high rise apartments make up the bulk of Chinse residencies as others have shown in posted pictures (including Wuhan).
正如其他人所提到的,这幅图并不是中国最拥挤的地方之一。我认为高层公寓楼构成了中国住宅的主体,正如其他人贴出的照片中所显示的那样(包括武汉)。
But to go back to your question, one thing I find about Chinese, and indeed most east Asian cultures, is that they live much of their lives outside the home. Individuality is less (although increasing as they take on western culture), whereas community seems stronger.
回到你的问题,我发现中国人,本质是东亚文化的一个特点是,他们大部分时间都在家以外的地方生活。比较缺乏个性(尽管随着他们接受西方文化的过程,人们的个性也慢慢增强),而集体社区的偏好似乎更强。
In the west we tend to buy our own possessions and enjoy them in our own homes. It is not uncommon for westerners to not really know even their neighbours. Therefore we need bigger houses where we spend much of our lives and hold our many sources of entertainment. The houses in China I have visited or stayed in were small and their amount of possessions much less than what I have experienced in a western house. But the streets are full of activity with much of the population staying out until almost bedtime.
在西方,我们倾向于买自己的东西,然后在家里享用。西方人甚至不太了解他们的邻居,这种情况并不罕见。因此,我们需要更大的房子,在房子里过我们自己的生活,并进行我们的许多娱乐项目。我去过或住过的中国房子都很小,物品比我在西方房子里拥有的要少得多。但是大街上热闹非凡,很多人会在外面待到睡觉前才回家。
Many Chinese University students that come to my country, Australia, to study are aghast at the lack of activity on the street and find it threatening.
许多来我的祖国——澳大利亚留学的中国大学生对在这里的大街上找不到娱乐场所感到震惊,并认为这是一种威胁。
Also the general economic conditions add to this. Smaller houses are cheaper as is a more communal society.
此外,普遍的经济条件也促成了这一点。更小的房子更便宜,因为这是一个更公共的社会。
There are advantages and disadvantages in these different types of society. Being an outsider in a communal society can be living hell. But too much individualism creates its own problems too.
这些不同类型的社会各有利弊。在一个集体社会中做一个局外人可能很痛苦。但个人主义太强烈也会带来自身的问题。
It is hard to see China going to a more western style housing on a large scale with a population so massive, but many more of them are doing it. Some suburbs are even exact copies of western ones.
很难想象中国能在如此庞大的人口背景下,采纳更西化的住宅模式,但越来越多的人正在这样做。一些郊区甚至就是西方社区的翻版。
Philip Osborne
The houses are equally distributed, creating the impression of consistent ground coverage with very few breaks in the coverage such as parks or lakes. However, they are anything but crowded! In the UK, in an area the size depicted in that photo, you would probably have at least one park or playground breaking up the consistency of coverage. However, the houses themselves would be much smaller and much more closely packed than in that photo. Even on modern housing estates in Britain, there are huge numbers of terraced houses. Long rows of small houses literally attached to each other. Most British people would probably consider what you have posted there as a preferable place to live, perhaps even luxury, rather than viewing it as "crowded" or "depressing". That's not to say that China doesn't have its fair share of crowded and depressing places - the huge tenement blocks of people living literally on top of each other (which still aren't that unusual for lots of Western cities as well) would be a better example of crowded living than the photo you posted there.
这些房子分布均匀,给人的印象是处在同一片土地上,很没什么隔断的地方,比如公园或湖泊。但他们一点也不拥挤!若是在英国,照片中的面积中可能会有至少一个公园或操场。然而,房子本身会比照片中更小,更拥挤。即使在英国的现代住宅区,也有大量的连栋房屋。一长排的小房子彼此相连。大多数英国人可能会认为你贴出来的照片中的房产是更适合居住的地方,甚至还可能算是豪宅了,反而不会把它视为"拥挤"或"压抑"的地方。我并不是想说,中国没有的拥挤和压抑的地方——巨大的公寓街区的住户住在彼此头上的家中(对很多西方城市来说这也并非什么稀罕事)是拥挤的居住条件的更好例证。
Sandy Praharsha, MBBS, MSc Global Health, University of Glasgow
Here's a suburb in Sydney, Australia
这是澳大利亚悉尼的一个郊区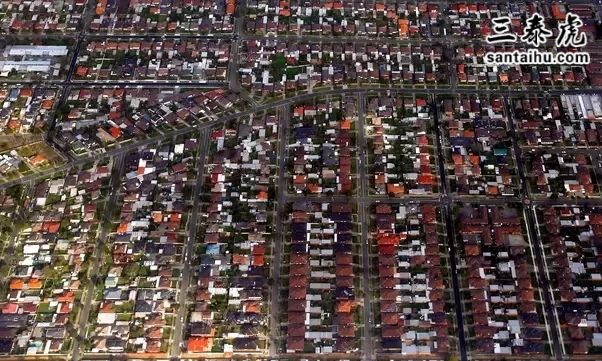 Here's a suburb in New Zeland
这是新西兰的一个郊区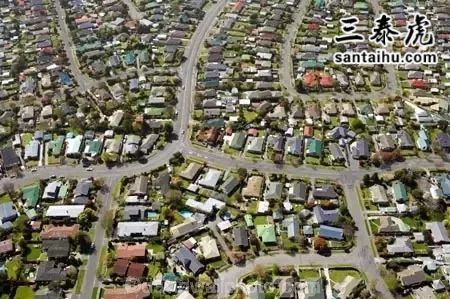 New Zealand and Australia have much smaller populations than UK considering their sizes.
Look buddy, I'm not an expert in the subject but I believe that a bird's eye view makes houses and buildings appear smaller and clustered together. I believe any sane person would agree with me on this. It doesn't mean they're "crowded" and the people are definitely not "depressed".
考虑到它们的面积,新西兰和澳大利亚的人口比英国少得多。
听着,老兄,我不是这方面的专家,但我相信鸟瞰会使得房屋和建筑物显得更小,更密集。我相信所有神智健全的人都会同意我的这个看法。这并不意味着它们就很"拥挤",人民也绝对不"压抑"。
Clare Lewandowski
Because they are smart enough not to build homes on land that is far more valuable for crops perhaps?
因为他们足够聪明,没有选择在对更适合耕种的土地上建造房屋。
One of the most idiotic things I've in the US is prime crop land turned into ugly urban sprawl with cloned tract homes, wetlands, pastureland, woodlands, and such drained, trees clear cut to be replaced with tidy little trees and bushes, grazing land plowed under and lawns planted. Then ugly boxes erected so people can watch another box at night while eating food that came in a box and nuked in another box, then drive off in a box on wheels to other boxes, and eat out boxes again at lunch.
我觉得美国做过的最愚蠢的事情之一是把绝佳的农作物用地变成了奇丑无比的城市阔张区,到处都是复制粘贴的房屋、湿地、牧场、林地、排水系统,树木被砍伐得干干净净,取而代之的是整洁的小树和灌木,牧场被犁过,被改成草坪。然后建起难看的盒子,这样人们可以在晚上看着另一个盒子,吃着装在一个小盒子里的食物,在另一个盒子里微波加热,然后开车到另一个盒子里,午餐时继续吃盒子里的东西。
And call this a good thing, good investment, good life. All that useless empty space is now useful covered in boxes, sod, lawn chemicals, the sound of leaf blowers, lawn mowers, air conditioners, traffic. Bleh!
大家还把这当成一件好事,好的投资,好的生活。所有那些无用的空间现在都被盒子、草皮、草坪化学物质、吹落叶机的声音、割草机、空调、交通堵塞所覆盖。
译文来源:三泰虎 http://www.santaihu.com/49591.html 译者:Joyceliu
Luiz Giaconi, Journalist from São Paulo.
Depressed? Living there?
住在那里?会压抑?
I live in São Paulo, in a 65 m² apartment, in a nice neighborhood, in the west side of the town.
Millions of people here live in places like this:
我住在圣保罗一间65 m²的公寓,在一个不错的小区,在城市的西区。
成千上万的人住在这样的地方: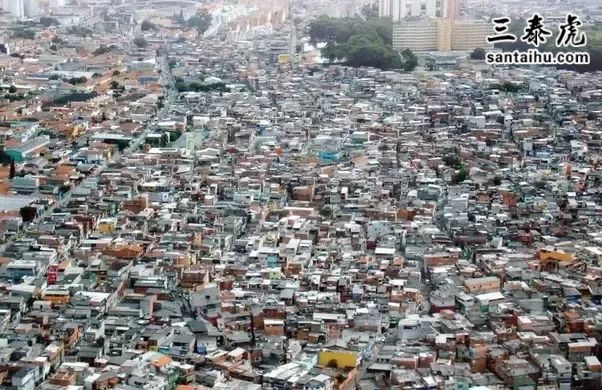 That is Heliópolis, located in the southeast side of SP. One of our biggest favelas. Or slums, as you call it. And we are in the richest city, in the richest state of the country.
那就是Heliopolis,位于圣保罗的东南侧,是我们最大的棚户区之一。或者你们称之为贫民窟。我们身处这个国家最富有的城市,最富有的省。
Just google about housing in Maranhão or Piaui. That's really depressing.
用谷歌搜索一下马拉尼昂或皮奥伊的住房问题吧。真的很令人沮丧。
Go figure. I'd love to live in one of those Chinese houses.
猜猜看。我可是很想住在中国的那种房子里的。
And I bet everybody in Heliópolis also would love.
我打赌Heliopolis的每个人也都会喜欢的。
Peter Elliott, Me in a Dandong cafe with a crap North Korean cigarette
There's a lot of great answers here.
我在这里看到了很多很好的答案。
And another perspective - I lived in Dalian (now 8 million pop) for 3 years and married a local, go to stay with the family every year.
我会从另一个角度回答——我在大连生活了3年(现在有800万人口),娶了一个当地人,每年都会去当地和家人团聚。
Their focus is NOT the house or apartment. That's just a place to sleep and sometimes eat, hang out with family a bit, change clothes between fun things. Most of the time we were out and about to nice restaurants, spas, shopping centres and being handy to those places (super bad traffic) was more important than a bit of lawn or a tree.
他们关注的不是房子或公寓。那只是一个睡觉和吃饭的地方,和家人一起出去玩,一起做各种有趣的事。大部分时间我们都在外面,去一些不错的餐馆、水疗中心、购物中心,去这些地方(交通非常糟糕)娱乐,比一片草坪或一棵树要更为重要。
Having said that, there is status to having a villa on a bit of land in the city but it's not about the land, just the cost of it.
话虽如此,在城市的一小块土地上拥有一座别墅是特别彰显身份地位,但这并不是土地的问题,而是价格的问题。