Why is China a superpower and India just a competitor?
为什么中国是超级大国而印度只是竞争对手?
以下是Quora读者的评论:
Mitu Kumar, Proud to be INDIAN, working for developed India
India is rising day by day. Though we have some internal problems as well as external ones, Indians will address it and will keep on rising on the path of development and innovation (not like copy cat people). India being largest de acy had given all the fre ms, liberty, etc. to its citizens as fundamental right. India is on right path and we will one day become superpower(because INDIAN has all the traits of being a superpower).
印度正在日益崛起。尽管我们有一些国内外的问题,但印度人会解决这些问题,并在发展和创新的道路上不断前进。印度是最大的皿煮国家,给予公民享受基本权利。印度正走在正确的道路上,总有一天我们会成为超级大国(因为印度具备成为超级大国的所有条件)。
John Smith
If China decides it wants heavy industries, the ENTIRE resources of the nation are put into work to accomplish that, if it wants companies to manufacture cheap electronics & provides shipping free world wide than guess what that's gonna happen.
如果中国决定发展重工业,就会投入整个国家的资源努力完成这个目标,如果中国希望公司生产廉价的电子产品,并在全球范围内免费运送,那么猜猜会发生什么。
Prateek Jain, International Relations, Politics, History lover!
First we need to make question a bit more clear and then analyse the reason.
首先我们要把问题解释清楚一点,然后再来分析原因。
According to Oxford dictionary, Superpower: A very powerful and influential nation (used especially with reference to the US and the former Soviet Union when these were perceived as the two most powerful nations in the world).
根据牛津词典,超级大国:非常强大和有影响力的国家(尤其用于指代美国和前su联,当时这两个国家被认为是世界上最强大的两个国家)。
Is China a very powerful and influential nation(Superpower)?No.
中国是一个非常强大和有影响力的国家(超级大国)吗?
China is powerful but certainly not influential. In 21st century country's superpower can be also divided as soft power and hard power.
中国很强大,但肯定不具备影响力。21世纪,国家的超级实力可以分为软实力和硬实力。
Military strength, economic development and strategic importance comes under the umbrella of hard power.
军事实力、经济发展和战略地位属于硬实力范畴。
Whereas cultural, linguistic,etc effect on world are termed as soft power.
而文化、语言等对世界的影响被称为软实力。
When it comes to military strength, China is undoubtedly one of the best and is giving competition to might of US and Russia.
在军事实力方面,中国无疑是最出色的国家之一,正在与美国和俄罗斯竞争。
But what is more important when we talk about influence on world is Soft Power. What is Soft Power is a different topic that I am going to leave in this answer. China is not good in terms of Soft Power and cannot be said as Influential and thus not a Superpower.
但是,当我们谈论对世界的影响时,更重要的是软实力。什么是软实力,这是另外一个话题,我在这个回答中就不赘述了。中国在软实力方面并不优秀,不能说很有影响力,因此中国不是超级大国。
Coming on to reason why China is militarily, economically and strategically powerful.
来看看为什么中国在军事、经济和战略上是强大的。
If they want to build a highway connecting two major cities, they just have to take a pen and mark it on the map. The highway will be made where they have planned it.
如果他们想要建造一条连接两个主要城市的高速公路,他们只需要拿支笔在地图上做个记号。这条公路就会在他们规划好的地方建起来。
But in India, you need to propose the plan, if it get accepted then provide compensation to farmer or land owner. If that land belongs to some minority then our politicians and actors are often seen protesting.
但在印度,你需要提出规划,如果它被人们接受,就要向农民或土地所有者提供补偿。如果那片土地属于 ,那么我们的政客和演员就会频频抗议。
So a highway that should have completed in 6 months often takes 6 years
因此,一条本可以在6个月内完工的高速公路通常要耗上6年的时间。
We are making slow but steady growth and China a fast but often argued by economist as unstable growth.
我们的发展缓慢但稳定,中国的发展虽然快速但经常被经济学家认为并不稳定。
India in two to three decades can become Superpower but till then we are good competitor to other developing and developed nations.
印度在二、三十年后可以成为超级大国,在那之前,我们是其他发展中国家和发达国家的有力竞争者。
Vdhay Kumar N, Consultant at Oil and Gas Industry (2017-present)
China isn't as powerful as you said
中国并没有你说的那么强大。
China has relocated few million s to build shanghai
中国动用几百万人来建设上海。
Over flooded markets with poor quality and second grade material.
市场上充斥着劣质和二流材质的商品。
Big army but less equipped. Their arms &ammunition are copy designs from west they are not fully tested for requirements. They may also fail.
军队规模虽然庞大,但装备较差。他们的武器和弹药都仿制了西方的设计,没有经过全面的测试,性能或许很差。
Gurudutt Mallapur, Proud to be Bharatiya
First things first, China is not a superpower (yet). At least not in the projecting of global military power that we see from US (on behalf of it's allies) or Russia to a lesser extent.
首先,中国(目前)还不是超级大国。至少还没办法像美国(代表其盟友)或俄罗斯那样在全球展示军事实力。
On the other hand China is a superpower in terms of financial muscle which it's flexing away both in terms of business deals all over the globe and trying to buy it's way into every geopolitical pie in its "area of influence" and beyond. It also seems in a hurry to show the world, "Who's Boss".
另一方面,中国在金融实力方面确实是一个超级大国,它在全球的商业贸易方面锋芒毕露,并试图在其"影响力范围"内外的每一块地缘政治蛋糕上都分一杯羹。它似乎也急于向世界展示"谁是老大"。
India on the other hand has quite some way to go before we reach that kind of stage. But it's not as if we can't reach that stage and beyond. We just started later (around 20-30 years) and I hope we don't unnecessarily stop on the way. Though it's good to consolidate gains once in a while, so as not to overshoot due to haste.
而印度在达到这个水平之前还有很长的路要走。但这并不是说我们没有能力达到或超越那个阶段。我们只是起步较晚(大约20-30年),我希望我们不要在中途毫无意义地停下脚步。不过最好偶尔巩固一下,不要操之过急。
I think India's idea of being a superpower is more refined and maturely measured. We're more aware of the dangers of growing too big and falling prey to one's own pride.
我认为印度成为超级大国的想法更准确、更成熟。我们更清楚地意识到发展得太大,沦为自己骄傲的牺牲品的危险。
We should learn from the mistakes of the superpowers and wannabe superpowers and avoid them as far as possible.
我们应该从超级大国和想要成为超级大国的国家的错误中吸取教训,尽量避免这些错误。
Rahul Funde, Editor
I don't understand why are we so obsessed with the term superpower? Are we in 1945 when two powerful countries competed against each other and spent $10tn.
我不明白为什么我们要如此痴迷于"超级大国"这个词?现在还是1945年吗?当时两个强大的国家相互竞争,花费了10万亿美元。
So according to your terms of being a superpower
所以根据你的超级大国的定义。
We will have to send satellite in space, but hey we already have.
Nuclear weapons, we have that too.
Economy? We third largest economy in terms of PPP. most of the world is taking beating and we are moving ahead
我们不得不向太空发射卫星,但这一点我们已经做到了。
核武器,我们也有。
经济?按购买力平价计算,我们是第三大经济体。世界大部分地区都在遭受打击,而我们正稳步前进
1.Poverty reduction- 10 years back BPL index in India was somewhere around 30% now it's only 12.4 almost 2/3 of poverty reduction in a decade.
2.Employment? Unemployment rate in India is 3.8%. Which was 18% last census. 5/6th unemployment reduction.
1.10年前,印度的BPL指数在30%左右,现在只有12.4,几乎是10年内减贫规模的2/3。
2.就业?印度的失业率为3.8%。上次人口普查时是18%,失业率减少了5/6。
What a country need in 21st century is soft power.
一个国家在21世纪需要的是软实力。
I would recommend you to watch Shashi Tharoor's TED talk to know more about soft power of a nation.
我建议你去看Shashi Tharoor的TED演讲,更多地了解一个国家的软实力。
Musaib Wani, Blogger at Musaibwani.blogspot.com (2016-present)
Its a reality that china is a superpower and the second largest economy in the world .the main reason is the economic reform which china carried out early mainly in the agricultural sector.also due to avalability of cheap labour it has become a hotspot for investment .as they say" THE AMERICAN DREAM IS MADE IN CHINA".
中国是超级大国和世界第二大经济体,这已是一个不争的事实。主要原因是中国很早就进行了经济改革,主要是在农业方面。也由于大量的廉价劳动力,它已经成为一个投资热点,正如他们所说的"美国梦是中国制造"。
always recently china strong stand in blocking indias nsg bid .its adamant support for pakistan.
最近中国一直强烈反对印度加入核供应国集团,坚决支持巴基斯坦。
Acorrding to policy experts it is highly unlikely that india can leave behind china(see dovals veiw on china on youtube)
根据政策专家的说法,印度不太可能把中国甩在后面。
Sachin Sinha, blessed to be born and brought up in india
The concept of superpower has been very loosely used for far too long. What makes a nation a superpower and stand out against other countries. Is it just the military might, how many guns you have, how many fighter planes you can show off? The answer is no. The superpower status is accorded to states which have the largest footprint on other countries. This country figures in all the decisions taken by your country. In modern history there have been only a few countries which could be called superpower. UK, USA and USSR. China doesn't feature on this list. Sure China is first among the emerging power. It has a strong economy and a big military but it still doesn't have the footprint required to be a superpower. It is a regional hegemony and a wannabe superpower but not a superpower. Same is the case with India.
超级大国的概念已经被广泛使用太久了。是什么令一个国家成为超级大国,并在与其他国家的竞争中脱颖而出?是否只看军事力量,你有多少枪支,有多少架战斗机可以炫耀?答案是否定的。超级大国的称号指的是那些对其他国家影响最大的国家。这个国家在你们国家所作的所有决定中都占有重要地位。在现代历史上,只有少数几个国家可以被称为超级大国。英国,美国和su联。中国不在这个名单上。当然,中国是新兴大国中的第一名。她有强大的经济和强大的军事力量,但仍然没有成为超级大国所需的潜力。她是一个地区霸主,一个想要成为超级大国的国家,但算不上超级大国。印度也是如此。
Anil Panchal,
Let's turn the table around as China [Which is now struggling to maintain its status as a "Super Power", gained mainly through its "Power House" sector (Industrial production)]
India, on the other hand, isn't that miserable (even if the growth is likely to dip a bit in near-term) due to its diverse sources of income and not the sole concentration on Manufacturing.
让我们扭转乾坤吧,中国(目前正努力维持其"超级大国"的地位,主要是通过其"动力"部门工业生产获得的)
另一方面,由于收入来源的多样化,并不集中在制造业,印度的情况并没有那么糟糕(即使短期内增长可能会略有放缓)。
Moreover, Indian work-force the backbone of India over China may soon help the economy take over its dragon counterpart; however, we still lack some infrastructure development, which might take around a decade for Indians go ahead of China.
此外,印度劳动力——印度的支柱,超过中国——可能很快就会帮助提振印度经济,取代中国龙的地位;然而,我们仍然缺乏一些基础设施建设,印度可能需要10年左右的时间才能走到中国前面。
Hence, terming India as a Chinese competitor is a RIGHT term but Its a STRONG competitor which will soon swipe the place with the world's second largest economy from 10th place where it is standing now
因此,把印度称为中国的竞争对手是正确的,但它是一个强大的竞争对手,很快就会从第10名的位置跃升,取代中国世界第二大经济体的位置。
Anuj Narang, lives in India
And also, because China has got the heart and brains to do something like this.
因为中国有勇气和头脑去做这样的事情。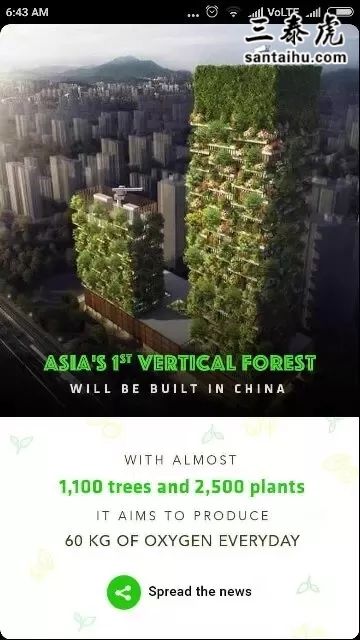 A first of its kind, Vertical Forest, with more than a 1000 trees which can give more than 60 kilograms of oxygen each day.
全球首个垂直森林,有超过1000棵树,每天可以提供超过60公斤的氧气。
The thought is pure genius. A forest right in the middle of the city to control pollution. They could not find the space to build a normal forest. So they're building it vertically now.
这个想法简直就是天才。为了控制污染,在城市中心打造一片森林。他们找不到地方来建造一座普通的森林。所以采取垂直建造的方法。
Sheer brilliance by China to fight pollution and Global warming. I hope we can learn something from this superpower
中国在对抗污染和全球变暖方面获得了卓越成就。我希望我们能从中学到一些东西。
译文来源:三泰虎 http://www.santaihu.com/49550.html 译者:Joyceliu
Kishor Shah, Common Man
In absence of any philosophical standing it is difficult to accept that China is a Super-power. USA was Super-Power for its philosophical alliance to Capitalism & Freedom
. Super power is formed with allies, broadly.
At the time China has many friends but not the allies, as I see.
在缺乏任何哲理基础的情况下,很难接受中国是一个超级大国。美国因其与资本主义和紫游的联盟而成为超级大国。从广义上讲,超级大国是由盟友组成的。
在我看来,中国有很多朋友,但没有盟友。
Rajendra Kumar, MBBS,MD Med, AIIMS,Delhi, IRS
in my view China -. Since it got orders from US as outsourcing as cheap labor--its economy grew.
在我看来,中国因为廉价劳动力从美国获得了外包订单——实现了经济的增长。
India is a de acy --it is going the steady way--soon shall overtake China.Both have huge populations--so are taking advantage of the numbers.
印度是一个皿煮国家,正在稳步前进,很快就会超过中国。这两个国家都拥有庞大的人口,因此在这方面都具有很大优势。
However China has been built on investment , infrastructure and manufacturing while India is yet getting awake.thats the sad part. In India those years have been lost to co ption in governance, politics.
然而,中国是建立在投资、基础设施和制造业基础上的,而印度还没有觉醒。这就是令人悲伤的地方。印度由于治理和政治上的附败,错失了大好时机。
Anonymous
Seriously?In one of the answers below you can see how Indians outperform Chinese in awards,IQ etc.Give opportunities to the deserved than reserved and avoid brain drain,let's see whether Chinese would even stand a chance
你是认真的吗?在下面的一个答案中,你可以看到印度人在奖励、智商等方面如何超过中国人。只要把机会提供给实至名归的人,而不是预留的名额,避免人才流失,我们且看中国人是不是还有机会。
Mahesh Nagar, lives in Kota, Rajasthan, India
Reasons are given blow-
China had double digit growth for 3 decades (1978 to 2008).
One child policy to slow down population growth.
Made in China.
原因如下:
从1978年到2008年,中国经济以两位数的增速增长了30年。
计划生育政策减缓了人口的增长。
还有中国制造。
Anonymous
China is not a superpower now.
India even is not a South Asia player. India has disputes in land or ideology or securities issues with all its neighbouring countries. China's radar is on U.S.
India's radar in on China.
中国现在不是超级大国。
印度甚至在南亚国家中都排不上号。印度与所有邻国在土地、意识形态或安全问题上存在争议。中国赶超的目标是美国。
而印度赶超的目标是中国。