Is India a better country than Brazil?
印度比巴西更好吗?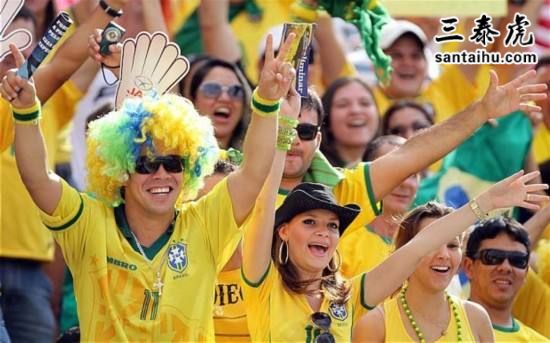 以下是Quora读者的评论:
Meet Shah, lives in India
I'm from India and I spent a year in São Paulo, Brazil for my exchange. So I think I'm qualified to answer.
我来自印度,我在巴西的圣保罗待了一年。所以我认为我有资格回答这个问题。
I'm answering from the point of view of living (i.e. which is a better place to live)
我是从生活的角度来回答的(即哪个地方更适合居住)
Although both have it's pros and cons, my answer would be-
尽管两者各有利弊,我的答案是-
Brazil
巴西
For many reasons, Brazil is a better place to live.
出于许多原因,巴西是一个更适合居住的地方。
Better infrastructure: No arguments here. Brazil has a way better infrastructure than India (I felt rather funny when Brazilians used to say that Brazil has one of the best infrastructure).
更好的基础设施:毫无争议。巴西的基础设施比印度要好得多(巴西人常说巴西的基础设施是世界上最好的之一,我觉得挺可笑)。
Liberal mindset: Brazilians have a liberal mindset and they let you do whatever you want without interfering. On the other hand, Indians are generally conservative and don't give you space.
自由心态:巴西人有一种自由的心态,他们让你做任何你想做的事,不加干涉。而印度人通常比较保守,不给你私人空间。
Traffic: India has a messy and noisy traffic, and lack of traffic discipline. The Brazilian traffic was comparatively pleasant.
交通:印度的交通混乱无序,而且缺乏交通纪律。巴西的交通更舒服一些。
Transport: Brazil has really good buses and metros. I find the Indian transport sy em inefficient and poorly organised.
交通:巴西有非常好的公共汽车和地铁。印度的交通系统效率低下,秩序混乱。
People: The so-called 'Indian hospitality' is overrated. Brazilians are way more hospitable and generous. Also, their open-mindedness and social skills make them really fun to hang out with.
国民:所谓的"印度人的好客"是言过其实了。巴西人更为热情大方。此外,他们的开放思想和社交技能让他们真的很风趣。
Civic sense: Brazilians have a good civic sense. They rarely litter. Also, they follow the lane discipline, parking sense and never cut into queues. On the other hand, Indians are known for their lack of civic sense.
公民意识:巴西人有良好的公民意识。他们不会乱丢垃圾。此外,他们遵守车道纪律,有停车意识,从不插队。另一方面,印度人则以公民意识的匮乏而著称。
Accepting nature: Brazilians have an accepting nature. They accept people from all races, nationality, re gion,etc and make everyone feel welcomed. Also they are liberal towards homosexuality. We Indians aren't always welcoming.
接纳的天性:巴西人有接纳的天性。他们接纳来自各个种族、民族、等的人,让每个人都感到宾至如归。他们对同性恋也很宽容。我们印度人并不总是欢迎。
Work life: Comparatively, work life in Brazil is bit more relaxed and Brazilians aren't usually stressed due to work, whereas their Indian counterparts have an extremely stressful work life.
工作生活:相比之下,巴西的工作生活比较轻松,巴西人通常不会因为工作而感到压力,而印度人的工作生活压力非常大。
Enjoying life: Brazilians are zing at ing and celebrating. They're extremely happy people. In India, the ing scene is dull and the clubs are usually closed by 1-1:30 am.
享受生活:巴西人热衷于聚会和庆祝。他们是非常快乐的人。在印度,派对很无聊,俱乐部通常在凌晨1点到1点30分就关门了。
Quality of life: The quality of life in Brazil is way better than India due to many reasons like social security, life expectancy, lesser pollution, free healthcare and education, liberal outlook, etc.
生活质量:巴西的生活质量比印度高很多,原因有很多,比如社会保障、预期寿命、低污染、免费医疗和教育、自由主义观点等等。
India scores in following departments-
印度在以下几个方面得分:
Safety: India is a bit safer than Brazil. Some places in Brazil have high crime rates. (Although crime ests on large scale in some Indian states)
安全性:印度比巴西安全一点,巴西的某些地方犯罪率很高。(尽管印度的一些邦也存在大规模的犯罪活动)
Diversity: India has diversity in cultures, re gions, languages, music, etc.
Better military.
Variety of climates.
Good variety in food.
Good economic outlook
多样性:印度在文化、、语言、音乐等方面存在多样性。
更好的军事。
各种各样的气候。
食物种类丰富。
良好的经济前景
Don't get me wrong. I love India and I'm proud of my Indian roots. But I have to paint the truth.
别误会我的意思。我爱印度,我为自己的印度血统感到自豪。但我必须说出真相。
Vikram Garg, Think structurally, not in terms of personalities or culture
I will presume the OP means to ask if the average Brazilian is better off than the average Indian.
我猜题主的意思是问巴西人是否比印度人富裕。
The answer is, at this point of time, the average Brazilian is far better off than the average Indian. But in the next two decades, the situation might change somewhat in the favor of the average Indian.
答案是,在这个时候,巴西人的平均生活水平远高于印度人。但在未来20年里,这种情况可能会发生一些有利于普通印度人的变化。
Brazil, despite having a similar 'develo country' tag as India, is a very different country in fundamental ways.
尽管巴西和印度一样被贴上了"发展家"的标签,但它在本质上是一个非常不同的国家。
First and foremost, it is heavily urbanized, as far back as 1960, Brazil's urban population was 46%, and today the vast majority (86%) of Brazilians live in urban areas. In contrast, India's urbanization rate is only 33% even today. Which means India is much less urban even today than Brazil was in 1960 ! The main implication is that less than 20% of Brazilian's still make a living from farming, whereas the majority of Indians (52%) live off the land.
首先,巴西高度城市化,1960年巴西的城市人口为46%,但现在绝大多数(86%)巴西人生活在城市地区。相比之下,现在印度的城市化率也只有33%。这意味着即使在今天,印度的城市化程度也比1960年的巴西低得多!以农业为生的巴西人不到20%,而大多数印度人(52%)还是以土地为生。
Brazil's culture (despite some extremely superficial similarities) is vastly different from Indic cultural traditions. Most notably, the society is not conservative regarding marriage and sex, whereas India is one of the most conservative societies in this regard. However, like other South/Central American countries, Brazil has been strongly influenced by the Catholic church, and there are strict anti-abortion laws. Access to oral contraception is also more limited than in India.
巴西的文化(尽管有一些极其表面的相似之处)与印度的文化传统大相径庭。最值得注意的是,巴西社会在婚姻和性方面并不保守,而印度是在这方面最保守的社会之一。然而,与其他南美/中美洲国家一样,巴西深受天主教会的影响,并有严格的反堕胎法律。口服避孕药也比印度更难购买。
This ties into a very important issue, crime. Brazil's high urbanization rate, legacy of racial inequity, high teen birth and the American appetite for drugs/guns have combined to give Brazil a very high murder rate. India has escaped this problem so far, mainly because it is still very rural and access to guns is extremely difficult in India. Levels of single motherhood, and single parenting are also extremely low (<4%) in India compared to Brazil, where nearly half the children grow up without a father.
这还涉及到一个非常重要的问题,犯罪。巴西的高度城市化、种族不平等的遗留问题、较高的青少年生育率和美国人对毒品和枪支的嗜好,这些因素叠加在一起,使巴西的谋杀率非常高。到目前为止,印度已经避开了这个问题,主要是因为它还是一个较不发达地区,在印度购买枪支非常困难。与巴西相比,印度的单亲母亲和单亲父母的比例也极低(不到4%),巴西有近一半的儿童在没有父亲的环境中长大。
However, India is leaning to towards higher levels of single motherhood, urban social inequity and rampant drug abuse. As India urbanizes, it would do well to learn from Brazil's experience, and take the steps to keep crime/murder rates low.
然而,印度的单身母亲、城市社会不平等和猖獗的吸毒等社会现象正在抬头。随着印度城市化进程的加快,我们应该借鉴巴西的经验,采取正确的措施来降低犯罪率和谋杀率。
Paulo Henrique dos Santos Oliveira, lived in Brazil
It depends on what do you value, what is your position in life and what is your cultural background.
这取决于你认为什么更重要,你在生活中的地位及文化背景。
Brazil has a much higher average income and GDP per capita and much less poverty. It's a diverse nation but its culture is basically Western. Brazilian cities look more organized (I never thought I would write this) and the Brazilian countryside is much more prosperous than the Indian one.
巴西的平均收入和人均GDP比印度高得多,贫困现象也少得多。这是一个多元化的国家,但文化基本上已经西化。巴西的城市看起来更有秩序(我从来没想过我会提到这一点),巴西的乡村比印度的乡村繁荣得多。
India has faster recent economic growth, a better science and technology panor. India is truly one of the most diverse nations in the world. It's quite more equal than Brazil and it has much lower crime rates on average. India also has a stronger military.
印度近年来经济增长较快,科技水平也有所提高。印度确实是世界上最多样化的国家之一。它比巴西更平等,平均犯罪率也更低。印度也有更强大的军队。
If you're rich, you'd be pretty much okay in any of them both, but in India you'd have less worries about crime. If you're poor, you definitely want Brazil, especially if you intend on living on a smaller town. If you want cultural adventure, India is the place to be - Brazil would be an intriguing twist on familiar settings. If you want a longer and healthier life, chances are you'd be better off in Brazil, but if you want a life with better education, India is a good choice. Your go nment will be slightly better in Brazil, and your private sector slightly better in India. India is more traditionalist and Brazil is more liberal.
如果你很有钱,在这两个地方你都能过得很好,但是在印度你就不用担心犯罪了。如果你很穷,尤其是如果你打算住在一个小城镇的话,你肯定会想去巴西。如果你想要文化冒险,印度是你应该去的地方——巴西将会是你熟悉环境中一个有趣的转折。如果你想要更长寿、更健康的生活,在巴西生活可能更适合,但如果你想要获得更好的教育,印度是个不错的选择。巴西的政府会稍微好一点,私企比印度会稍强一点。印度更传统,巴西更自由。
I could go on and on, but some country being better than the other is too subjective a thing. Hope this helps.
我还可以继续说下去,但国家之间谁比谁好是非常主观的事情。希望我的回答对你有所帮助。
Anant Pandit
Life is not Statistics, life is not GDP numbers.
生活不是统计数字,生活也不是GDP数字。
I am an Indian though i feel seeing current scenario playing around me I would pick Brazil as better country to live in.
我是印度人,但鉴于我观察到的现在的局势,但我会选择巴西作为更好的居住地。
A country needs to have rich past and a Richer future. That future is how its people behave , how disciplined they are, the leaders they choose how corrupt or action oriented they are.
一个国家需要有丰富的历史和更丰富的未来。未来取决于人们的行为,他们的自律程度,选择的领导人的程度,以及以行动为导向的程度。
Even in most metropolitan cities and and even in the POSHEST of the area of those metros , you will find litter, you might see someone relieving himself. Women might get stares. You will find even the most educated breaking one law or other. You will find them hailing a cab in middle of the road blocking entire road itself. And same individuals when they are driving they would abuse the person who does that.
即便在大多数大都市,甚至在大都市的最繁华的地带,你也能发现垃圾,还可能看到有人随地小便。女人可能会被盯着看个不停。你会发现即使是受过最高教育的人也会犯这样那样的错误。你会发现他们站在马路中间拦的士,挡住整条路。同样的,当这些人开车的时候,他们也会辱骂开车的人。
India from a peaceful, accepting, embracing country has become and slowly becoming anous, impatient and competitive country. The value sy em which were not based on such materialistic possessions are gradually eroding.
印度从一个和平的、接纳的、包容的国家变成了一个焦虑的、焦躁的、有竞争力的国家。不以这些物质财富为基础的价值体系正在逐渐被侵蚀。
Vivek Tulja
I am a US citizen of Indian origin and have spent much time in Brazil (and other South American countries). Brazil and India are really not comparable. Most of Brazil does not feel like a third world country. Most of the crime and poverty in Brazil that everyone talks about ests only in certain pockets. Having been to 50+ countries, I have not seen anywhere the kind of abject, widespread poverty we see in India - certainly not in Brazil. And the total lack of civic sense! Again, unmatched in the world.
我是印度裔美国公民,在巴西(和其他南美国家)生活过很长时间。巴西和印度确实是没有可比性的。大多数巴西人都不觉得自己是第三世界国家。人人都在谈论的巴西的犯罪和贫困大多只存在于某些特定的地区。我去过50多个国家,但我从未在任何地方看到过像印度那样普遍存在的贫困,当然也没有在巴西看到过。而且公民意识的完全缺失!这在世界上也是无人能及的。
译文来源:三泰虎 http://www.santaihu.com/49541.html 译者:Joyceliu
Yash Pathak, lives in India
Yes!! INDIA totally wins the race !!
耶! !印度完全赢得了比赛!
Pros of India (and cons for Brazil) :—
1.ISRO ( INDIAN SPACE RESEARCH ORGANISATION)
2.We owned Space … Mangalyan to Chandrayan 2 to GSLV MK 3 ! First attempt to MARS !!
3.ARMY ( WAY AHEAD )
4.EDUCATION ( Most Competitive in the whole Earth, All the current Head CEOs of GIANTS are Indian )
5.IT sector. Have our own silicon valley !!
6.Research and Start ups ( way ahead ) ( Mainly in recent years ) !!
7.CULTURE and Heritage
8.GDP ( way ahead ) ( But less in per capita)
9.CELEBRATIONS ( festivals and Joy )
10.Cricket ( They don't play so…but we also got football now …lets see )
11.LANGUAGE DIVERSITY !
12.CRIMES ( even less than USA) ( if you do not know research yourself !!)
13.Largest Democracy
14.Oops How can i forget BOLLYWOOD !! ( Not as big as Hollywood but way more films in a year)
印度的优势(巴西的劣势):-
1.印度空间研究组织
2.我们的太空优势…从火星飞船到月船2号到GSLV MK 3 !首次尝试登陆火星!!
3.军队(领先太多)
4.教育(全球竞争最激烈的国家,目前所有巨头的首席执行官都是印度人)
5.IT行业。我们有自己的硅谷!!
6.科研和初创企业(遥遥领先)(主要是近几年)!!
7.文化和遗产
8.GDP(遥遥领先)(但人均GDP较低)
9.节日庆祝活动(节日及欢乐)
10.板球(他们不玩,所以……但我们现在也有足球了……让我们拭目以待吧)
11.语言多样性!
12.犯罪(甚至比美国还少)(你都不知道要自己研究一下!!)
13.最大的国家
14.哎呀,我怎么能忘记宝莱坞!!(虽然没有好莱坞大,但每年上映的电影更多)
CONS :—
1.Less Built Infrastructure
2.Less per capita GDP due to …
3.High Population
4.Traffics and Road ( can be included in Infrastructures )
5.Less Skyscrapers
6.A little bit conservative , Brazilians are Liberals
7.High poverty and Less Health Benefits!!
8.……. I searched even Google , i can not find anything else !!…
I don't mean to prove anything but the thing is : What i wre IS the Fact !!
劣势:-
1.基础设施的建设较少
2.人均GDP较少,因为……
3.人口多
4.交通及道路(也可算入基础设施内)
5.摩天大楼较少
6.有点保守,巴西人是自由主义者
7.贫困率高,医疗保健福利少!!
8 ........我连谷歌都搜过了,找不到其他方面了!!
我并不想证明什么,但是:我写的就是事实!!
Gabriel Beckman
Brazil by far! Since healthcare in Brazil is actually good and TOTALLY free, even for illegal immigrants. The medium wage in Brazil is much higher than India, in Brazil, people can buy cars, houses, foods, anything because it's kinda ch for their wages. Almost everyone is educated in Brazil, in which means literacy rate is much higher in Brazil than India. Medicines are free in Brazil and for everyone, free universities and free schools. Brazil got good buses and metro sy ems and stuff, not too expensive. Oh and for students is totally free. Brazilians are far away nicer than Indians, in the welcoming index shows that Brazil is the most welcoming country in South America, or the whole americas. There's a lot of opportunities in Brazil, everyone can get a great quality of life in Brazil. But if you're educated and with a degree, no wonders, you gonna be well paid and have everything you want :] Oh, in the biggest cities people usually know english, in which could help you. And Brazil it's not as polutted as India.
截止目前的话,我选巴西!因为巴西的医疗保健真的很不错,而且是完全免费的,即使对非法移民也一视同仁。巴西的中等工资比印度高得多,在巴西,人们有能力购买汽车、房子、食物,任何东西,因为相对于他们的工资来说,这些东西的价格都很便宜。巴西几乎每个人都接受过教育,这意味着巴西的识字率比印度高得多。药品在巴西是免费的,大学和学校对每个人都是免费的。巴西有很好的公共汽车和地铁系统,价格并不算高。对学生来说,费用全免。巴西人远比印度人友好。受欢迎指数显示,巴西是南美乃至整个美洲最受欢迎的国家。巴西有很多机会,每个人都可以在巴西享受到高质量的生活。但是,如果你受过良好的教育,获得了学位,毫无疑问,你就能获得高薪,拥有你想要的一切。哦,在大城市里,人们通常都懂英语。巴西不像印度污染那么严重。