Coronavir s: Centre asks private hospitals to reserve beds for isolation
印度政府要求私立医院预留病床作隔离之用
NEW DELHI: Seeking to boost preparedness to combat Covid-19, the go nment asked private hospitals to reserve beds for isolation of patients and also issued separate guidelines for testing and notifying of positive patients by private institutions including hospitals and laboratories.
新德里:为了加强抗击Covid-19病毒的准备工作,印度政府要求私立医院为病人预留隔离用的床位,并发布了指导方针,要求医院和实验室等私立机构对病人进行检测和通报。
The guidelines issued by the go nment on Tuesday also include clinical management of the disease and protocol for handling of bodies of the deceased even as the go nment decided to rope in private laboratories to ramp up testing network.
政府于星期二发布的指导方针还包括该病的临床管理和处理死者遗体的规程。政府决定将私立实验室纳入其中,以扩大检测网络。
The Indian Council of Medical Research requested the labs to do the tests free of cost. ICMR director general Balram Bhargava said the country needed the support of such labs in weathering the novel coronavir s crisis.
印度医学研究委员会(ICMR)要求这些实验室免费为患者进行测试。ICMR总干事巴尔拉姆·巴尔加瓦表示,为了应对新型冠状病毒危机,印度需要私立实验室的支持。
Go nment is in talks with private hospitals to negotiate the cost of treatment in case beds are to be used.
政府正在与私立医就使用病床的治疗费用进行谈判。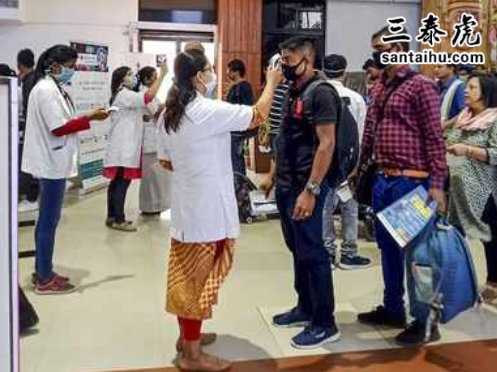 Positive Covid-19 cases rose to 137 on Tuesday including three deaths, according to the health ministry. Reports from states put the number at 143.
根据卫生部的数据,星期二,印度确诊病例上升至137例,其中死亡3例。而根据来自各邦的报告,加起来的这一数字为143。
"There is no evidence of community transmission as yet. Progressively, we have asked private hospitals to earmark isolation beds. This is just for preparedness. Many players have shown interest to participate in the efforts. So, we are sharing different SOPs with them and asking them to be prepared as per protocols," Lav Agarwal, joint secretary in the health ministry, said.
卫生部联合秘书拉夫·阿加瓦尔称:"目前还没有证据表明出现了社区传播。为了做好准备,我们已逐步要求私立医院留出隔离病床。许多私立医院都表现出了参与的兴趣。为此,我们正在与他们分享不同的标准操作规程,并要求他们按照规程做好准备。"
The go nment also continued to tighten restrictions on entry to the country with travel of passengers from Afghanistan, Philipes and Mysia prohibited with immediate effect. "No flight shall take off from these countries to India after 3pm IST," the fresh advisory said. The go nment feels restrictions on entry announced since February 26, along with rigorous contact tracing, have helped limit vir s transmission.
政府还继续加强对来自阿富汗、菲律宾和马来西亚的旅客入境的限制,立即生效。"下午3点以后,从这些国家飞往印度的航班不得起飞,"新的公告称。政府认为,自2月26日宣布的入境限制,以及严格的接触者追踪,有助于遏制病毒传播。
With 137 positive cases so far, over 5,700 people who have come in contact are under surveillance. Besides, 69,436 people are under community surveillance.
到目前为止,印度已经出现137例确诊病例,超过5700名接触者正在接受监测。此外,有69436人受社区观察。
To ascertain whether there is a risk of community transmission, the go nment is waiting for ICMR to test over 1,000 randomly collected samples of people suffering from severe acute respiratory infection such as pneumonia without having a travel history or contact. The results are expected on Wednesday. Meanwhile, the go nment maintained there is only limited localised transmission and there is no need to panic.
为了确定是否存在社区传播的风险,印度政府正在等待ICMR对1000多名随机采集的患有严重急性呼吸道感染(如肺炎)但没有旅行史或接触史的人进行检测。结果预计星期三公布。目前,印度政府坚持认为,印度只出现有限的局部传播,没有必要恐慌。
印度时报读者的评论:
译文来源:三泰虎 http://www.santaihu.com/49528.html 译者:Jessica.Wu
Cyrus • Mumbai • 9 hours ago
a thought and a prayer for all the doctors, nurses and ward boy's. God bless them.
为所有的医生、护士和病人祈祷。愿神保佑他们。
Paadi Pantalu • 8 hours ago
Excellent decision. If Gt fix the cost and standards it is a big relief to public. Modi Gt gave free hand to professionals which is why the extra ordinary results were seen. Keep up the good work.
太好了。印度政府要是解决了成本和标准问题,公众就可以松一口气了。莫迪政府放手让专业人士去做,我们才能看到如此惊人的成果。再接再厉吧。
Rai Saheb • 7 hours ago
BJP is focusing on making new Hospitals and Kejriwaal busy in distributing freebies to buy ves.
人民党正在建设新医院,凯杰里瓦尔(德里首席部长)正忙于分发免费赠品拉。
Arun Choudhary • 9 hours ago
Great order given to private hospital
给了私立医院一个大单啊
Satish • 6 hours ago
We have extremely caring go nment, an confident that our nation will not be like US, Italy...
我们的政府关心人民,相信印度不会步意大利的后尘的……
Srinivasa Babu • 7 hours ago
Good decision. The Go nment fix charges. The private hospitals should not charge highly for the public.
印度政府应该订立收费标准,私立医院不应对公众收取过高的费用。
Scl • India • 3 hours ago
Use JNU, IASRI & IARI hostels, unsold ready to move-in flats in Delhi for quarantine and isolation for suspects/Covid-patients.
可以征用旅馆、未售出的但可拎包入住的公寓,用作隔离点,集中隔离疑似病例或确诊病人
Nandakumar • Bengaluru • 4 hours ago
Private hospitals are run by scammers, whos only goal is to suck money from sick patients.
私立医院都是骗子经营的,他们唯利是图,一心想从病人身上捞钱。
K Mohan • Hyderabad • 7 hours ago
And the private hospital's aim should be health first and not money first
私立医院的目标应该是健康第一,而不是金钱至上
Paadi Pantalu • 8 hours ago
Disposing dead body is important as there is shelf life for the vir s without host. In case of burials , the vir s may move to rodents and other living beings and survive. The Ministry shall recommend cremation.
处理尸体很重要,因为没有宿主的病毒也能存活一段时间。采用土葬的话,病毒可能转移到啮齿动物和其他生物身上并存活下来。卫生部应该建议火葬。
Chandrasekaran Krishnamurthy • 5 hours ago
Go nment is earnest in tackling the disease. Private hospitals should rise to the occasion and be a part of the herculean task. Time for opposition to function shoulder to shoulder.
政府正认真应对疫情。私立医院应该自告奋勇,分担这项艰巨的任务。反对派也应该加入进来并肩作战。
Mr Hello
Do it free of charge for..
私立医院应该免费提供病床啊
K Mohan • Hyderabad
If private hospitals promise to cooperate, surely by this summer we can get rid of COVID19
如果私立医院答应合作,我们肯定能在今年夏天之前终结疫情
Re Ma Vannan• 9 hours ago
GREAT!
太好了!
Indian • 3 hours ago
First make a rule that if any private hospital is careless and result in any community spread, the hospital license and licences of all the doctors will be cancelled indefinitely.
先制定规则,如果任何一家私立医院粗心大意,导致社区传播的出现,医院执照和所有医生的执照将被无限期取消。
Bharatwasi • MERA apna BHARAT • 4 hours ago
CORONA prevention nemonic
C - Clean Your Hands
O- Off From Gatherings
R- Raise Your Immunity
O- Only Sick to Wear Mask
N - No to Hand Shake
A-Avoid Rumours
新冠肺炎预防指南:
C-勤洗手
O-不聚会
R-加强自身的免疫力
O-戴口罩
N-不握手
A-不传谣
Jagdish Madan • Vancouver BC • 5 hours ago
This is a sincere go nment making every effort to contain the Coronavir s. People and all private medical facilities and institutions must cooperate with the go nment to help prevent community transmission stage of the vir s from gaining ground!
这届印度政府很真诚,尽一切努力控制冠状病毒。人民、所有私立医疗机构务必与政府合作,努力防止社区传播!
Priyesh • Mumbai • 5 hours ago
Pakistan has just one death and 190 vs... Sri Lanka no death.. So it means even their go nment is doing good? Nop something is stop the vir s from spreading in south Asian countries.. Atleast for the time being
巴基斯坦只有1例死亡,斯里兰卡没有死亡病例…所以这意味着他们的政府也做得很好?
肯定有什么帮助遏制了病毒在南亚国家的传播,至少目前是这样
K Mohan • Hyderabad • 7 hours ago
And now private hospitals would be showing their attitude by seeking advance payment first
私立医院将通过先行垫付医疗费来表明他们的态度
K Mohan • Hyderabad • 7 hours ago
The preparedness of the go nment towards combating the COVID19 is well appreciable
印度政府为对抗疫情所做的准备是值得赞赏的
Raja • 7 hours ago
Only words but no action. Health emergency has reached highest level of alertness all over the world but our go nment is still organising beds in hospitals.
只说不做。全球的卫生紧急情况已达到最高警戒水平,而印度政府还处于安排床位的阶段。
Gaana User • 2 hours ago
We have to take immediate actions to prevent the future consequence
我们必须立即采取行动,否则后果不堪设想
Jagdip Vaishnav • Mumbai • 3 hours ago
Central gt/Sate Go nments are doing their best to control spread of Corona Vir s ,but it is proved our Health care sector is not up to the mark.
印度中央政府和各邦的邦政府正在尽最大努力控制冠状病毒的传播,但事实也证明我们的医疗部门没有达到标准。
Renuka • 3 hours ago
IF HANDED OVER TO PRIVATE HOSPITALS PEOPLE WILL DIE OF HEFTY BILLS. THEY SHOULD BE CALLED BUTCHER HOUSES...
如果交给私立医院,人们会付不起巨额医疗费用的。这些私立医院应该叫屠宰场……
Jogeswar Sa • 5 hours ago
Good Job
做得好
Kumar • 5 hours ago
BJP is focusing on making new Hospitals
人民党正在建设新医院
K Mohan • Hyderabad • 7 hours ago
Since this is the national emergency and those who have the health cards must be treated for free
国家已经进入紧急状态,应该为持有医保卡的人提供免费治疗
外文:https://timesofindia.indiatimes.com/india/centre-asks-private-hospitals-to-reserve-beds-for-isolation/articleshow/74681875.cms