Markets rebound from record lows; Sensex down over 150 points, Nifty below 9,600
股市从历史低点反弹,Sensex指数下跌超过逾150点,Nifty指数低于9600点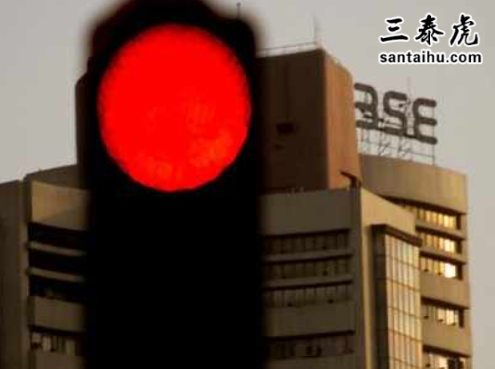 NEW DELHI: Spooked by the coronavir s outbreak, domestic markets witnessed another day of carnage as the equity indices paused trading for 45 minutes after the benchmark BSE sensex and the broader NSE Nifty plunged over 10 per cent, hitting their lower circuit limits, within the first 15 minutes of opening of the session.
新德里:受冠状病毒疫情的惊吓,印度国内股市又经历了一天的暴跌。孟买证券交易所的Sensex指数和印度国家证券交易所的Nifty指数在开盘后15分钟内暴跌逾10%,印度股市随后暂停交易45分钟。
However, the markets rebounded from record lows in a highly volatile session. The BSE index fell 173 points or 0.53 per cent to 32,605, while Nifty was down 49 points or 0.51 per cent at 9,541.
然而,股市在剧烈震荡中从历史低点反弹。Sensex指数下跌173点,至32605点,跌幅0.53%:Nifty指数下跌49点,至9541点,跌幅0.51%。
Major laggards in the sensex pack include Nestle India, Asian Paints, Tech Mahindra, ONGC, Titan, TCS and M&M with their stocks down as much as 7.62 per cent.
Sensex指数中主要落后的企业包括雀巢印度、亚洲涂料、马恒达科技、印度石油天然气公司、Titan、塔塔咨询和M&M,它们的股价下跌了7.62%。
On the other hand, Sun Pharma, HDFC, Tata Steel, SBI, Bharti Airtel, Kotak Bank and Bajaj Finance were up almost 5.48 per cent.
另一方面,太阳制药、HDFC、塔塔钢铁、印度国家银行、Bharti Airtel、Kotak Bank和Bajaj Finance上涨近5.48%。
On NSE, sub-indices Nifty IT, Media and FMCG were down up to 3.38 per cent. While, Nifty PSU Bank, Pharma and Financial Services were up as much as 1.49 per cent.
在NSE指数中,Nifty IT、Media和FMCG的分类指数下跌了3.38%。而Nifty PSU 银行、制药和金融服务指数上涨了1.49%。
Benchmark indices logged their worst-ever fall in previous session, with the BSE index closing 2,919.26 points or 8.18 per cent lower at 32,778.14 points. Likewise, Nifty slumped 868.25 points or 8.30 per cent to close at 9,590.15.
基准股指在前一交易日出现有史以来最严重的下跌,孟买证券交易所的Sensex指数收于32778.14点,下跌2919.26点,跌幅8.18%。同样,Nifty指数暴跌868.25点,收于9590.15点,跌幅8.30%。
The carnage on Dl Street had eroded investor wealth worth Rs 11,27,160.65 crore, taking the total market capitalisation (m-cap) to Rs 1,25,86,398.07 crore on the BSE.
达拉勒街的股灾已经吞噬了投资者112716.065亿卢比的财富,使得孟买证券交易所的总市值跌至1258639.807亿卢比。
India reported its first death from the vir s late on Thursday, and new cases continued to be on the rise.
周四晚些时候,印度报告了首例新冠死亡病例,新增病例继续上升。
印度时报读者的评论:
译文来源:三泰虎 http://www.santaihu.com/49499.html 译者:Jessica.Wu
Tarique Khan • 1 hour ago
Folks who watch too much TV mas news will be most affected by fear of Corona Vir s ...those who dnt watch mas TV news roam the streets freely mingling in crowds without masks and without fear ...I salute these bravehearts more than anyone in this world today ..they are my true heroes
新闻看太多的人最容易受冠状病毒的影响…那些不看新闻的人在街上自由自在地溜达,不戴口罩,无所畏惧……我向这些勇士致敬,他们比世界上任何人都要勇敢,他们是真英雄
Shyamsunder • Bangalore • 1 hour ago
Herd mentality, nothing more.However,there is an opportunity but in the declining market.
羊群效应,仅此而已。不过,市场下跌也是机遇。
Tarique Khan• 1 hour ago
I always admire optimists like you bro
我一直很佩服你这样的乐天派
doshi jenisha • 2 hours ago
This vir s is killing the economy and people badly. And guess what, we are helpless to fix this.
新冠病毒正在破坏经济,影响人们的生活,但我们束手无策。
Prakash Kumar• 1 hour ago
We have absolute fa th in Modiji. Sensex will touch 50K by the end of this year. Khangress mukth India is the only solution. Jai Hind. Now that Scindia is back in BJP everything will be fine
我们对莫迪有绝对的信心。到今年年底,Sensex指数将上涨到5万点。印度必胜,在人民党的统治下,一切都会好起来的
Gopkrishnan T.s• 49 mins ago
If this vir s unknown is killing economy
Save the economy
新冠病毒正在冲击经济,我们应当出台拯救措施
Maniveena• 2 hours ago
WAH FEKU WAH. ONLY INDIAN MARKET IS CRASHING AT SUCH A RATE AND FEKU MEDIA IS CONNECTING IT WITH CORONA. CRASH IS DUE TO BANK LOOT BY CRONIES OF FEKU. FEKU HAI TOH MUMKIN HAI NA?
哇,只有印度股市崩溃啊,莫迪的媒体将下跌归咎于新冠病毒,实际上是由莫迪的亲信抢劫银行造成的。
Sulochana • 1 hour ago
Never knew that Corona vir s also affects share mrkts! Put it also in quarantine now!! Beware,hold on to money! Mrkt may touch new lows still!
从来不知道冠状病毒也会影响股市啊!
要当心了,把钱攥手里!
股市可能还会触及新低!
t k • 1 hour ago
it's not the vir s, its Modi and his foolish policies. foriegn investors are withdrawing their investment.
和新冠病毒没关系,股市暴跌是莫迪政策造成的。外国投资者正在撤回投资。
t k • 20 mins ago
yes modi is W HI O chief so worldwide markets falls
全球股市都在下跌,都怪莫迪吗?
Ashim Chakrabarty • 2 hours ago
Now coronavir s has infected BSE as well.
看来冠状病毒也感染了孟买证券交易所啊。
Ankush • 2 hours ago
Didnt expect it will further down 3000, serious
没想到还会再跌3000点,太吓人了
Raju Kanojia • Faridabad • 1 hour ago
The vir s is killing the economy
这种病毒正在破坏经济。
Tarique Khan• 1 hour ago
There are profiteers who will become millionaires overnight from this vir s scare by selling fake sanirizers , gloves and low grade masks and s ....
通过出售假冒消毒杀菌剂、手套、口罩和注射剂,一些奸商一夜暴富。
Kill All • Qatar • 41 mins ago
if market rise rhen bhakts chant modi modi
and if market falls then bhakts chat coronavir s
如果股市上涨,印度人高喊都是莫迪的功劳
如果股市下跌,那就是冠状病毒造成的
HEM SINGH • 2 hours ago
share Markets are bleeding.
股市也在流血啊。
Rikin Shah • Mumbai • 2 hours ago
All investors in panic mode. Science doesn't seem to have developed so much as it's been 3 months and we have not yet received any cure for this pandemic.
所有投资者都处于恐慌状态。3个月了,还没什么进展,这种病还是没药医。
Tarique Khan• 1 hour ago
The panic is being spread from Mas news channels ...stop watching TV and live normal ...nothing will happen
媒体在散布恐慌,不要看电视了,该怎么过就怎么过……什么都不会发生的
rinkuu • 54 mins ago
stock markets are highly volatile this time it is better to stay away from the markets for few days
股市波动很大,这段时期最好远离股市
Rabinder Nath Patney • 1 hour ago
People who have money , time to buy stocks and gain handsomely in 6 months time.
有钱的人正好可以买进,6个月后就能赚大钱了。
Rabinder Nath Patney • 1 hour ago
If you have money This is the time to buy stocks.
如果你有钱,现在是买股票的好时机。
Krishnan Subrnian Iyer • Mumbai • 8 mins ago
Corona Vir s is not a big threat but corrupt people selling mask in black market charging 4 times the MRP mentioned in the cover is bigger threat to the nations. Consumer court should take a ne of this
冠状病毒不算大威胁,在黑市卖口罩的人是对国家更大的威胁,价格翻了4倍。消协应该关注下。
Madhav • 17 mins ago
Coronavir s will be rememberd for generations to come as it took lives and dest yed economy of whole world.
由于夺去了许多人的生命并破坏了全球经济,新冠病毒将被后人铭记。
Peeush Trikha • India • 1 hour ago
The worst impacted would be the people with bread and butter from share markets.
受影响最严重的将是那些靠炒股为生的人。
TSR The Urbanist • Namma Bengaluru • 1 hour ago
Conavir s effects have been worse on the Financial Markets than on Human lives..The whole world and all Industries have gloomed and bottomed down devastatingly
新冠病毒对金融市场的影响比对人类生命的威胁更严重。整个世界和各行各业都陷入了衰退
aaaa bbbb • 1 hour ago
stay away
远离股市
IndiaHeartSoul• 1 hour ago
Look at the market now..
看看现在的股市
Muralidhar Sundaram • 2 hours ago
Time to buy !!!
是时候买进了!
外文:https://timesofindia.indiatimes.com/business/india-business/trading-halt-sensex-crashes-over-3000-points-nifty-hits-10-lower-circuit/articleshow/74604987.cms