Will China still be the world's manufacturing center in 2030?
2030年中国还会是世界制造业中心吗?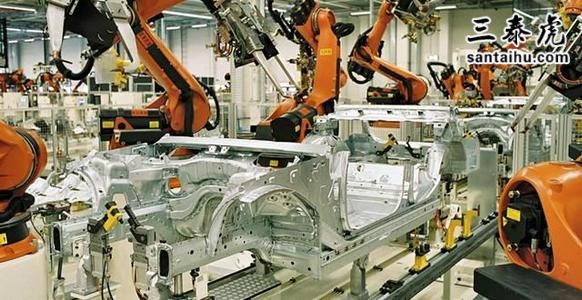 以下是Quora读者的评论:
Paul Denlinger, Have worked in several China internet startups
Yes, but it will be fundamentally different from what it is now.
Here is my thesis:
是的,但根本上将跟现在不同了。
以下是我的评论:
Chinese economic development up until now was based on two major premises:
截至目前为止,中国的经济发展基于两个主要前提:
1.The consumer economy where economic growth is dominated by consumer spending. This reached its peak in 1999, when US consumer spending reached its peak, but had been on a steady slowdown till 2008, and then collapsed in that year. The western economies would continue to be leading consumer economies.
1.以消费支出为主导的消费经济。这种情况在1999年达到峰值,当时美国消费者支出达到峰值,但在2008年之前一直稳步放缓,然后在2008年崩溃。西方经济体将继续引领消费经济。
2.Low energy costs based on coal and other fossil fuels.
2.基于煤炭和其他化石燃料的低能源成本。
Let me be clear about two things:
我要跟大家说清楚两件事:
1.I don't believe that the consumer economy will ever return to what it was like before because the global economy is undergoing fundamental changes. The US Fed and the Chinese go nment have basically been trying to beat life into a dead horse by trying to revive western consumer spending. Instead, the global economy is heading into a prolonged period of falling birth rates, and changes in human immigration patterns which will be caused by political factors and global warming. The consumer economy will no longer exist as the Fed and US economic observers think it will, and the sooner they own up to this new normal, the better. Beijing realizes that the western consumer economies are basically history, which is why it is trying to encourage Chinese consumer spending so that China is less reliant on manufacturing.
1.我不相信消费经济会恢复原来的水平,因为全球经济正在经历根本性的变化。美国联邦储备委员会(Fed)和中国基本上一直试图通过重振西方消费者支出。但是全球经济正进入一个出生率持续下降的时期,政治因素和全球变暖将导致人类移民模式发生改变。消费经济将不再像美联储和美国经济观察人士认为的那样继续存在,他们越早承认这一新常态越好。中国意识到,西方消费经济基本上已经成为历史,这就是为什么它试图鼓励中国消费者支出,以减少中国对制造业的依赖。
2.We are at the tipping point when it comes to energy costs, and within 20-30 years we will have a new situation: new free non-polluting energy mainly from solar.
This brings us back to the original question: Will China still be the manufacturing center of the world in 2030.
2.在能源成本方面,我们正处于一个转折点,在20-30年内,我们将面临一个新局面:新的免费无污染能源主要来自太阳能。
这让我们回到了最初的问题:到2030年,中国还会是世界制造业中心吗?
My answer is yes, for two reasons:
我的回答是肯定的,原因有二:
1.All the major supply chains for manufacturing are in China. At a time when manufacturers are getting close to zero inventory costs in manufacturing, this is becoming more important. Just look at the manufacturing centered around Shenzhen, Zhengzhou and Chengdu which are built up around iPhone manufacturing. Twenty years ago, this scale of manufacturing would not have been possible anywhere in the world, but China, Foxconn and Apple have made it possible now because their supply chains and large supplies of labor are all centered there.
1.所有主要的制造供应链都在中国。在制造商的制造成本趋近于零的时候,这一点变得越来越重要。只要看看以深圳、郑州和成都为中心的制造业就知道了,它们都是围绕iPhone制造而建立起来的。20年前,这种规模的制造在世界上任何地方都是不可能的,但中国、富士康和苹果现在做到了,因为它们的供应链和大量劳动力都集中在那里。
2.Within ten years, China will begin to offer free electricity and energy to major manufacturers as more of the Chinese electricity grid switches to solar, wind and nuclear. New supply chain parks will form around these free energy grids.
2.随着中国电网更多地转向太阳能、风能和核能,中国将在10年内开始向主要制造商提供免费电力和能源。新的供应链园区将围绕这些免费的能源网络形成。
As China moves to a free energy economy, more investment money will be drawn into China, sucking the energy out of other economies.
随着中国转向自由能源经济,更多的投资资金将从其他经济体抽离,引入到中国。
At the same time, China will play an instrumental role in developing the new economy formed around free energy.
与此同时,中国将在围绕自由能源形成的新经济发展中发挥重要作用。
The lesson for the US is clear: the US go nment should work towards building a free energy economy, not just for manufacturing, but for all Americans.
美国从中得到的教训是显而易见的:美国政府应该努力打造一个自由能源经济,不仅是为了制造业,而是为了所有美国人。
There is another lesson here: hoarding capital is becoming less important. As hoarding capital becomes less important, Wall Street will have less influence. As Wall Street becomes less important, fewer of the best and the brightest will head for Wall Street.
这里还有一个教训:囤积资本正变得越来越不重要。随着囤积资本变得没那么重要,华尔街的影响力将会减弱。随着华尔街变得不再那么重要,涌向华尔街的最优秀、最聪明的人才将越来越少。
This is already happening, and is the best hope for the revival of US manufacturing.
这种情况现在就已经发生了,而且是美国制造业复苏的最大希望。
Robbie Jena, Industrial Ecosystems and Strategy Architect
Will China still be the world's manufacturing center in 2030?
2030年中国还会是世界制造业中心吗?
YES. and for the next 300 years barring any major war.
是的。在接下来的300年里都会如此,除非发生重大战争。
That does not mean rest of the countries are useless…
但这并不意味着其他国家一无是处……
Next two that will get along will be USA and India.
紧随其后的两个国家将是美国和印度。
India will take some time due to their social structure but sooner or later will catch up to China.
由于他们的社会结构,印度还需要一些时间,但迟早会赶上中国。
It is because Population for China and India.
这是因为中国和印度的人口规模。
And Language advantage of USA along with serious immigration and World Economy management.
另外美国拥有语言优势,以及严格的移民政策和世界经济管理。
USA will do better if they go by Meritocracy than China does….
如果美国采用精英管理体制,他们会比中国做得更好…
In the future, I will still come back to USA.
未来,我仍然会回到美国。
James Conway, studied Science & Business at The Evergreen State College
No. The reason is nations will become aware that tinkering by engineers in manufacturing is the prime force of innovation. No nation will then allow the important manufacturing jobs of high tech and innovation to go outside their national boundaries. I am not talking about iron hangers.
不会。原因在于,各国将意识到,制造业工程师的修修补补是创新的主要动力。到那时,没有一个国家会允许高科技和创新等重要制造业岗位走出国门。我说的可不是铁衣架哦。
The present condition was created by the billionaires desire to get cheap labor and make themselves richer and labor poorer and not have influence in go nmental affairs. This is the end path of all empires that die. The difference is that America was never a land empire like all the previous ones. As badly as we have been mauled by these idiots we can still climb out of the hole they put us in.
这种现状正是由于亿万富翁们想要获得廉价劳动力,让自己更富有,让劳动者更贫穷,对政府事务毫无影响力的欲望造成的。这是所有帝国灭亡的终点。不同的是,美国从来就不像历史上的其他帝国。尽管我们被这些白痴打得遍体鳞伤,我们还是可以从他们给我们挖的坑里爬出来。
Mind you America does not have to do this all at once. Just make important manufacturing technics as unexportable and make go nment purchases to be only American made. That is 30% of the economy and it would be a good thing for America to be able to be totally self-sufficient. The Armed Forces & Pentagon need American made computers.
请注意,美国不必一次性完成所有这些。让重要的制造技术无法出口,让政府采购的只有美国制造。这占了美国经济的30%,如果美国能够完全自给自足,那将是一件好事。军队和五角大楼需要美国制造的电脑。
Mark Dallas, Professor,Political Science & Asian Studies,Union College NY
I would think so, but I'm not sure that is the right question:
我觉得会,但我不确定这个问题是否正确:
1.China's population is huge, so it should be the "largest" in EVERYTHING. Even with low productivity, a massive population with a little bit of manufacturing capabilities should be world-leading.
1.中国人口众多,所以在任何方面都应该是"最大"的。即使是在生产率低下的情况下,拥有少量制造能力的庞大人口也应该是世界领先的。
2.Manufacturing itself is becoming less and less important, so advanced countries are better off getting rid of many types of manufacturing (but not all). The US economy is 80% services, so the fact that we still produce so much manufactured goods in a very small portion of our economy points to the high levels of productivity of our industries. (yes, our large population compared to Germany or Japan also helps, so best to look at all of this data on a per capita basis.
2.制造业本身正变得越来越不重要,因此发达国家最好摆脱多种类型的制造业(但不是全部)。美国经济的80%是服务业,所以占我们经济的很小一部分就能生产如此多的制成品,这一事实表明我们的工业生产力水平是很高的。(是的,与德国或日本相比,我们庞大的人口也有帮助,所以最好看人均数据。
3.Technology is shifting such that information is the new critical commodity, not goods and services. I would classify data as a new sector, not just throw it under services (which itself is a seriously problematic category of analysis). So, when one looks to the future, consider data, its collection, manipulation and usages as the core of the economy, not the physical stuff of manufacturing. China does have some data giants, but they are giants only within China…thus far.
3.科技正在发生变化,信息成为新的关键商品,而不是商品和服务。我会把数据归类为一个新的领域,而不是简单地把它归入服务业(服务业本身就是一个问题严重的分析类别)。因此,当人们展望未来时,要把数据、数据的收集、操作和使用作为经济的核心,而不是制造业的物质基础。中国确实有一些数据巨头,但迄今为止,它们还只是中国国内的巨头而已。
Juho Salokangas, IT | Business | Travel | Sharing Economy
Large trend towards in-sourcing to countries, where the consumption takes place (EU, U.S.) is bound to happen for following reasons:
消费国(欧盟、美国)转向内销的大趋势必然会发生,原因如下:
Currently import duties, taxes and logistics increase the price of Chinese made goods significantly
目前,进口关税、税收和物流大大拉高了中国制造商品的价格。
Consumers in the EU and U.S. give extra value towards goods that are produced back home. On the go nment level this materializes in subsidies for factories and corporate taxation programs
欧盟和美国的消费者更重视本国生产的商品。在政府水平上,这体现在对工厂的补贴和企业税收计划上。
While Chinese labor costs and living standards continue to rise, the new generation of automation is close to breaking even with manual labor
在中国劳动力成本和生活水平持续上升的同时,新一代自动化水平已经快要与体力劳动持平。
译文来源:三泰虎 http://www.santaihu.com/49483.html 译者:Joyceliu
Jeffrey D. Brinkerhoff
In years past, outsiders were distrustful about China, questioning whether it would ever turn into a steady society and have an OK economy. In years late, outsiders are anxious about China, stressing whether China will assume control over the world (at any rate financially). Be that as it may, how do China's own particular analysts and pioneers consider the eventual fate of the terrain?
在过去的几年里,外界对中国持怀疑态度,质疑中国能否变成一个稳定的社会,经济发展会否良好。近年来,外界对中国感到焦虑,密切关注中国是否会(至少在经济上)接管世界。尽管如此,中国自己的分析人士和先驱者是如何看待这片土地的最终命运的呢?
Kevin Brophy, Entrepreneur
China is transitioning from a manufacturing / industrial society to a service society like the Western economies. They have massively overbuilt in real estate and infrastructure, and their labor costs are approaching Western levels. So the answer is probably no but it's impossible to predict 15 years out.
中国正在从一个制造业/工业社会向西方经济体那样的服务型社会转变。他们在房地产和基础设施上过度建设,他们的劳动力成本正在逼近西方的水平。所以答案可能是否定的,但预测15年后的情况是不可能的。
Byeonguk Yook, History, politics enthusiast.
Yes, if they succeed in attracting more higher value added production. That means more knowledge intensive stuff. Implies the work force will have to be better educated, intellectual property is better protected.
是的,如果它们能成功吸引更多更高附加值的产品。这意味着更多的知识密集型的东西。这意味着劳动力将受到更好的教育,知识产权将得到更好的保护。
Ray Gordon, Interested in China
Likely.
Now, there are a couple of myths surrounding manufacturing, particularly in regards to China.
有可能。
现在,关于制造业有一些神话,特别是中国。
1.) China's comparative advantage is only cheap labor.
I've heard this a surprisingly large amount of times on Social networks from so called "analysts" (who surprisingly refuse to answer more complicated questions about Economics afterwards). One only needs to take a look at these two graphs to see that this is untrue.
Wages in China since 2000 have over quintupled. Yet China's share of world manufacturing has tripled since 2000, it's quite clear that China's comparative advantage is clearly not just cheap labor.
1)。中国的比较优势只是廉价劳动力。
在社交网络上,我从所谓的"分析师"那里听到过很多次这样的话(他们后来竟然拒绝回答更复杂的经济学问题)。只要看看以下的图就知道这不是真的。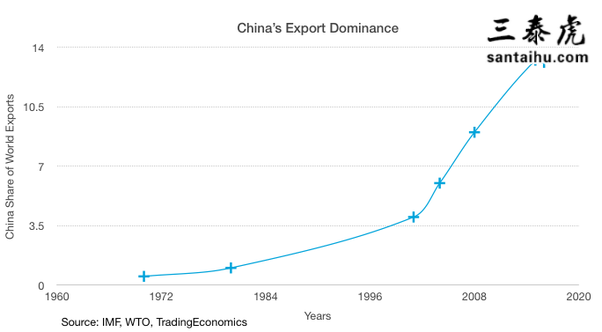 自2000年以来,中国的工资增长了五倍多。然而,自2000年以来,中国在世界制造业中所占的份额已经增长了两倍,很明显,中国的比较优势显然不仅仅是廉价劳动力。
2.) China's manufacturing sector lacks innovations so therefore is just waiting to get taken out by lower wage countries
While low-end segments are already shifting to South-east Asia, China is increasingly migrating up the value chain (at a frighteningly fast pace), just look at some of these graphs of China's progress:
2)。中国的制造业缺乏创新,因此只能等着被低工资国家取代。
虽然低端市场已经开始向东南亚转移,但中国正越来越多地向价值链上游转移(速度快得吓人),看看这些中国发展的图表就知道了:
China recently overtook the US for patent applications, keep in mind China's GDP per Capita is still less than 10,000$ (Nominal) and 20,000$ (PPP) so there is a lot more coming.
中国最近在专利申请方面超过了美国,记住中国的人均GDP还不到1万美元(名义上)和2万美元(购买力平价),所以未来的专利申请还会更多。
More importantly, China's higher value added trade is increasing while lower value add is shifting to Southeast Asia.
更重要的是,中国的高附加值贸易正在增长,而低附加值贸易正在向东南亚转移。
3.) China has no cheap labor left
While it is true that China's comparative advantage is not only cheap labor, some of it is. China is still very rich in cheap labor from the countryside and China's GDP per Capita and developmental levels are still low enough that a huge amount of cheap labor can be squeezed out of the remainder of the poorer levels of the society. This is the reason why it is premature to say that China is simply out of cheap labor and therefore is going to lose the manufacturing crown.
3)。中国已经没有廉价劳动力了
诚然,中国的比较优势不是只有廉价劳动力。中国仍然有大量来自农村的廉价劳动力,中国的人均GDP和发展水平仍然很低,大量的廉价劳动力可以被挤出社会的其他贫困阶层。这就是为什么现在说中国没有廉价劳动力,因此将失去制造业桂冠还为时过早的原因。
China's OBOR is often looked as a grand plan to connect Europe to Asia, but in reality a large part of it is probably to do with connecting the interior with low wages persisting to the coast and reduction of transportation costs.
中国的一带一路经常被视为连接欧洲和亚洲的宏伟计划,但实际上,它可能在很大程度上与内陆连通性有关,因为内陆地区工资水平较低,沿海地区工资水平较低,运输成本较低。
Now, will China still be the world's manufacturing center in 2030? Likely yes, but it will not be as dominant as it is now.
到2030年,中国还会是世界制造业中心吗?可能会,但不会像现在这样占据主导地位了。