Coronavir s footprint expands to Tamil Nadu, Ladakh; 34 confirmed
印度新冠确诊34例,蔓延至泰米尔纳德邦、拉达克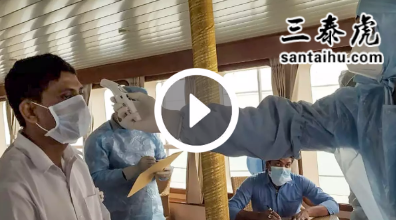 NEW DELHI: Covid-19 expanded its geographical footprint in India on Saturday with the health ministry confirming three more positive cases — two from Ladakh in the north, and one down south in Tamil Nadu. Both the union territory and the southern state didn't have a single confirmed case of coronavir s before this.
新德里:周六,印度卫生部确认了3例新增确诊病例——2例来自北部的拉达克,1例来自南部的泰米尔纳德邦,新冠病毒扩大了在印度的地理足迹。在此之前,联邦属地和南部各邦均没有一例冠状病毒确诊病例。
In the northeast, Assam went on a sanitising and quarantining drive on realising that the 76-year-old US national, who was confirmed positive for Covid-19 in Bhutan on Friday, had spent about a fortnight in India. His itinerary included a Brahmaputra cruise and a resort in Jorhat. The Union health ministry said over 150 people, who came into contact of the 76-year-old, have been place under surveillance. Cases were also reported in Uttar Pradesh (6 in Agra; 1 each in Noida and Ghaziabad), Delhi (3), Ker (3) and Telangana (1). In addition to this, 16 Italian nationals who had travelled across Rajasthan in February last week were found to be positive for Covid-19.
在印度东北部,阿萨姆邦发现一位76岁的美国人(上周五在不丹确诊为covid19阳性)已在印度呆了大约两周,开始进行消毒和隔离。他的行程包括布拉马普特拉河之旅和乔哈特的度假胜地。联邦卫生部表示,与76岁老人有过接触的150多人已经处于监测之下。北方邦也报告了病例(阿格拉6例,诺伊达和加兹阿巴德各1例)、德里(3例)、喀拉拉邦(3例)和特伦甘纳邦(1例)。此外,上周(2月份)在拉贾斯坦邦旅行的16名意大利人的Covid-19检测呈阳。
The Union health ministry said on Saturday the total number of confirmed cases stands at 34 now. "The two who tested positive in Ladakh had travelled to Iran recently. The Tamil Nadu patient had visited Oman," the ministry said, adding that all the patients were stable.
联邦卫生部周六表示,目前确诊病例总数为34例。卫生部表示:"这两名在拉达克检测呈阳性的人最近去了伊朗。泰米尔纳德邦的确诊病人曾去过阿曼。",并补充说所有病人的情况都很稳定。
The ministry defines confirmed cases as those who tested positive twice for Covid-19, once from a local testing facility and a second time from the National Institute of Virology (NIV), Pune. In the suspected category are those who have tested positive once locally but re-confirmation from NIV is awaited.
卫生部将2次新冠病毒检测呈阳性者定义为确诊病例,1次检测由自当地检测机构进行,第2次有由位于普纳的国家病毒学研究(NIV)所进行。疑似病例中为那些在当地第一次检测呈阳性,但仍在等待NIV再次确诊的人。
The two from Ladakh had gone to Iran for pilgrimage, said local authorities. One of them flew from Tehran to Delhi on February 26 and landed in Ladakh two days later. The other patient had landed in Delhi on February 22 and arrived in Ladakh on February 27. Both of them have been kept in isolation at SNM hospital, Leh.
当地称,两名拉达克确诊病例去过伊朗朝圣。其中一人于2月26日从德黑兰飞往德里,两天后抵达拉达克。另一名患者于2月22日抵达德里,2月27日抵达拉达克。两人均被隔离在列城的SNM医院。
The Tamil Nadu patient is employed in a construction company in Muscat. The 45-year-old landed in India on February 27. Tamil Nadu's health minister C Vijaya Baskar said the 45-year-old had been isolated at Rajiv Gandhi Go nment General Hospital (RGGH) in Chennai and was stable.
泰米尔纳德邦病例受雇于马斯喀特的一家建筑公司。现年45岁的他于2月27日抵达印度。泰米尔纳德邦卫生部长C Vijaya Baskar表示,这名45岁的男子在金奈的拉吉夫·甘地政府总医院隔离,目前病情稳定。
Several states, including Jammu and Kashmir, Punjab, Delhi, and UP, have reported several suspected cases. In Delhi, for example, a woman who had come in contact with the 26-year-old Paytm employee from Janakpuri has tested positive in the preliminary test and her swab sample has been sent to NIV, Pune, for re-confirmation.
查谟和克什米尔、旁遮普邦、德里和北方邦等都报告了几起疑似病例。例如,在德里,一名与26岁Paytm雇员有过接触的妇女在初步检测中呈阳性,她的样本已被送往普纳的NIV再次确认。
"In all, we have three confirmed cases and one suspected case as on Saturday. More than 375 persons who may have come in their contact are under surveillance," said an offi al from the Delhi health department.
德里卫生部的一名官员表示:"截至周六,我们总共发现了3例确诊病例和1例疑似病例。375逾名可能与这些病例接触的人均在接受监测。"
印度时报读者的评论:
译文来源:三泰虎 http://www.santaihu.com/49463.html 译者:Jessica.Wu
Tsetan • 7 hours ago
It is revenge from animal through vir s to human
新冠病毒是动物对人类的复仇
SRINIVASA BABU.R • BALRAMNAGAR • 9 hours ago
The authorities should take all precaution to contain the spread of vir s. Al possible steps has to be taken by public also.
当局应该采取一切预防措施来控制病毒的传播,公众也应该尽力配合,做好预防措施。
John • 5 hours ago
Go nment should cancel IPL, re gious institutions, theatres and postpone exams
印度政府应该取消印度板球超级联赛,关闭剧院,推迟考试
Sanjoy • 3 hours ago
stop foreign nationals to enter India for a few days
这段时期,还是禁止外国人进入印度吧
Vikas Tyagi • 4 hours ago
So i was at chemist store. A guy came to buy mask and chemist said " its for 290 rs"
and he left!
我去了药店,看到一个人买口罩,药剂师说:"要290卢比。"然后那人就走了
shobha rani kandakatla • 5 hours ago
Don't worry our modiji will stop it from spreading
别担心,我们的莫迪会阻止疫情蔓延的
Ramesh • 7 hours ago
Medical Experts in USA are saying this Coronavir s could be as deadly as Spanish flu of 1918, the most devastating pandemic till date, with loss of 5 crore lives. Govt strategy has to be more aggressive. Coronavir s is already in India. No use of focusing on Airports alone. Now we have to focus on how to prevent internal Community transmission.
美国医学专家表示,这种冠状病毒可能与1918年西班牙流感一样致命,1918年西班牙流感是迄今为止最具毁灭性的流行病,造成5000万人死亡。印度政府必须更加积极采取预防措施。冠状病毒已经在印度传播了。只盯着机场是没有用的,现在我们必须把重点放在如何防止内部社区传播上。
Bharat • 9 hours ago
Take 2 shots of whiskey, brandy or Rum with hotwater. All that coronavir s gone overnight . Its just International conspiracy aimed at disturbing world peace. In reality its nothing...
喝两杯威士忌、白兰地或朗姆酒,再喝点热水,冠状病毒将在一夜之间消失?这是旨在扰乱世界和平的国际阴谋,实际上没什么的……
Abhinav Verma • 4 hours ago
Even God is not hel us. As soon as temperature starts rising , it rains.
就连老天都不会帮我们,一旦气温开始上升,就会下雨。
Syed Tanvir Ali • Howrah • 4 hours ago
The way we are fighting Corona we have to fight with same capacity with co ption.
我们要拿出抗击新冠病毒的力度来反腐败
yashpisal Pisal • 4 hours ago
corona vir s should be controlled now othrwise it will kill all humans.
我们现在应该控制住冠状病毒,否则所有人都会遭殃。
Arun Choudhary • 5 hours ago
Slowly slowly it is expanding rapidly ,,,not good for nation ,,,,
病毒正在我们国家迅速蔓延,不妙啊……
Gaana User • 5 hours ago
Steadily and slowly the corona vir s is spreading all over India and for 2 months all Indian should be very careful of that and follow the advisory given by the go nment of India strictly.
病毒正在向印度各地蔓延,所有印度人都应该保持高度警惕,严格听从印度政府给出的建议。
Indra Prabha • faridabad • 5 hours ago
The visitors have spread far and wide undetected.Surveillance needs to be strictly enforced.
那些游客到处传播病毒,很多接触者都还没检测出来,必须严格进行监测啊。
Jeet • 6 hours ago
the animals are taking their revenge for humans eating the mute and helpless
动物正在报复人类啊
HappyTimes User • 6 hours ago
It's deadly as Spanish flu..
看来跟西班牙流感一样致命…
Ramesh Kumar • 6 hours ago
Non vegetarianism, wrong acts such as nz in close promity by thousands, large gathering in churches for sermon and conversion are all causing communivable diseases including some deadly ones. People should put a stop to these activities and go nment should ban them. If still carried out please punish strictly
在教堂举行的大型布道和皈依会都可能传播疾病,包括一些致命的疾病。人们应该停止这些活动,政府也应该出来禁止。如果活动仍然举行,请严惩。
Bharat • 6 hours ago
Just relax and sit for bhajan eating feku pakoda and sip chai. all that coronavir s go off in a moment.
放松,坐下来喝杯印度茶,所有冠状病毒将瞬间消失。
ABHAY KUMAR • 6 hours ago
corona is very dangerous and easily to spread
新冠病毒非常危险,很容易传播
Jagdish Madan • Vancouver BC • 7 hours ago
Saving grace is that the vir s cannot survive at temperatures above 27 degrees. The approaching summer months and rising temperatures should help wipe it out from most parts of India.
好在这种病毒在27度以上的温度下无法存活。即将到来的夏季和不断上升的气温应该有助于印度大部分地区消灭这种病毒。
Vijaya • 7 hours ago
please sanitise airlines....
请对航班都进行消毒
Keshu Thapa
The authorities should take all precaution to contain the sp
当局应该采取一切预防措施来控制病毒的传播
Sambappa Kalv • 8 hours ago
Corona is moving with speed of light
病毒正在以光速传播
Vishal • 8 hours ago
Iran is spreading Corona in India
伊朗把新冠病毒传到印度来了
Sun Rise • 10 hours ago
The infected people need to be aggressively treated with esting antiviral medications.
我们应该用现有的抗病毒药物对感染者进行积极治疗。
外文:https://timesofindia.indiatimes.com/india/coronavir s-cases-in-india-corona-footprint-expands-to-tn-ladakh-34-confirmed/articleshow/74533067.cms