Coronavir s outbreak: 85 Indian students in Italian town send SOS
新冠病毒疫情爆发:85名印度留学生从意大利小镇发出求救信号
JAIPUR: Around 85 Indian students stranded for a week in the university town of Pavia in north Italy's Lombardy region, which has reported 17 coronavir s deaths over the past few days, have sent an SOS seeking evacuation at the earliest. Some of these students were booked on flights to India that got cancelled in the wake of new coronavir s cases being reported in Italy.
斋浦尔:在意大利北部伦巴第地区的帕维亚大学城,约85名印度留学生被困一周,在过去几天里该地区已经有17人死于新冠病毒,他们已经发出紧急求救信号,希望尽快撤离。这些印度留学生中的一些预订了飞往印度的航班,但由于意大利出现了新冠病毒确诊病例,航班取消了。
Panic among the students has escted since a non-teaching faculty member of the University of Pavia's engineering department tested positive for coronavir s. Around 15 other staff members have been quarantined.
自从帕维亚大学工程系一名非教学人员被检测出新冠病毒阳性后,学生们的恐慌情绪进一步蔓延。约15名工作人员已被隔离。
Students in Italy fear situation might get worse
位于意大利的学生担心情况会变得更糟
Half of us had booked tickets to return to India, but flights are getting cancelled every day and new tickets are prohibitively expensive," Ankita KS, a student from Bengaluru pursuing a degree in international business and entrepreneurship, told TOI over phone. "Grocery shops here are fast running out of stocks. We fear the situation might get worse and, therefore, request the go nment of India to step in."
来自班加罗尔的学生安基塔·克斯正在攻读国际商务和创业学位,她致电印度时报记者:"我们中有一半人已经预定了返回印度的机票,但是每天都有航班被取消,而且机票贵得吓人。这里的杂货店很快就没有存货了。我们担心情况会变得更糟,因此请求印度政府介入。"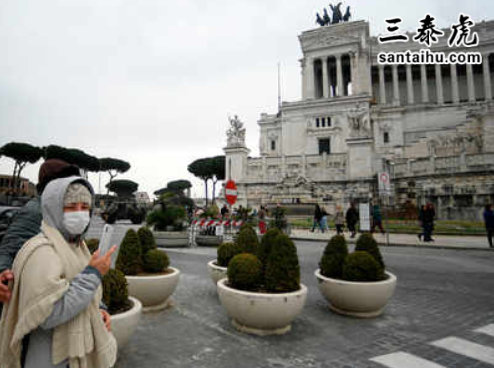 Of the 85 Indian students stuck in Pavia, 25 are from Telangana, 20 from Karnataka, 15 from Tamil Nadu, four from Ker, two from Delhi and one each from Rajasthan, Gurgaon and Dehradun. Around 65 of them are studying engineering.
被困在帕维亚的85名印度学生中,有25人来自特伦甘纳邦,20人来自卡纳塔克邦,15人来自泰米尔纳德邦,4人来自喀拉拉邦,2人来自德里,拉贾斯坦邦、古尔冈和德拉敦各1人。他们中大约有65人学习工程学。
Industrial automation student Purushoth Kumar Madhu is scheduled to fly out to India on March 10, but uncertainty over whether the flight will operate is making him jittery. "I am told most flights through the Gulf are being cancelled. Indians being quarantined on arrival at Indian airports for 10-15 days is another concern," he said.
工业自动化专业的学生马杜原定于3月10日飞往印度,但航班能否正常起飞的不确定性令他紧张不安。他说:"我听说,大部分途经海湾地区的航班都被取消了。印度人抵达印度机场后要被隔离10-15天,这又是一个问题"
印度时报读者的评论:
译文来源:三泰虎 http://www.santaihu.com/49429.html 译者:Jessica.Wu
Upnorth • USA • 6 hours ago
So let me get this straight. The flights are expensive so they want the go nment to use tax payers money to bring them back. They don't want to be quarantined on arrival in India, so spreading this to India and the poor is not a concern for these kids from upper middle class
我看明白了,是因为机票很贵,所以他们想让政府接他们回国,用的是纳税人的钱。他们不想一到印度就被隔离,所以这些来自中上层阶级的孩子不在乎把病毒传播到印度,不在乎传染给穷人。
D Bhat • India • 9 hours ago
Indian students who go abroad must pay for their own flights to return. It's not possible for Indian go nment to pay for rescue flights from every corner of the world. Ask Rahul and Sonia to pay for them.
在国外的印度留学生必须自己支付返程机票。印度政府不可能出钱派飞机前往世界各地救援。让拉胡尔和索尼娅为这些在意大利留学的学生买机票。
Chandrasekhar J• 6 hours ago
Have some sense, they are students, not financially independent
理性点,他们是学生,经济上不独立
Amrit Bindra • Cleveland • 8 hours ago
These students had to go abroad for studies because the Indian Universities are reserved for under performers who drop out mid way!
这些学生不得不去国外学习,因为印度的大学只录取有预留名额的学生!
paarth • 9 hours ago
Well they should have come back sooner when the flights were cher. They can't have it both ways and then expect the go nment to bail them out. Obviously they are going to be quarantined when the come back. They might be infected
机票便宜的时候,他们就该回来的,不可能两全其美的,还指望政府去救他们。很明显,他们可能被感染了,回来的时候会被隔离。
Sachin • 9 hours ago
we dont need them to spread it here
别回来,他们会把病毒带回来的
Ravindra Gupta• 4 hours ago
SACHIN M,
YOU SELFISH IDIOT
THESE STUDENTS NEED TO BE EVACUATED.
GOVERNMENT of India should act fast.
你这个自私的傻瓜,我们应该帮助撤离印度学生。
印度政府应该迅速采取行动。
Pkmb • 3 hours ago
i really do not understand this concept of Indians. they run out of India for good and when something bad happens there, they expect the go nment of India to help them.
aren't they supposed to co-operate with the local authorities and help them contain the vir s? instead they want to come to India to spread the vir s.
我真的不理解印度人的思维,他们为了好前程离开了印度,在国外遇上了麻烦,就希望印度政府去救他们。难道他们不应该配合当地,帮助他们控制疫情吗?相反,他们想回来印度传播病毒。
AsaMatterOfFact • 9 hours ago
Why do students seek admission overseas, are they incompetent to compete and seek admissions with in India.
为什么这些学生要去国外留学,他们在印度考不上大学吗?
Create & Innovate • 3 hours ago
More than half of these students will settle down outside India, after completing their education and will be discriminating ag inst their own fellow Indians.
超过一半的印度留学生在完成学业后将在国外定居,发达后他们会歧视自己的印度同胞。
Nandakumar • Bengaluru • 3 hours ago
I can't understand why somebody would go to Italy and to study
我不明白为什么有人会去意大利和留学
Bong Parasite Roy Bhonsdika Mc• 2 hours ago
parents got ill gotten black money, child spoiled, couldn't get admitted to a good institution in India, so sent outside to get purchased degrees.
父母有非法获得的黑钱,孩子被宠坏了,考不上印度的好学校,所以被送到国外去买学位。
Anuj Ahluwalia • Columbus, Ohio • 6 hours ago
The vir s is spreading worldwide . High time go nments should stop evacuations and let people recover wherever they are. Yiy can not evacuate from 50 different countries
这种病毒正在全世界蔓延。印度政府别撤侨了,无论在哪里都能得到治疗啊,都能康复的。不可能从50个不同的国家撤离所有印度人
Vicky Rajput• 1 hour ago
y not? India can go to moon.. build a billion dollar statue.. fund hyperloops. and cant respond to SOS for its very own citizens.
印度有钱登月,有钱建一座价值10亿美元的雕像,有钱修高铁,却不能对印度公民发出的求救信号做出回应…
Prakash Hande • 5 hours ago
this is an interesting request! until now there is no travel ban for italy. They can easily return - i don't understand why they need to request SOS.
这是一个有趣的请求!
到目前为止,意大利还没有发布旅行禁令,他们随便都能回来——我不明白他们为什么要求救。
AsaMatterOfFact • 7 hours ago
why should taxpayers money be spent to bring them home. They should ask their prents to foot the bill as they financed thier studies abroad, if they can spend thousnads of dollars on their studies then why can't they pay for their one side fare.
为什么要花纳税人的钱把他们接回来呢
?应该让他们的父母出钱接他们回来,既然他们负担得起留学费用,为什么买不起单程机票呢?
Harami Popat • 3 hours ago
Beat them up so badly left and center that their generations will never think of leaving india and going else where.
狠狠地打脸了,他们再也不想离开印度去别的地方了。
Narendra • 3 hours ago
People leave India and go to other countries to study n work and let other companies grow.. they only need India while they are in difficult times.. Dont bring them back. it will be difficult to control here..
他们离开印度去其他国家学习和工作,为当地做贡献,只有在困难时期才需要印度。不要把他们接回来。这种病毒很难控制。
Sanjeev • 5 hours ago
if they can afford to study in European countries. they can very well afford to buy flight tickets though bit expensive, why do they want Indian Go nment to spend on their return fares , Italy is still not quarantined like .
既然他们能负担得起在欧洲留学的费用,那他们完全买得起机票啊,虽然有点贵。
为什么他们要印度政府帮助撤离?
Vicky • 5 hours ago
Better the students can take flights through other routes, they can afford it very well.
这些学生可以选择其他路线搭飞机,他们买得起机票的。
Guest • 4 hours ago
Why Sonia Vinci Barmaid dancer is not hel those poor stranded students.
为什么索尼娅不帮助那些被困学生。
Jagdish Madan • Vancouver BC • 4 hours ago
All Indians needing assistance to evacuate from anywhere must be helped. Italy and Italians are particularly dangerous for Indians.
我们应当帮助有困难的印度人撤离。印度人留在意大利太危险。
vikas Machiah • 2 hours ago
Most of these Students who go abroad want to seek job abroad.. get citizenship and forget own country. Even they are not bothered about their parents and friends.. these students should reach out Italy anty Sonia for help.. modi uncle will not do anything..
大多数出国的学生都想在国外找工作,都想移民,背弃自己的国家。他们甚至也不在乎他们的父母和朋友。这些学生应该向意大利和索尼娅求助。莫迪不会伸出援手的。
Subu • 3 hours ago
They should be in touch with Sonia for help instead of Modi .....
他们应该联系索尼娅,向她求助,而不是找莫迪帮忙…
Desi Daroo • 2 hours ago
Italy is the home country of Sonia and Rahul Gandhi.. Ask them to arrange flights for their return.
意大利是索尼娅和拉胡尔·甘地的故乡。让他们为这些学生安排航班。
Aryan Thakur • New Delhi • 3 hours ago
Dont bring these anti nationals back let them stay there only blood urban naxals
不要把这些反国家分子接回来,让他们呆在原地,
Neh • 9 hours ago
Hope they reach safely...
希望他们安全抵达…
Ankit • 2 hours ago
they shud stay there and get treated..they ll be first to leave India when it spreads here in India
他们应该呆在那里接受治疗。当疫情在印度蔓延时,他们将是第一批离开印度的
Subbu India • Bengal • 5 hours ago
Indian students are there all over the World. Why come back leaving your studies. Italy is more developed place than India. There should be no reasong for scare and on the contrary why should you carry the vir s in India.
印度学生遍布全球。为什么要放弃学业回来呢?
意大利比印度更发达,没有理由恐慌,你们为什么要把病毒带到印度?
Cometotom• 5 hours ago
Italy health management is weak , they dont have skill full talent in health industry. They bank on germany france n swiss
意大利的卫生管理薄弱,医疗人员不足,他们寄希望于德国、法国和瑞士
外文:https://timesofindia.indiatimes.com/india/85-indian-students-in-italian-town-send-sos/articleshow/74431909.cms