India starts hunt for alternatives to China to source over 1k items
印度开始寻找中国以外的替代选择,以采购逾1000种商品
From textiles fabrics, refrigerators and suitcases to antibiotics such as amoxicillin, erythromycin & metronidazole, vitamins and insecticides, the go nment has begun a hunt for 1,050 items from across the world as supplies from China, which accounts for over 50% of India's imports, are hit due to coronavirus.
由于新冠疫情影响,占印度进口总量50%以上的中国产品供应受到冲击,印度政府已开始从世界各地采购1050种商品,从纺织品、冰箱和手提箱到阿莫西林、红霉素、甲硝唑等抗生素、维生素和杀虫剂。
Also on the list are automatic data processing machines, diodes and semiconductor devices, auto parts and several steel & aluminium items and mobile phones.
自动数据处理设备、二极管和半导体设备、汽车零部件以及一些钢铝产品和手机也在采购之列。
The commerce department, which has already held at least one round of detailed consultations, has shot off letters to Indian missions across the globe to identify potential suppliers. A detailed analysis of potential replacement markets has been undertaken and shared with other ministries and foreign missions, sources told TOI.
印度商务部已经至少举行了一轮详细磋商,并已向印度驻全球各地的代表团发出信函,以确认潜在供应商。消息人士告诉《印度时报》,已经对潜在的替代市场进行了详细分析,并与其他部委和外国使团分享了分析结果。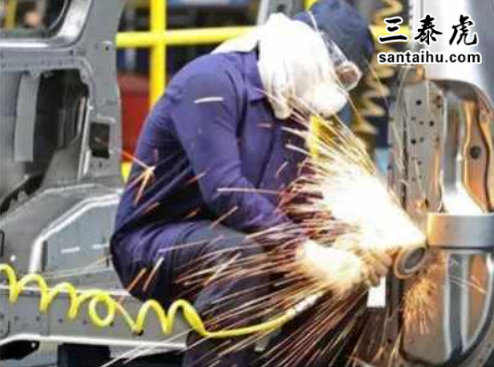 In case of antibiotics, for instance, Switzerland and Italy were identified as potential sources given that they are among the top exporting countries along with China.
以抗生素为例,瑞士和意大利被认为是潜在的抗生素来源,这些国家和中国一样都是抗生素的最大出口国。
While there has been a positive response from some of the countries, finding alternative sources for the supply of electronics and mobile phones and their inputs is proving to be a tough task given the complete dominance that China has in the sector.
尽管一些国家对此做出了积极的回应,但事实证明,鉴于中国在该行业的绝对主导地位,寻找电子产品和移动电话的替代供应来源是一项艰巨的任务。
Besides, other countries would also be chasing the same sources to bridge the gap due to a breakdown in the supply chain.
此外,由于供应链的崩溃,其他国家也会寻找相同的来源来填补缺口。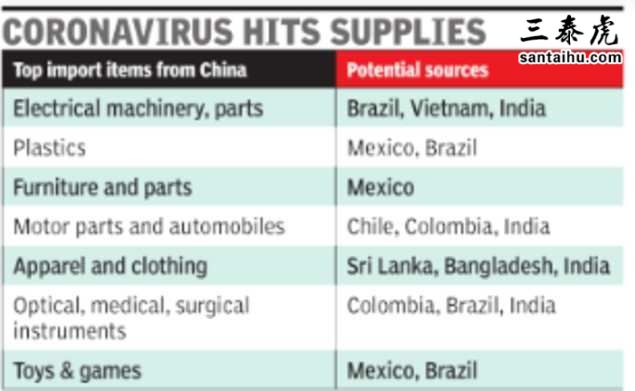 Commerce & industry minister Piyush Goyal is scheduled to hold detailed consultations in the coming week to move forward with the strategy and also seek measures to boost local production wherever possible.
印度工商部长皮尤什•戈亚尔计划在未来一周进行详细磋商,以推进该战略,并寻求在可能的情况下提高本土产量的措施。
A key theme of the minister's discussions with go nment agencies and industry representatives will be to implement a plan to push the export of 500-550 items where India has the potential to fill the gap created by China.
部长与政府机构和行业代表讨论的一个关键主题是实施一项计划,推动500-550种商品的出口,印度有潜力填补中国造成的缺口。
A preliminary analysis following detailed discussions by the commerce department has shown that the situation is particularly grim in the case of pharma and chemicals, smartphones, electronics and white goods and plastics, where India depends on China for a bulk of its imports.
商务部详细讨论后的初步分析显示,制药和化工、智能手机、电子产品、大型家电和塑料制品等领域的形势尤其严峻,印度的大部分进口都依赖于中国。
Besides, there are sectors such as textiles yarn, certain organic chemicals and gems and jewellery, which are seeing an adverse impact on exports given that China and Hong Kong are major buyers. But trade bodies have told the commerce department that coronavirus, which threatens to be a pandemic now, is resulting in an increased interest in the demand for leather products, ceramics and agri-products.
此外,鉴于中国内地和香港是主要买家,纺织纱线、某些有机化学品、宝石和珠宝等行业的出口也受到了不利影响。但贸易机构已向商务部表示,目前有可能成为流行病的冠状病毒,使得对皮革制品、陶瓷制品和农产品的需求增加。
Sources said the pharma industry expects supply disruption of 16 molecules, which includes antibiotics such as chloramphenicol, erythromycin, azithromycin, clarithromycin, amoxicillin, vitamins A, B, C & E, and hormones such as progesterone. It may not just impact domestic production of medicines but also exports.
消息人士称,制药行业预计将出现16种药品的供应中断,其中包括氯霉素、红霉素、阿奇霉素、克拉霉素、阿莫西林、A、B、C和E等维生素以及黄体酮等激素。这可能不仅会影响国内药品生产,还会影响出口。
印度时报读者的评论:
译文来源:三泰虎 http://www.santaihu.com/49420.html 译者:Jessica.Wu
Rajkumar • 8 hours ago
india should take it as a GOD given opportunity to MAKE IN INDIA programme.
这是天赐良机,印度应该趁机推动印度制造计划。
To All • New Delhi • 8 hours ago
Chance for indian manufacturers, supply the demand in competative price. Chance for Govt to boost Made in India.
印度制造商的机会来了,以有竞争的价格供货,这是政府促进印度制造计划的机会。
Donald Moss • 7 hours ago
GOOD CHANCE TO BECOME SELF RELIANT! MAKE IN INDIA , MAKE IN INDIA , MAKE IN INDIA!!
这是自力更生的好机会!
印度制造,印度制造,印度制造!!
Shekar Natesh • Bangalore • 8 hours ago
This should have been done long back. But then we had the corrupt, anti national Congress party in power in India for over 65 years who did nothing but only to loot
早就该这么做了。但是附败的国大党执政65年期间,除了捞钱什么都没做
NSNS • New York • 9 hours ago
This should be a wake up call to India to not only source various items from other countries, but also encourage domestic production. And we definitely need to stop relying on China not just now but for future too.
这给印度敲响了警钟,不仅要从其他国家采购各种产品,还要鼓励在国内生产。我们应该摆脱对中国的依赖,不仅现在,将来也是。
Ashok • 7 hours ago
Just came to know that half of the exports of India was from China. In other words we have sold the country to China.
才知道印度一半的进口来自中国。换句话说,我们把国家卖给了中国。
Col Noam A IndoIsrael Studies 2 hours ago
Raw materials are from China, so whatever india builds come from China.
原材料来自中国,所以印度生产的东西都源自中国。
meetal kothari • 7 hours ago
We are suffering from corruptavirus which is more thrreatening than Coronavirus.
我们感染的是附败病毒,比冠状病毒更可怕
Murugadas Kannan • Chennai • 7 hours ago
Indian entrepreneurs are mostly brokers and wanted to make money by exchanging the items instead of making it here..
印度企业家大多是中间商,他们想通过贩卖商品赚钱,而不想在印度生产。
Venkatesh • Bangalore • 7 hours ago
very good time to promote made in india producta and companies. should give more push to made in india.
这是推广印度制造的好时机,应该给印度企业更多激励。
Anuj Ahluwalia • Columbus, Ohio • 7 hours ago
There is an opportunity . Increase domestic production and reduce imports for ever
这是一个机会。增加本土生产,减少进口
K Mohan • Hyderabad • 7 hours ago
In fact, India must explore make in India the most of the products to which we were depended on China
事实上,印度应该推进印度制造计划,大部分产品我们都依赖中国
Pakisareganduhomos • Kaloooo Gandu Pakistan • 7 hours ago
Get ready for Corona Virus.....get hospitals and all dictors briefed on war footing.
为应对新冠病毒做好准备…让医院和所有的医生做好准备。
Gopal Krishnan • Canada • 8 hours ago
Make all in India
全部在印度生产吧
Tasty Nut • 8 hours ago
Don't hunt it is time to Make in India.
不要去其他国家采购了,是时候在印度生产了。
AsaMatterOfFact • 6 hours ago
Indians should stop buying from china, put all efforts to manufacture within india and become millionaires as chinese have become in the recent years.
印度人应该抵制中国货,努力在印度生产,让自己成为百万富翁,就像中国人那样,近年来他们都成了百万富翁。
murthy krishna • 6 hours ago
Instead of finding alternative sources for supplies India should encourage local entrepreneurs under Make in India programme...
印度应该在"印度制造"计划下鼓励当地企业家,而不是寻找替代的供应来源。
pram • Location • 6 hours ago
We were producing all these things in the past but co unists/congressies destroyed the industries and now we have to build everything now.
过去所有这些产品都在本土生产的,国大党毁了印度工业,现在我们要从头再来了
Paresh Kamani • 7 hours ago
Its a wake up call now !!
这是一个警钟!
Ramesh T M • Bangalore • 8 hours ago
Yes, this is the right time for pushing Make in India program with govt. aid there can be wonders. We have no death of entrepreneurs who. Need to cash in on this opportunity.
现在正是推行"印度制造"计划的好时机,政府要提供帮助。印度企业家要利用这个机会。
meetal kothari • 7 hours ago
But we are corrupt and don't like manufacturing
我们附败,不喜欢发展制造业
Charu • Navi Mumbai (New Mumbai) • 7 hours ago
Though initially painful but in the longer run, this might prove to be a blessing in disguise for India. It can boost indigenization and promote local industries, establish alternate sources and reduce dependence on Chinese companies.
虽然一开始很痛苦,但从长远来看,能造福印度,可以促进本土化,促进当地产业的发展,建立替代资源,减少对中国企业的依赖。
K Mohan • Hyderabad • 7 hours ago
This is the best time to drift away from over dependence on China
现在是摆脱对中国过度依赖的最佳时机
Dev• 6 hours ago
They have $50 b trade surplus with india
中国对印度存在500亿美元的贸易顺差
Juneid Siwan • 6 hours ago
No one on eath can compete China. Indian workforce is good, but they are cocky,unruley, gherao, bund, too many leaves and so less productive. Merchants are more dishonest than China.
没人能和中国竞争。印度的劳动力很多,但是生产力低下。印度商人比中国商人更不诚实。
Guru Ghantal • 3 hours ago
From the news report it seems like India makes only babies. Everything else is imported. Shame on India.
从新闻报道来看,印度似乎只会造人。其他的都是进口的。真丢人。
外文:https://timesofindia.indiatimes.com/business/india-business/india-starts-hunt-for-alternatives-to-china-to-source-over-1k-items/articleshow/74421762.cms