US surpasses China to become India's top trading partner
美国已超越中国成为印度最大的贸易伙伴
NEW DELHI: The US has surpassed China to become India's top trading partner, showing greater economic ties between the two countries.
新德里:美国已超越中国,成为印度最大的贸易伙伴,这表明两国之间的经济联系更加紧密。
According to the data of the commerce ministry, in 2018-19, the bilateral trade between the US and India stood at $87.95 billion.
商务部数据显示,2018- 2019年,美印双边贸易额为879.5亿美元。
During the period, India's two-way commerce with China aggregated at $87.07 billion.
同期,印度与中国的双边贸易总额为870.7亿美元。
Similarly, during April-December 2019-20, the bilateral trade between the US and India stood at $68 billion. It stood at $64.96 billion with China in the same period.
同样,在2019- 2020财年4月至12月期间,美国和印度之间的双边贸易额为680亿美元,同期中国和印度之间的双边贸易额为649.6亿美元。
Trade experts believe that the trend will continue in the coming years also as New Delhi and Washington are engaged in further deepening the economic ties.An expert said that if the countries will finalise a free trade agreement (FTA), then the bilateral trade would reach at different levels.
贸易专家认为,随着新德里和华盛顿进一步深化经济关系,这一趋势将在未来几年继续下去。一位专家表示,如果两国最终达成自游贸易协定,那么双边贸易将达到不同的水平。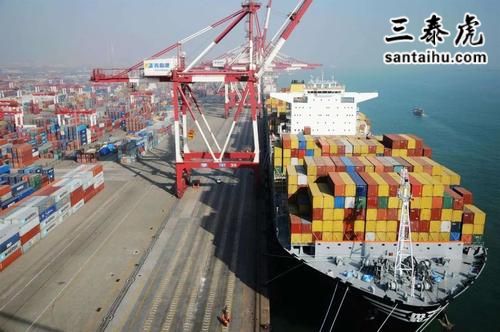 "FTA with US will be very beneficial for India as the US is the biggest market for domestic goods and services," federation of Indian export organisations director general Ajay Sahai said.
印度出口组织联合会总干事阿贾伊•萨哈伊表示:"与美国签订自游贸易协定将对印度非常有利,因为美国是印度国内商品和服务的最大市场。"
He said that India's exports as well as imports are increasing with the US, while with China both are declining.
他表示,印度对美国的进出口额都在增长,但印度对中国的进出口额却在下降。
America is one of the few countries with which India has a trade surplus. On the other hand, India has a huge trade deficit with China.
美国是少数几个印度保有贸易顺差的国家之一。另一方面,印度对中国有巨大的贸易逆差。
In 2018-19, India had a trade surplus of $16.85 billion with America, while it has a deficit of $53.56 billion with the neighbouring country.
在2018- 2019年,印度对美国的贸易顺差为168.5亿美元,而对中国的贸易逆差为535.6亿美元。
The data showed that China was India's top trading partner since 2013-14 till 2017-18. Before China, UAE was the country's largest trading nation.
数据显示,自2013-2014财年至2017-2018财年,中国是印度最大的贸易伙伴。在中国之前,阿联酋是印度最大的贸易伙伴。
A top American business advocacy group has said that a free trade agreement between India and the US is a key to resolving their trade disputes as it will cover biggest irritants in ties, including tariffs and mobility of Indian professionals.
美国一家顶级商业倡导组织表示,印度和美国之间的自游贸易协定是解决两国贸易争端的关键,因为该协定将涵盖两国关系中最棘手的问题,包括关税和印度专业人士的流动性。
印度时报读者的评论:
译文来源:三泰虎 http://www.santaihu.com/49387.html 译者:Jessica.Wu
Mouni Baba • 22 hours ago
THIS is going to be very hard for India to do, with so many poor people. But Indians MUST stop buying cheap Chinese goods and importers MUST stop importing Chinese goods. THAT is the ONLY way India can stop supporting its BIGGEST ENEMY China. Today, by buying Chinese goods, India is actually strengthening its own enemy.
The go nment in India is run by a bunch of STUPID and IGNORANT IDIOTS with an UNEDUCATED MEGALOMANIAC at its helm who has NO SPINE to stand up to the worlds biggest bully China. Thus, Indians MUST do it themselves, for their own security.
这对印度来说很难,因为印度的穷人太多了。印度人务必抵制廉价的中国货,进口商别再停止进口中国商品啦。这是印度停止支持最大敌人-中国的唯一途径。通过购买中国商品,印度实际上是在让自己的敌人变得更强。
印度政府是由一群愚蠢无知的白痴掌控的,掌舵人是一个没有受过教育的自大狂,没有勇气对抗中国。因此,为了自己的安全,印度人必须行动起来。
Abe Liem• 15 hours ago
Backward Thinking...
India's imports from China help itself also... and at first at the moment.
There are win-win situation...
Or do you think India imports only for fun?
思想落后……
印度从中国进口也帮助了自己,这是双赢……
你认为印度从中国进口产品只是为了好玩?
JaiShri Rama • 1 hour ago
Most of chinese imports are useless. Only electronics is ok. Tat too, why not make here. Chinese products like toys and fireworks can easily be made here.
大部分中国进口产品质量都不好,只有电子产品还可以。还有,为什么不在印度生产呢?玩具、烟花等这些中国货随便都可以在印度生产。
Mouni Baba• 11 hours ago
Ignorance is bliss!
By the way, make sure to start learning Chinese.
无知是福!
顺便说一下,一定要开始学中文。
ANURAG• 22 hours ago
Indian govt. will never ever stop or ban imports from China.We citizens have to have knowledge and stop buying Chinese products.Your money indirectly goes into the pockets of Pak .
印度政府永远不会停止或禁止从中国进口。我们公民必须建立抵制中国货的意识。否则你们的钱会间接进了巴基斯坦人的口袋。
Kebaabi• 16 hours ago
Why don't you ask Narendra Modi to end relations with China and trade deals
你为什么不干脆要求莫迪结束与中国的关系,终止与中国的贸易协定呢?
Kebaabi • 13 hours ago
All your Hindu gods like Hanuman are animaI
所有的印度教神都是动物,比如哈努曼
Varun Joshi • 22 hours ago
Need to continue this momentum...
我们应继续保持这种势头…
nanksn • Planet earth • 20 hours ago
Buy more from the west and shun China..totally if possible..At least increase duties on Chinese imports multifold so that they become expensive..
多从西方国家进口,避开中国…如果可以的话,全部商品从西方国家进口。至少对中国进口商品征收的关税提高几倍,这将抬高中国商品在我们市场出售的价格…
Kebaabi• 16 hours ago
Even US buys from China.
就连美国也从中国进口商品啊。
Mouni Baba• 11 hours ago
The US HAVE TO buy from China because, in order to keep the voters happy at home, US Presidents from Nixon to Obama followed the faulty policy of putting in Trillions of Dollars worth of manufacturing plant and equipment in China, without ever realizing that that Communist Dictatorship will one day use that to develop deathly military weapons, including Coronavirus, to take on the West. ONLY Trump understood that and is now trying his best to contain that Virus called China. But the fact remains ... Read More
为了让国内选民高兴,美国不得不从中国进口。从尼克松到奥巴马,美国历届总统都遵循了错误的政策,在中国投资了数万亿美元建工厂,买设备,却从未意识到,这个国家有朝一日会利用这些设备开发致命的军事武器,以对抗西方。只有特朗普明白这一点,现在他正在尽最大努力遏制"中国"这个病毒。
Sanjay Kumar • 16 hours ago
Slowly reduce chinese good by increasing usa imports.
增加从美国进口,逐步减少进口中国货。
Kebaabi• 16 hours ago
Dog-dreaming Hindus
做白日梦的印度人
Balhans Jayaswal • 20 hours ago
We don't want our home industries to suffer from flooding of food items imported from US. Also some of the free trade pacts signed by UPA govt. had harmed Indian economy. Must not repeat those mistakes.
我们不希望国内工业因美国货泛滥而遭受损失。国大党政府时期签署的一些自游贸易协定也损害了印度经济,千万别重蹈覆辙
Nitin • Pune • 21 hours ago
Learn from USA, How to Cruelly Kill ISIS Like Osama & Suleiman!!
向美国学习,如何残忍杀死本拉登和苏莱曼这样的ISIS !!
Praveen Singha• 12 hours ago
yes we have a lot of targets to practice on
是的,我们有很多目标可以练手
Kebaabi • 16 hours ago
Learn from USA how to negotiate with Afghan Taliban and hold peace-talks with Kashmiri separatists.
向学习美国如何与阿富汗塔利班谈判,如何与克什米尔分*分子举行和谈。
Balhans Jayaswal • 20 hours ago
Let it become true the other way too i.e. India becoming US's top trading partner.
不妨反过来吧,让印度成为美国最大的贸易伙伴。
Nilamkumar Buch • 16 hours ago
If India has to buy more oil and defense hard wares from US, than US has to stop blocking Indian IT services and Pharma products. India has other options to buy oil and arms from other Nations.It has to be win-win.
如果想让印度从美国购买更多的石油和武器,那美国以后就别限制印度的IT服务和医药产品。必须是双赢的,否则印度可以从其他国家购买石油和武器。
Anonymous • bangalore • 20 hours ago
China is the real dragon in the house which need to curb
真正需要遏制的是中国龙
Kebaabi• 16 hours ago
Who will do, Hindus?
谁来遏制,印度?
Bala Srinivasan• 16 hours ago
dragon needs to be TAMED if not TIED.
如果不能把龙栓住,就得把它驯服
Sdhanda • 15 hours ago
We must have balanced trade with China , so we do not have trade deficit should be our goal
我们必须平衡与中国的贸易,这样才不会有贸易逆差,这才是我们的目标
pram • Location • 13 hours ago
China is our enemy, we must not buy anything with even an link to China. Buying Chinese products means exporting jobs to enemy and funding anti-Hindusthan activities.
中国是我们的敌人,我们不买任何中国货。购买中国货意味着向敌人输出工作岗位,资助反印度活动。
Tamil • 17 hours ago
Indian goverment doesn't has guts to block chinese products and only muscle flexing with small country malaysia .....Worlds big bully china bullying india at indian ocean region with profit of indian money ..
印度政府没有勇气封杀中国货,只敢向小国马来西亚秀肌肉…世界大恶霸中国利用印度的钱在印度洋地区欺负印度
Chacko Mathew • 12 hours ago
Great chance to leapfrog over China.
这是超越中国的好机会。
Sdhanda • 15 hours ago
This is excellent news and hopes this momentum continues, till we become less and less dependent on China and become self sufficient and increase our export
这是个好消息,希望这种势头能持续下去,直到我们不依赖中国、然后自给自足,增加出口
Abe Liem • 15 hours ago
MASTER Trump is going to visit SLAVE Modi soon.
You will see the the hug from Modi - The Bootlicker.
特朗普主人很快就要去造访奴隶莫迪了。
你们会看到莫迪拥抱主人——马屁精。
Ashish Raut • MUMBAI • 18 hours ago
Now also India is so heavily dependent on US and China . India can never be a Super Power and Its still called as Under Developed Nation.... . Indian Government rely on foreign Investors...
目前印度也非常依赖美国和中国。印度永远不可能成为超级大国,它仍然是欠发达国家。印度政府依赖外国投资者…
doshi jenisha • 20 hours ago
It's coronavirus effect, China wld bounce back soon
这是因为冠状病毒的影响,中国很快就会重新振作起来的
Aaaa Bbbb • 21 hours ago
Whay do we trade with US - arms ??
我们和美国做什么贸易,买武器?
外文:https://timesofindia.indiatimes.com/business/india-business/us-surpasses-china-to-become-indias-top-trading-partner/articleshow/74264798.cms