Where does the Indian Army stand in comparison to the Chinese Army (in terms of weaponry/tactics)?
与中国军队相比,印度军队(在武器/战术上)处于什么位置?
以下是Quora读者的评论:
Bibhu Priyadarshi, works at JSW Steel
First of all, like it has already been repeated by the Armed Forces Personnels, any war is won 20% on d basis of equipments and 80% by morale. Thus, the statistics displayed doesn't show all the picture. Otherwise, India would have lost to Pakistan also in 1965.
首先,正如武装部队人员再三重复过的那样,所有战争都是装备占20%,士气占80%。因此,统计数据并非全部。否则,印度也会在1965年败给巴基斯坦。
Times have changed, the concept of Ferocious, deadly warriors is getting obsolete. What has emerged is the concept of Scholar and intelligent warrior. Wars are now won on strategies. If one follows fact, its not hard to find out that the Indian loss in 1962 was due to wrong go nment Strategies and not due to military drawbacks or lack of weapons or personnels.
时代变了,凶残、致命的武士的概念已经过时了。取而代之的是学者和聪明的士兵的概念。战争现在靠战略取胜。如果遵循事实,不难发现印度在1962年的失败是由于政府的错误战略,而不是由于军事上的缺陷或武器、人员的不足。
Again, if a war happens, it will happen at a point or two. India has got far better strategic Airlift capability than China, with Globemaster and Hercules in her Air force. That means we can transport our men and equipments faster than the Chinese at the point of action.
So its not at all wise to predict that India will lose face in case a conflict happens
如果战争发生了,它会在一两个地方发生。印度拥有比中国更好的战略空运能力,拥有环球霸神和大力神。这意味着我们可以比中国人更快地运输我们的人员和装备。
因此,认为印度在发生冲突时会丢面子一点也不明智。
Ameya Vombathkere
What if China declares war on India or it happens to be the other way around (Highly unlikely) , is India strong enough to strike back ?
如果中国对印度宣战,或者反过来(极不可能),印度是否有足够的实力进行反击?
Back in 1962 India lost war to China over the same issue , the non demarcated boundary has then since been a matter of conflict. The Chinese army has since been intervening regularly but this has now gone far beyond the limit.
早在1962年,印度就在这个问题上输给了中国。自那以后,中国军队一直在定期干预,但现在已经远远越线了。
Now that China signals for a possible war, let us analyze what does this have to mean and what do the number and stats say about comparison between the military strengths of the two countries.
让我们来分析一下这意味着什么,以及两国军事实力对比的数字和数据说明了什么。
Let's start off with a few lesser known facts :
1.India is the world's largest importer of military goods.
2.India has joined the Nuclear Power's elite club which previously included USA, China, France and Russia with the development of ICBM (Inter-Continental Ballistic Missile) AGNI-V.
3.India is one of the few countries operating an Aircraft carrier
让我们从一些鲜为人知的事实开始:
1.印度是世界上最大的军事物资进口国。
2.随着洲际弹道导弹AGNI-V的升级,印度加入了之前包括美国、中国、法国和俄罗斯在内的核能精英俱乐部。
3.印度是少数几个拥有航空母舰的国家之一。
James P OMalley, autodidact
China has a slight advantage in areas, but india is well armed and well trained enough to defend itself. Arguably the indian navy is operationally more proficient than the PLAN. The brahmos anti ship missile would be impossible for china to intercept and overall the indians have benefited from exposure to the british military over the centuries and are better trained in my opinion.
中国在某些方面略占优势,但印度装备精良,训练有素,足以自卫。可以说,印度海军在操作上比中国更加熟练。中国不可能拦截布拉莫斯反舰导弹,印度几个世纪以来一直受益于英国军队,我认为印度人训练得更好。
India needs more submarines badly, and in the air is just as good as china with both nations sharing the same types of fighters such as the su30. Again i would bet money that the indians are better trained and have better tactics than the chinese because of the influence of the british in the past. Both have ample nuclear weapons to cancel out the other.
印度急需更多的潜艇,而且两国拥有相同类型的战斗机,比如苏- 30,所以印度在空中的表现和中国一样好。我敢打赌印度人比中国人更加训练有素,战术也更好。两国都拥有足够的核武器来抵御对方的进攻。
Indias t90 tanks are better than chinese tanks. Overall it would be a draw, but both nations do have capable militaries. Personally i think india will become more powerful than china in the long run..
印度的t90坦克比中国的好。总的来说,两国不相上下,但两个国家都有强大的军队。我个人认为,从长远来看,印度会比中国更强大。
译文来源:三泰虎 http://www.santaihu.com/49237.html 译者:Joyceliu
Rajkumar Nayak
Well I'm not going to make any virtual war between india and china. Rather than i'll only talk about the armed personnels and weaponry system. From past some years India is spending huge amount of money on its weaponry system due to his neighbouring countries which he finds threat and will question his sovereignty.
我不想假定印度和中国之间的虚拟战争。我只想谈论武装人员和武器系统。在过去的几年里,印度花了大量的钱在其武器系统上,因为他发现邻国带来了威胁,将质疑他的主权。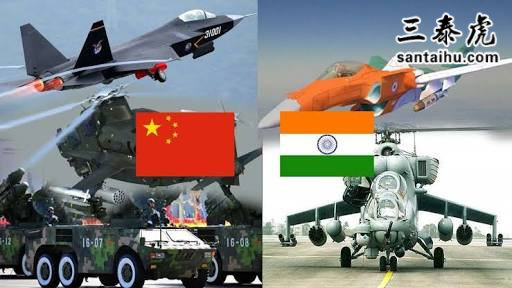 Before start comparing there armed system. Pardon me for my amateur attempt. There should be no comparison between India and china. In case of any conflict between these two great nation, India have to face greater consequences.
在我比较两国的武装系统之前,请原谅我并非专业人士。印度和中国之间不应该进行对比。如果这两个大国之间发生冲突,印度将面临更严重的后果。
Army personnel
Defence budget
China- 166US bn$( This year China has increased its budget upto 8%)
India - 42.84US bn$
兵力
国防预算
中国- 1660亿美元(今年中国的预算增加到8%)
印度- 428.4亿美元
China
16 lakh + Reserve forces 8 lakh + PAP 660000 = 3060000 total
India
1325000 + Reserve forces 18 lakh + territorial army = 37 lakh plus total.
中国
160万+预备役80万+民兵660000 = 3060000
印度
132.5万+预备役180万+自卫军= 超过370万。
China
Tanks 9000
Artillery guns 20000
Helicopters 400
armoured vehicles 7500 +
Corvette warships-15
Corvette warships-15
中国
坦克9000
大炮20000
直升机400
装甲车7500 +
护卫舰 15
India
Tanks 5978
Artillery guns 19800
Helicopters 500
armoured vehicles number not known
Corvette warships-36
印度
坦克5978
大炮19800
直升机500
装甲车的数量不详
护卫舰 36
Surface to Air Missiles
China 210000 -
India 190000
地对空导弹
中国210000 -
印度190000
Besides these China has deployed around 1800 ballistic missiles some of which have nuclear warheads. (range between 280-350 kms upto 13000 kms).
除此之外,中国还部署了大约1800枚弹道导弹,其中一些带有核弹头。(射程在280-350公里至13000公里)。
On the other hand India has over 1700 missiles belonging to the Prithvi, Agni and Brahmos supersonic Cruise missile category (range between 150 kms upto 5500 kms). Besides these India has also developed a land based missile named Shaurya (range upto 2200 kms) and its submarine based version named Sagarika, both of which are supposed to be in service shortly or might have already been inducted.
另一方面,印度拥有超过1700枚导弹,属于普里特维、烈火和布拉莫斯超音速巡航导弹类别(射程在150公里到5500公里之间)。除此之外,印度还研发了一种陆基导弹,名为"Shaurya"(射程达2200公里),其潜艇版本名为"Sagarika",这两种导弹应该很快都将服役,或者可能已经开始服役。
The part where India really lags behind China in terms of numbers is the number of aircraft possessed by their airforces and the vessels operated by their respective navies.
印度在数量上真正落后于中国的部分是其空军拥有的飞机数量和海军拥有的船只数量。
Vidyadhara Ma,
Since we are a major trade partners with Europe Union, ally with Russians and yes of course friends with United States. Indian army is developing its own technology and list of ballistic missiles that can overwhelm enemies. Not to forgot Indian parliament is sending huge amounts of money to the defense research department to come with state of art modern weapons.
我们是欧盟的主要贸易伙伴,是俄罗斯的盟友,当然也是美国的朋友。印度军队正在研发自己的技术和能够击垮敌人的弹道导弹。别忘了,印度议会正在向国防研究部门提供巨额资金,采购最先进的现代武器。
One thing we (Indians) learned was never underestimate the strength of our enemies.
我们(印度人)学到的一件事是永远不要低估我们敌人的力量。
Shavan Bhattacharjee,
Many of them have already given a nice overview of the numerical superiority that China enjoys over India in terms of aircraft inventory, armoured inventory, personnel inventory but one thing which no one talks about is the combat experience. After the Chinese Civil War which ended in 1949 China has hardly engaged in major battles. The last known battle was against Vietnam where they we routed as per many neutral sources. In comparison the Indian armed forces have been exposed to combat operations in defense of the nation or on UN peacekeeping operation since 1947. So, if a war should break out between the Asian giants all the technology and hardware would not matter if you cannot fight. Here I see India having a major edge over China
有不少网友已经很好地概述了中国在飞机、装甲、人员方面对印度的数量优势,但没有人谈论作战经验。中国于1949年结束内战后,几乎没有打过什么大仗。最后一场已知的战争是越南战争。相比之下,自1947年以来,印度武装部队一直处于保卫国家或参加联合国维和行动的战斗中。所以,如果亚洲大国之间爆发战争,所有的技术和硬件都无关紧要。我认为印度比中国占据更大优势。
Mihir Singh, studied at Smt C.hm
First of all the treaty was signed named Indo-Soviet treaty in response to pakistan relations with America and China during August,1971.According to this treaty India and Russia will help each other during war and will respect each others sovereignty and fre m.Therefore,even if china attempts to attack India, Russia will provide aids as per the treaty and it will be nearly impossible for China to win the war if russia helps India because Russia and India are twice of Chinese military.Thank You!
首先,该条约于1971年8月签署,名为《印苏条约》,作为对巴基斯坦与美国和中国结盟的回应。根据该条约,印度和俄罗斯将在战争期间互相帮助,并将相互尊重主权和自游。因此,就算中国试图攻击印度,俄罗斯也会根据条约提供援助,如果俄罗斯帮助印度,中国几乎不可能赢得战争,因为俄罗斯和印度的规模是中国军队的两倍。谢谢!
Anil Dogra,
In terms of weaponry we not far behind from from China and have advance weapons to counter China. There are many factors contributing to this as our army is regarding very highly world wide for its bravery and professionalism and much experienced with regard to conflicts.
Our Air force and navy is also capable to strike deep into China, so in case of any war we can go beyond our capabilities.
在武器方面,我们与中国差距不大,我们有先进的武器来对抗中国。我们的军队以勇敢和专业精神以及在冲突方面的丰富经验而受到全世界的高度赞扬。
我们的空军和海军也有能力深入中国,所以一旦发生战争,我们可以弥补武器方面的弱势。
Rohan Chandanshive, Defence aspirant .
In comparison with weaponary and tactics, we are just few steps back then the People's Republic Army ( china).
But , Indian armed forces can give a tough fight to Chinese army.The victory for both of the nation's would be very tough.
若论武器和战术,我们只比中华人民共和国军队略微落后。
但是,印度军队可以给中国军队一场硬仗。对两国来说,打胜仗是很难的。
India. Ranks 4 th after USA , FRANCE,CHINA AND GERMANY in terms of Total manpower.
In coming years ,India will become as strong as Chinese army.
Remember 1962 ,Indian forces were not so strong, even then our soldiers gave a brave fight.
印度兵力排名第四,只落后于美国,法国,中国和德国。
未来几年,印度将变得和中国军队一样强大。
记住1962年,印度军队当时并不十分强大,但即便那个时候我们的士兵也进行了勇敢的战斗。
Sreenivasan P K,
the reality is india has 120 nucler warheads where china 200. surya icbm can travel 16000 km of india.india has more aircraft carriesrs and submarines than china. the india didnt lost in 1962 war but both countries stopped the war with peace but our president went to sign there so they celebrate the war by saying india was lost. The reality is neither countries won the war.
事实是印度拥有120枚核弹头,中国拥有200枚。surya洲际弹道导弹射程达到16000公里。印度拥有比中国更多的航母和潜艇。在1962年的战争中印度并没有战败,两国以和平的方式结束了战争,但是我们的总统签字了,所以他们用"印度失败了"来庆祝战争。事实上,这两个国家都没有打赢这场战争。