Why didn't India develop at the same rate as China? They were both once very powerful civilizations (at various points in their long history), they have smart people, a huge population, and low waged labor, what happened?
为什么印度的发展速度不如中国?两国都曾经是非常强大的文明,都有聪明、庞大的人口,低薪的劳动力,原因何在?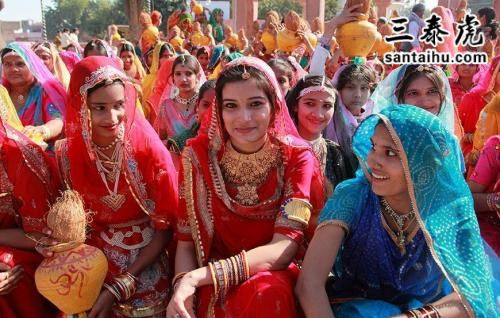 以下是Quora读者的评论:
Joe Sue
India have smart people? Are you kidding me?
Low waged labor? Idiots are not labors!!!
Do you know India jioned WTO in 1996, 5 years earlier than China.
Do you know India have more railways than China when they are founded.
Pls admit that Indians are lazy, stupid, favor of day dream, good at ostentation only. Does anyone remember PM Modi told Indians they would be SUPER POWER in 2020?
If Africa is a country, it is better than India!
Till today, cows own more rights than human in India!
印度有聪明人吗?你在开玩笑吧?
低薪劳动力?白痴才算不上劳动力呢!!
你知道吗?印度在1996年加入WTO,比中国早5年。
你知道吗?中国刚建国时,印度铁路比中国多吗?
承认吧,印度人就是懒惰,愚蠢,喜欢白日做梦,只会炫耀。有没有人记得,莫迪总理告诉印度人,他们会在2020年成为超级大国?
如果非洲是一个国家,会比印度更好!
直到今天,在印度,牛比人拥有更多的权利!
Anonymous
Questions like these have been answered endlessly.
Please read them.
And please read history.
From fall of the Mughals,
To the British,
And so on.
诸如此类的问题已经得到了无休止的回答。
请参考相关回答。
请阅读历史。
从莫卧儿王朝的覆灭
到英国人的到来,
等等。
Marek Cieslik
As India didn't industrialise on as vast a scale as China did.
因为印度没有中国那样大规模的工业体系。
Sreekrishna Koppuravuri
China has certain advantages. It can take decisions regarding projects quickly. They have financial muscle. They can mobilize labor very quickly. But, this type of development is not at all good. People suffer from pollution. All natural resources would get depleted because of manufacturing and supplying to the whole world. People have to work hard. On the other hand, American development style is good. They invest in industries located at China and reap good profits. Unfortunately, go nments create that Chinese type of development is good. Many people also believe in it.
中国有一定的优势。它可以快速地对项目做出决策。他们有经济实力。他们可以很快地调动劳动力。但是,这种发展方式一点也不好。人们忍受着污染。所有的自然资源都会因为向全世界的生产和供应而枯竭。人们必须努力工作。而美国的发展方式是好的。他们投资于中国的产业,并获得丰厚的利润。不幸的是,政府鼓吹的中国式发展好。许多人深信不疑。
Jamie Cawley
No one who knows the country will invest in India as - at least until recently - any profit made is simply taken by various go nment bodies/individuals. That is what keeps India poor.
了解这个国家的人不会在印度投资,因为——至少直到最近——所有的利润都被各个政府机构/个人拿走了。这就是印度贫穷的原因。

Dev Gupta, Chief Technology Officer, Semiconductors ( Computer Chips )
Till 1993 the GDP of China and India were comparable, but now China is 4 or 5 times ahead ! What happened ? Outsourcing of manufacturing from the US to China is what happened. Not only was there massive inflow of FDI to China, there was also free flow of US technology, created about 100 million new jobs ( 20 % of total ) in China, on top of that China was allowed to run up a Trade Deficit of $350 billion a year with the US for the last 20 years. So is it any wonder that the Chinese economy has grown 30x in the last 30 years ! Of course we have to acknowledge that the Chinese themselves also worked very hard and smart to make the most of this Bonanza with no parallel in human history. But part of that working hard and smart also included tempting Japanese and German Co.s ( Kawasaki and Siemens ) with promise of buying High Speed Trains and then pirate their technologies. But the lesson has been learned and no one in High Tech trusts China anymore. The US has blocked the Chinese from buying 3 computer chip companies.
在1993年之前,中国和印度的GDP都不相上下,但现在中国领先了4到5倍!这期间发生了什么?制造业从美国外包到了中国,这就是原因。不仅有大量的外国直接投资流入中国,还有美国技术的紫游流动,在中国创造了大约1亿个新工作岗位(总额的20%),最重要的是中国在过去的20年与美国的贸易逆差达到了3500亿美元。难怪中国经济在过去30年里增长了30倍!当然,我们必须承认,中国人自己也非常努力,聪明地充分利用了这一人类历史上绝无仅有的幸运。但这种努力和聪明也包括承诺购买日本和德国公司(川崎重工和西门子)的高铁,然后剽窃它们的技术。但我们已经吸取了教训,在高科技领域,没有人再相信中国了。美国已经阻止中国收购3家电脑芯片公司。
Hh Aa
First, China is more united. The Chinese people have a cultural foundation of thousands of years and are not like the cultural foundation of the fault in India.
Second, China has a better electoral system.
Third, China has been honed and prepared for decades in the early stage of reform and opening up. The founding of New China laid the foundation for China.Resume the college entrance examination and start the talent pool. Then reform and opening up allowed China's economy to take off,
Fifth, China's social atmosphere. The feudal superstition of China a hundred years ago is more serious than the racial system of India. However, the ideological liberation activities of China's May Fourth Movement, the Cultural Revolution and so on have made China's feudal superstitions less and less. Now most people believe that science is rejuvenating, and Chinese people know The princes will have a kind of relationship with each other. Although the ethnic system in India has been canceled for decades, it may just be abolished. Most of the thoughts are still deeply rooted in the hearts of the Indian people.
Sixth, the Chinese are more diligent. I went on a business trip to China and India and found the same job. It takes a month for the Chinese to spend only one day doing things. The Indians sat down and prayed after a while, and the Chinese felt that work was a challenge. Everyone works hard for the next challenge.
第一,中国更加团结。中国人有几千年的文化基础,不像印度人的文化基础存在断层。
第二,中国有更好的选举制度。
第三,中国在改革开放初期经过了几十年的磨砺和准备。新中国的成立奠定了中国的基础。恢复高考,启动人才库。然后改革开放让中国经济起飞,

第五,中国的社会氛围。一百年前中国的封建迷信比印度的种族制度还要严重。然而,中国五四运动等思想解放运动使中国的封建迷信越来越少。现在大多数人相信科学正在复兴。虽然印度的种族制度已经被取消了几十年,但它可能只是废除而已。大多数思想仍然深深扎根于印度人民的心中。
第六,中国人更勤奋。我去中国和印度出差,发现同样的工作,一个月的工作量,但中国人只需要做一天,而印度人坐下来后还要先做会儿祈祷。中国人觉得工作是一种挑战。所有人都努力工作,迎接下一个挑战。
译文来源:三泰虎 http://www.santaihu.com/49217.html 译者:Joyceliu
Manuj Joshi
The main reason behind this is that China choosed agriculture as its prime moving force after its independence and they use their agricultural gains to sponser their industrial sector and they later on progressed to service sector.
While India chose industrial sector as its prime moving force after its independence, where country's large number of peoples are suffering from poverty, country do not have food security,country have low investment capital to invest in infrastructure sector I don't think moving straightforward to industrial sector is a sound decision. By not choosing agriculture as PMF we didn't gave a chance to our farmers to progress through agriculture and then progress to manufacturing sector as China did.After new economic policy or we can say LPG reforms the country directly jumps to service sector. The country does not go stepwise in progressing. Today agriculture sector accounted for 13.7% of the GDP and have 50% of the workforce in other words 50% of country's population is relying on 13.7% of GDP. I think that is the real reason that we are not developing in the same rate as China.
主要原因是中国在独立后选择了农业作为其主要的发展动力,他们用农业的收益来支持他们的工业行业,后来发展到服务业。
而印度在独立后选择了工业部门作为它的主要动力,大量的人民正忍受贫困,没有食品安全,国家对于基础设施建设领域的投资较少。我认为直接跃入工业阶段并不是个明智的决定。因为没有把农业当做主要发展行业,我们没有为农民提供一个像中国那样通过农业发展,转向制造业发展的机会。在新的经济政策或我们可以说液化石油气改革后,国家直接跳到服务行业。这个国家的发展没有循序渐进。今天,印度农业部门占国内生产总值的13.7%,拥有50%的劳动力,换句话说,50%的国家人口依赖于13.7%的国内生产总值。我认为这是我们发展速度不如中国的真正原因。
Sree V, B Tech Engineering
How did China race past India , even though we were on for Centuries and even till 1970s
Single party Rule ( I am not suggesting that we should have a similar Governance) allowed long term planning for development.
Technocracy playing a major role in Economic Policy Cohesion , implementation
The process started in late 70s , whereas India waited till 1991
" Development " at any cost , may result in some regions getting developed faster , some people getting benefits early , but others can catch up
First Modernised their Manufacturing Industry , built world scale capacities ( with out any assurance of market from any body)
Simplified Processes in Govt & industry , Ease of doing Business
Achieved World Class skills , Productivity & Efficiency at low cost
Number of Design /Tech Devpt centers
Export Led Growth - Manufacturing Hub for the whole World
Use its Massive Domestic Market to bargain with all major companies in the world to set up factories , transfer Technology to local companies
Ensured competitiveness of Exports by managing the Exchange rate , incentives , low cost financing
Massive Projects overseas by funding from Govt / Chinese banks with attractive terms.
There ranked no 1 in in GDP -PPP , become no 1 in nominal GDP too in less than 10 years. They are not resting on their laurels . They want their growth to be maintained so that their Per Capita income too reaches the levels of US /Europe
Next phase of development is going to be on " Leadership in Technology Development , Innovation & boosting Domestic Consumption"
A number of institutions set up for research into AI,Robotics , Elec Vehicles, Bio technology, Renewables etc
Getting Talent from Foreign countries ( the best , not necessarily Chinese) on best terms
Encouraging top foreign institutions to set up centers in China
Setting up Chinese centers nearer to Talent Eco-system , in Europe/US etc
Massive Funding for Research Projects
中国是如何超越印度的,历史上我们领先了几个世纪,直到20世纪70年代才被反超
1.一 制,能够对发展进行长期规划。
2.技术官在经济政策的凝聚、执行方面起着重要的作用
3.这一进程始于70年代末,而印度一直到1991年才开始起步
4.不惜任何代价"发展",可能会导致一些地区得到快速发展,一些人较早得到好处,但其他人能够赶上
5.先对他们的制造业进行了现代化改造,形成了世界规模的生产能力
6.简化了政府和工业的流程,简化了商业运作的流程
7.以低成本获得世界级的技术、生产力和效率
8.设计/技术开发中心的数量
9.出口带动增长——全球制造业中心
10.利用其庞大的国内市场与全球所有大公司磋商,建立工厂,向当地公司转让技术
11.通过管理汇率、激励措施和低成本融资,确保出口的竞争力
12.政府/中资银行以优惠条件投资海外大型项目。
GDP -PPP排名世界第一,10年内名义GDP也将达到第一的位置。他们并没有固步自封。他们希望保持增长,这样他们的人均收入才能能达到欧美的水平
下一阶段的发展将是"引领技术发展、创新和促进国内消费"。
1.在人工智能、机器人、电动汽车、生物技术、可再生能源等领域建立了许多研究机构
2.从外国(最好的,不一定是中国)获得最好的人才
3.鼓励国外顶尖机构在中国设立中心
4.在欧美等地建立更接近人才生态系统的中国中心
5.为研究项目提供大量资金
Altaf Abdul Kalam, Indian, Keralite, Tamilian, Mumbaikar
This might get a little pedantic.
Ever heard the adage "Well begun is half done"?
Well, India's problem was that we didn't begin well at all.
After Independence, we were staring at a 17% literacy rate and 33 years of life expectancy at birth. The per capita growth in India up until Independence was a pathetic 0.2% and we had repeated famines and droughts and diseases and epidemics and purposive neglect by the British to top it all off.
What we needed were radical changes.
The political leadership at the time was very much in consensus over ideas like a disproportionate role for the public sector, discouragement of foreign investment, economic planning and the like.
For all this to materialise, the go nment had to decide which among agriculture and industry would they choose to be the bulwark of India's economic development because we sure as hell didn't have the resources to do both. And they chose industrialization.
And many economists agree today, that that was a poor decision. Some of the reasons given are
India lacked the necessary infrastructure to sustain an economic development model based on the industrial sector.
Almost invisible investable capital both from the public and the private sector.
Lack of any skilled workforce.
Absence of any sustainable market for industrial goods and services because people needed food for their stomachs and roofs over their heads first.
On the other hand, the reasons to opt for agriculture seemed much more logical given our vast availability of fertile land and immense population which really did not need to be "skilled" to work in the fields.
这可能有点迂腐。
有没有听过这句谚语"好的开始是成功的一半"?
印度的问题是我们一开始就做得不好。
独立后,我们的识字率为17%,出生时预期寿命为33岁。印度独立前的人均增长率只有可怜的0.2%,我们经历了多次饥荒、干旱、疾病和流行病,而英国有意忽视了这一切。
我们需要的是彻底的变革。
当时的印度领导层在诸如公共部门的角色不均衡、阻碍外国投资、经济规划等问题上意见非常一致。
为了实现这一切,印度政府必须决定在农业和工业中选择哪个作为印度经济发展的堡垒,因为没有足够的资源来同时做这两件事。他们选择了工业化。
今天,许多经济学家一致认为,这是一个糟糕的决定。给出的一些原因是
1.印度缺乏必要的基础设施来维持以工业部门为基础的经济发展模式。
2.来自公共部门和私人部门的几乎看不见的可投资资本。
3.缺乏熟练的劳动力。
4.没有任何可持续的工业产品和服务市场,因为人们首先需要食物来填饱肚子,需要房子来遮风挡雨。
另一方面,选择农业的理由似乎更合乎逻辑,因为我们有大量肥沃的土地和庞大的人口,而这些并不需要"熟练技能"才能在田间工作。