India needs to pay more attention to China border, says new Army chief Naravane
印度新任陆军参谋长纳拉瓦内表示,印度需要多加关注中印边境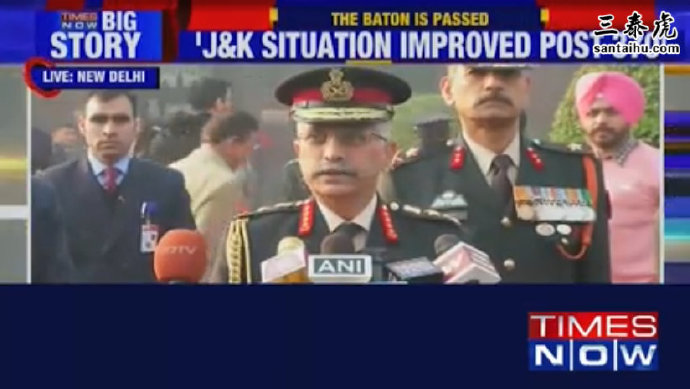 NEW DELHI: The new Army chief Lieutenant General MM Naravane on Wednesday said that India needs to pay more attention to its border along China and asserted that the force is capable of dealing with any security challenge.
新德里:周三,印度新任陆军参谋长纳拉瓦内中将表示,印度应该多加关注印中边界,并声称印度军队有能力应对任何安全挑战。
"We have been giving attention to our western front in the past. The northern front now also requires an equal amount of attention... The Army is capable of tackling any dangers to the country," General Naravane told reporters after receiving the first Guard of Honour as the Army chief.
纳拉瓦内将军在作为陆军参谋长检阅第一列仪仗队后对记者表示:"我们过去一直在关注西线。北方阵线现在也需要同等关注。印度军队有能力处理任何威胁。"
"In that context, we are now going in for capability development and enhancement of our capacities even in our northern borders which includes the northeastern part of our country," he said.
纳拉瓦内表示:"在这种情况下,我们正在努力加强军队能力,甚至在包括我国东北部在内的北部边界。"
On the border dispute with China, the Army chief said that continuing peace along the border will pave the way for a solution.
在与中国的边界争端上,陆军参谋长表示,边境地区的持续和平将为解决问题铺平道路。
He said: "We have been able to maintain peace and tranquility along borders and I'm sure that situation will prevail. By maintaining this, we will be able to set the stage for the eventual solution."
纳拉瓦内表示:"我们已经能够维护边境地区的和平与安宁,我相信这种情况将会持续。通过维持和平与安宁,我们能够为最终解决方案奠定基础。"
General Naravane said that operational readiness and modernisation will be among the top priorities of the Army under his leadership.
纳拉瓦内将军表示,在他的领导下,战备和现代化将是军队的首要任务。
General Naravane was previously the Vice Chief of Army Staff.
纳拉瓦内曾担任陆军副参谋长。
印度时报读者的评论:
译文来源:三泰虎 http://www.santaihu.com/49119.html 译者:Jessica.Wu
Top Comment
Fully agree with the General coz China is the main enemy country of India which has been playing all sorts of treacherous backstabbing games with India and always helping Pakistan against India.
完全同意将军的看法,中国是印度的主要敌人,一直在和印度玩各种阴险的背后中伤的把戏,一直在帮助巴基斯坦对付印度。
Lachhman Bhatia • Dekhu • 2 hours ago
China, despite its pious professions of friendship towards India, would always remain a threat. It has entered into an unholy alliance with Pakistan and would support it to the hilt in every way. India has to be on its guard all the time.
尽管中国向印度示好,不过中国永远是个威胁。中国与巴基斯坦结成了联盟,将全力支持巴基斯坦。印度务必时刻保持警惕。
Vinit • 2 hours ago
Stop buying Chinese goods and services..... story over
抵制中国货…
Rajni Kumar• 1 hour ago
Can you??? Don't give pravachan from a Chinese made phone
你能做到? ? ?不要用中国产的手机发表评论啊
Charsi Pappu • 2 hours ago
Very correct, China is big threat to India. They have full support and help from Rahul Gandhi and Commies.
对印度而言,中国是一大威胁。
Bharat Sharma • 2 hours ago
thank God now we have sensible Army Chief
谢天谢地,现在我们有了一位理智的陆军参谋长
Deepak Soni• 2 hours ago
Oh really ! I am sure it is not a new year joke.
我相信这不是新年玩笑。
king • chennai • 1 hour ago
i really cant understand why the army guys have started to talk to media...hmmmm...sounds very unprofessional for a demacratic country and sound like one of the pakistan army general ...lol
我真不明白为什么军方人员要接受媒体采访……对于一个皿煮国家来说,这听起来很不专业,感觉有点巴基斯坦将军的风格……哈哈
Ahmed Raza • 2 hours ago
The idiot feku doesn't hv guts to speak a single word against China
莫迪这个笨蛋不敢发表一句反华言论
India Rising • 2 hours ago
India flexing its muscle...new India!
印度在秀武力…新印度!
Rajni Kumar• 1 hour ago
Entire world knows china is the next superpower. It has potential to bring US economy to its knees. China has bought US bonds worth trillions of dollars. There is minimal impact of trade war on china. With pakistan help, it created alternate ..
全世界都知道中国是下一个超级大国。有能力超过美国经济。中国购买了价值数万亿美元的美国债券。现在控制着全球经济。贸易战对中国的影响微乎其微。
Nationalist • Mumbai • 2 hours ago
We should focus more on Pakistan i would say. Pulwama and cross border strikes were a success in re electing our go nment
我认为,我们应该多关注巴基斯坦。普尔瓦马事件和越境袭击,让人民党再次上台。
Bavani Johar • Delhi • 51 mins ago
Hope our borders are safe with forces.
希望在印度军队的保护下,我们的边境是安全的。
MODI GANDU HIJRA RSS TERRORIST • HIKD • 2 hours ago
You the new Army chief should pay more attention inside the country for the rsss terror activities, rather than trying to fight a Big China. India has terror camps inside India in NAGPUR, UP and many parts where rssss is doning terror activities.
新任陆军参谋长应该多关注印度国内的恐怖活动,而不是一心想着对抗中国。在那格浦尔、北方邦等许多地方都有恐怖分子营地
Sunil • 41 mins ago
Hmm., How come India can pay attention to China when Indian media everyday talk about Pakistan,. Pakistan., Pakistan...
印度媒体每天都在谈论巴基斯坦,怎么有功夫去关注中国呢?
A • India • 43 mins ago
India need to give attention to the border between itself and West Bengal and ensure that no Bengalis whether Hindu or Muslim are allowed into India and spread their unstable mindset.
印度应该关注西孟加拉邦边界,别让孟加拉人偷渡进入印度,
Col Noam A IndoIsrael Studies • 44 mins ago
You Indians need to know Chinese have the strength and capability to win intense short term war. Whoever destroys infra quickly will win the war.
你们印度人应该明白,中国人有实力打赢高强度的短期战争。中国的火箭军是致命的力量。谁能迅速摧毁敌方的基础设施,谁就能打赢战争。
King_maker69 • India • 1 hour ago
The biggest threat is BJP/RSS
最大的威胁是人民党和民族志工组织
Hiralal • 2 hours ago
A long porous and undefined border with China makes it a potential enemy particularly when it refuses to compromise on the territories. Nehrus Hindi China Bhai Bhai rant and subsequent border war makes it all the more sensitive. Indian army of today is not what it was in 1963 but China has become more aggressive since then.
与中国接壤的边界长期存在漏洞,且没有明确的边界,也就是说中国算是潜在的敌人,尤其是对方拒绝在领土问题上妥协的时候。今天的印度军队已经不是1962年的样子了,而从那以后,中国变得更加咄咄逼人。
Harish • 2 hours ago
Yes we need to prepare for nuclear war and hyper sonic missiles.
我们应该准备打核战争。
jit shah • 2 hours ago
no foolish HINDI, CHINI BHAI BHAI ONCE AGAIN
印度人别再傻了,不要再相信印中亲如兄弟了
Yashpal Kapoor • sydney • 1 hour ago
India should deploy millions of hypersonic missiles all along Chinese border.
And deploy millions of troops to monitor our border. Full support of our go nment should be given.
Jai Hind
印度应该沿着中印边境部署数百万枚高超音速导弹。并部署数百万军队,监视边境上的一举一动。我们应该全力支持政府。印度必胜。
外文:https://timesofindia.indiatimes.com/india/india-needs-to-pay-more-attention-to-china-border-says-new-army-chief-naravane/articleshow/73054262.cms