Watch: Aircraft gets stuck under bridge in West Bengal
西孟加拉邦:一辆载着飞机的卡车卡在桥下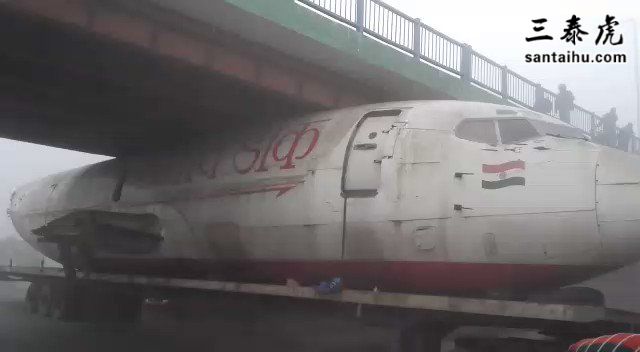 KOLKATA: Chaos prevailed in Durgapur in West Bengal on Tuesday after a truck carrying an abandoned India Post aircraft got stuck under a bridge.
加尔各答:周二,在西孟加拉邦杜尔加普尔,一辆载有一架废弃印度邮政飞机的卡车被困在桥下,导致现场陷入一片混乱。
The in dent took place on National Highway-2 in the city. The aircraft was stuck in the middle of the road in Durgapur city in Paschim Bardhn district.
事故发生在该市的国家二级公路上。载着飞机的卡车困在道路中间。
"The truck has been stuck here since Monday night. The offi als of India Post have reached and talks are underway at a the police station," said a local present at the spot.
在现场的一位当地人称:"这辆卡车从周一晚上就卡在这里了。印度邮政官员已经与警方取得联系,正在警局商谈解决办法。"
Sources said that the aircraft was commissioned in 2007. It was withdrawn from service around last year.
消息人士称,这架飞机是在2007年启用的,大概在去年报废。
印度时报读者的评论:
译文来源:三泰虎 http://www.santaihu.com/49034.html 译者:Jessica.Wu
Veerendra Gupta • 1 day ago
Deflat the air from tyres little which can ease the truck to move forward
给轮胎放放气,卡车就能过去了。
Abhijith G• 21 hours ago
Agreed, taking some air out of the truck can ease the situation there
同意,给卡车放气应该可行
Swapan Ganguly• 1 day ago
well.. it will now serve as a pillar for the ageing bridge...
现在这架飞机将成为这座老桥的支柱
Raj Chakraborty • 1 day ago
Read in anandabazar couple of days back... That a truck carrying aircraft got stuck near Kolkata while turning in a junction.
Is it the same story or same driver causing chaos again in every 2 days :P
几天前一辆载有飞机的卡车在加尔各答附近的一个交叉路口转弯时卡住,是同一个司机吗?三天两头制造混乱还是说是发生了类似的事故?
Raj Chakraborty • 19 hours ago
Yes news confirmed.
Same truck and aircraft.
Driver must be having a very rough week.
是的,经证实,是同一辆卡车,同一架飞机,司机这一周一定不好过。
Bijay patnaik• 1 day ago
Deflate the tyres of the truck , it will pass smoothly.
给卡车轮胎放气,就能过去了
Citizens • Mumbai • 20 hours ago
wow.... anything is possible in waste Bengal
在西孟加拉邦,一切皆有可能
Saif Mohd• 1 day ago
Why dont they remove air from all tyers of vehicles. It will reduce height by 10 inches
他们为什么不给轮胎放气呢?放完气,高度能降低10英寸
Anand Dit • 12 hours ago
Or else it better to remove all tyres...haaa
或者把所有轮胎都卸了,哈哈
Manohar Deep• 1 day ago
This happens only in Mta's Bangladesh........
只有在玛玛塔管理的西孟加拉邦才会发生这种事情
Homo Sapiens Chordata• 16 hours ago
How much sry do you get as an employee of BJP IT Cell. However for your kind information this scrapped Aircraft belongs to India Post and India Post is a Central Go nment Organization. The entire logistics movement is being looking after upon by India Post and the same has nothing to do with State Go nment or C.M. of the State. Now please stop your hate .
作为人民党IT部门的一名员工,你的薪水是多少?
请注意,这架报废的飞机属于印度邮政,而印度邮政是中央机构。整个物流由印度邮政负责,这与邦政府或首席部长无关。
Rajesh Singhal • 1 day ago
under such circumstances if the plane gets stuck then it is not a matter oc concern. Ask Mamta, she may come down with the decision to blow off the overbridge to allow the plane to move away safely.
飞机被卡住了,不是什么大问题。问问玛玛塔该怎么办,她可能会决定炸毁天桥,让飞机安全通过。
Maharaja Ganesan• 1 day ago
Puncture the lorry's back tyres and then try
把卡车的后胎扎破,然后试试能不能过去
Saurabh Gupta • 1 day ago
maybe its one of those bridges that used material to construct..Didi boli..brigde aise nahi gir sakta toh Kya..plane ghusa do
也许这座桥是真材实料建的
Avinash Garlapati• 1 day ago
Take out the air from tyres he can being out the truck
给轮胎放气,卡车就能过去了
ZEN DAHODI • 13 hours ago
One can easily understand the Baniya Brain which cannot sail a simple cargo truck but dreaming to build colonies on the Moon and taking the economy to 5 Trillion Dollar level.
印度人连卡车都不会驾驶,却梦想着在月球上建立殖民地,梦想着把经济发展到5万亿美元规模。
oneeyeking• 14 hours ago
Every bridge has warning of height as well as height regulator. Why this road never had one?
每座桥都有高度警示。为什么这条路没有?
jesu257 • 1 day ago
How a driver can be so stupid to take a chance like this ??
司机怎么会这么蠢,冒这个险??
urna Tripathy • Ghaziabad • 14 hours ago
West Bengal is always in the news. Didi will find Modi and Shah and RSS responsible for this. Sorry, Governor as well.
西孟加拉邦总是上新闻。莫迪、沙阿和民族志工组织将为此负责,还有邦首席部长
sam sam • 23 hours ago
just take reverse after deflating the tyre's.There is not even 1% chance of going forward.
给轮胎放气后,只要倒车就行了。往前开是不可能了。
Nk • 16 hours ago
Deflate the tires that will help to bring down the craft by a few inches and move the trailer.
给轮胎放气,高度能降低几英寸,拖车就能挪动了
Meghadoot Chaudhuri• 17 hours ago
Nehru must be responsible ....................... and solution ? ---- Modi hai toh mumkin hai.
尼赫鲁必须对此负责,谁负责解决?——莫迪。
Kiran Kumar • Bharatvarsh • 1 day ago
Aircraft commissioned in 2007, already scrapped? Something fishy!
2007年启用的飞机,就已经报废了?可疑!
Jagdish Achari • 16 hours ago
Aircraft's life span issoolimited?
飞机的使用寿命这么短啊?
Rahul Sc • Mumbai • 1 day ago
Is this a news? This a common scenario anywhere in the world! They need to adjust the tire pressure to move forward! Do not blame the poor old bridge please!
这也算新闻吗?这种事在世界上任何地方都是很常见的!
他们应该调整轮胎压力才能前进!
不要把责任推在桥上!
外文:https://timesofindia.indiatimes.com/city/kolkata/west-bengal-truck-carrying-abandoned-aircraft-gets-stuck-under-bridge/articleshow/72948957.cms