China's mighty infrastructure story - A brief look | Motown India
Motown India:中国强大的基础设施
This video has no voice narration. But you have got to see the mighty infrastructure story of Shanghai and surrounding areas to believe how advanced China is now. Roy P. Tharyan, Editor, Motown India was in Shanghai at the invitation of MG Motor India in October 2018.
这部视频没有配音。你能领略上海发达的基础设施,你会发现中国现在是多么先进。
2018年10月,我受邀来到上海。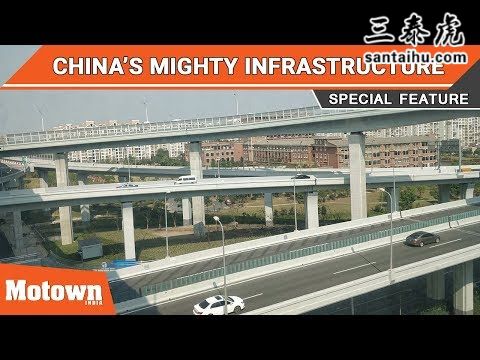 以下是youtube网友的评论:
视频:https://www.youtube.com/watch?v=GpXhsIIjyiA
Apurba Chakraborty
Democracy is not good for a developing country in India this kind of infrastructure is a dream because of our fake de acy
皿煮不适合发展中国家。
我们印度的皿煮是假皿煮,这样的基础设施对我们来说是做梦!
Truth Finder
You are absolutely correct... Democracy is completely failed in India... My son is in China and according to him China is 30 -40 years ahead than India
你说得太对了。
印度皿煮彻头彻尾失败了。
我儿子就在中国。照他说的,中国领先印度三四十年。
Tharian George
@Huang ZB huang why are you commenting like a three year old. There are lot of things i admire about china. But not all are good. I guess your go nment has made many like you so insensitive to criticism. Take some honest criticism on the chin its good for you.
你怎么说话跟三岁小孩一样。
中国有很多方面是令我钦佩的
但也不是说中国的一切都是好的。
我猜,你们政府培养了很多你这样对批评麻木不仁的人。
诚恳接受别人对中国的批评吧,对你们有好处
Gilbert
@Tharian George Liar. a typical indian mind before visit china.
没有来过中国的印度人就是你这样的想法
Avinash Kumar
In INDIA thousands and thousands of potholes
印度的公路坑坑洼洼的
Chetan11
i am jealous..infrastructure, transportation, cleanliness, etc are all a result of not just efficient use of taxpayer's money but also of investments..proper implementation of rules & regulations, good governance & so on...until we don't realize the value of strictly enforcing various laws, the desire to see a change will be a distant dream
我嫉妒了。基础设施相当发达,交通极为便利,到处都很干净,相当干净,这不仅说明纳税人的钱花到刀刃上了,而且也归功于投资,法律法规的妥善执行,归功于政府的英明统治。
只有我们认识到严格执行法律法规的重要性后,我们才能奢望看到改变,否则就是做梦!
Jack Emanuel
Don't worry India is becoming better if you do your part India may look like this (with an Indian twist) in 10 years
别担心,印度也发展得越来越好了。贡献自己的一份力量,10年后的印度就是现在的中国
tvb nut
India may catch up with USA but not China. Cause China is moving up faster while USA is declining faster
印度或许能赶上美国,但是永远赶不上中国,因为中国发展速度更快,而美国在衰退
Chen Uy
Do not focus much on shanghai. Hangzhou, suzhou, dalian, qingdao and tianjin are much prettier than Shanghai.
别只盯着上海拍啊。
杭州、苏州、大连、青岛和天津等城市比上海漂亮多了
Nice Nice
Guys come and visit my state Nagaland you can catch fish on highway.
各位,来我的那加兰邦看看啊,你能在公路上抓到鱼!
ge gary
For those who wants to know how the least developed part look like,, take a look at this German hitchhiker YoYo's video. He entered China through Pakistan, shows all the least developed parts of western China. Even a small town there has good infrastructure.
谁要是不了解中国欠发达地区是怎样一番面貌的,可以去看德国人YoYo拍摄的视频
他通过巴基斯坦进入中国,向大家介绍了中国西部最不发达地区。
中国就连一个小镇,基础设施都是相当不错的
Love of EV Cars
Thats what china is, they are chinese people they show their love for the country by action and work not just by shouting. Not like indian peoples who show their love for country just by shouting 'vande mataram' 'jai hind' but on the other side they litter around, destroy public properties, etc... look at them indians once this chinese had worse economic condition then us but look, today where they are and where we r now...we should be shamefull
这就是当今中国的面貌!!
他们是中国人,用实际行动对国家表达了自己的爱,而不是光喊口号!
哪像印度人用嘴来爱国家!!比如印度人会高喊"印度必胜"啦, 转身又随地乱扔垃圾,破坏公共财产!
中国经济曾经比我们印度经济还差,如今中国在世界经济版图上是何位置,我们又是何位置!
我们应该感到羞耻!
Motown India
Fully endorse your view, Sir!
先生,完全同意你的观点!!
Love of EV Cars
@Motown India thanks...thats the bitter truth but needs to accept it and work on it to make if better
谢谢啊。这些是令人痛苦的事实真相啊,你得去接受啊
Ranjay Srivastva
Most Indians compare India with china becoz they are living in 1980s when China's GDP was equal to India...but this type infrastructure is a dream for our country,where there are no any good teachers as well...China , there law and the process of implementation of laws is far far far better than r... de acy is failed in India...it has eaten , but we ppl are not as profound as the Chinese
为什么很多印度人把自己国家和中国进行比较?因为他们还生活在1980年代啊,以为中国GDP还是和印度GDP相当啊!
中国如此发达的基础设施,我们国家只能做梦才能拥有!
中国的法律,中国法律的推行力度,远远强于我们印度。皿煮在印度是失败的。
Jesus Addict
don't worry bharatmala project has began.. see in 2025... we can compete with china
别担心,bharatmala工程已经开始了。
到2025年,我们就有实力和中国竞争了
Ram Nath
@Jesus Addict China have 16.8 trillions GDP now, India 2.9 trillions GDP then thiks what will be in 2025 lol
中国目前的GDP高达16.8万亿美元,印度GDP只有区区的2.9万亿美元!
到2025年,又会如何,哈哈哈
Jesus Addict
@Ram Nath if we will build infrastructure, then manufacturer move to india from china... then we will build cheapest product and we will become no. 1 in 2050... USA and japan confirms that if India build infrastructure and roads, then our each company will move to india... so, it's upon India...
我们要是开始修建基础设施,很多工厂会从中国迁往印度的。
然后轮到我们生产最廉价的商品。然后到2050年,我们就是世界第一了!
dokk678
Wait!
How did they control the Pollution?
Do they have some anti Pollution water Cannon?
他们是如何控制污染的?
Samuel kirk
too many flyovers
好多好多立交桥啊。
Unsung Songs
Asians are obsessed with white skin. So they don't really like Sunshine.
亚洲人喜欢白肤色,不喜欢晒太阳
Ted Nieh
In fairness tho, this is like the richest part of China. It's of course very flashy.
公平地说,上海是中国最富裕的地区,当然是相当繁华啊
Whatwould Bdo
Didn't Manmohan Singh want to make Mumbai better than Shanghai?
曼莫汉辛格不是说要让孟买超过上海吗?
Huang ZB
Mumbai is 100 years ahead of Shanghai..
孟买领先上海100年啊
n5538 1989
I am iranian, we are friend with Chinese. I feel proud of china. Since we are in Asia continent we feel proud of korea, china, and Japan for their contributions.
我是伊朗人。
我们是中国人的朋友。我为中国感到骄傲。
我们都同处于亚洲大陆,我们为韩国、中国和日本感到骄傲,你们对亚洲做出了巨大的贡献。
Vedant
Watching Shanghai it seems to be a futuristic city for me .. Mumbai is way down comparing Shanghai .. love to Shanghai from India
看了上海,有一种未来城市的感觉。
和上海比起来,孟买差太多了。我来自印度,我喜欢上海
Himalayastar
Damn Vedant bro what the fuzz is futuristic for you in shanghai .. huh?? Mumbai is special in its own way ... please donot give a negative image of your country on a international stage
怎么觉得有未来城市的感觉?孟买有自己的独特之处!
请别在国际舞台上诋毁自己国家的形象。
Yes!
Himalayastar wtf? So you want to hide our real side and show them some stupid ugly and horrible skyscrapers. Mumbai is not even 1% of SHANGHAI. I've visited shanghai twice. Some 3nd tier city of china is better than MUMBAI
孟买连上海的1%都不如。我去过上海两次。
中国三线城市都超过孟买!
prince vegeta
Kushagra Pandey bhai itna bhi mat gira mumbai is shamghais 20 percent right now to be exact..
Look at the skyscrapers which are in underconstruction.. Almost all of them are glass one's..
If slums are removed and streets are improved then mumbai will look as good as shanghai in 2030..
准确第说,孟买已经达到上海的20%的水准了
孟买正在修建大量的摩天楼呢,而且几乎是玻璃幕墙的那种。
如果孟买的贫民窟都拆掉,然后街道打扫干净,那么到2030年,孟买会和上海一样高大上的!
Yes!
prince vegeta yes bro you're right. I believe in Mumbai but currently we should compare it with SHANGHAI
我相信孟买能行的,目前就该和上海比
John Donnelly
China is 5 times richer than India. If an Indian has 20 dollars, a Chinese will have 100 dollars. But do you know what makes an Indian special - his fre m, which is invaluable.
中国比印度富裕5倍。
印度人有20美元,中国人就有100美元
你知道印度人的特别之处是什么吗?是紫游,这是无价的!
Konstantinos Stavrou
The moment you realise New York is a small town
乍一看,感觉纽约比起来就是个小城市啊
Maksimilijus
not a small town, but it looks less advanced/modern in comparison to shanghai.
没那么夸张!就是看起来没有上海先进,没有上海现代化
Andrew Todd
I am a very patriotic American but I must admit Shanghai architecturally is amazingly stunning
我是美国人,是非常爱国的美国人。不过我承认,上海建筑真惊艳!
Eternal Flame
Amazing Shanghai
令人不可思议的上海
Karim Shaikh
I have been there few days back. Shanghai is really very fast city in the world. World's second tallest building is there after Burj Khalifa. Very energetic city. I enjoyed so much in Shanghai. Love to see you again this city.
几天前刚去了上海。在全世界范围来看,上海是一个生活节奏非常快的城市,有着仅次于哈利法塔的世界第二高楼!
非常有活力的城市。
Siva Sreekar
Greetings from India. Most of the chinese cities are beautiful and well developed compared to all those bullshit indian cities
我来自印度
跟印度城市比起来,中国很多城市很美,很发达。
ARMY_ BTS
Unbealivable !
令人难以置信
Zaid Khan
Chinese bridge Wow!!
中国桥梁,哇塞!