WHO to Javadekar: No study shows pollution spares Indians
WHO回应雅瓦德卡尔:没有研究表明污染对印度人网开一面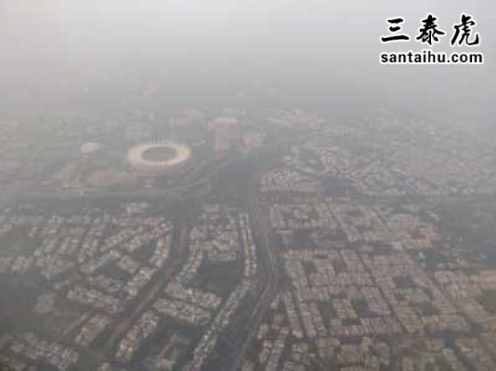 NAGPUR: The World Health Organization (WHO), a specialized agency of the United Nations working on international public health, has rebuked Union environment minister Prakash Javadekar for stating that there is no link between air pollution and reduced lifespan. "We wish it didn't kill people but unfortunately it does," said WHO offi als.
纳格浦尔:世界卫生组织(WHO)是联合国专门从事国际公共卫生工作的机构。WHO谴责了印度环境部长普拉卡什·雅瓦德卡尔关于空气污染和寿命缩短之间没有联系的说法。世卫组织称:"我们也希望空气污染不会造成民众死亡,但不幸的是,它确实造成了人员死亡。"
The minister, while speaking in the Parliament on Friday, strongly stressed that there was no Indian study to prove the impact of air pollution on public health. Javadekar further told the house not to "create fear psychosis among people".
雅瓦德卡尔星期五在议会发言时,强调没有研究证明空气污染会对公众健康造成影响。雅瓦德卡尔还告诉众议院不要"在民众中间制造恐慌"。
Speaking to TOI from the ongoing COP 25 meet in Madrid, WHO director (public health) Dr Maria Neira asserted that strong scientific evidences show exposure to pollution has a major impact on people's health.
在马德里举行的第25届联合国气候变化大会上,世卫组织总干事(公共卫生)玛丽亚·内拉博士对《印度时报》表示,强有力的科学证据表明,暴露在污染环境中对人们的健康有重大影响。
"Independent of which methodology is used or what are the estimates, it is urgent to take action because the levels of air pollution in certain cities in India are very high and this is definitely having an impact on the health of citizens. The evidence is available and so are the interventions, the expertise is there and so is the plan of action. We urge the Indian go nment, which has enormous amounts of expertise and competencies, to do its best in tackling the sources of air pollution and reducing toc pollutants that citizens are exposed to at the moment," said Dr Neira.
内拉博士称:"不管采用哪种方法,我们都迫切需要采取行动,因为印度某些城市的空气污染水平非常严重,这肯定会影响到公民的健康。我们敦促印度政府,尽最大努力解决空气污染的问题,减少市民接触到的有毒污染物。"
Also reacting to the minister's statement was WHO'S Climate Lead Diarmid Campbell-Lendrum. "We have brought together and analysed tens of thousands of studies showing effect of air pollution on health from every population of the world. We are yet to find a study which shows any population, including India, which is immune from the health impacts of air pollution," he said.
同样对雅瓦德卡尔做出回应的还有世卫组织气候问题负责人迪亚拉德·坎贝尔·伦德鲁姆。他说:"我们收集并分析了成千上万来自世界各地的研究,这些研究表明空气污染会对健康造成影响。我们还没有发现一项研究表明,人类的健康不受空气污染的影响"
印度时报读者的评论:
Balinder • Tibba • 5 hours ago
It shows low IQ level of Modi and his team.He himself and his ministers are making us a laughing stock
这显示了莫迪及其团队的智商水平低。他和部长们使得我们沦为了笑柄
Prakasarao Anantaneni• 6 hours ago
let's put him and his family in heavily polluted Delhi chambers to prove his theory if necessary, the whole cabinets families.
为了证明他的理论,把他和他的家人关在污染严重的房间里,看看有没有影响。如果有必要,拿全体内阁成员来做实验。
Ravindran • Mumbai • 4 hours ago
Javadekar is a flat earther who has no fa th in science and technology. He believes in plastic surgery in ancient India, tantric powers and voodoo. He and his colleagues in the cabinet are hel us recm India's lost glory
雅瓦德卡尔是一个不相信科学的人。他相信古印度的整形手术、密宗的力量和伏都教。他和他的内阁同僚正在帮印度夺回失去的荣耀
Syed Tanvir Ali • Howrah • 5 hours ago
First study science then open mouth don't give bad image of India.Pollution in the all over the world main cause of human life loss now and future also,so start to o make new smart cities with trees.
先要学科学,然后再发表看法,不要抹黑印度的印象。污染是现在和未来造成人类死亡的主要原因,开始建设新智慧城市吧,多种树。
ayan dutta • 5 hours ago
Mr. Javadekar, hats off to your intelligence
雅瓦德卡尔先生,你真聪明,向你致敬
Mohammad Aamir • 4 hours ago
What a Solid insult to illiterate Sanghis. Modi and his team is bringing more shame to our country.
莫迪及其团队给我们国家带来越来越多耻辱了。
Edoras • 4 hours ago
Thats why Gujju Hijjjdaaa Feku runs abroad so often.
国内污染太严重了,所以莫迪才经常出国。
True • 2 hours ago
Many of the Central Ministers are seen to make foolish and unscientific statements. Surprising that even Javadekar is no exception.
很多中央部长发表不科学的言论。令人惊讶的是,就连环境部长也不例外。
Ganesh Sk • 4 hours ago
Even a child would know that pollution kills.
就连小孩也知道污染会致人死亡。
ENN DEE • 3 hours ago
I think to be a minister minister in BJP one must prove that they have a mouth that can blabber 24/7 and that mouth has no connection with brain... Actually brain is not needed as well....
要成为人民党政府的部长,就必须证明自己有一张喋喋不休的嘴,有没有脑子不要紧
Arun • 3 hours ago
brilliant.. dont know why people these kinds of idiots
不知道为什么人们会投票给这种白痴
War • 3 hours ago
BJP is a big joke. Only fools would ve for them.
人民党是个大笑话。只有傻瓜才会给他们投票。
Sudhir • Pune • 3 hours ago
WHO to Javadekar: No study shows pollution spares Indians. Making a fool of himself in India and abroad. Really funny.
这让他在印度和国外出尽洋相。真好笑。
Amit • 1 hour ago
Mr. Javadekar should have restrain himself before speaking something serious in parliament. Are Indian different species on earth who don't fall prey to pollution, Mr Javadekar? The casual behavior of our ministers is not OKAY.
雅瓦德卡尔先生,印度人与众不同吗,不会受地球污染侵害吗?部长不要随意发表言论。
India First • Marlboro • 2 hours ago
Javadekar, like all bhakts, is as stupid as stupid could be.
雅瓦德卡尔愚蠢至极,就像所有人民党一样
Ratan Bhattacharjee • 39 mins ago
Why blame him, his like other ministers knowledge and job is çentred around Modiji and Amit Shah .
为什么谴责他,像其他部长一样,他的工作是围着莫迪和阿米特·沙阿转的。
Navin Jain • 2 hours ago
OK then ask him to live in a highly polluted house for the next 5 years and prove his theory
好吧,那就请他在未来5年里住在一个污染严重的房子里,以证明他的理论
Sr Abc • 3 hours ago
Javdekar's ideas may get space into a go nment text book very soon as one of the pioneers who have re-defined the ecological evidence vis a vis pollution that is presently available to the world.
雅瓦德卡尔的观点可能很快就会被载入教科书,因为他是重新定义污染的先驱者之一。致敬。
Sunil • 2 hours ago
Mosquito gets dangue after biting Delhities
咬过达利特的蚊子都有毒
外文:https://timesofindia.indiatimes.com/india/who-to-javadekar-no-study-shows-pollution-spares-indians/articleshow/72431428.cms