After US, military drill with Russia, China
继美国之后,印度与俄罗斯、中国举行军演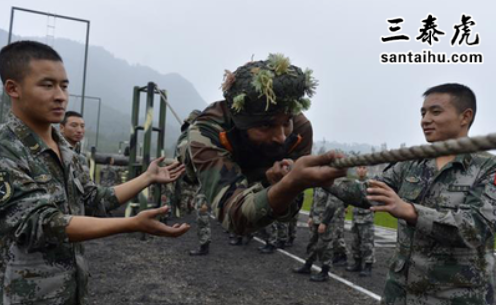 NEW DELHI: With the world turning increasingly multi-polar, India is assiduously engaging with all the major players in the arena of military exercises. Just after its first tri-service war game with the US concluded last week, India is now all set to hold exercises with Russia and China almost simultaneously next month.
新德里:随着世界变得越来越多极化,印度正努力与各主要军演伙伴进行接触。上周,印度刚刚结束了与美国的首次三军作战演习。下月,印度将于与俄罗斯和中国同时举行军演。
India is also clear it will not ignore its neighbourhood in this continuing thrust on "defence diplomacy", lining up exercises with Nepal (Exercise Surya Kiran), Bangladesh (Sampriti), Sri Lanka (Mitra Shakti) and Myanmar (IMBEX) in the December-February time-frame.
在持续推进的"国防外交"中,印度不会忽视邻国,在12月至2月期间,印度将分别与尼泊尔(Surya Kiran演习)、孟加拉国(Sampriti演习)、斯里兰卡(Mitra Shakti演习)和缅甸(IMBEX演习)举行联合演习。
"With nations grappling with global terrorism, piracy and gun-running on the high seas, violence by rebel militias and other such threats, the exercises serve to enhance military interoperability, strategic cooperation and confidence-building among nations," said a senior defence official.
一名高级国防官*员表示:"随着各国努力应对全球恐怖主义、海盗、公海上的军火走私、反政府武装的暴丽等威胁,这些演习有助于增强各国之间的军事协作、战略合作和互信。"
With China, of course, it's more of confidence-building. Continuing with the resumption in military engagements after the freeze due to the Do-m troop face-off during June-August 2017, India and China will hold their eight "Hand-in-Hand" annual exercise at Umroi near Shillong in Meghalaya from December 7 to 20. "Though just a company-level exercise, it is important to build trust between the two armies," said an officer.
当然,与中国打交道更多的是建立信任。在2017年6月至8月的动郎对峙之后,印中两国恢复军事接触。12月7日至20日,印中两国将在梅加拉亚邦西隆附近的Umroi举行第8次"手拉手"年度演习。一名军官表示:"尽管只是一次连级演习,但在两军之间建立信任很重要。"
Exercises with the US and Russia are much bigger and complex. The amphibious "Tiger Triumph" tri-service exercise with the US was held off the Vishakhapatnam and Kakinada coasts from November 13 to 21.
与美国和俄罗斯的演习规模要大得多,也复杂得多。与美国的两栖"老虎凯旋"三军演习于11月13日至21日在维沙卡帕特南和卡基纳达海岸举行。
This was only the second time India deployed assets and manpower from its Army, Navy and IAF together for an exercise with a foreign country, after the "Indra" war games with Russia at Vladivostok in 2017.
这是继2017年与俄罗斯在海参崴举行"因陀罗"军演后,印度第二次动用陆海军和印度空军的资源和人力与外国进行演习
印度时报读者的评论:
译文来源:三泰虎 http://www.santaihu.com/48883.html 译者:Jessica.Wu
外文:https://timesofindia.indiatimes.com/india/after-us-military-drill-with-russia-china/articleshow/72249815.cms
Rajat Pandit•1091•Wordsmith News King Frequent Flyer • Rajat Pandit•New Delhi•2 days ago
In the last almost 4 years, 72 joint exercises were conducted by Army, 39 by Navy, 21 by IAF, apart from 2 tri-Service ones (US & Russia)
在过去4年里,印度陆军举行了72次联合演习,海军39次,空军21次,此外还有2次三军联合演习(与美国和俄罗斯)
Sanjoy Pandey•5953•Influencer Wordsmith News King • Sanjoy Pandey•Kolkata•3 days ago
Every other thing is okay, but China is never trustworthy. They always want to cheat all other countries.
其他都行,但中国不值得信任,总是想欺骗其他国家。
Kim Soon Ho•7• Sanjoy Pandey•1 day ago
You mean all other countries are saints.
你的意思是其他国家都是圣人?
Baburao •257• Sanjoy Pandey•3 days ago
Chinese cannot be trusted.
不能相信中国人。
Vishva Nathan•653• Baburao •2 days ago
We already know that. Let them know, still we can cooperate with them, as much as we are ready to fight them. India is not a fool.
这个我们知道。我们要让他们知道,我们仍然可以与他们合作,也随时准备好和他们开战。印度不是傻瓜。
Rajam•1958•News King Frequent Flyer Inboxer • Rajam•3 days ago
Always good to see the Chinese Combat Arms close up!! One must see ones enemy for what he is, Superiority and Inferiority. Assess the Chinese as a ever present danger.
知己知彼,百战不殆。把中国人视为永远存在的威胁。
John Miller•117• John Miller•3 days ago
India you can''t be friend with everybody. You gonna have to choose a side very soon
印度不可能和每个人都成为朋友,很快就要选边站队了
Harshad Kanakiya•1901•Frequent Flyer Member • Harshad Kanakiya•3 days ago
China too is now business oriented country.... not collecting land by aggression but, by business debts. Modi builds relations with all countries. Only Pakistan is no FAR SIGHT. God help us.
中国现在也是一个以商业为导向的国家…不是通过侵略征地,而是通过商业债务征服其他国家。莫迪与所有国家建立关系。只有巴基斯坦目光短浅。
Lumteeng Chapaktu•14279• Lumteeng Chapaktu•3 days ago
What a great honour for China, they will learn from the BIackies all the techniques used in imaginary surgical strikes and fake encounters. BIackie jokers must teach Americans on how to fight with Taliban.
这对中国来说是多大的荣誉啊,他们将会从印度佬那里学到外科手术式打击中使用的技术。印度佬还是教教美国人如何与塔利班作战吧。
Sambappa Kalvala•5957•Member • Sambappa Kalvala•3 days ago
Just formality and no commitment
走过场,不要做出承诺
Arun Choudhary•26792•Influencer Wordsmith News King • Arun Choudhary•3 days ago
very good step by step training to our sena ,,,but be care full from china
非常好,但是要当心中国
VP Singh•359• VP Singh•Seattle, USA. Roots from Rajasthan•3 days ago
Hopefully this military drill w/ China will actually be SENSEFUL, unlike the previous ones where we resulted in standoffs.
希望这次和中国的军演有效果,不要像之前导致了对峙。
Vande Matram•19782•Influencer Wordsmith News King • VP Singh•Earth•3 days ago
chowtiye, military drill is just a drill. It doesn''t solve any real-world problem.
军事演习只是演习,不能解决任何现实问题。
VP Singh•359• Vande Matram•Seattle, USA. Roots from Rajasthan•3 days ago
True
没错
ONE LINER Challenge•26410• ONE LINER Challenge•3 days ago
MODI JI BRINGING IN "PLURALITY STRATEGY"-
莫迪引入"多元化战略"
Akshita•4140• Akshita •3 days ago
Good
好事
Asok Datta•2774• Asok Datta•3 days ago
India will play with everybody- in the meantime Pakistan will sneak and kill our forces - well done India!!!
干得好,印度!!
印度将和各国展开合作——与此同时,巴基斯坦将偷偷摸摸潜进来,杀死我们的士兵
pakisareganduhomos•3783• Pakisareganduhomos•Kaloo Gandu Papistan•3 days ago
I dia needs to continue it Military Buildup. Modi govt is doing it right.
印度应当继续搞军事建设。莫迪政府做得对
Quhesobi•Member • Quhesobi•3 days ago
Feku is completely out of his mind. Not only is he unable to deliver on his jumlas but also he is committing treason by working with Chinks.
莫迪完全疯了。他不仅无法兑现承诺,而且还和中国佬合作,他犯了叛国罪。
Anthony Morais•3948•Influencer Wordsmith News King • Anthony Morais•3 days ago
India is the only country that is able to learn from other major military powers. Who will India choose if they fight each other? Will neutrality be acceptable?
印度是唯一一个能够向其他军事大国学习的国家。如果这些国家互相争斗,印度会选择谁呢?能中立吗?
war monger• war monger•cow land
India is testing every military in the world. India will be ready to conquer them all to rule the entire world.
印度正在测试每一支军队。印度已经准备好征服他们,统治全世界。