With $78 billion, India still highest overseas remittance receiver
780亿美元,印度仍是接收海外汇款最多的国家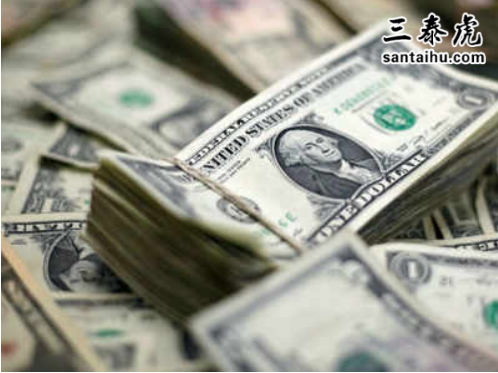 India continues to retain its position as the world's top recipient of remittances, with its diaspora sending back $78.6 billion in 2018. Considering that India's diaspora is the largest in the world, at 17.5 million (as of mid-2019), this ranking in terms of remittances is not surprising. India's remittances were 14% of the global remittance figure of $689 billion. China was next in line, with remittances of $67.41 billion (which is 5.4% of the global remittance figure).
印度仍保持全球最大汇款接收国的地位,2018年印度侨民汇回了786亿美元。鉴于印度是全球移民最多的国家,达1750万人(截至2019年年中),这一汇款排名不足为奇。印度的汇款占全球汇款总额6890亿美元的14%。中国紧随其后,汇款额为674.1亿美元(占全球汇款额的5.4%)。
Even in 2010 and 2015, for which data is available, India was the top recipient of remittances. Remittances during 2010 were $53.48 billion, rising to $68.91 in 2015 - an increase of nearly 29%. The increase in remittance between 2015 and 2018 is 14%. As compared with the remittances in 2010, the latest figure of $78.61 billion shows a rise of nearly 47%. These statistics were disclosed in the World Migration Report 2020, which was released on Wednesday by International Organisation for Migration (IOM), which is United Nations' migration unit.
即使在2010年和2015年(有相关数据),印度也是最大的汇款接收国。2010年汇款额为534.8亿美元,2015年增至689.1美元,增长近29%。2015年至2018年汇款增长了14%。与2010年的汇款相比,最新的786.1亿美元增长了近47%。这些统计数据在《2020年世界移民报告》中披露。国际移民组织(IOM)是联合国的移民部门,于周三发布了这份报告。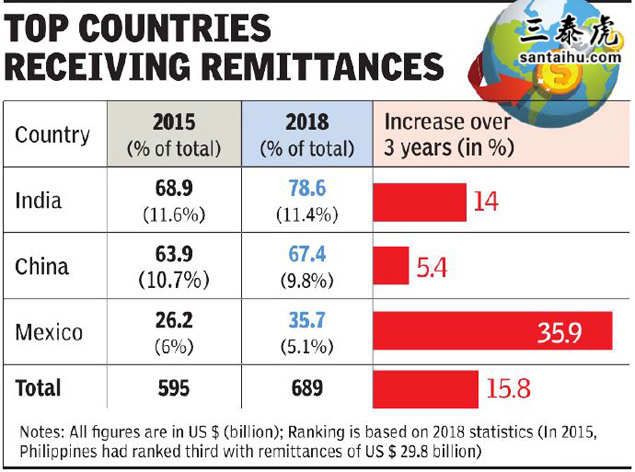 High income countries are almost always the main source of remittances. For decades, the US has consistently been the top remittance-sending country, with a total outflow of $68 billion, followed by UAE ($44.4 billion) and Saudi Arabia ($36.1 billion), the report states.
汇款的主要来源几乎是高收入国家。报告称,几十年来,美国一直是汇款最多的国家,总汇出额为680亿美元,其次是阿联酋(444亿美元)和沙特阿拉伯(361亿美元)。
TOI had in its edition of September 19 analysed the raw data set that had been released by the UN earlier, which is now contained in the migration report. At 17.5 million, India's diaspora was the largest in the world during 2019, with majority of Indians in UAE (3.4 million), US (2.7 million) and Saudi Arabia (2.4 million). Mexico's diaspora of 11.8 million was the second largest, followed by China at 10.7 million.
《印度时报》在9月19日分析了联合国早些时候发布的原始数据集,这些数据现在包含在移民报告中。2019年,印度的海外人口为1750万,居世界首位,其中大多数居住在阿联酋(340万)、美国(270万)和沙特阿拉伯(240万)。墨西哥有1180万海外人口,居第二,之后是中国,1070万。
印度时报读者的评论:
译文来源:三泰虎 http://www.santaihu.com/48865.html
外文:https://timesofindia.indiatimes.com
Regular Guy8 hours ago
India can double that figure if it worked with foreign go nments to allow Indian nationals to settle overseas. Start exporting people, will have lot of benefits.
如果印度与外国政府合作,允许印度公民在海外定居,那么这个数字可以翻一番。输出人口能创造大量收入的。
Common ManIndia5 hours ago
Bring more reservations, attract university students, maintain no law and order and this figure will keep on rising. Congratulations
增加预留名额,放任无法治状态,这个数字将继续上升。祝贺!
Maneesh Ramanadham7 hours ago
though 78 billion is a huge figure, it is not relatively large to the expanse of diaspora we have. Not everyone is sendinc money back home. We need policies to encourage NRIs to invest money back home, to double or triple this number.
虽然780亿是一个庞大的数字,但相对于我们庞大的海外人口来说并不算多。并不是每个人都把钱寄回家。我们应当制定政策,鼓励海外印度裔将资金寄回国内,使这个数字翻两倍乃至三倍。
Sanjoy PandeyKolkata5 hours ago
What about the outflow of funds from India by corrupt politicians, businessmen and officials by hawala ?
附败的政客、商人和官从印度转到海外的资金又有多少呢?
Sandeep Srikumar7 hours ago
That will not make India a developed country!
海外汇款多,不能让印度成为发达国家啊!
modi oh modiUAE4 hours ago
Indians work as beggars and sl ves over seas to send money back to save their family from starving. Now Modi''s go nment is claiming the credits.
印度人在海外当乞丐、当努力,把钱寄回来给家人,否则家人会饿死的。现在莫迪政府却来邀功了。
Harry Potter8 hours ago
maximum remitance coming from muslim countries in middile east.
最多的汇款来自中东国家
Strategic Speaking2 hours ago
I really cant understand why people going to other countries when there are enough opportunities as "Pakoda Maker" and "Gowrakshaks".
在印度有的是机会卖小吃、蹬三轮,为什么要去其他国家?
Ansasikarbangalore7 hours ago
17.5 Million remitted USD 78 billion. ? something wrong.
1750万人汇了780亿美元?有没有搞错。
Gouranga Mahato1 hours ago
Nice news
好消息
Pradeep3 hours ago
Not surprising. This is a numbers game. The remittances can go up as Indians are the largest diaspora in the world.
不足为奇。这是一个数字游戏。印度移民的数量是全球最多的,汇款可能还会增加。
Krishan Kumar TotlaniJaipur3 hours ago
Good, India retained its position as the world''s top recipient of remittances with its diaspora sending a whopping USD 78 billion back home in 2018. It indicates the NRI''s love for their country.
很好,印度仍然是世界上接收汇款最多的国家,2018年,印度侨民向国内汇款高达780亿美元,这表明了海外印度裔对祖国的爱。
ShyamalNew Delhi3 hours ago
This is compulsion of Indians they go overseas for their livelihood due to unemployment,
在印度没工作,这是印度人被迫去海外谋生的原因
Maddy Mark3 hours ago
Pathetic statistics proving Indians are forced to go abroad to earn a living.
印度人是被迫出国谋生。
Sambappa Kalvala4 hours ago
We don't know how to earn money thru business outside India.But the guys who are frustrated in India earn foreign exchange for the country
那些在印度受挫的人去国外工作,为国家赚取外汇
Choukidar5 hours ago
it's one of shameful claim.Nothing to feel proud about.
这没什么好骄傲的
Ananth Narayan• 3 hours ago
No income tax in gulf countries.
海湾国家不征收所得税。
aaaa bbbb• 6 hours ago
India has huge expats livings in different parts of the world who send money home.
海外印度裔遍布全球,他们都往印度汇钱。
ash big10• Saurashtra • 6 hours ago
The higher the remittances, The worst situation at home. Earlier for Konkan, Bihar and UP it was Mumbai Money order economy. Now for entire country it is USD economy. Khush hone wali baat nahi hai.
汇款越多,国内的情况就越糟糕。现在整个国家都是美元经济。