Delhiites may lose 17 years of their lives due to air pollution, finds study
研究发现,德里人或因空气污染而减寿17年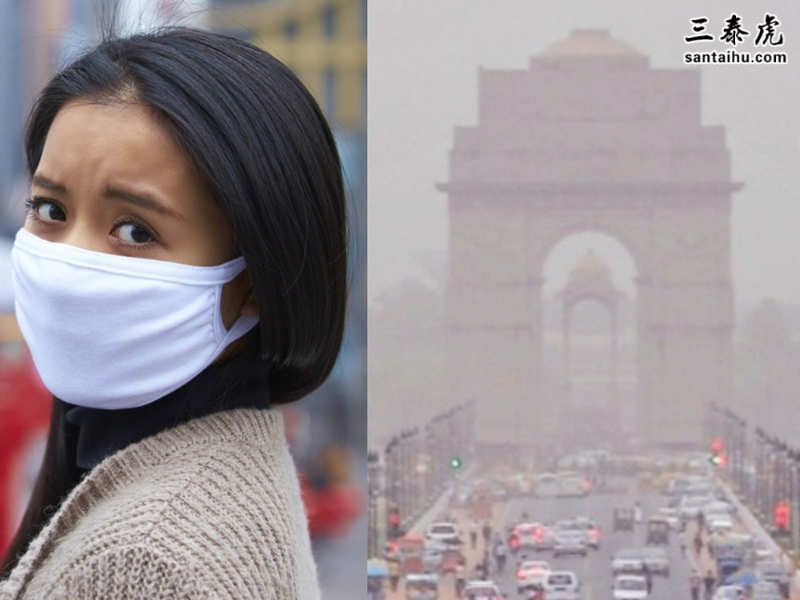 Air pollution levels in the national capital are at an all-time high. With almost every region in the city recording bad air quality, Delhi is turning into a gas chamber. If you thought not being able to breathe properly or burning eyes and headaches are the only thing to worry about, think again.
首都德里的空气污染水平创历史新高。该市几乎每个地区的空气质量都很糟糕,德里正在变成一个毒气室。人们不能正常呼吸、眼睛灼痛和头痛或许不是你唯一需要担心的问题。
In what may be more shocking news, a study says that citizens living in Delhi might be losing as many as 17 years of their lives if pollution levels continue to cross the 'danger' mark. According to a new report, people living in the city are currently breathing air which is 25 times more toc than the permissible limits issued by the World Health Organisation. This spike in the bad air quality is now taking a direct toll on the life expectancy levels.
更令人震惊的是,一项研究称,如果污染水平继续超过"危险"水平,居住在德里的居民或减寿17年。根据一份新的报告,市民所呼吸空气的毒性是世界卫生组织发布的允许限度的25倍。糟糕的空气质量对预期寿命产生了直接影响。
Perhaps the most concerning cause of rising toc pollution levels is the PM 2.5 particles found in the smog, which can easily enter through the bloodstream and settle in the lungs and nasal cavities and lead to fatal problems. PM 2.5 is the most dangerous pollutant in the air. It is also capable of creating clots, blocking the blood flow and even lead to worsening of conditions like heart attack and severe pulmonary infections. Another report pointed out to pollution impacting people's immunity and inflammation, making them more likely to gain weight.
也许最令人担忧的是雾霾中发现的PM2.5颗粒,这些颗粒很容易通过血液进入肺部和鼻腔,危及生命。PM2.5是空气中最危险的污染物。它还能造成血栓,阻碍血液流动,甚至导致心脏病发作和严重肺部感染等病情恶化。另一份报告指出,污染会影响人们的免疫力,导致炎症,使人们更容易长胖。
Experts based out of University of Chicago, in one of their researchers also analyzed that of all the top polluted cities in the world, resi nts of Delhi will get to live for ten years fewer because of the bad pollution levels
研究人员还分析了全球所有污染最严重的城市,由于污染严重,德里的居民将少活10年
A report released this year titled "State of Global Air" further states that pollution is the fifth leading cause of mortality all around the world:
今年发布的一份题为《全球空气状况》的报告进一步指出,污染是全球第五大死亡原因:
"Air pollution is the fifth leading risk factor for mortality worldwide. It is responsible for more deaths than many better-known risk factors such as malnutrition, alcohol use, and physical inactivity. Each year, more people die from air pollution-related disease than from road traffic injuries or mria."
"空气污染是全球第五大致死因素,比许多众所星期知的,如营养不良、酗酒和缺乏体育锻炼,造成的死亡更多。每年死于空气污染相关疾病的人比死于道路交通事故或疟疾的人还要多。"
As the go nment declares it a public health emergency, this goes on to prove that it's a sad world we are living in.
印度政府宣布这是一个公共卫生紧急事件,这证明我们生活在一个悲惨的世界。
印度时报读者的评论:
译文来源:三泰虎 http://www.santaihu.com/48837.html 译者:Jessica.Wu
外文:https://timesofindia.indiatimes.com/
it cant be ,,,why are our po iticians do not die fast
不可能…为什么我们的政客还没死
king
i am so happy as all the Indian po iticians spend a lot of time in Delhi..lol...as some of them just refuse to die early
所有的印度政客在德里呆了很长时间…哈哈…他们中的一些人拒绝早逝
unmesh desai
27 years if Kejriwal stays as CM
如果科利瓦尔一直当德里首席部长的话,人们将减寿27年
Paul S
If 17 years is correct figure, then pollution is killing about one fifth of the pollution or 40 lakh individuals in Delhi alone. The number is more than the total number of Indians killed in wars since East India company occupied India in 1600s.
污染正在夺走五分之一人的生命,仅德里就有400万人。这一数字超过了自17世纪东印度公司占领印度以来印度人在战争中死亡的总人数。
vipul arya
GOOD NEWS. THERE WILL BE FEWER DELHI DONKEYS. that was bound to happen when they ve for KAACHRAWAL....
好消息。德里的蠢驴会越来越少。他们投票给卖茶人,这是注定要发生的…
Nagaraj Bellary
Fifty years ago we never even imagined that one can buy drinking water. We are buying it.
Similarly, one day we have to buy clean air.
五十年前,我们从来没有想过买饮用水,现在我们都在买。
同样,总有一天我们得买清洁空气才活得下去
Ashwani Kumar
Why only New Delhi, India has the dubious distinction of having world''s 9 most polluted cities among 10 in the world.
为什么只有新德里,全球10大污染最严重城市有9个在印度。
Prince
But but ..the po iticians in Delhi are now in their eighties and nineties. You mean to say that po iticians are POLLUTION PROOF?
可是德里的政客们现在已经八九十岁了。难道说那些政客不怕空气污染?
Madan Mohan Siddhanthi
This is bound to happen .first we care nothing for environment see the dirty cities every where in the country .I do not balme the go nment they can at best catalysts by providing funds , people have to take care
这是必然会发生的。我们不关心环境,全国到处都是肮脏的城市
HappyTimes User
This a very big problem
这是个大问题
aryan Patel
good , nature has to bnce over population
很好,大自然需要平衡人口
Dilbag Rai
Delhites willing to long for a longer life will have to keep their environments neat clean and pollution free
想要长寿的德里人务必保持环境清洁
Nondynasticalliance
Move the go nment offices to tier 5 city
将政府机关搬到五线城市吧
R T
Will my life insurance rates come down if I move out of Delhi. They should.
如果我搬出德里,我的人寿保险费率会下降吗?
应该下调的吧。
Neel Patil
Master stroke by Modiji
莫迪的杰作
Tim
Already Indias life expectancy is so low due to poor quality of food, health care and lifestyle. Oh not to forget the garbage street food they eat.
印度人的预期寿命已经很低了,原因是食物受污染,医疗水平不够,生活质量差。哦,别忘了,他们吃垃圾食品路边摊。
vivek chandra
This is so terrific the polutiion in Delhi is increasing day by day
这太可怕了,德里的污染日益严重