US set to tighten work norms for international students
美国将收紧对国际学生的工作签证政策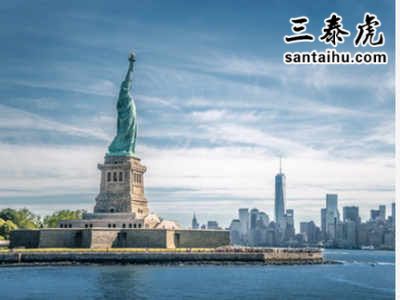 NEW DELHI: The Trump administration is set to tighten norms from next year for optional practical training (OPT), a programme used by international students to work in the US for one year after completing their degree course. Students from the science, technology, engineering or math (STEM) stream can opt for a two-year extension, which gives them a cumulative three-year work experience under OPT.
新德里消息:特朗普政府将从明年开始收紧选择性实习培训(OPT)的规范。OPT是指国际学生在完成学位课程后在美国工作一年的实习。来自科学、技术、工程或数学(STEM)专业的学生可以选择延期至2年,这样他们就可以在OPT项目下累积三年的工作经验。
The pendulum seems to have swung in favour of antiimmigration groups, who hold that OPT students provide ch labour and take away American jobs. The fall agenda of the US go nment rolled out recently states: "US Immigration and Customs Enforcement will amend esting regulations and revise practical training options available to non-immigrant students on F and M visas."
舆论似乎倒向了反移民团体,他们认为OPT学生提供了廉价劳动力,抢走了美国人的工作。美国政府最近公布的秋季议程称:"美国移民和海关执法局将修订现有法规,并修订针对持有F和M签证的非移民学生的实习培训选择。"
F-visa is for those undertaking academic studies (working towards a degree), whereas M-visa is issued to vocational training students.
F-签证发放给想要在美国某学术机构全时学习的外籍学生(为获得学位),而M-签证适用于职业培训生。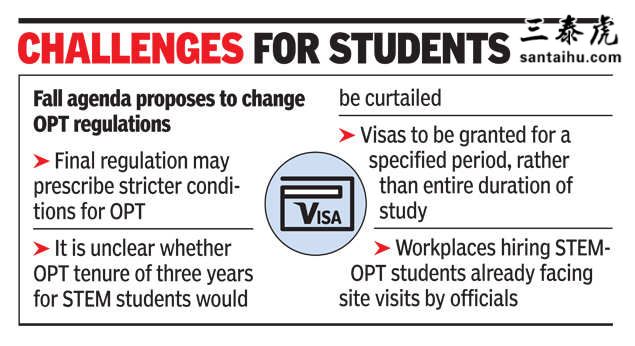 US Immigration and Customs Enforcement is the governing agency for the optional practical training (OPT) programme. "The forthcoming proposal, which has an anticipated publication date of August 2020, is expected to seek restrictions on the OPT currently available to international students," says Mitchell Wexler, partner at Fragomen, a global immigration law firm.
美国移民和海关执法局是OPT项目的管理机构。全球移民律师事务所Fragomen的合伙人米切尔•韦克斯勒(Mitchell Wexler)表示:"即将出台的提案预计将于2020年8月公布,预计将限制目前对国际学生开放的选择权。"
印度时报读者的评论:
译文来源:三泰虎 http://www.santaihu.com/48829.html 译者:Jessica.Wu
外文:https://timesofindia.indiatimes.com
Dravidian Nationalist • 5 hours ago
after living in India for 25 years and once u land in the USA, within an hour u will never want to come back to India
在印度生活了25年,一到美国就乐不思蜀,再也不想回到印度了
Kaz L• 4 hours ago
THIS is zing. This is true Americanism. Kick the browns out! Kick the hindu doctors and engineers out, send them back to India. Whites reign supreme.LOL.Modi govt needs to pay for their return air fare and set them up with resources so they can propel their own motherland forward!
这才是真正的美国精神。把棕色皮肤的人赶出去!
把印度医生和工程师赶出去,把他们送回印度。白人至上。哈哈,莫迪政府应该支付他们的返程机票!
Pardeep Singh• 2 hours ago
yes u r .... I urge the go nment to please please provide the environment so that talent is recognized. why should we provide our talent to these Americans. Talent left the country only when they feel that no one cares for that.... We ourselves can make our INDIA great.
我恳请政府营造一个好的环境,让人才得到认可。我们为什么要为美国输送人才呢?只有人才没获得关注时,他们才会离开这个国家。我们自己就可以让印度变得伟大。
Raju Narasimha N • 1 hour ago
Yes I would like to see this one day, and also would like to see how long Americans can survive without these Indians in America
印度人都离开后,看看美国人能撑多久
Deepak B Mhs• Mumbai • 3 hours ago
Their Country their rule. Unfortunately here in India, the deserving one are deprived from what they deserve.
不幸的是,在印度,有才能的人没受到重用。
Chowkidar Chor • 5 hours ago
Students come to US on loans. They should be allowed to work. American citizens are not even interested in STEM jobs. Leave alone their qualification.
学生们贷款去美国留学。应该允许他们在美国工作。
Pankaj Kumar• 3 hours ago
wwhy dont you study and work in india
为什么不在印度学习,在印度工作?
unfortunatebrahmin • Pankaj Kumar • India • 3 hours ago
Many hard working students in India are deprived of their chances by the reservation policy. So they seek opportunities to work for USA, CANADA, UK, AUSTRALIA, GULF etc. if the reservation policy is scrapped, then many would like to work for the mother country. It is perhaps a sin to be born in India for those so called "upper caste middle class" people.
在印度,很多努力学习的学生被预留政策剥夺了机会。所以他们寻找机会去美国、加拿大、英国、澳大利亚、海湾等国家工作。对于那些所谓的"高种姓中产阶级"来说,出生在印度也许是一种罪过。
Sandeep• 4 hours ago
All this dr for reion bid by trump admin. Once the ion is over, they will ease the norms again
所有这些都是特朗普为了连任而制造的闹剧。一旦选举结束,他们将再次放宽政策
Dhruv R • 3 hours ago
no dr trump is all action
不是闹剧,特朗普言出必行
Ruchir Goyal• 2 hours ago
there was no action on immigration by Trump in last 3 years... Just before ions, the issues being raised again...
特朗普在过去3年里没有对移民采取任何行动……在选举之前,这个问题再次被提出来了。
Joey Devivre • 4 hours ago
Trump is busy kicking Indians out of USA while Feku is busy destroying India''s economy and turning everyone into gau rakshaks and pakodaws.
特朗普忙着把印度人赶出美国,而莫迪忙着摧毁印度经济。
Mathew Jason• 2 hours ago
You have lost your brain long ago. You just don''t know. Go and get admitted to some good mental hospital.
你早就疯了,只是自己不知道而已,去精神病院吧。
Paul S• 2 hours ago
The biggest mistakes Indians make in USA is to wave Indian flags in their po itical rallies. If they cannot be loyal to USA, they should return to India. India has many Bangladeshi citizens. Ever saw a Bangladeshi waiving a Bangla flag in India?
印度人在美国犯的最大错误就是在集会上挥舞印度国旗。如果他们不忠于美国,他们应该回到印度。印度有许多孟加拉公民。你见过孟加拉人在印度挥舞孟加拉国旗吗?
Akshat Srivastav• 44 mins ago
Loyalty is not a fixed quantity. Any human can be loyal to two countries. Just because they raise the India flag does not mean that they are not loyal to the US. Indians are not extremists. We know our place. A flag is just an indication that even though we are so far, we are still attached to our motherland.
任何人都可以忠于两个国家。仅仅因为他们挥舞印度国旗并不意味着他们不忠于美国。印度人不是极端主义者。我们知道自己的位置。国旗只是一个象征,即使我们远走他乡,我们仍然依恋着祖国。
samii• 3 hours ago
You moron, do you think american are not qualified for the job. Go and google and see who won more noble prizes - India or US. You stupid.
美国人能胜任工作吗?去谷歌搜搜看谁获得了更多诺贝尔奖——印度还是美国。
Ashu Chhajer • 2 hours ago
Then india should kick out all non hindus
那印度应该驱逐所有非印度教徒
Amit• 2 hours ago
USA is doing what they think is good for them. We will do what we think is good for our country, India.
美国在做他们认为对自己有利的事情。我们会做我们认为对印度有利的事情。
Manyam Raja Ram• 2 hours ago
Wonderful. The Govt. is bent upon precting the interest of the locals. This is called the National spirit.
太棒了。美国政府决心保护当地人的利益。这就是所谓的民族精神。
Paul S• 1 hour ago
India was only respected in the world when it was a secular de acy .
只有当印度是一个世俗的国家时,它才能在世界上获得尊重。
Sanjay• 2 hours ago
Hummm. Trump is doing everything possible to keep US citizens happy. He is trying to create job for local public by doing such nasty things. But it is going to help him in case he decides to run for presi ntial ion next year.
特朗普正在尽一切可能取悦美国公民。他的这种卑鄙之举是为了给当地民众创造就业机会。如果他决定参加明年的总统选举,此举对他有所帮助。
Dilbag Rai• 2 hours ago
Indian students going to study in USA should think about the tightening work norms there.
Everything is not rosy there.
去美国留学的印度学生应该考虑一下那里严格的工作政策。
那里并非事事如意。
Paul S• 1 hour ago
Why do Indians think that they have the to settle in USA?
为什么印度人认为他们有权利在美国定居?
Paul S• 1 hour ago
So? Indian go nment and not the US go nment should take care of Indians.
应该照顾印度人的是印度政府,不是美国政府。
C Kant • 2 hours ago
Tough time ahead for US
美国今后的日子不好过