Indians have smaller brains, reveals study
研究显示,印度人的大脑更小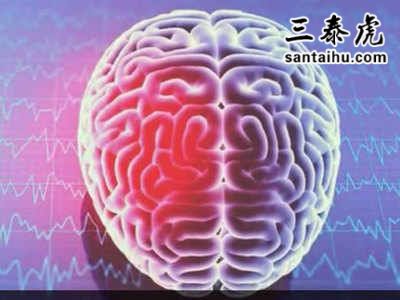 HYDERABAD: Researchers at the International Institute of Information Technology, Hyderabad (IIIT-H) have created the first-ever Indian Brain Atlas. The study has revealed that the Indian brain, on an average, is smaller in height, width and volume when compared to Western and other eastern populations. This will help in early diagnosis of Alzheimer's and other brain-related ailments.
海得拉巴:海得拉巴国际信息技术研究所(IIIT-H)的研究人员创建了首个印度人大脑图谱。研究表明,与西方和其他东方国家的人相比,印度人的大脑在平均高度、宽度和体积上要小一些。这一发现,将有助于阿尔茨海默病和其他脑部疾病的早期诊断。
The research has been published in Neurology India, a peer-reviewed journal.
这项研究已发表在同行评议期刊《印度神经病学》上
Jayanthi Sivaswamy of the Centre for Visual Information Technology, who worked on the project, said that the Montreal Neurological Institute (MNI) template, which is used as the standard, was created using Caucasian brains. This, according to the researchers, is not ideal to analyse brain differences in the Indian population.
视觉信息技术中心的Jayanthi Sivaswamy参与了这个项目,她表示,蒙特利尔神经学研究所(MNI)的标准大脑图谱是根据白种人的大脑创建的。根据研究人员的说法,用它来分析印度人群的大脑差异并不理想。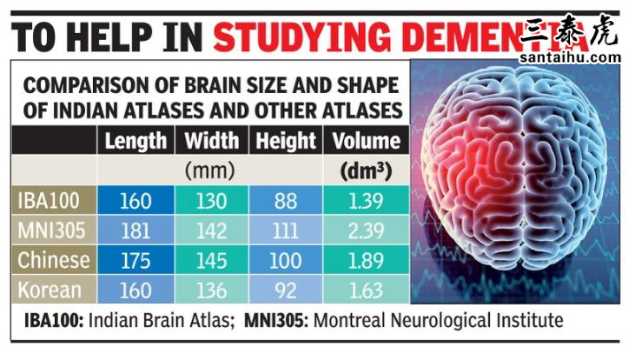 Jayanthi said that even Chinese and Korean brain templates had been constructed, but there was no corresponding template for the India-specific population. She said that the first attempt by the IIIT-H team at creating an India-specific atlas involved 50 individuals, evenly balanced out across genders.
Jayanthi称,已经构建了中国人和韩国人的大脑图谱,但印度人没有相应的图谱。她说,IIIT-H小组首次尝试创建一个针对印度人的大脑图谱,有50个人参与,男女比例相当。
"MRI scans of these subjects' brains were taken at three different hospitals across three different scanners to rule out variations in scanning machines. Emboldened by the results of the pilot study, we went on to recruit 100 willing participants in the eventual construction of the atlas, referred to as IBA 100," she added.
研究人员在三家不同的医院用三种不同的扫描仪对这些受试者的大脑进行了核磁共振扫描,以排除扫描仪存在差异的可能性。在试点研究结果的鼓舞下,我们继续招募了100名自愿参与最终构建图谱的参与者,该计划被称为IBA100,"她补充道。
Jayanthi said that the atlas was validated against other atlases for various populations. "These differences in height, width, and volume are found even at the structural level, such as in the volume of the hippocampus and so on. But overall, IBA 100 is more comparable with Chinese and Korean atlases than the distant Caucasian one (MNI)," she said.
Jayanthi称,针对不同人群,已经将IBA100与其他地区进行了对比。研究发现,印度人的大脑与其他国家的人相比,在长度、宽度和体积上都有一定的差异,这些差异甚至可以在结构层次上发现,例如海马体的体积等。但总的来说,相比根据白种人大脑创建的MNI大脑图谱,IBA 100的数据与中国和韩国的相关数据更具可比性。
She added that her team is currently focussing on understanding the aging process. "There are many changes that take place in a brain due to advancing age, with the most typical one being atrophy, shrinking of structures," She also added that this will help in diagnosing dementia or Alzheimers as they are associated with atrophy of the hippocampus.
Jayanthi还补充说,其团队目前正致力于研究衰老过程。随着年龄的增长,大脑会发生很多变化,最典型的变化是结构萎缩。这将有助于诊断痴呆症或阿尔茨海默症,因为它们与海马体的萎缩有关。
印度时报读者的评论:
Anubhav Agrawal • 7 hours ago
No wonder some people still vote for Congress.
难怪有些人仍然投票支持国大党。
Honest Indian1668 • Anubhav Agrawal • 1 hour ago
And still people are sl ves to Gandhi family. Just because they facilitate them for co ption and loot of taxpayers money.
还有些人仍然是甘地家族的努力,他们助长了甘地家族贪污附败,掠夺纳税人的钱。
anish james• 1 hour ago
This whole news is about the frame size of the brain , not the function . If indians brain is not as smart as Europeans or American then why they have to depend on indian doctors and Engineers.
这篇新闻是关于大脑的框架大小,而不是功能。如果印度人的头脑不如欧美人聪明,那欧美人为什么要依赖印度医生和印度工程师呢?
ji sadhu• 6 hours ago
Who conducted this search? Indians?then it is fake
谁做的研究?印度人吗?如果是,那就是假的。
Amit X • 8 hours ago
Where were the samples taken from? What kind of population are they talking about? Ethnicity of Indians varies across the country, esp. a broad north and south difference, and there are even differences between states from one region. Results cannot be generalized for all of India.
样本来自哪里?是什么种族?
全国各地的印度人不尽相同,特别是南北差异很大,甚至邦与邦之间也有差异。这种结论不适用于整个印度。
mrinesh lal• 4 hours ago
Haha as a doctor i would say it doesn''t matter. Smaller is not always worse. Latest processors are smaller and faster. It''s evolution. We are higher on evolutionary chain than others . Cro magnon was a primitive human and had brain of 1600 cc and was dumb , whereas sapiens have 1300 cc.
作为一名医生,我想说大小并不重要。小并不代表差,最新的处理器体积更小,速度却更快。
mrinesh lal • 1 hour ago
Agree totally . Indian brain are much evolved . This proved by the fact that most Indians are good in basic mathematics and problem solving skills compared to Western counterparts
完全同意。印度人的大脑已经进化到很高级了。事实证明,与西方国家的人相比,大多数印度人的基础数学和解决问题的技巧更高超
Ananya Lal• India • 4 hours ago
I really don''t think the size of the brain matters. I think Einstein had a smaller than average brain. But most of on this forum won''t know that.
我真不认为大脑的大小有什么关系。爱因斯坦的大脑比一般人还小呢,这个网站上的大多数人不知道而已。
Siju • New Delhi • 6 hours ago
I think they studied on some Hyderabadi politicians including owaisi...
他们应该是拿海得拉巴的一些政客做的研究的吧
Mohammad Owais• 3 hours ago
I think they only reaearch on cow pissy drinkers
我想,他们应该是只拿喝牛尿的人做研究
Man P• Bangalore • 4 hours ago
There is direct co relation between intelligence and body to brain ration. Also, Avg IQ of Indians is not great.
智力与身体、大脑的比例有直接的联系。另外,印度人的平均智商也不高。
Bhai • 7 hours ago
Indians has smaller but sharp brains.
Better to have samrt and sharp brain than big.
印度人的大脑虽小,但很聪明。
有个聪明的头脑总比有个大大的笨脑袋好。
Sambappa Kalvala • 7 hours ago
The size of the brain has nothing to do with its performance
大脑的大小与智商无关
Mrithulanee Menon • 4 hours ago
This is already clearly known by the way we behave, our lack of civic sense, the pathetic state our country is in in terms of infrastructure, hygiene & sanitation, safety, cleanliness, road traffic and systems and everything else
我们的行为方式已经清楚地表明了这一点,我们缺乏公民意识,我们国家在基础设施、卫生清洁、安全、道路交通和系统等方面太差了
Ravi • Chennai • 7 hours ago
No wonder Indians are more intelligent.
印度人更聪明
Joey Devivre• 4 hours ago
Brahmin brain is larger than 90% of Europeans this is why they are one of the most intelligent people on earth. This gives rise to immense jealousy from Dalits, Muslims, convert Christians and other low IQ groups.
婆罗门的大脑比90%的欧洲人都大,所以他们是地球上最聪明的人之一。这引起了达利特、、皈依基督教徒和其他低智商群体的强烈嫉妒。
My Name• 3 hours ago
Shut up fool. India is the only ancient civilization that is not dead. The others are long gone. Meat gives nothing but misery. Come out of your cruel thinking. You are living a lie.
你们这些 笨蛋,给我闭嘴。印度是唯一没有消亡的古代文明,其他的早就消失了。
Singh Singh• San Jose • 2 hours ago
Japan has the longest average lifespan of people and they are as meat eating as it comes
日本是全球平均寿命最长的国家,也是世界上吃肉最多的国家
JhunJhun • 6 hours ago
Rahul gandhi has biggest brain
拉胡尔·甘地的大脑最大
Niranjan Naik • 4 hours ago
RaGa is big headed not big brained
拉胡尔脑袋大,智商不高
narasarao• Hyd • 8 hours ago
Does size affect Brain''s working?
大脑的大小会影响智商吗?
SNayyar Arvind • YAMUNA NAGAR • 1 hour ago
Our politicians confirm this finding
我们的政客证实了这一发现
NS Talekar • 1 hour ago
Those with bigger brains have already left the country!
那些大脑更大的人已经离开了这个国家!
Ashok Gupta • BHOPAL • 3 hours ago
Wrong statement Indians have best brains .
印度人的大脑最好用,最聪明。
India Rising • 4 hours ago
Small and powerful!
小而强大!
Rajesh Singh • 5 hours ago
The average IQ of india is 82, among the lowest in the world. You can Google it. There is no correlation between brain size and IQ though.
印度人的平均智商是82,是世界上平价智商最低的国家之一。你可以去谷歌搜一下。尽管大脑的大小和智商之间并没有相关性。
外文:https://timesofindia.indiatimes.com/india/indians-have-smaller-brains-reveals-study/articleshow/71798234.cms