If you give an unbiased review, which is the best country to live in, India or China?
如果让你给出一个公正的评价,印度和中国哪个更宜居?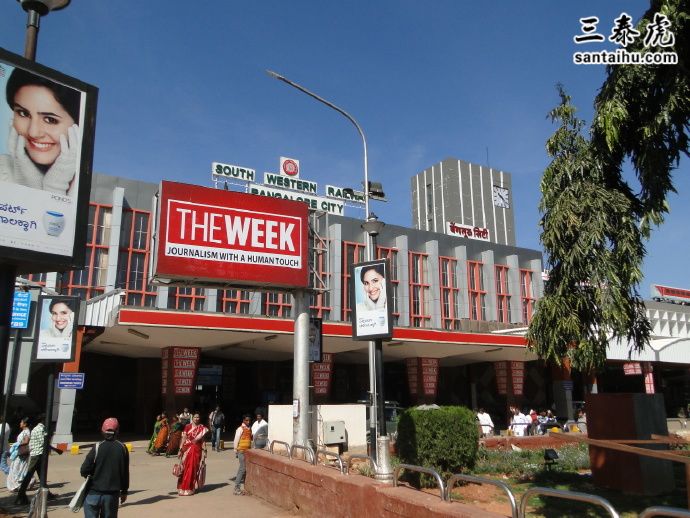 以下是Quora读者的评论:
Nirmal Kumar Selvarajan, Director
I have lived in China long enough to share my views,yes,they love their money,smokes and drinks along with their food too(they do eat some crazy stuff).
But,China has committed its share of mistakes by focussing majority of its infrastructural developments in the southern side and neglecting its northern provinces,this has led to heavy migrations and clogging in major cities in the south,it's not a balanced development.
Having said that they still are doing great in terms of infrastructural developments and Shanghai though crowded is just wow!
Even Suzhou,Chongqing,Guangzhou,Nanjing are nice cities to live in.
It's manufacturing efficiency is unparalleled and they can just about photocopy any product and also manufacture new ones at very little profit margins depending more on quantity than quality.
Warm people once you get to know them,they love their KTV's and it's a big thing there,but,I personally felt that their women can dress better,it borders vulgarity most of the times and they love to show skin and are obsessed with anything western.
What was really disturbing is their blatant disregard for intellectual properties,every software is cracked and used not only in private but also in public entities(production plants),it's a loss of millions of dollars to the European companies producing these softwares;millions of dollars!
Yes,I didn't see ethics or integrity,it's money which matters and that's all there is to it,and I personally didn't find their engineers all that great or intellectually quick and I have trained many from different parts of the world,so,comparatively Indians did better there,but Germans were the best.
Our manufacturing efficiency is lacking way behind developed counterparts and I felt it was mainly due to mindset than anything else,yes,labor laws are absolute rubbish and with these laws no manufacturing facility of global standards can flourish.
Still I am here in India with a will to contribute my might in bringing back this country to its past glory,yes,it has potential,it just needs able leadership with an iron fist,things will start changing,I will fight on!!!
我在中国生活的时间足够长,有资格分享我的观点,是的,他们爱钱,抽烟,喝酒,还有他们的食物(他们确实会吃一些奇怪的东西)。
但是,中国也犯了错误,把大部分基础设施建设集中在南部,忽视了北部省份,这导致了大量移民涌入南方主要城市,带来拥堵,这不是均衡的发展。
尽管如此,他们在基础设施建设方面仍然做得很好,上海虽然拥挤,但还是令人惊叹!
就连苏州、重庆、广州、南京都是宜居城市。
中国的生产效率是无与伦比的,他们可以复制任何产品,也可以制造新的产品,利润非常低,靠数量取胜,而非质量。
一旦你结识热情的人,你会发现他们喜欢KTV,这是一件大事,但是,我个人觉得他们的女人可以提高一下衣品,她们的着装大部分时间都很粗俗,喜欢裸露身体,对西方的东西都很着迷。
令人不安的是他们公然漠视知识产权,每一个软件都被破解,不仅私人使用,公共实体也会用(生产工厂),生产这些软件的欧洲公司损失了数百万美元!
是的,我没有发现他们的道德或正直,这是钱的问题,就是这样。我个人并不认为他们的工程师有那么好,智力上很聪明,我训练过许多来自世界各地的人,所以,相对来说印度人做的更好,不过德国人最出色。
我们的制造效率落后于发达国家,我认为这主要是由于心态,而无关其他,是的,劳动法非常垃圾,因为这些法律,全球标准的制造设施都没办法蓬勃发展。
我还在印度,我愿意贡献我的力量,把这个国家带回曾经的荣耀,是的,印度有潜力,需要的只是铁腕的领导,一切都会变好的,我会继续努力!!
Anonymous
Having 'lived' in both countries as a foreign expat, I have to say there are multiple answers to this based on your needs.
Disclaimer: I am currently an engineer involved with a company specializing in heavy construction and heavy industry setup and operations consultancy.
I have lived in China a lot more than India. I have been to India 6 times now. Longest being 9 months and shortest 6 months. Whereas I have lived in China for 1 year at a stretch with vacation breaks 4 times and numerous short trips.
First impressions: China beats India hands down in terms of infrastructure, money and overall getting a more 'western' lifestyle infused with local quirks. Chinese mega cities are something else, few western cities compare to them and the different thing is that they are are so new. Like the whole infrastructure is so new, it's all very modern and top-notch, other cities have great infra to, but it's all very outdated in general or maybe I am used to it. Transport, from rural centers etc., logistical ease in material good is better.
India has better and more English speakers, after my first trip, I felt super confident in India even in smaller cities. I could always find someone be it a shopkeeper or random person who would know English. AS for accent, I got used to it, not an issue anyway. There is much more diversity in India in general, people, places. It's like continent crammed into a country. Internet, overall fre m, which I think makes Indians more brash in expressing their opinion in comparison to Chinese.
In general I would say, for an average person, China is much better. The country is simply growing in every aspect in breathtaking stage. The town center near to our project when we started in 2010 was a dump. In midway, it got included in local 3 year plan. And in 3 years it was transformed, literally they put everything in there roads, school, hospital, malls, clubs etc. Locals where overjoyed obviously, I hardly doubt India can pull of something like that.
译文来源:三泰虎 http://www.santaihu.com/48647.html 译者:Joyceliu
作为一名外籍人士,我在这两个国家都"生活过",我不得不说,根据你的需求不同,答案也不同。
免责声明:我目前是一名工程师,在一家专门从事重型建筑和重工业设置和运营咨询的公司工作。
我在中国生活的时间比在印度长得多。我去过印度6次。最长呆了9个月,最短也有6个月。我在中国连续生活了1年,期间休假4次,还有过多次短期访问。
第一印象:中国在基础设施、资金和总体而言,生活方式比印度更"西方化"。中国的特大城市完全不同,很少有西方城市能与它们相比,因为它们非常新。整个基础设施都很新,很现代化,很一流。
印度有更多说英语的人,在我第一次来到印度后,我对印度非常有信心,即便身处小城市,不管是店主还是随便什么人,我总能找到懂英语的人。至于口音,我已经习惯了,这不是问题。总的来说,印度人和印度地域的多样性要丰富得多。就像把大陆塞进了一个国家内。互联网,全线紫游,我认为这使得印度人在表达他们的观点时比中国人更傲慢。
总的来说,我认为,对于一个普通人来说,中国要好得多。这个国家在各个方面都处于惊人的发展阶段。2010年初,我们项目附近的市中心还是一个垃圾场。随后,它被列入当地的3年发展计划内。在3年内,它得到了改造,配备了一切设施:道路,学校,医院,商场,俱乐部等等。
Avantika Roy
Definitely India!
Why?
1.Politicians will come and go but India will rise at a very slow pace. Should you worry about it? No, if you have a buisness then all the govt. officials will be in your favor. If you will start with just having a toyota, in next ten years you will atleast will have an Audi or multiple fancy cars.
2.Indians dont have a habit of calling other's thing their's. What you own, it will be yours forever.
3.We compete our own selves and are never jealous of others like China is.
4.If your child is from IIT/BITS/IISc/IIM then he will be well recognised in colleges like Oxford, Harvard, Ivy league, Stanford etc. as a very smart and witty person.
5.You can enjoy 6 weathers. Many different cultures, Many cuisines, many serene beauty.
6.Love football? Yeah, though India is not recognised at international level though we have plenty of football grounds. Wanna watch football match? Spend hundred thousand rupees only and fly to Paris, watch a match, dine, fly back to India with lots of cookies for them.
7.Religious or atheist? No issues man.
8.Who the fuck said we don't have toilets? Those people must of some secluded villages! We have various types of toilets….waterhose, tissue paper..
9.Many kind of music!!! Many concerts!! In a year, you will have at least have 30 great movies which will leave you spellbound.
绝对是印度!
为什么?
1.政客们上台又下台,但印度会以非常缓慢的步伐崛起。你应该担心吗?如果你一开始只买一辆丰田,那么在未来10年内,你至少会拥有一辆奥迪或多辆豪车。
2.印度人没有把别人的东西称为自己的东西的习惯。你所拥有的,将永远属于你。
3.我们和自己竞争,从不像中国那样嫉妒别人。
4.如果你的孩子来自IIT/BITS/IISc/IIM,那么他在牛津、哈佛、常春藤盟校、斯坦福等大学也会被视为非常聪明和机智的人。
5.可以享受6种气候。印度拥有许多不同的文化,许多不同的美食,许多宁静的美景。
6.喜欢足球吗?是的,虽然印度在国际水平上不被认可,但是我们有很多足球场。想看足球比赛吗?只要花上10万卢比,飞到巴黎看比赛,吃饭后再带着许多曲奇饼飞回印度。
7.宗教人士或无神论者?都没关系。
8.谁他妈的说我们没有厕所?那些人肯定来自偏僻的村庄!我们有各种各样的厕所……水管和卫生纸. .
9.各种类型的音乐!!许多音乐会! !一年内,你至少能观看到30部让你着迷的电影。
Aria Diehl, Countries YAY!
I am a super biased person as a disclaimer. As seen from my other answers I am feircly Indian. However I have to say. The answer is
China
China is a lot more developed than India. LIKE A LOT it is also cleaner. I am tempted to say safer but that isn't necessarily true.
China has much better infrastructure, much better access to goods (because they make a lot of them). It also has a higher quality of living. Especially in the cities.
I have a lot of friends in school from china.
I love India and will be moving there one day in the future. However for this question my answer has to be china.
我先声明一下,我是一个超级有偏见的人。从我其他的回答可以看出,我是印度人。但是我不得不说,我的答案是:
中国
中国比印度发达得多,也更干净。我想说中国更安全,但这不一定真实。

中国拥有更发达的基础设施,更容易获得货物(因为他们生产了很多)。中国也有更高的生活质量,尤其是在城市里。
我在学校里结交了很多来自中国的朋友。
我爱印度,将来有一天我会搬到那里去。然而,对于这个问题,我的答案是中国。
Martin Andrews
Watch this video then ask yourself the question which country has the better standard of living.
Hangzhou is not even a Tier 1 city yet its standard of living is far better than anything in India right now, not even the best Indian city comes close to this let alone the best cities in China.
when more than half your country is in poverty and more than half lack toilets and you are trying to compare to China who has finished most of the millennium development goals and has cities that put Western cities to shame.
Tell me what matters more to a poor person, food or fre m of speech?
When questions like this get asked I laugh because either this person is highly ignorant and hasn't been to China or is a troll.
So in my unbiased review China easily has a higher standard of living
看看这段视频,然后问自己哪个国家的生活水平更高。
杭州还不算一线城市,但这里的生活水平比印度任何地方都要好,印度最好的城市也比不上杭州,更不用说中国最一流的城市了。
你们国家一半以上的人尚处于贫困状态,一半以上的人没有厕所,却自不量力试图跟中国比,要知道中国已经完成了大部分的千年发展目标,很多城市都让西方城市自愧不如。
告诉我对穷人而言什么更重要,充足的食物还是言论紫游?

当有人问我这样的问题时,我笑了,因为这个人要么很无知,没去过中国,要么就是个怪人。
所以要我公正说的话,中国的生活水平更高。
Kailash Kumar, Common man of India
Generally speaking, the country in which one is born, is the best country to live in.
Going by this logic, for an Indian, the best country to live in, is undoubtedly India. The same applies in the case of an individual born in China.
Culture including language, food habits and such other things play a very import role in one's comfort level while living in any country though many people migrate to other countries due to better jobs opportunities available there.
Since the individuals have no role to play in determining as to whether in which country they will get born, comparison between two countries can be made only for academic discussion.
一般来说,你出生的国家是最适合居住的国家。
按照这个逻辑,对印度人来说,最适合居住的国家无疑是印度。这也同样适用于在中国出生的个人。
文化,包括语言,饮食习惯等,在一个人生活在某个国家的舒适水平发挥着非常重要的作用,虽然许多人会为了更好的就业机会移民到其他国家。
由于个人无法决定他们出生在哪个国家,所以两个国家之间的比较只能是学术讨论。
Sommer Shiels, Director/Producer at Curate Media Group (2018-present)
India for many- this is unbiased.
The reason being I often feel uncomfortable when there is inhumane treatment of animals, I saw this first hand in China (which was shocking) this doesn't mean that I don't like China. I don't judge a whole population or country on certain incidents.
However, traveling in India for someone like me is more comfortable and I can feel at ease and relaxed that majority are vegetarian and have a deep respect for animals and take care of live stock. This is very important to me not only as a world nomad but as a human.
对很多人来说,是印度,不带偏见。
因为当有不人道的对待动物,我经常感到不舒服,我看到中国有很多这样的行为(令人震惊),这并不意味着我不喜欢中国。我不会根据区区几件事就评判一个国家或整个人口。
然而,在印度旅行对我这样的人来说更舒服,我感到轻松自在,因为大多数人都是素食者,对动物有很深的尊重,照顾家畜。这对我来说非常重要。
Jonri Purwak, Been to Bejing, Shanghai, Hanzhou, Suzhou, Shenzhen, Macau, and Hong Kong.
I have never been to India, but I'm guessing China is more developed. Shanghai is comparable to developed cities, except for its dangerous traffic.
我从未去过印度,但我猜中国更发达。上海和发达城市差不多,除了交通有点危险。
Anonymous
China is now way ahead of infrastructure, like at least by a decade may be. India is picking up, but not fast enough. There at reasons for that too.
I lived in both the countries, for a decent period of time. The Chinese focus on making it big in number, no matter whatever it is. It's simply their mindset, their philosophy. It's just the way things are around for them. That is one reason that can be attributed to their success. It's their relentlessness.
And that success overall within the nation gives you (as a citizen) the feeling that you are a strong country, you have a certain acceptable quality of life. The infrastructure that you see in China speaks for itself. They were nowhere close to being lazy in developing their country. They marched way ahead of any western country you can imagine in such a short time, including the United States where I come from. Some cities in China make you feel like you are in the future. Boy they spent a lot. For drinking and nightlife, China scores way ahead of India. There is no match to it.
中国现在在基础设施建设方面遥遥领先,至少在未来十年是这样。印度经济正在复苏,但速度还不够快。这也是有原因的。
我在这两个国家都住过一段相当长的时间。中国人关注的是数量上的增长。这是他们的心态,他们的哲学。对他们来说,这很正常。这是他们成功的一个原因。这是他们的义无反顾。
这个国家整体的成功让你(作为一个公民)感觉这是一个强大的国家,你有不错的生活质量。他们在发展自己的国家时一点也不偷懒。他们在如此短的时间内走在了任何你能想象到的西方国家前面,包括我的祖国-美国。中国的一些城市让你觉得你已身处未来。在饮酒和夜生活方面,中国远远领先于印度,无可匹敌。
Kartik Kogta, lives in Shenzhen, China
I am not disagreeing with other answers but as an Indian who is working in China i consider myself more eligible to answer this question.
I would be blunt with you here if by best country you mean standard of living than India is decades behind China even a Chinese who live in slum enjoy standard of living equal to that of a lower middle class Indian such is a gap between two nations.
Moreover China is performing better than India in almost everything whether it is infrastructure,healthcare,education,research or development,lower crime rate or anything
我并不反对其他的答案,但是作为一个在中国工作的印度人,我认为我更有资格回答这个问题。
如果你所说的最好的国家是指生活水平,印度已落后中国几十年,那我在这里就直言不讳了。
此外,无论在基础设施、医疗、教育、研究或开发、低犯罪率或其他方面,中国几乎在所有方面都比印度表现得更好。