Why don't we build a bridge from the US to China?
我们为什么不建一座美国到中国的桥梁呢?
以下是Quora读者的评论:
Michael Feely, Architecture : I practice it.
Problem 1: Your assumption about the cost and survivability of a 5,000 mile long bridge across the entire pacific is wildly optimistic. To put it in context, Donald Trump's border wall with Mexico is estimated to cost $21 billion. And that's for an object 25% the length, that can be built on solid ground, that doesn't need a 10 lane highway on top, and that need not fear hurricane damage. Using other mega-bridge projects as a model we get costs between 25 and 100 times greater than the $20 billion estimate you have (Call it $500billion to $2 trillion. And count on $2 trillion being closer to correct)
Problem 2: A bridge implies a single start point and an end point. Presumably Shanghai to Long Beach or so. But what happens to cargo from Hong Komg to San Francisco. Does it have to go up the coast, to the bridge, and then up the coast again?
Problem 3: To the extent that this bridge gets used, it basically is a target for half the people in the Pacific with an economic grudge. Security is going to be a headache.
Problem 4: Why just the US and China. Why doesn't Japan get an off-ramp? How about South Korea?
问题1:你对横跨整个太平洋、5000英里长的桥梁的成本和耐用性过于乐观了。相比之下,唐纳德·特朗普拟建的墨西哥边境墙估计耗资210亿美元。长度只是这座桥的25%,可以建在坚实的地面上,不需要10车道,也不需要担心飓风的破坏。以其他的特大桥项目为模型,我们得到的成本是你估计的200亿美元的25到100倍(5000亿到2万亿美元)。2万亿美元更准确。
问题2:桥得有起点和终点。假定是从上海到长滩吧。那么从香港到旧金山的货物怎么办?它必须沿海岸向上,上桥,再沿海岸继续向上?
问题3:就这座桥的使用程度而言,它会是太平洋地区一半对经济不满的人的攻击目标。安全问题将令人头痛。
问题4:为什么只提到美国和中国?日本不能搞个出口匝道?韩国呢?
Problem 5: Now for the kicker. Average freight costs per ton-mile run about 15 cents for trucking, 5 cents for railroads- and about 3 cents for trans-oceanic container ships. Assuming you have a railroad on this bridge and a modest toll to pay for the original construction cost of the bridge, it would likely run about 6 cents per ton-mile to ship on. So there will be no payback, because there are already cheaper modes of transportation available. In theory, it will attract some cargo away from ships because it will be faster - container ships run around 37–46 km/h, whereas you could probably double that speed with rail freight on this giant bridge. But that's about it for potential users.
问题5:现在挑刺的人要跳出来了。货运每吨英里的平均运费为15美分,铁路为5美分,跨洋集装箱船为3美分。假设你在这座桥上铺设一条铁路,每吨英里的运输费用大概是6美分。所以得不偿失,因为已经有更便宜的交通方式了。从理论上讲,它能吸引一些货运,因为它的速度会更快—集装箱船运行约37-46公里/小时,而通过这座桥梁运输,速度可以加倍。但只针对潜在用户的。
Nischal Ranjinath Muniandy, studied at KDU University College
The answer is essentially down to a few core reasons.
It cost a lot more than $4 million/mile for one thing. You would have to get tonnes of machinery, material and personnel thousands of kilometers into the open ocean. If we based this theoretical bridge on the Danyang-Kunshan Grand Bridge, it would cost at least $415 billion dollars and that's mainly an overland viaduct. Basing it on the Dubai Floating Bridge would net us a cost of 2.125 trillion dollars. And this is not including the cost of maintenance.
And not to mention that this bridge would have to withstand any extreme weather events and be tall enough to avoid ships crashing into it.
But let's just say for the sake of argument, this bridge was complete and is 5,000 miles from end to end. How will people get across? By road? Going at 100 mph, it would take 50 hours of non-stop driving to get from one end to another. And that would necessitate having a lot of amenities for drivers. Rest stops, gas stations, emergency services and perhaps even hotels. That would only add to the initial cost of construction and the cost of maintenance, but now you have a large labour cost as well. If someone is going to work in the literal middle of nowhere that's a day's drive from anywhere else, you bet they'd want to be paid and housed decently.
答案基本上可以归结为几个核心原因。
每英里的成本远远超过400万美元。你不得不把成吨的机器、材料和人员运到几千公里外的公海。如果我们把这座理论上的桥建在丹阳-昆山大桥上,它将花费至少4150亿美元,主要是陆上高架桥。将它建在迪拜浮桥上将为我们带来2.125万亿美元的净成本。还不包括维护费用。
更不用提这座桥还需承受任何极端天气事件,还要足够高以避免船只撞到桥上。
但是为了方便讨论,我们只说这座桥从一端到另一端长达5000英里。人们要如何通行?通过公路吗?以每小时100英里的速度行驶,需要连续行驶50个小时。这就需要为司机提供很多便利设施。休息站,加油站,紧急服务,甚至酒店。这只会增加最初的建设成本和维护成本,但现在劳动力成本都极高。
译文来源:三泰虎 http://www.santaihu.com/48625.html 译者:Joyceliu
How about high speed rail? The Chūō Shinkansen can travel at speeds of up to 315 mph and would take about 16.5 hours give or take station dwell times, the time needed to accelerate to top speed, the sections it can run at top speed at, etc. Then we would also have to factor in the cost of laying 5,000 miles of railway track and of electrifying rail and ensuring it stays electrified. And we would need to build brand new stations, staff them and finding out a way to keep a 5000 mile rail line in operation.
And that's not getting to the cost of environmental impact studies, land acquisition, public hearings, route planning, designing, planning and the thousand other tiny things that happens before the first foundation is laid, not to mention the political backlash and the uncertainty of even funding this before a committee can even get started properly studying this route.
TL;DR : It's a lot less expensive and complicated to flight transpacific than to build a transpacific bridge.
高铁呢?新干线每小时的速度可达315英里,也需要大约16.5小时左右。我们还要考虑铺设5000英里的铁路轨道和电气化铁路的成本,并确保电力供应。我们需要建立全新的车站,配备工作人员,并设法保持5000英里的铁路运行。
还有评估环境影响、土地收购、公开听证、路线规划、设计、规划和数千其他小事的成本,更不用说政治上的反对声音及资金不确定性。
答:跨太平洋飞行要比建造一座跨太平洋大桥便宜得多,也简单得多。
David Barry, Design Engineer (2012-present)
Well, why don't we make a few considerations before answering?
1.What is the distance between the US and China? Currently the longest bridge is the Danyang–Kunshan Grand Bridge at 102.4 miles. China and the US are more than 5,000 miles apart.
2.How much would it cost? I'll bet that the Danyang–Kunshan Grand Bridge was not inexpensive, now imagine more than 50 times MORE expensive?
3.How would the bridge be constructed? (I heard the Pacific is kind of deep, those piers would be tall)(I also heard that Pacific Typhoons are pretty powerful and destructive.)
Those are just the initial considerations.
How would vehicles refuel along the way? How would drivers rest along the way? How would this be less expensive than the mass shipping methods we already have in place?
我们在回答之前为什么不思考一下呢?
1.美国和中国之间的距离是多少?目前最长的大桥是丹阳-昆山大桥,全长102.4英里,而中国和美国相距5000多英里。
2.需要多少钱?我敢打赌,丹阳-昆山大桥造价已经不低,现在还要贵上50多倍?
3.这座桥将如何建造?(我听说太平洋可是很深)(我还听说太平洋的台风破坏力很强。)
途中车辆如何加油?司机在路上怎么休息?这怎么可能比我们现有的大规模运输方式更便宜呢?
Michael Hutson
There have been proposals to bridge the Bering Strait and connect North America with Asia, but the economics just aren't there. Just the bridge itself would be a stupendous engineering feat (never mind crossing the Pacific by bridge). Then there's the fact that to connect the destinations worth going to (the Pacific coasts of the USA and China) you would need ten thousand kilometers of road and/or rail traversing the barren wildernesses of northern Canada, Alaska and Siberia. Terrain that is heavily mountainous, in large parts permafrost, and terribly inhospitable in the winter. It would make the trans-Siberian railroad look like a short pleasure jaunt by comparison.
曾有人提议架设白令海峡(Bering Strait)大桥,将北美与亚洲连接起来,但在经济上却行不通。单单这座桥本身就将是一项惊人的工程壮举(更别提搭桥横渡太平洋了)。还有一个事实是,要连接吸引人的目的地(美国和中国的太平洋海岸),需要1万公里的公路和/或铁路,穿越加拿大北部、阿拉斯加和西伯利亚的荒芜荒野。地形多山,大部分地区为永久冻土层,在冬天条件十分恶劣。相比之下,横贯西伯利亚铁路(trans-Siberian railroad)看起来简直是短途的愉快之旅。
Aaron Jantzen, former Metaphysicist (2003-2004)
Reportedly China is considering it already, primarily for train travel, with a combination of bridges and undersea tunnels. However it would likely be more expensive than traveling by plane and take several days to make the trip even using their fastest railways. It would cross at the Bering Strait to minimize undersea tunneling. It would however be the US's first genuine modern high speed train servuce.
据报道,中国已经在考虑将桥梁和海底隧道结合起来,主要用于火车。然而,这可能比飞机更贵,即使使用他们最快的铁路也要花上几天的时间。它将穿过白令海峡,以减少海底隧道。不过这将是美国第一条真正的现代高速铁路。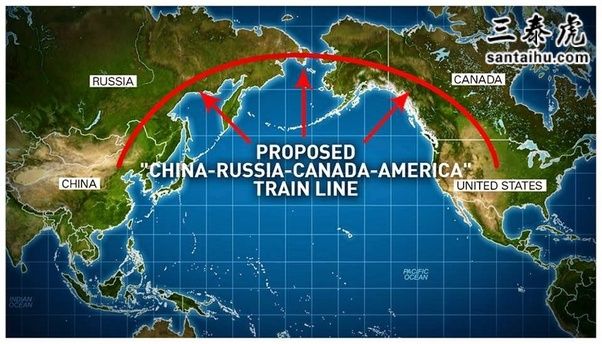 Jan Kjetil Andersen, Traveling, sailing, biking, skiing and running.
It it possible to build a railway or highway starting in Beijing, going north through Russia, over the Bering strait, down through Alaska and Canada and ending in Seattle.
But it make no economic sense.
The reason is that the endpoints are so far away from each other that not many passengers or goods will travel all the way. There are of course longer railways in the world that make sense, but they have many cities along the line. Those cities may benefit a lot, but it is hard to find places with imminent and huge development potential in Alaska or North eastern Russia.
For such a big project to make sense, there has to live a sizeable population along the line who can benefit from it. North eastern Russia and Alaska are very sparsely populated, and the endpoints can be much better served by ships and airplanes.
修建一条从北京开始,向北穿过俄罗斯,越过白令海峡,向下穿过阿拉斯加和加拿大,最后到达西雅图的铁路或公路是有可能的。
但这在经济上毫无意义。
原因是,两地之间的距离太远,没有多少乘客或货物需要全程旅行。当然,世界上也有更长的铁路,但是沿线有很多城市。这些城市可以从中受益,但很难在阿拉斯加或俄罗斯东北部找到有巨大发展潜力的地方。
要让这样一个大项目有意义,沿线必须有相当数量的人口。俄罗斯东北部和阿拉斯加的人口非常稀少,可以通过船只和飞机出行。
Loring Chien, proud to be a US citizen
Transoceanic bridges are very expensive, crossing depths as great as 30,000 feet.
You also have the problem with ocean traffic - you have to have crossings for the bridge at lots of points.
Anchoring bridges in thousands of feet of water and over thousands of miles in length with untold need for overpasses to allow ocean going traffic (fre m of Navigation and all that) makes for a impossibly expensive and probably insoluble engineering undertaking that we can never make economically practical.
跨洋大桥造价非常昂贵,其深度可达3万英尺。
还会遇到海洋交通的问题——你必须在很多地方设立交叉口。
将桥梁锚定在数千英尺深、数千英里长的水中,同时还需要无数的立交桥来允许海上交通(航行紫游等),这是一项成本高得令人难以置信、而且可能无法解决的工程,我们永远无法在经济上实现。
Joseph Boyle
Underwater hyperloop would make more sense.
水下超级高铁更有意义。
Philip Whan, General Nerd of things and Thinker
Well, for one thing, if you were going to build ANY bridge between Asia and North America, you would do it where it was closest, like Alaska and Siberia.
Second, if you built a bridge, then the entire world is screwed if there is an apocalypse.
首先,如果你要在亚洲和北美之间架起一座桥梁,你会选择距离最近的地方,比如阿拉斯加和西伯利亚。
第二,如果你建了一座桥,那么如果世界末日来临,整个世界都完蛋了。
Masaya Kawazoe
I think there is actually a plan come up with by China in 2014 that build a high speed railway crossing Bering Strait. But US hasn't replied yet.
我认为中国在2014年的时候真的提出过一个计划,要建造一条穿越白令海峡的高速铁路。但是美国至今还没有答复。
John Lloyd, Retired USPS, live in the forest in the Cascade Mountains
Your assumption is way below actual cost, and even then would be for a crossing of shallow water. Using ships is way more efficient.
你的假设远低于实际成本,即使是在浅水区。船舶运输依然是更好的方式。
Maddina Prudhviram, intermediate Mathematics & Sanskrit, Narayana Junior College (2015)
you can consider building one in future…but as of now its impossible.
将来你可以考虑建一座跨海大桥……但目前还不可能。
Jon Baldwin, Uber and Lyft Driver
Because it would be the most BORING drive
E V E R.
因为在这桥上开车会是全世界最无聊的旅程。