Average Indian vs Average Chinese (India vs China)
普通印度人vs普通中国人
Whose Life is better? Average Indian citizen or an Average Chinese citizen?
谁的生活更好过?普通印度公民,还是普通中国公民?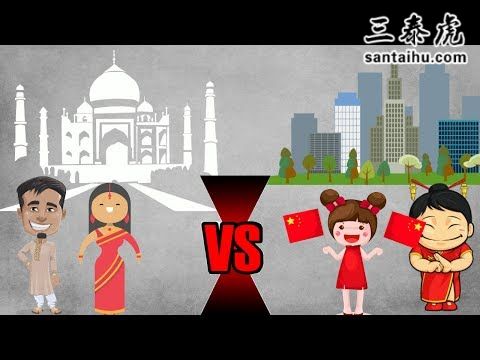 Criteria considered for comparison:
1) Gender Ratio
第一局:性别比例 印度胜
中国:印度 0:1
2) Literacy Rate
第二局:识字率 中国胜
中国:印度 1:1
3) Employment opportunities
第三局,就业机会,中国胜
中国:印度 2:1
4) Salaries and wages (Per capita)
人均工资 中国胜
中国vs印度3:1
5) Right to vote
中国vs印度:3:2
6) Internet speed
网速 中国vs印度:4:2
7) Freedom and Censorship
中国vs印度:4:3
9) Infrastructure
基础设施 中国胜
中国vs印度:5:3
10) Life expectancy
人均预期寿命
中国vs印度:6:3
以下是youtube网友的评论:
视频:https://www.youtube.com/watch?v=SGdGCntddlU
Brain Chow
China is one of the world's superpowers now and compared to India it is a lot more developed. Whereas, India is a free de ratic country which is now developing very fast! Which country would you prefer to live in?
中国是超级大国之一,比印度发达多了。
而印度是一个紫游皿煮的国家,发展相当迅速!
你更喜欢住在哪个国家呢?
Lone Wolf Aniket
Brain Chow don't forget we are also world's 4th biggest power don't forget
别忘了,我们是世界第四大国
Brain Chow
I am an Indian as well. So, I do know that India is already a Mega power and on its way to becoming a super power. But, we can't be satisfied with what we are today. It's my humble opinion that we can learn a lot from China in terms of infrastructure development. That's all Thanks for the comment
我也是印度人。
当然知道印度已经是大国,且正走在成为超级大国的路上。
我们不能满足于现状。
中国基础设施的发展经验值得我们借鉴,以上是拙见
Fantasticman
Indians really like comparing them with China, but it's really rare to see any Chinese want to compare themselves with India.
That's the difference.
印度人真的在把自己和中国比较。
而鲜有看到中国人把自己和印度比较的
这就是区别
Long John Silver
Chinese will only compare their country with India if they want to down grade their own country
中国人自降身价的话,才会和印度比较
Truth Matters
Make the next video, "Which is protected more, cow or women in India?"
下一个比较视频就是:"哪个更受保护,印度神牛还是印度女人"
Vimsport aum
good luck to both India and China, hope we can learn from each other and become even more prosperous
祝印度好运,也祝中国好运
希望我们彼此学习,共同进步,一起繁荣
league doc
It is so very true.. I'm an Indian residing in China for educational purpose and quality of lifestyle is immensely better than it is in India..
说得太对了。
我就是印度人,目前呆在中国,中国人的生活水平比印度人好太多了
A
in china citizen gets loan in minutes,china millions of people out of proverty
中国人贷款几分钟就批了。数以百万计的人脱贫
Rohan kumar
As long as i can read chinese novel, i am happy
只要我能看懂中国小说,我就开心
hshs vvdd
China ahead in about every sector!
中国几乎每个领域都领先啊
Kishore Singh Rajput
I love Chinese sarcasm ! Lol
我喜欢中国式讽刺,哈哈
benny belton
i am a chinese, and i love india culure,america tech ,and chinese natural legacy!
我是中国人,我喜欢印度文化,喜欢美国科技,喜欢中国自然遗产
Dabeet
I live in India and my Internet speed is 55.5 mbps.
我住在印度,网速是55.5 兆每秒
mehboob gani
indian education system is very bad, i am talking about local state college
印度教育体制很烂,我说的是各邦的地方大学
Alaa Addin
india is still far behind china in terms of average lifestyle.... china will win all aspects of average lifestyle.
比生活水平,印度人比中国人的日子难过多了。
manzilkumar mandal
When will india be developed
印度什么时候能发达起来
Saurabh Sharma
See ! I'm an Indian and China is my favorite country
我是印度人,中国是我最喜欢的国家
Vishal Mishra's
Being indian I can say China is better .china can complete any megaprojects without any difficulty
我是印度人,这么说吧,中国更胜一筹啦。
任何一个大型工程,中国都能毫不费力地轻松完成
Poonam Yadav
I am Indian and I am very proud to be.And we are able to adapt any situation, we feel fre m..... And u know it but your Ego is coming in accepting it..... Jai Hind.
我是印度人,我为自己是印度人感到骄傲
我们有能力应对任何形势。
我们紫游啊。哈哈哈
Sawrabh Kumar
Totally satisfied no biased data .happy to accept .
对这个有失偏颇的数据感到满意,乐意接受
Subhashish Bagchi
India and China both are the land of the oldest culture and civilisation....
Therefore being Indian I admire chinesse for their success....
Love China.....
印度和中国都是最古老的的文化,都是最古老的文明
作为印度人,我佩服中国人取得的成功
Poonam Dwivedi
Do a video on Dubai vs any indian city
随便拿一座印度城市和迪拜比一比
Can we get 10 subs with no video?
I am an half indian chinese and and i have stayed in china and india and in my perspective china is much better than india but when it comes to people i love indians they are very friendly (unless you say anything about there country )
我有一半印度血统,另一半是中国血统
在中国呆过,也在印度呆过
在我看来,中国比印度好太多了
我喜欢印度人,他们非常友好
No one
how you can compare income of two people of 2 countriea without knowing cost of living in 2 countries
不了解两个国家人民的生活成本,你怎么比较两国人民的收入
Prakhar Gupta
The difference between Chinese and Indians is that Chinese never say no to work but Indians always escape from work whenever any project will start and people have to give land then Indians first consider themselves but Chinese consider their country first also most Indians are late at work they always want that go nment do anything but Chinese do themselves India can beat China if they all work hard together
中国人和印度人的区别在于,中国人服从工作安排,而印度人逃避工作。
一个工程要征地,印度人先考虑自己,而中国人先为国家考虑。
很多印度人上班迟到,希望政府包办一切,而中国人完成自己的分内事
印度人要是团结合作,超过中国不是问题
David Torres
I prefer China. Everything is way more organized, you can walk in the street at 2 am and no one will attack you. Streets don't smell bad and people is more critical and less biased.
我更喜欢中国
中国的一切井然有序。
在中国,凌晨2点,你都可以走在街上不用担心自己的人身安全。
街上不会臭气熏天。
Dhruv Star
Panda vs tiger lol tiger always win .
中国熊猫vs印度老虎
哈哈,赢的总是老虎
Ryan Rodrigues
My country India is really developed for me, because it gives me the fre m to live on my own terms.
在我看来,我的祖国印度是真的发达。
为什么这么说?因为印度给了我按照自己方式生活的紫游
vishnu
I don't understand where we Indians derive strength to compare ourself with China.. They are decades ahead of us. Just last day read that Mercedes Benz sold 600000 units in China in 2017,and in India that's nearly 15000.Shows how rich they are, a bigger market than the US. Great achievement China.Looking forward to visit the country when I can.
我实在不理解,我们印度人哪里来的勇气和中国比啊,他们领先我们几十年呢
就在昨天,我还看到有报道说,奔驰在中国一年卖出了60万辆车,在印度只卖了1.5万辆,是印度的40倍
他们到底是多么富有啊,比美国的市场还大呢
中国取得了不可思议的伟大成就。
有机会的话,希望以后能去中国走一走
Chandan Awale
Prices is high in China as compared to india
中国物价比印度物价高啊
Zeli Ang
I m indian i respect china
我是印度人,我尊重中国
Abin M
China is 30 years ahead of India.Indians live in the 80's period.Huge population with govt is failing to provide basic needs.Average Chinese is much happier than an avg.Indian.
Indian Streets are dirtier than China.Mumbai is the only big city in India,which is still unplanned,crowded, filthy and many people living in slums.While China has many big smart cities which are cleaner and meets international standards.
中国领先印度30年。印度人还生活在80年代的水平呢
人口太多了,政府没办法为每个印度人提供基本的生活必需。
中国人比印度人过得幸福多了
印度街道比中国街道脏多了。
孟买是印度唯一的大城市,即便是孟买,也是脏兮兮的,很多人生活在贫民窟中。
中国有很多智能城市,比印度城市干净多了,各方面符合国际标准
prem lal
The Indian are poor people,
印度人很穷
Vaibhav Lonare
You know indian peoples ? What thing makes china great ?
你们了解印度人?
中国哪里伟大了?
Salman Rumi
Total lies about India coz there is no comparison between china&india
谎言,统统是谎言,中印没得比啦
subriti chakma
And average Chinese height is taller than indian
中国人的平均身高比印度人高
PS3 GAMER
In maths we are smarter than China
我们比中国人聪明,数学水平比中国人高
tao liu
very good video,India is supper power, china is still a developing country. that's all
印度是超级大国,中国仍然是发展中国家,就这样
Subhojit Halder
Chinese have better standards of living than indians.
中国人的生活水平比印度人高
truth finder
Indian mindset will never let india grow
就印度人那个思维,印度是永远发展不起来的
Pakiniggaindianmuslim Shit
Indians have to work hard or China will surpass India
印度人得努力了,否则中国就要超过印度了
rahul pavan
China already surpassed india
楼上的,中国已经超过印度了啊
milk and bread
I'm indian but I love having beef ...I don't think cow is holy mother to me..I'm from north East India ..and we consume beef every day
我是印度人,我喜欢吃牛肉
我并不认为牛是神圣的。
我来自印度东北,我们每天吃牛肉
Allah Bhosriwala
I am Indian.. But China is better
我是印度人,我承认中国更好
im gaurav
1. Per capita GDP is higher in China but it is more equally distributed in India. So an average Indian earns nearly equal to China.
2. Life expectancy is more in China but thing which actually contributes for development is fraction of people who are young. And thats far more better in India.
3. Internet speed in China is more than in India but no. of internet users in India is much more than in China.
4. You can't trust China for any data because its a highly secret job in China to calculate these figures. No one knows the actual fact.
4(b). Literacy Rate is better in China but no. of students completing higher education is much more in India. People of China are very ill educated. The don't have any innovation in them. They just copy from others.
1、中国人均GDP高很多,不过印度财富分配更平均。因此,印度人的平均收入和中国人差不多
2、中国人的预期寿命更长,不过对推动经济发展的主要是年轻人。印度年轻人多多了,这方面表现更好
3、中国网速更快,不过印度网民比中国多多了。
4、中国识字的人更多,不过印度完成高等教育的人多多了。
中国人不会创新,只会抄袭
pradip wagh
India is great not china
印度是伟大的,中国不伟大