Why Chinese are traveling to Africa, and why Africans are traveling to China
为什么中国人要去非洲,非洲人要去中国呢?
Direct airline flights between Africa and China have jumped over 600% in the past decade. Planes today are not only full of workers and traders seeking prosperity, but also short-term tourists and students, seeking leisure and knowledge.
China's "Go Out" policy, implemented in 1999, sent employees of Chinese state-run companies to Africa, as well as investment money. China's official record shows there were around 200,000 Chinese construction workers, engineers, translators, company executives, and the like in Africa in 2017.The workers typically fly back to China to visit families once or twice a year.
在过去十年间,非洲和中国之间的直航航班增长了600%。如今的飞机上不仅坐满了怀抱发财梦的工人和商人,还有奔着休闲度假和增长见识的短期游客和学生。
中国于1999年实施了"走出去"政策,将中国国有企业的员工及投资资金派往非洲。中国官方记录显示,2017年非洲约有20万中国建筑工人、工程师、翻译、公司高管等。工人们一般都是一年飞回中国一至两趟,回家探亲。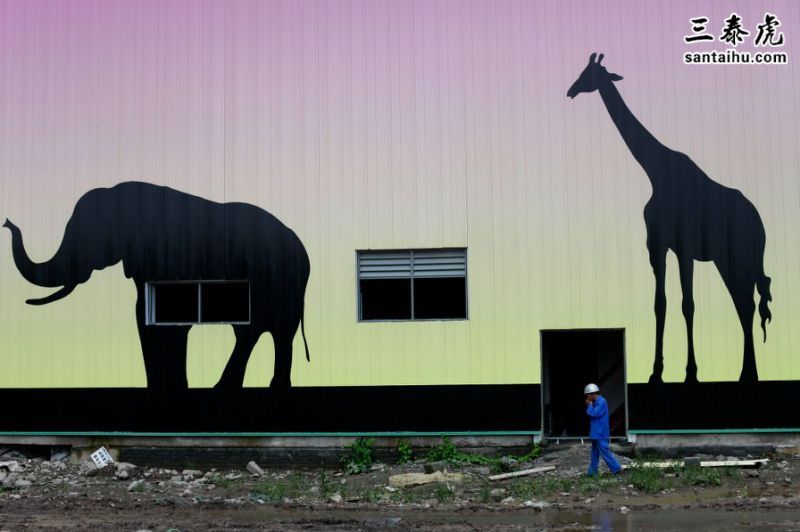 Some workers stayed after their employment contracts ended with the state companies and started their own businesses. Howard French, the author of the book China's Second Continent: How a Million Migrants are Building a New Empire in Africa, estimated there could be up to two million Chinese workers in Africa.
Africans are also going to China to make money. Unlike the Chinese, they are often not supported by their home country. Some are traders and entrepreneurs going to China to make deals and export Chinese goods to their home countries and regions. There are also small business owners and fashion models, who faced social and legal hurdles.
The largest African immigrant community in China is in Guangzhou, a manufacturing hub and trading port in southern China. The Chinese authorities counted 200,000 entries to the city by African visitors in 2016.
一些工人在与国有企业签订的劳动合同到期结束后选择留在当地,开始创业。《中国的第二大陆:100万移民如何在非洲建立新帝国》一书的作者霍华德·弗兰奇估计,在非洲的中国工人可能多达200万。
非洲人也会去中国赚钱。与中国人不同的是,他们往往得不到祖国的支持。有些商人和企业家到中国做生意,并把中国产品出口到他们的国家和地区。也有一些小企业主和时装模特,面临着社会和法律的阻碍。
中国最大的非洲移民社区位于中国南部的制造业中心和贸易港口广州市。据中国官方统计,2016年有20万人次的非洲游客进入该市。
Business travelers may have initiated the demand for easier air travel between Africa and China, but flights today are increasingly serving leisure-seeking tourists.
Chinese travel abroad has tripled in the past decade. The top five most frequently-visited African countries by Chinese travelers reflect the trend.
Most leisure tourists traveling to Africa come from Shanghai. They spend an average of $1,683 for a week-long trip, according to a special 2018 report (link in Chinese) from the China Tourism Academy. Top destination cities include Cairo; Port Luis, Mauritius; and Casablanca, Morocco.
To attract Chinese tourists, Morocco waived visa requirements in 2016 for Chinese nationals traveling 90 days or less. Chinese tourism to Morocco increased from 43,000 that year to over 107,000 in 2017. Tunisia enacted the same visa policy for Chinese travelers in 2017 and tripled its inbound visitors from China. Angola, Botswana, Ethiopia, South Africa, Rwanda, Zimbabwe all made adjustments to their visa requirements in 2018 to make it easier for Chinese nationals to travel to their countries, according to a report by Migration Policy Institute. Just last week, Sierra Leone announced a new visa-on-arrival policy for a number of countries including China, making it the 28th African countries Chinese tourists can visit without obtaining a visa first.
商务旅客可能对非洲和中国之间航空出行便利度提出了要求,但今天的航班越来越多地服务于休闲出行的游客。
过去10年,中国人出国旅游的人数增加了两倍。中国游客最常去的五个非洲国家反映了这一趋势。
去非洲旅游的游客大多来自上海。据中国旅游研究院2018年发布的一份特别报告显示,他们一周的旅行平均花费为1683美元。首选目的地城市包括开罗、路易斯港、毛里求斯、卡萨布兰卡、摩洛哥。
为了吸引中国游客,摩洛哥在2016年免除了中国公民在该国旅行90天及以内时间的签证要求。中国赴摩洛哥旅游从当年的4.3万人次增加到2017年的10.7万人次以上。2017年,突尼斯对中国游客实施了同样的签证政策,中国入境游客增加了两倍。据移民政策研究所发布的一份报告显示,安哥拉、博茨瓦纳、埃塞俄比亚、南非、卢旺达、津巴布韦等国2018年均对签证要求进行了调整,以便中国公民赴本国旅游。就在上周,塞拉利昂也刚刚宣布了一项针对包括中国在内的多个国家的落地签证新政策,使其成为第28个中国游客无需签证即可访问的非洲国家。
Non-business travelers from China vastly outnumber business travelers in both Kenya and South Africa.
Even with the rapid increase of visitors, however, Africa is still not a typical destination for Chinese tourists. Of the 130 million foreign trips Chinese travelers made in 2017, only 0.62% of them, ended up in African nations.
Africans are traveling to China too. They made up 2.2% of total visitors to China in 2018, up from 1.8% in 2009. There are more Africans in China today than ever before.
China is the second most popular study-abroad destination, after France, for students from African nations. Over 81,000 Africans went to China to study in 2018. Africans are now the largest group of foreign students in China.
在肯尼亚和南非,来自中国的非商务旅客远远超过商务旅客。
但即使游客数量迅速增长,非洲仍非中国游客的首选目的地。2017年,中国公民出境旅游1.3亿人次,其中非洲国家只占到0.62%。
非洲人也同样向着中国出发。2018年,他们占中国游客总数的2.2%,高于2009年的1.8%。今天在中国的非洲人比以往任何时候都多。
中国是非洲国家学生第二大最受欢迎的留学目的地,仅次于法国。2018年,超过8.1万非洲人来华留学。非洲学生现在是中国最大的留学生群体。
美国雅虎网站读者评论:
译文来源:三泰虎 http://www.santaihu.com/48400.html 译者:Joyceliu
外文链接:https://finance.yahoo.com
Warren
I visited Africa a few years ago, you have to give credit to the Chinese: they built most of the roads, railway, stadiums and schools in Africa. They are actually helping local developing their living standards!!
几年前我去了非洲,你不得不称赞中国,非洲大部分的公路、铁路、体育馆和学校是他们修建的,帮助当地人提高了生活水平!!
Sheeple Smacker
China wants bases and expanded markets.
中国希望在当地建立基地,扩大市场。
o
chinese travel everywhere - I saw crowds and crowds of them in a few europian cities
中国人到处旅游——我在几个欧洲城市都看到了成群结队的中国人。
Mike
Over 2 years ago the Nairobi , Kenya international airport ( JKIA ) added Chinese to all verbal intercom announcements …..that's how big the Chinese are in Africa .
两年多前,肯尼亚内罗毕国际机场增加了中文播报…这足以反映中国人在非洲的规模。
Richard
Television news show 60 Minutes reported years ago that China was building roads, schools, and other infrastructure in their "good faith" efforts to sway entire African countries to sell their oil "exclusively" to China. China would also pay for drilling and refineries to be built. The 60 Minutes show was sort of "strike fear in the U.S." news piece, but also a "how in the world did the United States not see this happening before China was too well entrenched in Africa?"
电视新闻节目《60分钟》多年前报道称,中国建设公路、学校和其他基础设施,以"善意"影响整个非洲国家,让非洲国家向中国"独家"出售石油。中国还将出资建设钻井和炼油厂。《60分钟》节目有点像"美国罢工恐慌"的新闻报道,但"在中国在非洲站稳脚跟之前,美国怎么没有看到这种情况呢?"
jimmy
that seems an angle from the old times with sl very tradition. There is no such term as sl very in chinese history since 3000 years ago
这似乎是从旧时代奴隶制传统的角度来看的。从3000年前开始,中国历史上就不存在奴隶制这个词了。
Alfredo
Promoting tourism is big business.
促进旅游业是一项大生意。
L
Because China know what Africa has and whoever controls Africa can control the whole world, Africa is a sleeping giant with 65% of the gold and diamonds in the whole world, poor but yet the richest place on Earth and people know it.
因为中国知道非洲拥有什么,谁控制了非洲,谁就能控制整个世界,非洲是一个沉睡的巨人,拥有全世界65%的黄金和钻石,虽然贫穷,但却是地球上最富有的地方,人们知道这一点。
L
Whoever controls Africa will control the world. Believe it or not
谁控制了非洲,谁就控制了世界。信不信由你
Khalifa
While people in the comments can't help their racism... The reason china is so invested is due to resources and possibly land... Africa is a gold mine full of untapped resources the African countries have yet to exploit but it will become a problem when the Africans realize the Chinese are not friendly just greedy and want all the resources they got
人们在评论中忍不住流露出了种族歧视……中国如此投资的原因是资源,也可能是土地……非洲是一个蕴藏着非洲国家尚未开发的资源的金矿,但当非洲人意识到中国人并不友好,眼里只有贪婪,想要他们的所有资源时,将会成为一个问题
Mario
China is smart. While America spends money on endless wars, China is building infrastructure in many countries. For example, Africa has a few routes on their new Silk Road. China wants to dominate trade the way America used to. Blood thirsty Americans don't realize wars are EXTREMELY expensive and all these trillions of dollars you guys spent on war could have been going toward investing in other places to solidify your place as number 1.
中国很聪明。当美国把钱花在无休止的战争上时,中国却在许多国家建设基础设施。例如,非洲在新丝绸之路上有几条路线。中国想要像美国曾经的那样主导贸易。嗜血的美国人没有意识到战争是极其昂贵的,你们花在战争上的数万亿美元本可以投资到其他地方,巩固你们作为全球第一强国的地位。
Mike
Well, unlike the scared of everyone not white GOP, China understands some of the largest mineral deposits in the world are in Africa. So China is spending money building up the grids in Africa in order to obtain the resources. While at the same time Republicans are claiming coal is clean and the future of America.
不像所有人都害怕共和党白人,中国知道世界上最大的一些矿藏就在非洲。因此,中国在非洲投资建设电网,以获取资源。与此同时,共和党人却称煤炭是清洁能源,是美国的未来。
R00012
DUH the Chinese are going around the world gathering NATURAL RESOURCES of which im sure there plenty in Africa.They are also setting up banks and factories to set up the whole thing from production to the money end.The USA spent too much time in the middle east now China rules Asia and the waters.
中国人正在世界各地采集自然资源,非洲有很多自然资源。他们还建立了银行和工厂,打造从生产到资金的整个过程。美国在中东浪费了太多时间,现在中国统治着亚洲和海洋。
kevin
Why? short answer is; mutual respect & mutual beneficial. Unlike the US & the West just loot Africa for over 400 yrs.
为什么?答案很简短:相互尊重,互利共赢。不像美国和西方那样,掠夺非洲超过400年时间。
Shangrila
Why do you think we have such a "sour grapes" attitude towards China. When we realized that we cant tell the entire world who they can sell their oil to, we had to use tariffs as a way to try and dictate what the world and China can do.
你为什么觉得我们对中国有这么一种"酸葡萄心理"?当我们意识到我们无力要求世界各国能把石油卖给谁的时候,我们不得不利用关税来试图命令世界和中国能做什么。
John
A lot of the citizens of African nations will regret the the deals their already corrupt leaders have/will make. In most infrastructure spending the money goes to local businesses and local workers. The deal China makes is that they use their own companies and their own workers. The difference is a great percentage of the money goes back into China instead enriching the country's economy. They get a very small if any economic benefit, some infrastructure that is poorly made and massive debt.
许多非洲国家的公民会后悔他们领导人所做的交易。在大多数基础设施建设中,这些资金都流向了当地企业和工人。而中国要求使用自己的公司和工人。不同之处在于,很大一部分资金回流到了中国,并没有提振当地的经济。他们获得的经济利益很少,一些基础设施的质量很差,还背负了巨额债务。
jimmy
the world is all connected, I don't care which country wants to help africa, but collectively if we don't positively influence the world, we will be bring destruction.
世界是紧密相连的,我不关心哪个国家愿意帮助非洲,但是如果我们不积极地影响世界,我们将会带来毁灭。
Secretary of the Fence
China has been "courting" African nations for the last 30 years . When I was in Dakar,in the early 90's, I saw a Soccer Stadium that they gave the Senegalese. Africa is the last cheap labor force to be exploited.
过去30年来,中国一直在"讨好"非洲国家。90年代初,当我在达喀尔时,我看到了一个足球场,就是中国人送给塞内加尔人的。非洲是最后一个待开发的廉价劳动力来源。
Anonymous
They are traveling there to survey the locations of potential national resources so they can rape and plunder.
他们是去那里调查潜在的国家资源,以便洗劫一番的。可怜的非洲。
El
Why do europeans immigrants in North America care ??? Cause they have no homeland ... lol hahahaha
为什么移民去了北美的欧洲人那么在意?因为他们没有故乡…哈哈哈
albert kofi
I am not surprise at all. They have what it takes to implement the 'Go Out' policy.
我一点也不惊讶。他们有能力实施"走出去"政策。
Alex
Well done, China, very well done Africa indeed. Keep up with the good work and "Make China and Africa Strong, Prosperous and Great Again"
中国干得不错,非洲干得很好。继续努力,"让中国和非洲再次强大、繁荣和伟大"。
MarkM
The Chinese are taking advantage of most of Africa. They move in with almost no money create very low paying jobs and ensl ve the population for a buck an hour. If an american company did that they would get boycotted
中国人正在利用非洲的大部分地区。他们几乎没投资什么钱就进入了非洲,提供了工资非常低的工作岗位,并以每小时一美元的价格奴役人民。如果美国公司这样做,肯定会受到抵制
Danny
China is investing in Africa in order to steal its resources. Rich in resources but lacking in infrastructure to bring it all out of the ground. So they are building roads do the machinery can get access to all the Oil, Gold, diamonds and the minerals for Electronics. It's all an investment for their self interest. Chinese never do anything unless it pays off for them. They are modern day Colonialists like Britain was in India years ago until they were overthrown.
中国投资非洲是为了窃取非洲的资源。非洲资源丰富,但缺乏开采的基础设施。所以中国修路、搭建机械,就能获得石油,黄金,钻石和矿产。这都是为了他们自己的利益而进行的投资。除非有回报,否则中国人不会主动做事的。他们是现代殖民者,就像英国多年前在印度一样。
Tom
Somebody should help Africa coup up with the rapidly changing world . China is doing a good job by helping the poorer section of Africa .
应该有人帮助非洲跟上迅速变化的世界。中国在非洲扶贫方面做得很好。