Why haven't countries other than the USA sent a man to the moon? Why did the Soviets stop its efforts to reach the moon? Will China or India start a space program?
为什么除了美国以外,其他国家都没能把人送上月球?为什么su联停止了登月的努力?中国或印度会启动太空计划吗?
以下是Quora读者的评论:
C Stuart Hardwick, Scifi author and science nerd.
The Apollo missions required a 36-story rocket.
I work on the 34th floor. To go to the Moon, we needed a rocket two floors taller than my office if you count the launch escape tower. In 2016 dollars, it cost $711 million to build a Saturn V – that's just to build it, not to fly it. For comparison, the 86 year-old, 102-story Empire State Building cost $637 million in 2016 dollars. But the Saturn wasn't built to keep and use for 86 years, it was built to go up on a pillar of flame and be reduced over the next few days into dust, debris, and a few precious keepsakes.
People say space travel is so expensive because it's like throwing away a jumbo jet at the end of every trip. No, it's like throwing away an Empire State Building at the end of every trip, or crashing a jumbo jet into two more sitting on the ground.
阿波罗计划需要一架36层高的火箭。
我在34楼工作。要去月球,我们需要一架比我办公室还高两层的火箭,如果算上发射逃生塔的话。以2016年的美元价值计算,建造一架土星5号花费了7.11亿美元——只是建造,还不是飞行。相比之下,拥有86年历史的102层帝国大厦按2016年的美元价值计算,造价为6.37亿美元。但是土星号的建造并不能保存和使用86年,它就是为了点火升空,在接下来的几天里就将沦为灰尘、碎片和一些珍贵的纪念品。
人们说太空旅行太过昂贵,就像每次旅行结束时就报废一架大型喷气式飞机。不,这就像每次旅行结束时都要报废一座帝国大厦,或者把一架大型喷气式飞机撞向地上的另外两架。
IT'S EXPENSIVE.
The Soviet Union aborted their own manned lunar program after their rocket, almost as big as ours but substantially less capable, blew itself and its launchpad straight to Hell. They were planning a mission that would have sent one cosmonaut down to the surface alone, something that with the technology of the time, NASA considered unacceptably dangerous.
太空计划是非常昂贵的。
su联放弃了他们自己的载人登月计划,因为他们的火箭几乎和我们的火箭一样大,但他们的能力明显不如我们,他们把火箭和发射台直接炸飞了。他们正在计划一项任务,将一名宇航员单独送到地面,在当时的技术条件下,NASA认为这太过危险。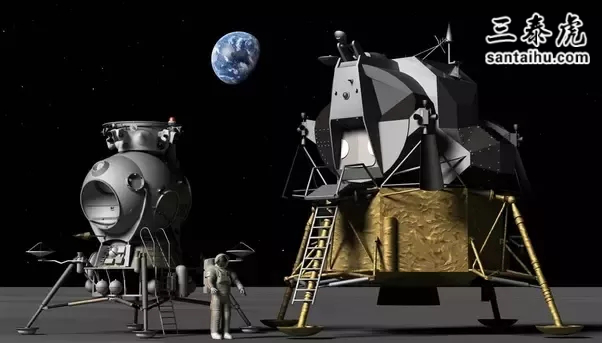 It's the boldest, most adventursome, most HUMAN accomplishment in the history of our species, but to move beyond it to the true, economic exploitation of the next frontier, we have to change the economics.
Technology has improved in the decades since Apollo, but not as much as you might think. Other than its computers, most of the technology used on Apollo remains essentially state-of-the-art. To open up space, we need ships that don't have to carry all their oxidizer with them and that aren't fated to burn up after one use. That's why these guys are so important right now:
But we also need ships that aren't so complex they end up being more expensive than the disposables they replace. Nothing in space is easy, but we'll get there.
这是我们人类历史上最大胆、最冒险、最人类的成就,但要超越它,进入真正的经济开发,我们必须调整成本。
自阿波罗计划以来的几十年里,技术已经有所进步,但并没有你想象的那么多。除了计算机,阿波罗号上使用的大部分技术基本上都是最先进的。为了开辟空间,我们需要的船只不需要携带所有的氧化剂,也不需要在一次使用后就被烧毁。这就是为什么这些人现在如此重要:
但我们也需要不那么复杂的船舶,它们会比替换的一次性用品更昂贵。在太空中没有什么任务是简单容易的,但我们会成功的。
Jerry Greelis, Working on Object Teleportation
First, Mr. Hardwick has stated the reason why other countries, including the U.S. has not gone (nor gone back) to the Moon; extremely expensive, both back then and still today. I worked the Apollo mission at JPL, we backed up the Manned Space Flight Network (MSFN) with the Deep Space Network (DSN), an additional mission cost for human safety with redundancy. We became critical for Apollo 13.
Mr. Hardwick stated why the mission was so expensive, one huge cost was getting the spacecraft up into space with a 36 story rocket. I live in Florida today and seen this monster at the Space Visitor Center, of course this being small compared to the SLS coming down the pike; costing a billion dollars.
首先,Hardwick先生阐述了包括美国在内的其他国家的原因没有去(没有重回)月球的原因;非常昂贵,无论是过去还是现在。我在喷气推进实验室执行阿波罗任务,我们用深空网络(DSN)来支持载人航天飞行网络(MSFN),这是一项额外的任务,用来保障人类的安全。我们对阿波罗13号而言至关重要。
Hardwick先生解释了为什么这次任务这么昂贵的原因,其中一个巨大的成本是需要用一个36层的火箭将宇宙飞船送入太空。我今天住在佛罗里达州,在太空游客中心看到了这个怪物,当然,和即将到来的SLS相比,这个怪物还是要小得多;耗资多达10亿美元。
译文来源:三泰虎 http://www.santaihu.com/48393.html 译者:Joyceliu
To me today, the real answer why nobody else went to the Moon is because the science behind the missions forcing the participants into using the extremely expensive technology. Just think, if we had the technology to put a person on the Moon or Mars for a million dollars total, how many would go there today? Is this technology available today? That answer is yes and no, most probably yes, however, locked up in the military's top secret projects. No because, Ben Rich, past Lockheed director of 'Skunk Works' stated it would take an act of God to get the technology out of the military top secret projects for humanity's benefit.
Mr. Rich claimed, almost a quarter of a century ago, their technology allows them to both reach the stars and take ETs back home. Their propulsion system is obviously not expensive rockets, and a trip to the Moon, or even to Mars would be a piece of cake today. When an engineer asked what propulsion system they were using, he answered 'do you know how ESP works?' then stating that's exactly how it (the propulsion system) works.
今天对我来说,没有人登陆月球的真正原因是,登月任务背后的科学要求迫使参与者使用极其昂贵的技术。试想,如果我们有技术把一个人送上月球或火星,总花费100万美元,会有多少人登陆那里呢?这种技术现在出现了吗?答案是肯定的,也有可能是否定的,然而,军方将此作为最高机密项目束之高阁了。不,因为洛克希德公司前"臭鼬工厂"主任本•里奇曾表示,为了人类的利益,把这项技术从军事绝密项目中公开是不可抵挡的趋势。
里奇先生声称,约25年前,他们的技术使他们既能到达月球,又能返回地球。他们的推进系统显然不是昂贵的火箭,到月球旅行,甚至火星旅行在今天都是小菜一碟。当一位工程师问他们使用的是什么推进系统时,他回答说,你知道ESP是如何工作的吗?然后说明推进系统就是这样工作的。
The core reason for the military projects achievements versus the NASA and other countries' space initiatives lies within the science they are using. The military top secret projects are not locked into the science being taught today, but NASA and everyone else has no other option. Mr. Hardwick is correct in his assessment why no other country has attempted a Lunar Mission because of the expense, however, the root of the problem is not money at all, it is because of the science used in order to get there; forcing the expense.
与美国宇航局和其他国家的太空计划相比,军事项目取得成就的核心原因在于它们所使用的科学技术。军事绝密项目并不局限于今天所教授的科学,但NASA和其他所有人别无选择。Hardwick先生的评估是正确的,为什么其他国家没有尝试月球任务,原因就是成本,但问题的根本不是钱,而是因为采用了什么科学技术;被迫产生了费用。
Mark Anthony, Internet Marketing, American Patriot, Business Professiona
Laughing at some of the crazy answers here... China and India already have a space program. They have all the technology needed to colonize the moon since we basically gave them everything we had in 2009. They just need to get up to speed with it and be able to understand what all they have. We overwhelmed them with technology and information.
But for America? Too expensive? Really?? You say that while typing on a keyboard made from a chemical that was perfected from space research. You are using the Internet that got a huge jump forward with the creation of the semi conductor that was perfected by technology created for the space program and the race to the moon.
And the medication you take to function in the real world came from a space exploration program.
有人写了很疯狂的答案,我要笑疯了…中国和印度已经有了太空计划。他们拥有殖民月球所需的所有技术,因为我们基本上已经把我们2009年拥有的一切都给了他们。他们只需要跟上时代的步伐,掌握他们所拥有的一切。我们用技术和信息征服了他们。
但对美国而言?太贵了?你认真的吗?当你在键盘上打字的时候,是否知道键盘是由一种化学物质制成的,这种化学物质是在太空研究中得到了完善。你正在使用的互联网,因为半导体的发明而取得了巨大的进步,它是在太空计划和登月竞赛的技术中得到完善的。
你在现实世界中使用的药物就来自于某个太空探索项目。
We have learned almost all that we can from going to the moon.
Most politicians now, are looking only at the next election, not at the future. Remember, it was President Kennedy that said He wanted America to go to the moon by the end of the DECADE, not the end of the election cycle. He saw the long term gains of space. He was in it for America and knew it would not be easy or fast but it would be beneficial to all.
If the International Space Station was a fixed base on the moon, its overall costs would be cut in half and we launch from there outward would be cheaper and more efficient in the long run. But expensive in the short term and would take international cooperation.
我们几乎从登月中学到了我们能学到的所有东西。
大多数政客现在只关注下届选举,而不是未来。记住,肯尼迪总统说他想让美国在十年内登月,而不是在选举周期结束时。他看到了太空的长远利益。他投身其中是为了美国,他知道这并非易事,不是一朝一夕能完成的,但这对所有人都是有益的。
如果国际空间站成为月球上的固定基地,它的总成本将减少一半,从长远来看,我们从那里向外太空发射火箭将更便宜、更有效。但在短期内代价高昂,需要国际间的通力合作。
Ian Miller, Author, physical scientist
Why would they? There has to be a reason to spend the money. The US did it essentially for propaganda reasons, and of course to be the first there there was a huge scientific payoff. But once the moon rocks were analysed, from the scientific point of view we were rapidly hitting the law of diminishing returns. The next step is t go to the moon and do something.
The problem is, what? The moon is airless. and short of water, nitrogen, and just about everything we need. Yes, we can still do things there, but it is not pressing. maybe one day we will want to go to get 3He, useful for fusion. Only problem, as yet we don't know how to carry out fusion.
Basically, we have more important things to do than go back to the moon. But one day I feel we will go into space. Just not yet.
他们为什么要这样做呢?花钱一定要有理由。美国这么做本质上是出于宣传的原因,当然,作为第一个成功的国家,也带来了巨大的科学回报。但一旦对月球岩石进行了分析,从科学的角度来看,我们很快就发现了回报递减定律。下一步是到月球上做什么。
问题是,做什么呢?月球上没有空气。缺少水,氮气,以及我们所需要的一切。是的,我们仍然可以在那里做一些事情,但这不是什么紧急的事。也许有一天我们会想要得到对核聚变有用的3He。但现在唯一的问题是,我们还不知道如何进行核聚变。
总之,我们有比重返月球更重要的事情要做。但是我觉得我们总有一天会进入太空。只是现在还没有开始做而已。
Wade Schmaltz
The ESA, Japan, Russia, and China all have plans to put men (or women) on the Moon. Private companies may be planning to go as well. NASA has cancelled it's plans to go back.
It's expensive, difficult to do, and it's very dangerous. It takes a lot of foresight, planning, research, engineering, and development. Before any of that begins, you need a reason to go, and you have to obtain funding before you even get started.
The US is the only country to have done so, and every step of the way was a new problem never considered before. When they first put a man in space, they didn't know if he would be able to breathe, or to swallow, without gravity to help. The first men back from the Moon were placed into immediate quarantine for nearly four days while tests were done, just in case they brought back some strange virus that would kill us all.
欧洲航天局、日本、俄罗斯和中国都计划将男性(或女性)送上月球。私营企业可能也计划这么做。美国宇航局已经取消了重返月球的计划。
这种太空计划很贵,很难,而且非常危险。这需要大量的远见、规划、研究、工程和研发。在这一切开始之前,你需要一个离开的理由,甚至在你开始之前,你必须获得资金。
美国是唯一做到的国家,登月之路上的每一步都是一个全新的问题。当他们第一次把人类送入太空时,他们不知道他是否能在没有重力的帮助下呼吸或吞咽。第一批从月球回来的人被立即隔离了近四天,同时进行了测试,以防他们带回一些会杀死我们所有人类的奇怪病毒。
China successfully put the Yutu (rover) on the Moon in 2013, and it's still sending pictures and data. It was the first lunar landing in nearly forty years. It got stuck in the sand about 50 meters from the lander, and it's been stuck there in place ever since. They're sending another one up soon.
2013年,中国成功地将"玉兔"号(月球车)送上月球,目前仍在发送图片和数据。这是近四十年来的第一次登月。它被困在离着陆器50米远的沙堆里,登陆后就一直被困在那里。他们很快会往月球上再送一个。
Richard J Breen, BS physics U ND '631/2 Ms Ed LI U 70 tested Nukes" in Nevada RR stuff in Colorado Boeing engineer retired 9...
it was a race! USA "won" but at GREAT COST , in money and almost in lives.
Russia had fatal failures. It was just too expensive for them. the Soviets DID put up the first satellite ( in the process demonstrating that they could have an intercontinental missile which shocked America) Soviets also had the first animal, the first man and the first woman in space and the first exploration of Venus.
I was part of the nuclear missile test business in the late 1960s.
America CANCELED a later moon flight. the near earth space station and the american soviet cooperation was much more useful for spam exploration.
In the future (decades) there will probably be a permanent international station on the moon. it is a much better place to put a base.
remember we are ONLY 200 miles from the ISS space station , but it is 240,000 miles to the moon.
the answer to your Q is very simple $$$$$$$$$$$$$ and technical ability
这是一场比赛!美国"赢了",但是付出了巨大的代价,金钱和生命。
俄罗斯遭受了致命的失败。对他们来说成本太高了。su联确实发射了第一颗卫星(在这个过程中,他们有能力发射洲际导弹,震惊了美国),su联也将第一只动物,第一个男人和第一个女人进入太空,还对金星进行了第一次探索。
上世纪60年代末,我开始参与核导弹试验业务。
美国取消了后来的一次登月飞行。近地空间站和美苏合作对太空探测更有帮助。
在未来(几十年内)可能会在月球上搭建一个永久的国际空间站。这是一个更好的基地。
记住,我们离国际空间站只有200英里,但它离月球有24万英里。
你的问题的答案很简单:就是钱和技术。
Eric Worrall, Director of Desirable Apps
Because nobody has the balls to do what must be done.
The Manhattan scientists developed a space drive in the 1950s, which would have allowed affordable exploration and colonisation of space. The most powerful version of the space drive could have powered a starship - sent a manned mission to Alpha Centauri, at 10% of the speed of light.
The space drive was briefly considered for the Apollo mission. But the space drive was nuclear. The old NAZI V2 scientist Wernher von Braun successfully campaigned against the nuclear option - so Apollo used spectacular, but utterly impractical chemical rockets, based on his old V2 systems.
I've sometimes wondered whether Von Braun's vigorous defence of chemical rockets was his last gift to his Fuhrer. Because when he won the debate, not only did he stunt the space ambitions of the world which had rejected the NAZI philosophy he supported, he also ensured that the Jew Albert Einstein's legacy to the world would be a terrible weapon, instead of a new space drive which could have opened our way to the stars.
因为没有人有勇气去做必须做的事。
曼哈顿的科学家们在20世纪50年代开始了太空计划,使太空探索和殖民成为可能。最强大的太空驱动器可以为一艘星际飞船提供动力——以光速的10%向半人马座阿尔法星发射载人任务。
阿波罗计划也曾考虑过太空探索。但太空动力是核能。老纳粹V2科学家沃纳·冯·布劳恩成功地发起了反对核动力的运动——因此阿波罗使用了壮观但完全不切实际的化学火箭。
我有时想知道冯·布劳恩对化学火箭的有力防御,是不是他送给元首的最后一份礼物。因为当他赢得这场辩论时,他不仅挫败了拒绝他所支持的纳粹哲学的世界的太空野心,还确保了犹太人阿尔伯特·爱因斯坦留给世界的遗产将是一个可怕的武器,而不是一个可以为我们开辟道路的新的太空之旅。
Nihal Ansari, Blockchain Consultant (2016-present)
1.Moon race was an exercise considered important enough to prove techincal dominance in space during the cold war. There were only 2 competitors. US and USSR. The first group to reach moon was going to be remembered. Not the other one! Hence Russia never took active interest once US was already successful.
2.During 60s Russia was ahead in terms of technology for reaching moon. It was the death of once of the lead rocket designers (Sergei Korolev - Wikipedia) and possible internal politics that led to project delays. This time was effectively used by US to catch up.
3.The space missions of relatively poor countries like India and China are more of a "proof of capability" exercises. They are desperate attempts to prove to the world that they have the same kind of capabilities that the "superpowers" possess. Apparent aim is to be included in the elite group. However, original research lacks in both these countries because of high rate of poverty and education quality. That is the reason they keep working on things that others have achieved decades back.
1.登月竞赛被认为是一项重要的活动,足以证明冷战期间在太空技术上的主导地位。全世界范围内只有两个竞争者。美国和su联。第一批到达月球的人将被世人永远铭记。因此,当美国取得成功后,俄罗斯局不再表现出积极的兴趣。
2.60年代,俄罗斯在登月技术方面处于领先地位。曾经的主要火箭设计师(谢尔盖·科罗廖夫-维基百科)的死亡和国内政治导致了项目的延迟。美国利用了这段时间有效地迎头赶上。
3.印度和中国等相对贫穷国家的太空任务更多的是"能力的证明"。他们不顾一切地试图向世界证明,他们拥有与"超级大国"同样的能力。很明显,他们的目标是跻身精英群体。然而,由于两国的高贫困率和教育质量,他们缺乏原创的研究。这就是为什么他们一直在做别人几十年前就已经完成的事情。
Kévin Leroux
Why send someone who can die when you can send robots which are cheaper and more efficient ?
Of course sending a man on the moon is a technological breakthrough and a powerful show of science and technology for the country who did it.
However, it stop there, the soviets weren't going to send a man on the moon to be second it has no interest and they had huge problems with their rockets which was going worse because their main scientist Mr. korolev (the soviet equivalent of von Braun) died.
Today it's different, technology has massively improved as science. We now know that the moon is rich in resources which could be exploited and the moon could be used as a base to send men to other planets such as Mars.
当你可以使用更便宜、更高效的机器人时,为什么还要派一个可能会死的人呢?
当然,将人类送上月球是一项技术突破,也是对登月国家科学技术的有力展示。
然而,事情就到此为止了,su联人不会想要成为第二个将人类送上月球的国家,他们没有兴趣,他们的火箭也存在很大的问题,他们的主要科学家科洛列夫先生(相当于su联的冯·布劳恩)去世了,情况进一步恶化。
今天情况不同了,科技作为科学得到了巨大的进步。我们现在知道,月球有丰富的资源,可以进行开发,月球可以作为一个将人类送往其他星球的基地,如火星。
Also the world had changed since 1969, the USSR collapsed and China became a new adversary to the US so we could get another space course.
But it cost money to send a man on the moon even if I think the US will launch a woman for history and also it requires a solid political engagement, Kennedy made it clear and his death probably boosted the program
For countries like China and India they need to get a good level of experience in this field, China has made big steps such as successfully land a robot on the dark side of the moon and India is doing similar program such as successfully sending probes even they are behind China actually.
I don't know if other countries could do this but it's likely that we see a man on the moon in the next 10-20 years.
此外,自1969年以来,世界格局发生了变化,su联,中国成为美国的新对手,因此我们可能又开始议论太空竞赛。
但是把一个男人送上月球是要花钱的,我认为美国会将女人送上月球来载入历史,这也需要可靠的政治参与,肯尼迪说得很清楚,而他的死可能也促进了这个项目。
中国和印度这样的国家,他们需要在这个领域积累好的经验,中国已经完成了诸如在月球背面成功着陆机器人等极大进步,印度哪怕落后于中国,也正在做类似的项目,如成功发送探测器。
我不知道其他国家是否能做到这一点,但在未来10-20年内,我们很可能看到人类登上月球。
Doug Schwan, studied at Alternative Medicine, Physics
Only two countries up to now had the resources for a manned mission to the moon.
The Russians did participate in the race but they were hampered by their inability to manufacture large bellows required for a heavy lift rocket engine. The bellows are the large nozzles where the rocket exhaust comes out.
To compensate, instead of 5 very large rocket engines like we used in the Apollo 1st stage, they built a rocket (The N1) which had 30 separate 1st stage engines!
The vibration and shock arising out of all these engines was too much for the designers to overcome and the rockets kept exploding on launch—-one creating the largest non-nuclear man made explosion ever recorded.
The Russians gave up after the U.S. was successful and no other country has the resources to come close to duplicating the feat.
到目前为止,只有两个国家有资源进行载人登月任务。
俄罗斯人确实参加了比赛,但由于他们无法制造重型火箭发动机所需的大型波纹管,受到了限制。波纹管是火箭排气口的大喷嘴。
为了补偿,他们没有建造我们在阿波罗1级使用的那5个非常大的火箭引擎,而是建造了拥有30个独立的1级引擎的火箭(N1) !
所有这些发动机产生的振动和震动都是设计者无法克服的,火箭在发射时不断爆炸—曾导致了有史以来最大的非核人造爆炸。
在美国取得成功后,俄罗斯人放弃了,至今没有其他国家有能力完成这一壮举。
Manaal Johri, Student at La Martiniere College, Lucknow (2007-present)
Well originally space program was an enormous deal. The build-up of Apollo was highly against the backdrop of the highly charged cold war whose most visible or rather important mark was the space race between the USA and Soviet Union. But after the success of the Apollo missions, the enthusiasm significantly dropped. And people were even doubting that if NASA's $209 Billion was even worth it. After this the Soviets were more inclined towards the making of a Space Station, and that's when Mir Space Station came into existence. After Mir they did not have much funds to uphold another Space program. And by the time they had some funds to do so the Soviet Union broke up on December 26, 1991. And for now USA and Russia together have decided to make a deep Space Station near the moon.
And as for now Indian Space Research Organization ISRO haven't told anything that if there are any space programs coming up.
And about China, well they are deciding to uphold a Space program very soon as they have announced this year in January that they will reach Mars by the end of 2020.
最初太空计划是一件大事。阿波罗计划是在高度紧张的冷战背景下进行的,冷战最明显或相当重要的标志是美国和su联之间的太空竞赛。但在阿波罗任务成功后,这种热情明显下降。人们甚至怀疑NASA耗费的2090亿美元是否值得。在这之后,su联更倾向于建造空间站,和平号空间站就此诞生。和平号之后,他们没有太多资金进行第二个太空计划。当他们重新获得资金的时候,su联在1991年12月26日了。目前,美国和俄罗斯共同决定在月球附近建立一个深空空间站。
到目前为止,印度空间研究组织ISRO还没有透露是否会有太空计划。
至于中国,他们决定坚持推进太空计划,因为他们在今年1月宣布,他们将在2020年底前登陆火星。