As an Indian what is your experience with China and its people?
作为一个印度人,你对中国和中国人民有什么体会?(2)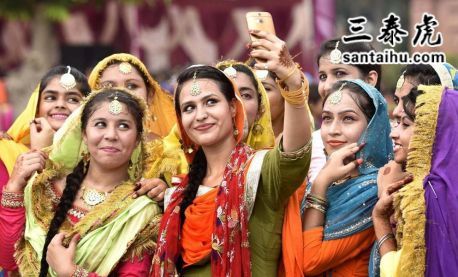 以下是Quora读者的评论:
Shyamakshi Ghosh, A techie by brains and a traveller by heart!
In April 2017, we visited China as tourists. Here are some of my experiences:
2017年4月,我们到中国旅游。以下是我的一些经历:
Felt very welcomed. The locals wanted to take selfies with us. It really felt awesome. No one does that to Indians!
1.我觉得自己很受欢迎。当地人想和我们自拍。感觉棒极了。没人这样对待印度人!
Loved their food. An average Indian thinks that Chinese eat only cockroaches on a regular basis. But to my surprise, the food was delicious with balanced mix of veggies, carbs and proteins.
And eating insects is still a thing. But extremely occasional.
我喜欢他们的食物。普通印度人以为中国人只吃蟑*。令我惊讶的是,中餐太美味了,蔬菜,碳水化合物和蛋白质均衡地搭配在一起。
Its a place for the new and the old. It felt amazing to see them upgrade traditions with technology. Here is how they fly kites:
3.这是一个新旧融合地方。目睹他们用技术更新传统,我感到十分惊讶。他们是这样放风筝的:
Comparing in terms of population, thanks to the lower density, it does not feel so crowded as in India except during security checks.
如果比较人口方面,由于人口密度较低,除了安检,中国并不像印度那样拥挤。
People are genuinely helpful. In several instances, a few went an extra mile to help us.
中国人乐于助人。有几次,有些人多走了一英里来帮助我们。
Overall, it felt very positive. Would love to visit again!
总的来说,感觉非常好。希望能再次访问中国!
Charvi Kalra, Medical student,Queen of Eccentricity.
I've met 3 Chinese people till now,out of which 2 were associated with my family for a month or so, and one I met at a hotel on our vacation in Nepal.
到目前为止,我一共认识了3位中国人,其中2位和我家人相处了一个月左右,还有1位是我在尼泊尔度假时在一家酒店认识的。
There was this girl Jill from Taiwan( not in China, but you get it). She was on some business trip to India and was associated with my mother's friend. My mother's friend sent Jill to her as she desperately wanted to learn English, and she felt that my mother would be the best person to teach her a few basics to help her get started.
有一个女孩吉尔来自**。她去印度出差,和我母亲的朋友在一起。我母亲的朋友把吉尔送过来,因为她非常想学英语,她觉得我母亲是帮她打基础、帮她开始学习的最佳人选。
This was in the year 2006.
当时是2006年。
She was very cordial, down to earth and would get some Chinese delicacy for us daily. She learnt basics of English for a month after which she had to leave for Taiwan. On her last day, she got us glass noodles. They weren't much to the liking of our taste buds but her efforts were commendable.
她非常热情,脚踏实地,每天都会为我们准备一些中国美食。她学了一个月的基础英语,之后她不得不回**了。在她回去前的最后一天,她给我们煮了粉丝。虽然不太对我们的胃口,但她的努力值得称赞。
She would dote on my younger brother and would even get me candies. She was genuinely a really nice person.
她很疼我的弟弟,甚至还会给我买糖果。她真的是一个非常好的人。
Second one was a receptionist at my father's clinic. Her name was Ditt. I don't know how it's written but thats how it was pronounced. She too was so good. She knew English perfectly and was very kind with the patients. She had to leave after a few months because of certain circumstances that had crept up back at home. This was in the year 2004. We met her in 2012 again, she was as radiant as before!
第二个是我父亲诊所的接待员。她的名字叫迪特。我只知道她名字的发音,但不知道对应的字是什么。她也很好。她的英语很溜,对病人也很好。几个月后,她不得不离开,因为她家里发生了点事。那是2004年的事。我们在2012年又见面了,她依旧容光焕发!
The last one I met was a 50 yr old professor of Immunology at Guangzhou Medical University. She was staying in the same hotel as ours and was accompanying 50 people for a trek the following day. She also knew English very well and started to talk to me about MBBS, what all subjects we have, whether we are taught immunology separately or not and lots more. She radiated a very positive energy and asked me for recommendations for her next visit to India.
我最近遇到的是50岁的广州医科大学免疫学教授。她和我们入住同一家旅馆,第二天要陪50个人去徒步旅行。她的英语很不错,她和我谈论全科医学,我们的学习科目,我们是否单独教授免疫学等等。她周身散发出一种非常积极的正能量,还向我征求她下次访问印度的建议。
She told me how Indian students at her university fare really well.
她告诉我,她大学里的印度学生成绩非常好。
And that she had visited South India and fallen in love with dosa and sambhar
她去了印度南部,爱上了多萨和桑巴尔。
All in all my experience has been quite remarkable!
总而言之,我个人感觉相当不错!
Shilpa Singh, Top writer 2018
I have had mostly positive experiences with Chinese people, I have been regularly interacting with them for about 8 years now.
译文来源:三泰虎 http://www.santaihu.com/48371.html 译者:Joyceliu
我和中国人有过很多美好的经历,我已经和他们有8年的定期交流了。
I do not know much about China, but will surely like to visit her sometime.
我对中国不太了解,但我一定会找个时间去看看的。
Chinese people are really hardworking, they never disrespect us, they are friendly too unlike what most of us think.
中国人真的很勤劳,他们从来不会轻视我们,他们也很友好,跟我们大多数人想的都不一样。
The ones working in IT are good in English language so conversations are never a problem.
在IT行业工作的人英语很好,所以对话从来都不是问题。
I have a very good Chinese friend as well and we interact on many things
我有一个很好的中国朋友,我们在很多事情上交流过
I am kind of in shock to see questions like this from Chinese Why does India treat China as the enemy but don't believe the fact that India is so poor? Anyway, China treats India as a bug.
看到中国人提出这样的问题,我有点震惊。为什么印度把中国当作敌人,却不相信印度如此贫穷的事实?要知道,中国把印度当作臭虫呢。
Recent events between India and China are triggering such questions and honestly I think Chinese who do not interact with Indians have really wrong opinions about us and yes only those people have tad bit of superiority complex, lets just ignore that lot and try to work towards better relationship with China.
最近印度和中国之间事件引发了这样的问题,说实话,我觉得没有跟印度人打过交道的中国人真的错了,是的那些人只是有一点点优越感,让我们别在意那么多,试着努力与中国搞好关系。
China you definitely rock for the kind of development you have shown, and we are surely catching up.
你们中国所展现出来的发展势头真的震撼人心,我们也一定会迎头赶上。
Soham Shah, studied at Institute of Chemical Technology, Mumbai (2017)
My father recently visited China for a business trip, so I guess I can answer this question.
我父亲最近来中国出差,所以我想我能回答这个问题。
The people he met in China were very amicable. Most people he met would greet with a smile. The hospitality was comparable to what we as Indians boast of being part of our culture, but often fail to deliver.
他在中国遇到的人都很友好。他遇到的大多数人都会微笑着跟他打招呼。这种好客堪比我们印度人所吹嘘的,虽然是我们文化的一部分,但大家往往都做不到。
Of course there's a bit of a language barrier, but each place he did go, there would be someone the people hired just to speak in English to potential customers.
当然,在中国会有一点语言障碍,但是我父亲去的每个地方,都会有一个雇员用英语和潜在客户交谈。
In China, he found an orderliness in public places that India certainly does not have. The public transportation, despite having as many people as an Indian train or bus, would be comfortable with people not pushing around as much. An old woman even offered her seat to my father, saying that he was their country's guest. I doubt anyone in India has ever done that.
在中国,他发现公共场所秩序井然有序,而印度当然还不行。尽管公共交通的乘客跟印度的火车和公共汽车一样多,但因为大家不会互相推搡,还是很舒适的。一位老太太甚至把座位让给我父亲,说他是他们国家的客人。我很怀疑印度有没有人做过这种事。
Ankur Makwana, M.Tech in CS from Institute Of Technology, Nirma University (2015)
In JUNE 2017, we visited China (Shnaghai, Yiwu) as tourists. Here are some of my experiences:
2017年6月,我们作为游客访问了中国(上海,义乌)。以下是我的一些经历:
Chinese people love their language but Indian people love English.
中国人热爱他们的语言,而印度人喜欢英语。
They are very much hard working.
他们工作非常努力。
Weird fashion Surprise me
总有奇奇怪怪的事带给我惊吓
You see, it turns out that in China (especially during the scalding hot summer months), it is perfectly acceptable for men to tie their shirts halfway up their chests and walk around public streets, trains, or restaurants with their entire tummies nakedly protruding.
比如,在中国,特别是炎热夏天时候,男人把衣服摞起来,若无其事地走在大街上是正常的,大家都没意见。
Eating rice with chopsticks !!!!!!!!
用筷子吃米饭!!
Too much pollution as most of all products are made in china.
世界上大多数商品是中国制造,导致污染严重
Fast running train compare to INDIA.
高铁,比印度火车的速度快
We are tired of finding good food as we are vegetarian.
很难找到好吃的食物,毕竟我们是素食者。
But at last I LOVE MY INDIA
最后,我想说,我还是喜欢印度。
Manoj Dube, Senior Process Design Engineer at Larsen & Toubro Engineering (2018-present)
I am not sure, If am quite eligible to answer this question, since I have a short experience of working with a Chinese colleague for one of the project on which I was working in Toyo Engineering (Japan). But, I don't have any specific experience of China as a country though.
我不确定是否有资格回答这个问题,因为我在东洋工程(日本)的一个项目中与一位中国同事有过短暂的合作经验。
We were working on Front End Detail Design of ethylene cracker project. The Chinese girl was deputed from Toyo-China office to Toyo-Japan office for this particular project.
我们从事乙烯裂解装置工程的前端详细设计。这个中国女孩被从东洋中国办事处派到东洋日本办事处来处理这个特别的项目。
Actually, the girl was actually very sincere at work and very open in terms of interacting with other peoples without any hesitation of the other person being Indian, Korean or Japanese. Though, she could not communicate in English very well, it seemed that she was a girl with a very good heart. As a person, she was really good.
事实上,这个女孩在工作中非常真诚,在与他人交流方面非常坦率,与其他印度人、韩国人或日本人交流都很积极。虽然她无法很好地用英语交流,但看起来她是一个心地善良的女孩。作为一个人,她真的很棒。
On the other hand, she did not seem to very smart to me (I always had thought of Chinese guys to be very smart and hardworking) , considering she had a masters degree in chemical engineering.
另一方面,考虑到她拥有化学工程硕士学位,在我看来她并不很聪明(我一直认为中国人非常聪明和勤奋)。
I think, majority of the Chinese population would be either very smart or not smart at all. I personally think that, there would be very less population of "averagely intelligent" people in China as there are in India.
我认为,大多数中国人要么非常聪明,要么根本不聪明。我个人认为,中国的"中等智力"人口比印度少得多。
Obviously, I cant judge the whole Chinese population based on a single girl whom I met. But, my conclusion is also based on the reading I've done on internet about the Chinese education system and GAOKAO.
很明显,我不能根据我遇到的唯一一个女孩来判断整个中国人口。但是,我的结论也是基于我在网上对中国教育体系和高考的解读。
However, for me the Chinese girl was of very good nature, kind hearted and a very good human being and that is what is more important to me and nothing else.
然而,对我来说,中国女孩具有非常好的品格,善良的心,是一个非常好的人,这对我来说是最重要的,其他都不重要。
If this question would have been about Japanese people, may be I could written this answer more better.
如果这个问题是关于日本人的,也许我可以把这个答案写得更好。
I would really like to know from Balaji Sir, to why he only asked the question in specific about the China and Chinese people? (just curiosity).
我很想问问Balaji 先生,为什么他只特意提问了关于中国和中国人民的问题?(只是好奇而已)。
Varsha Penneru, Intern at Subbaiah Institute of Medical Sciences
My experience with the people of China has been short lived but it still was a beautiful one.
我和中国人民相处的时间很短,但仍然很美好。
I went to the GYLC programme in the USA few years back and according to the programme I was paired with roommates from random countries for 14 days.
几年前,我参加了美国的全球青少年领袖峰会项目,我和来自不同国家的室友一起学习了14天。
I was only supposed to have one single roommate but due to some confusion I was put into a room which already had two roommates. And yes, both of them were Chinese.
我本来只有一个室友,但因为出了一些差错,我被安排在一个已经有两个人的房间里了。没错,他们都是中国人。
Initially I was hesitant to talk but then they turned out to be one the sweetest people I met! They were the only children in their family and they told me about the "one child" rule they had in China. Since I cannot imagine my life without my sibling, I genuinely felt bad for them. We spoke about history, wars, food, clothing and so much more!
一开始我还犹豫着要不要开口,但后来发现他们是我见过的最可爱的人!他们是家中独子,他们告诉我中国有"独生子女"政策。因为我无法想象没有兄弟姐妹的生活,我真的为他们感到难过。我们谈论历史、战争、食物、服装等等。
Since I was the extra roommate, I slept on the floor for two days and later we all slept on the floor! We spoke for endless hours about our own counties, traditions, families and so much more.
因为我是多出来的人,我在地板上睡了两天,后来我们都睡在地板上了!我们没完没了地谈论我们自己的国家、传统、家庭等等。
They are like us in so many ways, they were kind, sweet and beautiful people. I wish they had the same social networks as I have so we could have been in touch now. I only have a written letter form both of them now!
他们在很多方面都跟我们相似,他们是善良、亲切、美丽的人。我希望他们有和我一样的社交网络,这样我们现在就可以保持联系了。我现在只有一张他们两人写给我的信!
I cherish these experiences I had with them.
我珍惜和他们在一起的这些经历。