How strong is the Indian Army actually?
印度军队到底有多强大?
以下是Quora读者的评论:
Karan Sachdev, A proud Indian; A defence Aspirant and an IT professional
I'll try to answer this by using the example of 2008 Mumbai attacks. The NSG comes from the Indian army and is commanded by the officers of the special forces.
我会以2008年孟买袭击事件为例来回答这个问题。印度军队派出了国家安全卫队,由特种部队军官指挥。
It looks very simple from outside. The city was attacked by 10 te rorts and situation was out of control for the Mumbai police and ATS. So the NSG was called in.. They killed 8 te rorts (1 killed and 1 arrested by Police/ATS) and freed the people.
形势看似简单。这座城市遭到了10名分子的袭击,孟买警方和ATS已经失去了控制。国家安全卫队被调用。他们歼灭了8名分子(1名被警察击毙,1名被警察逮捕),并解放了人民。
But below are some of the points to be ned:
但以下是一些需要注意的事:
1.For 14 hours, the NSG was kept on stand-by. To expn the difficulty level of this simple statement to IT guys like me: Let us suppose you have to give a presentation at 9 AM. You reach the hall and you're told you have to present 10 mins later.. then again delayed by 15 mins.. then delayed by 10 mins again and so on.. Your turn comes at 11 PM. (9 AM to 11 fuckin' PM.) You can't leave because you never know when you'll be called in to present. (Just imagine how would your presentation go.. Completely messed up..)
1. 14个小时以来,国家安全卫队一直处于待命状态。为了向我这样的IT人士解释,我这么说吧:假设你必须在上午9点做演讲。你到达大厅后,他们告诉你要在10分钟演讲。然后延迟了15分钟。接着又推迟了10分钟,以此类推。晚上11点,终于轮到你了。(从早上9点一直等到晚上11点。)你不能离开,因为你永远不知道什么时候要演讲)想象一下你的演讲会做成什么样…你的节奏被完全打乱了. .)
2.When they left Delhi, there was one particular person who was leading. Most of the troops didn't know each other as they keep rotating and changing units.
2.当他们离开德里时,有一个特别的人指挥。大多数士兵都不认识对方,因为他们不停地轮换和更换部队。
3.Upon reaching Mumbai, they were divided into three groups, so they have a new team leader now.
3.到达孟买后,他们被分成三组,他们又有了一个新的领导。
4.When they were called in, they didn't have a map/blue print of any of the locations. It was there with BMC but not available at hand. so they cant plan from where to enter, where do we have rooms, where is the staircase etc etc.
4.当他们被召集上阵的时候,他们没有任何地点的地图/蓝图。所以他们无法筹划该从哪里进入,哪里有房间,楼梯在哪里等等。
5.Each of the hel rooms could have A. Te rorts B. Civilians C. Civilians captured by Te rorts. Hence they can't use grenades. More than 1000 such rooms had to be cleared (one by one) manually.
5.任何酒店都可能有A.分子B.平民C.被分子俘虏的平民。因此他们不能使用手榴弹。这样的房间超过了1000个,必须(一个一个地)手工清理。
6.Since the Taj is sea facing, there was no building opposite to the hel to give any cover fire or for the NSG to climb at a certain height and plan an assault etc.
6.由于泰姬陵是面向大海的,所以酒店对面没有任何建筑可以提供火力掩护,或者让国家安全卫队爬到一定的高度,策划袭击等。
7.Once they clear a floor and move to the next one, they had to leave at least to 2 men on that floor to handle te rorts, in case they come down. (So as they are approaching the top floors, the number of men we have is decreasing).
7.他们清理完一层,接着清理下一层时,必须在那层留下至少两个人来对付分子,以防他们往下跑。(所以当他们接近顶层时,人手越来越少减少)。
This is just a brief description of the difficulty level they had to face.
这只是对他们所面临的困难程度的简单描述。
NSG rescued over 600 civilians from the three locations.. After the NSG took over, there was no civilian casualty.. Not a single civilian casualty.. The only casualties were the two martyrs (Maj Sandeep and Havaldar Gajendra Singh sahab.)
国家安全卫队从这三个地点救出了600多名平民。国家安全卫队接管后,没有再次出现平民伤亡。没有平民伤亡。唯一的伤亡是两名烈士(Maj Sandeep和Havaldar Gajendra Singh sahab)。
I could give numbers like we have N number of tanks, rifles, artillery guns, latest missiles, Nukes etc etc. but that's not what makes an army strong..
我可以给出一些数字,比如我们有N辆坦克、步枪、大炮、最新的导弹、核武器等等,但这并不是军队之所以强大的原因。
The won is important, but the person holding the won is more than the won itself.
武器很重要,但是控制武器的人比武器本身更重要。
This is what our armed forces have proven time and again..
这就是被多次证实的我们武装部队的强大实力。
Whether its building a railway bridge in Mumbai, cleaning lakes in Bengaluru, saving children from bore well somewhere in Haryana.. Unfortunate natural cmities like the Uttarakhand floods, Ker floods, the earthquake in J&K in 2005, or the counter te rort operations along the borders in J&K or north east..
无论是在孟买建一座铁路桥,还是在班加罗尔清理湖泊,还是在哈里亚纳邦的某个地方拯救井水里的孩子……不幸的自然灾害,比如北阿坎德邦的洪水,喀拉拉邦的洪水,2005年J&K的地震,或者J&K或东北边境的行动。
They come, They see.. They conquer and They humbly leave..
他们来了,他们看到乐…他们征服了,然后低调地离开了。
That's what makes our Army the greatest of all..
这就是我们的军队之所以是最伟大的原因…
Jai Hind!
印度万岁!
Harishankar Pandey, Knows a few things about the Indian Armed Forces
"QUANTUM OF SOLACE"
THE STORY OF TWO ARMY OFFICERS
"量子危机"
两个军官的故事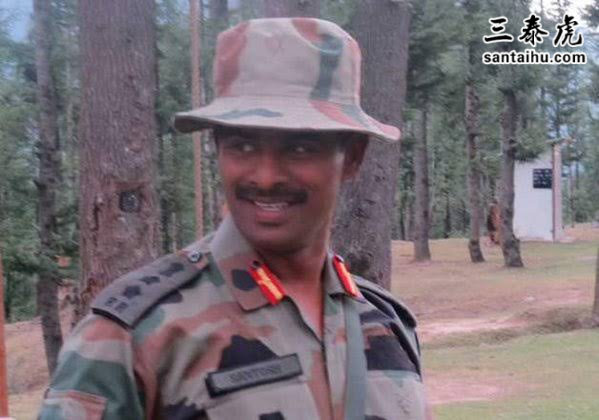 Colonel Santosh Mahadik, Ambush Expert
Colonel Santosh Yashwant Mahadik, the CO of the 41 Rashtriya Rifles, got a tip-off from an officer of the 57 Rashtriya Rifles about a group of te rorts. Colonel Mahadik was a commando himself, originally from an elite Para-SF unit, so he was used to leading and sitting in ambushes for 2-3 days, even as a CO. He enjoyed being in the field.
管理41支Rashtriya步枪的指挥官Santosh Yashwant Mahadik上校从管理57支Rashtriya步枪的一名军官那里得到了关于一群分子的密报。Mahadik上校本人就是一名突击队员,最初来自一个精锐的Para-SF部队,所以他即使身为指挥官,也常常领导士兵埋伏2-3天。他喜欢战场上的感觉。
The search for the terrorrists was getting fierce and aggressive. Colonel Mahadik was concerned about the safety of the villagers and his men, while patrolling along the nullah.
对分子的搜寻越来越激烈。Mahadik上校在沿峡谷巡逻时,十分担心村民和他的士兵的安全。
Just outside the village they spotted something - a bottle of mineral water, and some freshly cooked rice and meat.
就在村外,他们发现了一些东西—一瓶矿泉水,一些刚煮熟的米饭和肉。
译文来源:三泰虎 http://www.santaihu.com/48263.html 译者:Joyceliu
Two things were clear and disturbing. The suspects were nearby, that was the good news; and they had likely abandoned their precious food because they had spotted the Army Team, and were certainly in a postion of advantage - that was the bad news. There was no time to readjust.
有两件事十分清楚,也令人不安。嫌疑人就在附近,这是个好消息;他们可能因为发现了军队,放弃了他们珍贵的食物,而且肯定处于有利地位—这是个坏消息。没有时间重新调整。
Then a burst of fire opened from the unknown hideout of one of the te rorts, and the army team also opened fire in retaliation. Colonel Mahadik was hit as nobody could see where the firing had come from.
随后,一名分子从藏身之处突然开火,这支部队也采取了报复行动。Mahadik上校被击中,因为没有人知道枪声是从哪里发出的。
The 3 men with the Colonel were in the open, and were sitting ducks because of being exposed to danger. To save his team, Colonel Mahadik opened fire even though blood was gushing from his wounds. He fired continuously while still being exposed and heavily wounded. He basically ensured that the te rort did not fire the men behind him.
和上校在一起行动的三个人都处在露天场地,由于暴露在危险之中,他们成了攻击目标。为了拯救他的队伍,Mahadik上校开枪了,尽管伤口鲜血四溅。他不断开枪,但仍然没有掩护,受了重伤。他确保了分子无法向他身后的人开枪。
He ran out of ammunition but still kept the te rorts on the defensive mode, and was successful in his attempt; but blood loss was heavy. Colonel Mahadik had to be air lifted with the assistance of Major Praveen.
他的弹药用完了,但分子依然处于防守状态,他的尝试成功了;但失血过多。Mahadik上校不得不在Praveen少校的协助下乘飞机离开。
While airlifting, Major Praveen got a call from Col. Mahadik's wife. All she asked with a tearful quivering voice was "ZINDA RAHENGE YA NAHI RAHENGE ? BAS ITNA BATA DO" (Will he survive or not? Just answer this). This question still haunts Major Praveen.
在空运过程中,Praveen少校接到了Mahadik上校妻子的电话。她含泪颤抖着只问了一句:"他能活下来吗?只要回答我这个问题"。这个问题仍然困扰着Praveen少校。
Colonel Mahadik was declared brought-in dead at the 92 Base Hospital in Srinagar. Colonel Mahadik was martyred in the line of duty, but till his last moments, he ensured the safety of his men. Salute to the Brave soul and his family.
Mahadik上校在斯里纳加尔的92所基地医院被宣布死亡。Mahadik上校因公殉职,但直到他的最后一项任务,他都一直确保他属下士兵的安全。向这个勇敢的灵魂和他的家人致敬。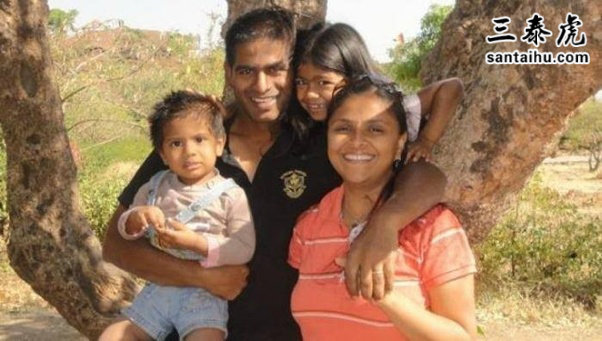 Col. Mahadik with his family - Happy Times. Wish time could stand still at these moments.
THE OTHER OFFICER
Mahadik上校和他的家人-快乐的时光。但愿时间能在这些时刻停止。
另一个军官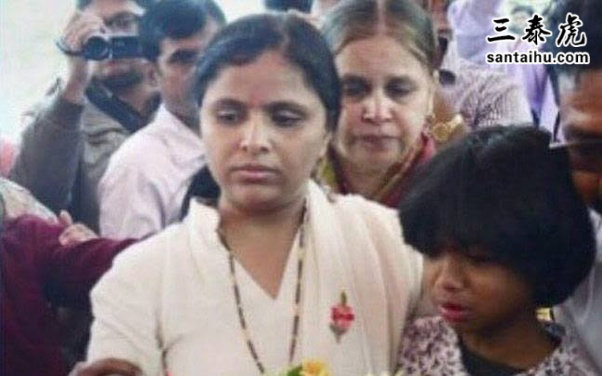 The Officer and the Gentlewoman
军官和那位贵妇人
She is Lt. Swati Mahadik, wife of the Late Colonel Santosh Mahadik. She was commissioned into the Indian Army as Lieutenant in 2017.
她是斯瓦蒂·马哈迪克中尉,已故上校桑托什·马哈迪克的妻子。2017年,她被任命为印度陆军中尉。
As she completed her Passing-Out Parade, she broke down into tears both of joy and remembrance. The proud moment of the Passing Out Parade was witnessed by her son Swaraj and daughter Kartikee.
当她完成她的送别会操时,她高兴得热泪盈眶,回忆起往事。她的儿子斯瓦拉杰和女儿卡蒂基见证了这一自豪的时刻。
Such is the grit and determination of our Armed Forces and their families. She had silently resolved to join the Indian Army at the funeral of her husband in November 2015.
这就是我们的武装部队及其家属的勇气和决心。2015年11月,在丈夫的葬礼上,她暗自决定加入印度军队。
Swati had already crossed the upper age limit for entering the army, and it was only after the Indian Army and Ministry of Defence specially relaxed the age limit for her that she could initiate her new career goals.
斯瓦蒂已经过了参军的年龄上限,在印度军队和国防部特别放宽了对她的年龄限制之后,她才得以开始新的职业目标。
After undergoing several rounds of SSB and physical fitness and medical examinations as part of the process, she was sed to join the Officers Training Academy in Chennai.
在经历了几轮SSB和身体健康及体检后,她被选中加入金奈的军官培训学院。
Her husband's martyrdom did not become her tragedy, it was not her setback. It became her life fuel. Their children, too, will grow up knowing the true meaning of valour, family and patriotism.
她丈夫的殉难没有成为她的悲剧,也没有成为她的挫折。反而成了她生命的燃料。他们的孩子长大后也会明白勇敢、家庭和爱国主义的真正含义。
Strength does not come from ammunitions, tanks and wons. It comes from the will power, determination and mettle of the minds operating these wons.
力量不是来自弹药、坦克和武器。而是来自操作这些武器的人的意志力、决心和勇气。
THIS IS ARMY STRONG - INDIAN ARMY STRONG
这是一支强大的军队—强大的印度军队
Salute to the people in uniform and their families.
向军人和他们的家属致敬。
A Heartfelt Thank you to the Press Information Bureau of India and Shiv Aroor of India Today and Rahul Singh of the Hindustan Times for the wonderful insight.
衷心感谢印度新闻局、《今日印度》的希夫·阿鲁尔和《印度斯坦时报》的拉胡尔·辛格的精彩见解。
Jai Hind.
印度万岁。
Oraf Moin, Proprietor at Hind National Exports (1992-present)
Strong enough , really strong, if you looked at the armed forces within an Indic prism but weak or too below pential if you look at us from the lens of a traditional power like British empire, Russian empire, Ottoman empire etc.
如果你从印度的角度来看武装力量,那足够强大,非常强大,但如果你从传统强国的角度看待我们,比如大英帝国,俄罗斯帝国,奥斯曼帝国等等,你就会发现我们的实力很弱,或者说太无潜力。
The modern Indic nation sees the army as a force designed to knock out any blitzkrieg onto our land as with what happened in 1962. We can make any war costly enough for even multiple aggressors to consider it not worth it.
现代印度国家将军队视为一种旨在摧毁我们土地上任何闪电战的力量,就像1962年发生的那样。我们可以让任何战争都付出足够惨重的代价,让侵略者认为这种进攻得不偿失。
But then we can't fight offensive wars or occupy new territory and hold it till it's incorporated into our mainland. No, our armed forces can't pull that off.
但是我们没有能力展开进攻性的战争或者占领新的领土,让其并入我们的大陆。不,我们的军队做不到。
We can't fight a long theater war either but then we don't need to as we're nuclear armed already and are just a step away from intercontinental missile research conclusion. We have a robust space programme to complement this.
我们也没有能力展开长期战争,不过我们也没有这个需要,因为我们已经拥有核武器,距离洲际导弹的成功仅有一步之遥。我们有强大的太空计划来补充这一点。
We are an excellent defensive force but we never were a warning expansionist nation even during Akbar. We ceased that since Kalinga battle under Asoka.
我们是一支优秀的防御力量,但即使在阿克巴时期,我们也不是扩张主义国家。自从阿育王治下的卡林加战役以来,我们就停止了这种行动。
Dheeraj K. Shavan, Doctor of veterinary med from SKUAST Jammu
Indian army is the 2nd largest army in the world.But not in terms of numbers, Indian army has proven its strength time and again ,let me supplement it with few recent happenings in my state of j&k.
印度军队是世界第二大军队。但不是在数量上,印度军队已经一次又一次证明了它的实力,让我补充一下我所在的查谟邦最近发生的一些事情。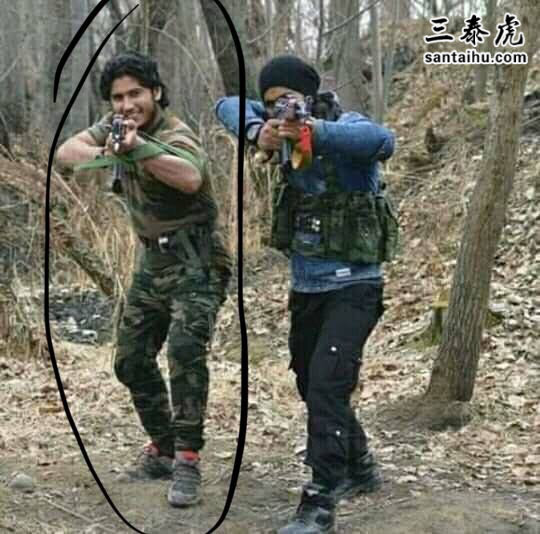 1.The guy encircled in the above pic is Naved Jutt the most dreaded te rort and commander of LeT in Kashmir. He is from Multan Pakistan. He has escaped from police custody 10 months back . Few days ago his video surfaced on net in which he was roaming outside his hideout and it was snowing there . Based on this video and inputs from it Indian army and intelligence agencies tracked him and he was killed along with his associates in Budgam today . This shows Indian army's capability.
上图中圈中的人是克什米尔地区最可怕的分子和LeT的指挥官。他来自巴基斯坦的木尔坦。10个月前,他从警方的拘留中逃脱。几天前,他的视频出现在网上,当时他正在藏身之处外面散步,那里正在下雪。根据这个视频,印度军队和情报机构对他进行了跟踪,他和他的同伙今天在布加姆被杀。这显示了印度军队的能力。
moral: Indian army is too powerful to be challenged in this way . These te rorts had tried to show that Indian army is weak and they can openly post pics and videos online without being traced . Indian army proved them wrong .
Jai Hind.
印度军队太强大了,无法通过这种方式被挑衅。这些分子试图表明印度军队软弱无能,他们可以公开在网上发布照片和视频,行踪不会被发现。印度军队证明他们大错特错。
印度万岁。