How do people react when you say you're from India?
当你说自己来自印度时,人们的反应是怎么样的?
以下是Quora读者的评论:
Ram Kumar Ramaswamy, expert - elearning at Thors eLearning LLC (2019-present)
I have an interesting experience from China. This happened in 2014 November. I was in Shanghai for an official meeting. The meeting began on a Monday, but I took the risk of flying into Shanghai on Saturday to just experience the city. I made friends on Couch Surfing with two Indian engineers working for Microsoft in China. They were happy to host me for free, provided I bring them masala packets for their kitchen. They were literally starving for Indian food! I made elaborate notes of Chinese characters for locations, addresses etc. When I landed, I took the Metro and somehow found my way to the station I wanted to get down, after changing two different lines.
There, my phone wasn't working! And I didn't find a public booth! I panicked because I could not find the host guy in McDonald's as he promised (he was in a different floor, and I had missed him!) A shopkeeper asked me whether I was 'Yindoo' - Mandarin for Indian, and I nodded thinking it as 'Hindu' (religion)! She beamed. Then, the entire shop's employees smiled at me, gave me a chair to sit on, and patiently asked me to give them the host guy's phone number. They dialed and helped me meet him - with whom I had even more difficulties conversing in Hindi, and had to switch to English.
The host took me around and introduced me to the wonderful street life of Shanghai - the relaxing uncles and aunties in small stores, the elaborate restaurants, the street food! Wow! Everyone new nodded their head, asking if I was Yindoo, and I nodded even more. Was so much fun. I was offered free fried ants and crickets - which I had to politely refuse by doing 'namaste'. Phew.
The next day, on my way to the hotel where the meeting happened, I was lost in some neighbourhood.. and a Pakistani guy saw me getting confused with the non-English, all-Mandarin signs on the road. He asked me, 'Desi kya?' I said Yes, India. Where are you from? I am from Faisalabad, Pakistan. We were immensely happy like two long-lost cousins meeting. He was studying in some Shanghai university and knew Mandarin. He patiently wrote the address on a piece of paper and gave it to a taxi driver and instructed him in crisp Mandarin. Before he departed, I had a selfie with him. We were so happy. I asked him, what does he research on? He said nuclear science. My smile slightly faded, but that was OK.
我在中国就有过一次很有意思的经历。那是在2014年11月。我去上海参加一个正式会议。会议周一才开始,但我周六就飞往上海,想要提前感受一下这座城市。我在沙发客上结识了两名在中国微软工作的印度工程师。他们很乐意免费招待我,只要我给他们带马萨拉包。他们真的很想念印度食物!我用汉字详细地记录了地点、地址等。当我落地后,我乘地铁,在换乘了两条不同的线路后,到达了车站。
就在那时,我的手机出问题了!而且我找不到公共电话亭!我慌了,因为我在麦当劳没找到房主了(他在另一层,我没找到他!)一个店主用中文问我是不是"印度人",我点点头,以为是"印度教徒"。她微笑着。然后,整个店的员工都对我笑了笑,给了我一把椅子让我坐下,并耐心地让我把房主的电话号码报给他们。他们拨通了电话,帮我找到了他——我和他在用印地语交谈时困难更大,不得不改用英语。
房主带我四处转转,向我介绍了上海美妙的街头生活——小商店里悠闲自得的叔叔阿姨,精致的餐馆,街头小吃!哇!每个人都对我点点头,问我是不是印度人。非常有趣。他们给我免费的油炸蚂蚁和蟋蟀,我只好礼貌地拒绝,做"合十礼"。
第二天,在去开会的酒店的路上,我迷了路。一个巴基斯坦人看到我被路上那些非英语、全中文的标志搞糊涂了。他问我,'Desi kya?"我回答,是的,印度。你来自哪里?我来自巴基斯坦的费萨尔巴德。我们高兴极了,就像两个失散已久的表亲再次见面一样。他在上海某所大学学习,懂普通话。他耐心地把地址写在一张纸上,交给出租车司机,并用流利的普通话给他指路。在他离开之前,我和他自拍了一张。我们很开心。我问他,他研究的是什么专业?他说核科学。我的笑容慢慢消失,但这也没关系。
In the taxi, the guy was a talkative person. 'Yindoo?' Yes! Wow. He was like 60+ and still fit. He began talking at lengths about India, and I could only recognize Nehrooo, Modeeee, and Ximalayaa (Himalaya). I sang a Tamil song for him, and he was so happy - It was 'Poove Sempoove' by Yesudas. He sang something in return.
Overall, I was surprised by the enormous warmth and respect random people showed me in Shanghai because I was Yindoo - Indian. Lots of love to you China.
Here's a selfie we had (I am on the right with the raincoat), and the email I sent him to thank for his help, and his kind reply.
出租车司机是个健谈的人。"印度人?"是的!哇。他60多岁了,仍然很健康。他开始长篇大论地谈论印度,我只能认出尼鲁奥、莫迪伊和西玛拉雅(喜马拉雅)。我为他唱了一首泰米尔语歌曲,他非常高兴——那是耶苏达斯的《Poove Sempoove》。他也唱了一些歌,作为回应。
总的来说,上海人对我这个印度人的热情和尊重令我吃惊。我非常爱你,中国。
这是我们的自拍(我穿雨衣,站在右边),还有我给他发的感谢邮件以及他友好的回复。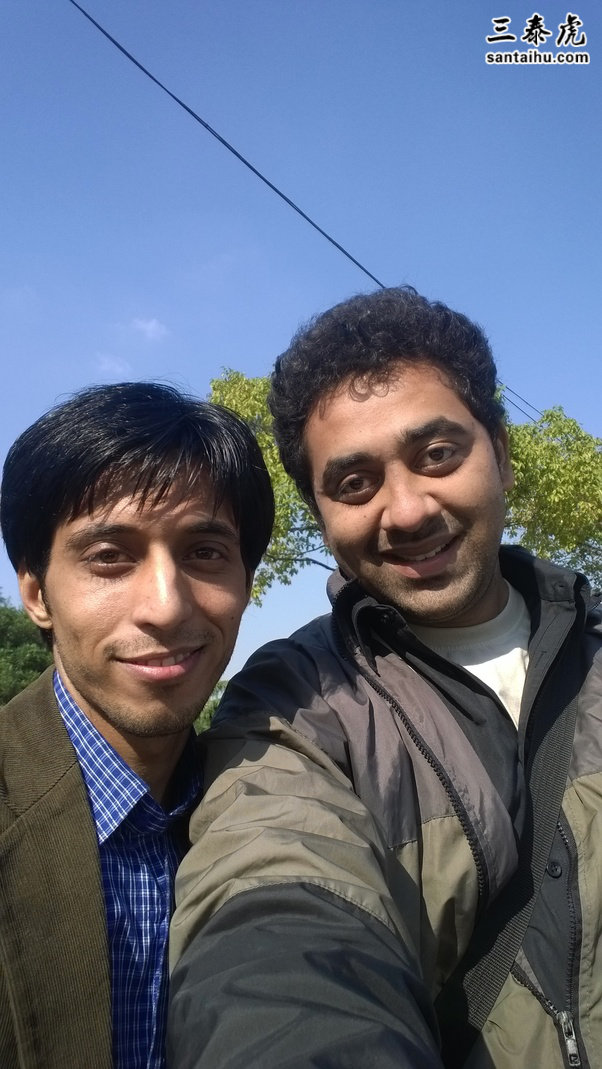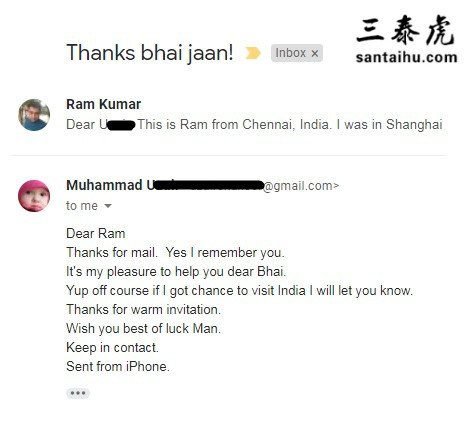 Nikhil Bellarykar, lived in India
I stayed for a month in the Netherlands. I must say my experiences were rather boring, not much exciting LOL.
1.I went to a Pizza place. There was nobody in the restaurant except me and the chef cum owner. It was 4 pm, not exactly the busiest hour. He asked me (I look like a typical Indian), "are you Indian?" I said yes. He said he is from Chechnya, and that Modi is not good but Kejriwal is. I said nothing, just smiled. He said nothing much after that and returned to his work.
2.I had to do some research at the National Archives in Den Haag. The staff was mostly of Surinamese descent- they asked me if I was Indian, and when I said yes, they further asked if I speak Hindi. When they found out I speak Hindi, they were very happy and till my last day there, they were extremely co-operative and spoke to me in Bhojpuri-style Hindi.
3.In the Archives, there was a Pakistani security guard. He asked me where I am from, and I also asked him the same. It was the first time I had met anybody from Pakistan. He was a very soft-spoken and quiet man, and gave me a coupon which I could use to get free coffee one time. He always smiled and talked a bit with me. Very kind.
4.While in Amsterdam, I visited the Rijksmuseum. The official there checked my passport (standard procedure for identification) and asked what I thought of the museum and the Netherlands, and also if I enjoyed my stay in the country till then- I said yes, because it was definitely the most pleasant stay ever for me.
5.I stayed in a sublet apartment. My roommate was a black British guy, who asked me a ton of questions about India. He had never been to India, but being British, had been around plenty of Indians. We always had long discussions about many things in India- History, Hindu-Muslim relations in India, Caste system, Dalits, Colonialism, North v/s South India, Indian food, etc. etc. He was a really bright and curious guy. Many of his friends were also rather curious about India, and when I sat in the cross-legged position, they were totally surprised, which amused me, and I said this is normal in India, pretty much everybody can sit in this position.
6.I visited a friend in Frankfurt, Germany. While returning from there, our bus got stuck in a traffic jam and the driver pushed it through a no-entry. The police promptly arrived and fined him. Due to this, my further timetable was messed up- I was looking to speed up my return journey as much as possible so that my Dagkaart (daily pass) wouldn't expire before entering the Netherlands. There was an Indian-looking Person, who was on the next row, who asked me if I am from India. I said yes, and he said that he was Pakistani. He explained to me in detail how to catch the train from Dusseldorf station etc. which I could do only because of his instructions. A big thanks to him.
译文来源:三泰虎 http://www.santaihu.com/48184.html 译者:Joyceliu
我在荷兰呆了一个月。我必须说我的经历相当无聊,没有多少令人兴奋的事。
1.我去了一家披萨店。除了我和厨师兼老板外,餐厅里什么人也没有。当时是下午4点,不是最忙的时候。他问我(我看起来像个典型的印度人):"你是印度人吗?"我说是的。他说他来自车臣,莫迪不好,凯杰里瓦尔很好。我什么也没说,只是笑笑。他没再说什么,继续忙了。
2.我在登哈格的国家档案馆做一些研究工作。工作人员大多是苏里南血统——他们问我是不印度人,当我回答是时,他们又问我会不会说印地语。当他们发现我会说印地语时,非常高兴,一直到我在那里的最后一天,他们都非常配合,用印度语和我交谈。
3.档案馆有一名巴基斯坦保安。他问我从哪里来,我也问他同样的问题。这是我第一次见到巴基斯坦人。他说话很温和,很安静,给了我一张优惠券,可以用它买到免费的咖啡。他总是微笑着和我聊天。是个好人。
4.在阿姆斯特丹期间,我参观了国立博物馆。那里的工作人员检查了我的护照(身份认证的标准程序),问我对博物馆和荷兰的看法,以及我是否喜欢呆在荷兰——我说是的,因为这绝对是我在荷兰呆过的最愉快的时光。
5.我住在转租的公寓里。我的室友是一个英国黑人,他问了我很多关于印度的问题。他从未去过印度,但作为一名英国人,他接触过很多印度人。我们对印度的很多事情进行了长时间的讨论——历史、印度的印度教和关系、种姓制度、达利特、殖皿煮义、北印度和南印度、印度食物等等。他是一个非常聪明和好奇的人。他的很多朋友对印度也很好奇,当我盘腿坐着的时候,他们都很惊讶,这让我觉得好笑,我说这在印度很正常。很多人都能做这个动作。
6.我拜访了一位住在德国法兰克福的朋友。回来的时候,我们的公共汽车遇到了交通堵塞,司机驶入了一个禁止入内的地方。警察迅速赶到并对他进行罚款。由于这个原因,我的行程被打乱了——我希望尽可能加快返程的速度,这样我的通行证在进入荷兰之前就不会过期。坐在第二排的一个外表酷似印度人的人问我是不是印度人。我说是,他说他是巴基斯坦人。他详细地向我解释如何去杜塞尔多夫站赶火车。非常感谢他。
Abhishek Dwivedi, Research Associate at Washington University St. Louis
I have been to US and China.
In China, I went to a restaurant. They don't understand English, so I was having a hard time. But, the owner could make out some words. So, he asked, where are you from. I said, India, he said, Indonesia, I said, no, India, he said, Hindu, I laughed and said, yes. I think that's what the Ancient name for India was for the Chinese.
Then, we couldn't have a proper conversation and the menu was in Chinese. And I was hungry. I noticed a man eating momos. So, I asked him to give five of those, in sign language. I started eating and I could hear him talking to a friend about Donglang (Doklam crisis, the India China military standoff was going on that time). Finally, I asked him for the bill and he wanted to say something to me. Finally, after 2–3 mins, he could make out one word in English, free. He said India China friendship. I did observe, both in US and China, that the Chinese are really friendly people. Most even don't know about the 1962 war we had. They are above all that stuff and I think that is the reason they are so successful.
In US, most people, when I tell them, I am from India, they state how much they love Indian spicy food, or, they do this pose in yoga and would like to visit an ashram in India. The good behavior of most Indians abroad (diligence in work and no crime image) results in a very positive image of India abroad and makes me proud.
我去过美国和中国。
在中国,我去过一家餐馆。他们不懂英语,所以有点难沟通。但是,主人听得懂一些单词。于是,他问,你从哪里来。我说,印度,他说,印度尼西亚,我说,不,印度,他说,印度教徒,我笑着说,是的。我想这就是中国人对古印度的称呼吧。
可接下来我们无法进行正常的对话,菜单是中文的。我很饿。我注意到有个人在吃momos。所以,我打手语让他给我五个。我开始吃东西,我听到他在和一个朋友谈论洞朗(洞朗危机,当时印度和中国之间进行着军事对峙)。最后,我向他要账单,他想对我说些什么。2-3分钟后,他终于想到了一个英语单词,免费!他说,印中友好。我确实注意到,在美国和中国,中国人都是非常友好的人。大多数人甚至不知道1962年的那场战争。我认为这就是他们如此成功的原因。
在美国,大多数人,当我告诉他们,我来自印度,他们会说他们非常喜欢印度的辛辣食物,或者,他们会做瑜伽里的这个姿势,想去印度道场参观参观。大多数印度人在国外的良好行为(勤奋工作,不犯事)对印度在国外的形象产生了非常积极的影响,我感到自豪。
Rajendra Kumar, MBBS,MD Med, AIIMS,Delhi, IRS- Commissioner income tax, Hyd
In Europe
I remember I was in Paris.
I told my Hotel Hilton that I was from india.
They shot back—are you a software engineer.
And they looked upon me with respect.
This is despite the fact that they are very racist.
In the USA
Same thing happened in US in Duke university, Durham, North Carolina..
We were hosted by the Internal revenue Service of USA. I got to know that in US it is only the IRS that is capable of breaking the drug cartels running around United states.
The Internal Revenue Service(IRS) officers of US stated that the Indian Revenue Service (IRS)officers from India are very special as they ask some of the most intelligent questions.
And they respected us a lot even in Maryland—when we visited their center for processing of returns.
An IRS officer escorted us around museums in Maryland with great respect.
This in a country where people do not have time.
And I told them—come to Bangalore to see our Central Processing Center (CPC)—we are far advanced than you.
The Americans had huge respect for us.
It is always a proud moment for me as an Indian.
I respect Americans for their innovation and encouragement for the same. Wish our education system changes that way.
ITS WE WHO are having complexes, a craze for the west, little realising that we are the best in world. Please lets stop taking bad points of western culture because they are taking all our good points. We are a great CIVILISATION—GLORIOUS.PLEASE ——WE ARE THE BEST.
在欧洲
我记得我当时在巴黎。
我跟预定的希尔顿酒店说我来自印度。
他们问:你是软件工程师吗?
他们尊重地看着我。
尽管他们非常种族主义。
在美国
同样的事情也发生在美国北卡罗来纳州达勒姆的杜克大学。
美国国税局接待的我们。我知道在美国,只有国税局才有能力打击美国各地的贩毒集团。
美国国税局官员表示,印度国税局官员非常特别,因为他们会问一些最聪明的问题。
甚至在马里兰州,当我们参观他们的退税处理中心时,他们对我们也非常尊重。
一位国税局官员非常敬重地陪同我们参观了马里兰州的博物馆。
这是一个人人都很忙碌的国家。
我告诉他们——来班加罗尔看看我们的中央处理中心——我们比你们先进得多。
美国人非常尊重我们。
作为一个印度人,这永远都会是我自豪的时刻。
我尊重美国人的创新和鼓励。希望我们的教育系统也能朝着这个方向改变。
正是我们自己,盲目崇拜西方,几乎没有意识到我们就是世界上最好的。我们不要再接受西方文化的糟粕了,因为他们正在学习我们所有的优点。我们是伟大的文明。我们是最棒的。
Saranya Ravichandran, lives in Paris (2019-present)
I have traveled to few countries and the below reactions are solely based on my interactions with people of different nationalities -
There are always people (especially French) who think that all Indians talk, walk and eat only butter chicken -
Person : Saranya, let's all do a cooking session. Can you please make butter chicken and naan?
Me : I don't know how to make them, but I can see online and try. I don't know if it'll come out well though
Person : What do you mean? Don't you make it everyday back home?
Me : No, I am from South of India and even North Indians don't eat it everyday
They always think Indians don't eat pork or beef (that everyone is a saint :P)
Person : You're from India and you eat meat? Why?
A friend : Why not?
Person : Is it not against your country norm?
Me : He'd eat you if you ask more questions :P
我去过的国家很少,以下的反应完全是基于我与不同国籍的人的交流
总有一些人(尤其是法国人)认为所有印度人只会说话、走路和吃奶油鸡
某人:莎兰娅,我们一起来做饭吧。你能做奶油鸡和馕吗?
我:我不知道怎么做,但我可以在网上搜索试试。不过我不知道做出来好不好吃
某人:你是什么意思?你不是每天回家都做奶油鸡吗?
我:不,我来自印度南部,就算是北印度人也不是每天都吃这个的。
他们总是认为印度人不吃猪肉或牛肉(每个人都是圣人)
某人:你来自印度,你居然吃肉?为什么?
朋友:为什么不吃呢?
某人:这不是跟你们国家的习俗矛盾吗?
我:如果你再问他问题,他会把你吃掉的。
If you talk English well and if you don't have an accent of Apu (Simpsons), they assume you were born or brought up elsewhere -
A person from Shanghai office : You grew up in the US? Or did your masters there?
Me : No, just India throughout, why?
Person : How do you talk English like this, then?
Me : Because it was taught to me in school, in fact all subjects were taught to me in English. How do you know English then?
Person : I'm an ABC (American Born Chinese)
There's always someone asking you for spices -
Person : Do you know "India is the largest producer of spices? They call India, the land of spices? You're so fortunate, man!"
Me : Do you want me to get you some spices, next time I come?
Person : Yeah, the ones here are not as strong as India, so *sheepish smile*
如果你英语说得好,没有《辛普森一家》里的口音,他们会认为你是在其他地方出生或长大的。
上海办事处的某人:你在美国长大的吧?还是你在那里读了硕士?
我:没有,我一直呆在印度,为什么这么问?
某人:那你英语为什么说的这么标准呢?
我:因为我们学校就是这么教的,事实上所有的科目都是用英语教学。那么你是怎么学英语的呢?
某人:我是ABC(美国出生的中国人)
总有人向你要香料
某人:你知道"印度是最大的香料生产国吗?"他们称印度为香料之乡?你真幸运,伙计!"
我:下次我来的时候,需要帮你带些香料吗?
某人:是啊,这里的香料没有印度的香,所以....他害羞地笑了笑
The moment you say you're from India, Yoga somehow always comes into picture -
Person : Saranya, there's a very good Yoga class nearby, do you want to check it out? Probably, teach me as well?
Me : I don't even know the spelling of Yoga, man *_*
Person : What do you mean? It's a discipline that originated in India
Me : True, but I am not so disciplined
They think all Indian songs go "balle balle"
Person : Let's go to an Indian dance festival once
Me (all excited) : Yayyy, let's do it. Let me teach you some Indian dance moves
Person : No, I already know them and I'm very good at it!
Lifts his hands and goes balle balle balle, balle balle balle!
And I always have a question about my eye color for an Indian -
Me : I am from India
Person : Then, why do you have green eyes? Does your mom or dad have European descent?
Me : No, I am a 100% made in India product :P
Person : It's very different to see green eyes on a brown skin
Me : In my country, my skin tone itself is fairu, you know?
And, many more. I must tell you, based on my experience, being an Indian is always interesting (most of the times)
每次你说你来自印度的时候,人们总会提到瑜伽
某人:莎兰娅,附近有个很好的瑜伽班,你想去看看吗?可能的话,教教我?
我:我连瑜伽怎么写都不知道,老兄
某人:你是什么意思?瑜伽可是起源于印度的呀
我:没错,但我没有学过。
他们认为所有的印度歌曲都是"巴勒巴勒"
某人:我们去参加印度舞蹈节吧
我(很兴奋):耶,走。我可以教你一些印度舞蹈动作
某人:不用,我会跳,而且我还挺擅长的!
某人举起他的手,然后巴勒巴勒巴勒,巴勒巴勒巴勒!
人们总是对我的眼睛颜色提出疑问。
我:我来自印度
某人:那你为什么会有绿色的眼睛?你的父母有欧洲血统吗?
我:不,我是100%印度血统。
某人:棕色皮肤的人有绿色的眼睛,很罕见呀
我:在我的国家,我的肤色算是白皙的了,你知道吗?
这样的事还有许多更多。我必须告诉你,根据我的经验,身为一个印度人总是很有趣。
Vijay Bhargava, works at Fleet Management
I have visited a lot of countries as I am working on cargo ships. We get to interact with the locals as part of our jobs and ship's business.
Here are some of the interactions I've had during my work as well as on shore leave.
Egypt.
Man: where are you from?
Me: India.
Man: India? Ahh.. Amitabh Bachchan, Shahrukh khan.. Huh?
Me: yeah yeah, same. How do you know them.
Him: we have some movies here too.
Turkey
I was standing on the dock, checking the stores we had received. One of the dock workers starts chatting.
Him: where are you from?
Me: I am from India.
Him: India? Umm..
Me: Hindustan?
Him: Oh! ok ok. You Muslim?
Me: No, I am hindu.
Him: Ok. So you find Hindustan better or Turkey?
Me: *This is going into a dangerous territory*. Umm, India is my birthplace. So naturally I will find it better than any country in the world. *that was good*
He speaks nothing for a while. I was getting nervous. After some time, he puts his hands in his pockets and takes out a blade and starts sharpening it casually. His intentions were not to do something crazy but I was already sweating. So, I radioed one of my shipmates and called him to help me ASAP.
After some time, the dock worker left.
我在货船上工作的时候去过很多国家。作为我们工作和船舶业务的一部分,我们得跟当地人进行交流。
以下是我在工作中和休假期间经历过的一些互动。
埃及。
男:你来自哪里?
我:印度。
男:印度?啊. .Amitabh Bachchan, Shahrukh khan..嗯?
我:对,对。你怎么认识他们的?
他:我们这里播放过一些电影。
土耳其
我站在码头上验收货物。一个码头工人开始跟我聊天。
他:你来自哪里?
我:我来自印度。
他:印度?嗯. .
我:印度斯坦?
他:哦!我知道了。你是吗?
我:不,我是印度教徒。
他:哦!你觉得印度斯坦好还是土耳其好?
我:*这是一个危险的话题*。呃,印度是我的出生地。所以我自然会觉得它比世界上任何一个国家都好。*说得好*
他沉默了一会儿。我开始有点紧张。过了一会儿,他把手插进口袋,拿出一把刀,漫不经心地磨着。他虽然不是有意干什么疯狂的事,但足以让我汗流浃背了。所以,我用无线电联系了我的一个船友,叫他尽快过来帮帮我。
过了一段时间,码头工人离开了。
USA
We were heading to New Orleans and we had to channel through the Mississippi River. For that, we had a pilot arranged.
I was supposed to escort the pilot to the navigation bridge.
The boat comes alongside, the pilot boards..
Me: Good morning pilot.
Pilot: Good morning Mate. Where are you from?
Me: I am from India. In fact, most of the crew is Indian.
Him: That's great! That's really great.
I knew why he was all excited, but still I asked him the reason.
Him: Today's Sunday, right? It must be the Biryani day for lunch.
Me: yeah, that's right. Today's the B day.
Him: I was hoping to get an Indian crew today. I had it once on an another ship and really loved it.
Me: Yeah, we are all proud of our Biryani.
And then we enter the bridge and the conversation is finished. During lunch time, the captain asked the steward to bring some for the pilot. After finishing it up, the smile never left his face.
美国
我们要去新奥尔良,必须穿过密西西比河。为此,我们安排了一名领航员。
由我护送领航员到驾驶室。
船靠边了,引航员登船。
我:早上好,飞行员。
机长:早上好,大副。你来自哪里?
我:我来自印度。事实上,大部分船员都是印度人。
他:太好了!真的太棒了。
我知道他为什么那么激动,但我还是问了他原因。
他:今天是星期天,对吗?今天午餐一定是印度香饭。
我:对,没错。今天是吃香饭。
他:我希望今天能找到印度船员。我曾经在另一艘船上尝过,我非常喜欢。
我:是的,我们都为我们的香饭自豪。
然后我们进入驾驶室,对话结束。午饭时间,船长让乘务员给飞行员带些香饭来。吃完之后,他脸上的笑容一直没停过。
Israel
Me and my friend had gone to the Bahai gardens and where we had a conversation with one of the guards at the gate.
Him: where are you from?
Me: we're from India.
Him: Oh! India. I love India. It's so beautiful. Narendra Modi huh?
Me: *Smiling* Yep, Narendra Modi, our prime minister. You like him?
Him: Yeah, I read about him. He is a good man.
Me: Yeah, I think he is. Thank you.
While we were checking out the gardens, we bumped into a Swiss guy. He had really long braided hairs and beard. We said our sorries and sensing our accents, he asked.
Him: Are you guys from India?
Us: yes we are. How did you know?
Him: woooooooow. I had spent a couple of months in Varanasi. Really beautiful place. One of the best experiences of my life.
Us: OH! That's great. Looks like you had a really nice spiritual journey in Varanasi.
He was so happy to talk to us, that we spent our time together chatting about India. He showed us his pictures from Varanasi. After some time, we asked to leave and said our goodbyes.
It feels so amazing to know that there are so many people that love your country.
This is one of the best perks of the job I chose.
Bye bye.
以色列
我和我的朋友去了巴哈伊花园,我们和一个大门守卫聊了会儿。
他:你来自哪里?
我:我们来自印度。
他:哦!印度。我喜欢印度。印度很美。莫迪是吧?
是的,纳伦德拉·莫迪,我们的总理。你喜欢他吗?
他:是的,我读到过有关他的报道。他是个好人。
我:是的,我想是的。谢谢你!
我们在花园里逛的时候,撞到了一个瑞士人。他有着长长的辫子和胡子。我们表达了歉意,他听出了我们的口音,就问。
他:你们是印度人吗?
我们:是的。你怎么知道的?
他:哇。我在瓦拉纳西待了几个月。那地方真的太美了。那是我一生中最美好的经历之一。
我们:哦!太好了。看来你在瓦拉纳西的精神之旅很愉快。
他很高兴跟我们聊天,我们就一起谈论起了印度。他给我们看了他在瓦拉纳西拍的照片。过了一会儿,我们说得走了,跟他说了再见。
知道有这么多人热爱你们的国家,令人感到十分惊讶。
这是我所选择的工作带来的最好的福利之一。
再见。