View: A $5 trillion economy is a stretch; do we have the running legs?
观点:5万亿美元的经济总量是夸大其词;我们跑得动吗?
In 2018, India's per-capita gross domestic product (GDP) was $2015.60, according to the World Bank. This makes sense – our economy is currently sized at $2.7 trillion, and our population is around 1.35 billion.
This is considerably behind the United States ($62,641) and not even a fourth of 's $9,770.80.
The Bank's data show that India's GDP per capita grew by 5.9% in 2018 over 2017. That was the slowest since 5.14% in 2013. Growth in per-capita GDP during Modi 1.0 tells the story: 6.19% in 2014, 6.8% in 2015, 6.99% in 2016, then 6.04% in 2017 (post-demonetization).
Like all good CEOs, Prime Minister Narendra Modi sets stretch targets. We have been challenged to hit $3 trillion in GDP in fiscal 2019-20, and the New India goal is to be a $5 trillion economy by 2024-25. About time, too: India is projected to be the world's most populous country by 2025, with at least 1.45 billion people. Our per-capita GDP, if we hit the $5 trillion mark, will be around $3,600.
Finance Minister Nirm Sitharn said in her budget last Friday: "In Purchasing Power Parity terms, we are in fact, the 3rd largest economy already, only next to and the USA." That is true in PPP terms (although, at $9.33 trillion, we are considerably behind at $22.54 trillion and the US at $18.22 trillion).
据世界银行统计,2018年印度人均国内生产总值(GDP)为2015.60美元。这是有道理的——我们的经济规模目前是2.7万亿美元,我们的人口大约是13.5亿。
这远远落后于美国(62,641美元),甚至不及9770.80美元的四分之一。
世行数据显示,2018年印度人均GDP较2017年增长5.9%。这是自2013年5.14%以来的最低水平。莫迪1.0期间的人均GDP增长说明了这一点:2014年6.19%,2015年6.8%,2016年6.99%,2017年6.04%(废钞令之后)。
和所有优秀的首席执行官一样,印度总理纳伦德拉莫迪也设定了一些难以实现的目标。我们面临的挑战是国内生产总值在2019- 2020财年达到3万亿美元,而印度的新目标是在2024-25财年达到5万亿美元的经济规模。也是,印度预计到2025年将成为世界上人口最多的国家,至少有14.5亿人口。我们的人均国内生产总值,如果达到5万亿美元,将在3600美元左右。
印度财政部长西塔拉曼上星期五在预算演讲中表示:"按购买力平价计算,我们实际上已经是第三大经济体,仅次于和美国。按购买力平价计算确实如此(尽管9.33万亿美元的购买力平价远远落后于的22.54万亿美元和美国的18.22万亿美元)。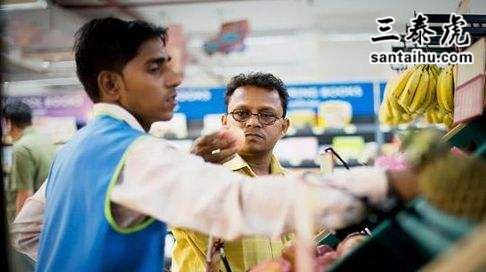 India's PPP per-capita GDP (measured in 2011 dollars) rose to $6,899 in 2018 from $1,886 in 1991, when economic reforms began. Many economists believe PPP is a better gauge of an economy's strength.
You could argue that a $5 trillion economy is the minimum we should aspire to, given our size and population. Right now, India is just about at the level of lower middle income countries in PPP terms (average $6,777). Ahead of India are a large number of countries, notably ($16,187), the United States ($55,681), Canada ($44,051), France ($39,556), Germany ($45,959), and Japan ($39,294). Even Sri Lanka ($11,955) looks better-off than us.
Undaunted, like Miss Adela Quested in A Passage to India, we will continue on our fateful climb to the upper Marabar Caves, leaving behind the mirage stirred up by "professional pessimists", as the prime minister put it.
The Economic Survey drew a pragmatic blueprint for the next five years. "To achieve the objective of becoming a US$5 trillion economy by 2024-25, India needs to sustain a real GDP growth rate of 8%," it says. "International experience, especially from high-growth East Asian economies, suggests that such growth can only be sustained by a 'virtuous cycle' of savings, investment and exports catalysed and supported by a favourable demographic phase."
How are we doing on those metrics? Household savings rates have declined steadily over the recent past – to 17.2% in 2017-18 from 23.6% in 2011-12. Our overall savings rate was at a weak 30.5% in 2017-18 from a high of 37.8% in 2008. Private investment is still moribund. Our trade deficit is rising on the back of weak export growth.
印度的人均购买力平价(以2011年美元计算)从1991年经济改革开始时的1,886美元升至2018年的6,899美元。许多经济学家认为购买力平价是衡量经济实力的更好指标。
你可能会说,鉴于我们的规模和人口,5万亿美元的经济是我们应该追求的最低目标。目前,按购买力平价计算,印度与中低收入国家的水平差不多(平均6777美元)。排在印度前面有许多国家,其中(16,187美元)、美国(55,681美元)、加拿大(44,051美元)、法国(39,556美元)、德国(45959美元)和日本(39,294美元)。即使是斯里兰卡(11555美元)看起来也比我们富裕。
就像阿德拉小姐的印度之旅那样,我们将勇敢地继续我们的命运之旅,爬上马拉巴尔洞窟,将"专业悲观主义者"激起的海市蜃楼甩在身后。
这份经济调查为未来五年描绘了一幅务实的蓝图。报告称:"要实现到2024年至2025年成为5万亿美元经济体的目标,印度需要保持8%的实际GDP增长率。国际经验,尤其是来自东亚高增长经济体的经验表明,这种增长只能通过储蓄、投资和出口的'良性循环'来维持,这种良性循环是由有利的人口阶段催化和支持的。"
我们在这些指标上表现如何?在过去的一段时间里,家庭储蓄率稳步下降,从2011-12年的23.6%降至2017-18年的17.2%。我们的整体储蓄率从2008年的37.8%下降到2017-18年的30.5%。民间投资停滞不前。由于出口增长疲软,我们的贸易赤字正在增加。
The 2019-20 budget, short on numbers, is not likely to set off a frenzy of investment. Even the ambitious fiscal deficit target of 3.3% of GDP was revealed by Sitharn after her .
How will the go nment finance its expenditure, including a Rs 70,000 crore capital infusion into still-struggling public-sector banks and a six-month credit guarantee for crisis-hit NBFCs, as well as its agriculture and social-welfare plans? Gross tax revenue would have to grow in 2019-20 at more than twice the pallid rate of 8.4% in 2018-19. The GTR was hit by lower receipts from both GST and direct taxes. Gross go nment borrowings are projected at a whop Rs 7.1 trillion, surging from 5.7 trillion last year. "Simultaneously delivering on fiscal consolidation and raising incomes will be extremely challenging for India's authorities, particularly since growth is likely to remain weak over the coming year," Moody's Investor Service said.
One senior economist told me the unrealistic number are untenable. "The tax authorities are being given unrealistic targets that will lead to tax te rorm," he said. "The spending ministries are being given allocations that they cannot spend."
2019年至2020年的预算数字不足,不太可能引发投资热潮。即使是财政赤字占GDP 3.3%的雄心勃勃的目标,也是在西塔拉曼发表演讲后公布的。
政府将如何为其支出提供资金,包括向仍在苦苦挣扎的公共部门银行注资7万卢比,为遭受危机冲击的国民金融公司提供为期6个月的信贷担保以及农业和社会福利计划。到2019年至2020年,印度的税收收入将不得不以比2018年至2019年8.4%的微弱增长率高出一倍以上的速度增长。税收收入受到消费税和直接税收入下降的冲击。政府借款总额预计将高达7.1万亿卢比,高于去年的5.7万亿卢比。穆迪投资者服务公司表示:"同时实现财政整固和提高收入,对印度政府来说将是一个极其艰巨的挑战,尤其是考虑到未来一年印度经济增长可能仍将继续疲弱。"
一位资深经济学家告诉我,这个不切实际的目标是站不住脚的。他说:"税务当局被给予了不切实际的目标,这将导致税务主义。支出部门拿到的是他们无法支出使用的拨款。"
A pliant Reserve Bank of India has been more than happy to help. It has cut interest rates three times this year, and it purchased 60% of last year's go nment bond issues in the open market. Now, the go nment is waiting expectantly for the Bimal Jn committee report next week, which might be the Open Sesame it needs to access the central bank's huge reserves.
Still, the go nment's plans to borrow as much as $10 billion through sovereign bonds overseas, combined with optimism that both the RBI and the U.S. Federal Reserve might trim interest rates, has received a thumb's-up from bond markets. The yield on the benchmark 10-year go nment bond has fallen to around 6.54% (it hit 8% last year), narrowing the real interest rate, that is, the gap with inflation, which is around 3%.
But things are going to get worse before they get better. This year's monsoon will be deficient. Even if banks start to lend again, private investment revives, and a NBFC shakeout takes place, we are looking at two more years of pain. Will we achieve 7% GDP growth this year, and vault to 8%-plus in the remainder of Modi 2.0? That would be the stuff of legend. Right now it is legerdemain.
印度储备银行非常乐意提供帮助。今年已经进行了三次降息,去年在公开市场上购买了60%的政府债券。现在,政府正满怀期待地等待着下星期的比姆•贾兰委员会报告,这份报告可能是政府获得央行巨额外汇储备所需要的"开门咒语"。
不过,政府计划通过海外主权债券借入至多100亿美元资金,再加上市场对印度央行和美国联邦储备理事会(美联储)可能降息的乐观预期,令债券市场对政府的计划大加赞赏。基准的10年期政府债券的收益率已经下降到6.54%左右(去年达到8%),缩小了实际利率,也就是说,与通货膨胀的差距在3%左右。
但情况在好转之前会变得更糟。即使银行重新开始放贷,民间投资复苏,非银金融衰退,我们仍将面临两年的痛苦。今年我们能否实现7%的GDP增长,并在莫迪2.0的剩余任期内达到8%以上的增长率?如果能实现,将成为传奇。但现在只是噱头。
以下是印度经济时报读者的评论:
译文来源:三泰虎 http://www.santaihu.com/48094.html 译者:Joyceliu
外文:http://economictimes.indiatimes.com/
Kumarapuram Sadasivan
The trick for becoming a economic powerhouse is kee wealth inside the Nation.Unfortunately the money goes to the US Treasuries.Now about US Dollars 12 to 152 Billion.The Forex is also higher by about US Dollars 126 Billion.312 MT Gold is with the BoE and BIS who suppress the price of the same by Swaps,to keep the US Dollar strong and hence the Rupee weaker.India''s money outside and huge Forex also weaken the Rupee.A strong economy has to have a strong Currency.More so for an essentially importing nation like India..
成为经济强国的秘诀是将财富留在国内。不幸的是,印度的钱流向了美国国债。现在总额已达到120亿到1520亿美元。外汇规模为1260亿美元。英国央行和国际清算银行里的黄金,通过掉期交易压低了黄金价格,以保持美元走强,从而压低卢比汇率。印度的海外资金和巨额外汇也削弱了卢比的币值。一个强大的经济体必须有一个强势的货币。对于像印度这样的进口大国来说更是如此。
Dilip Shah
The paper is based on realities. it is also a disappointing to ne that there no strategic plan to raise the savings, investment and export earnings. it is ne a pessimist view that with hardly around 2.5% agricultural growth how shall we achieve 4% growth a minimum need of achieve 8% growth. it also sad to ne how much we behind populated and even Shrilanka. our Economy will need to be far strong t0 realise the dream.DILIP SHAH
这篇论文是以事实情况为基础的。令人失望的是,印度没有提高储蓄、投资和出口收入的战略计划。值得注意的是,悲观主义者认为,在农业增长不到2.5%的情况下,我们如何才能实现4%的增长呢?同样令人遗憾的是,我们落后于人口众多的,甚至是斯里兰卡。要实现这个梦想,我们的经济还需要强劲得多。
Dillip Patnaik
Modi''s 5 trillion economy is hug wash. When nepotism, lethargy and inefficiency is the main core of India how do expect wng horse race.
莫迪的5万亿经济是做梦。当裙带关系、冷漠和低效率成为印度的痼疾时,怎能赢得赛马比赛呢?
Singh
India should emulate , South Korea, Japan which countries gave open reigns to the private sector. The grounds for the private sector to release its pential is to revamp the laws strangulating the economy brought in by the Congress go nment. Unfortunately Mr Modi does not have the majority in the Rajya Sabha and every progressive law is blocked by the Congress and its left allies and hence not passed to become law.
印度应该效仿、韩国和日本,这些国家向民营经济开放市场。民营经济释放潜力的基础是修改国会政府引入的扼杀经济的法律。不幸的是,莫迪在上议院并没有多数席位,每一项进步主义法律都受到国大党及其左翼盟友的阻挠,因此未能通过成为法律。
nick
Yes, if country as ONE has guts and has ability to harder and together with positive mind. Negative people corrode pipeline/path and create leaks. Can you be a strong brick in this marathon structure called country?
是的,如果一个国家上下齐心,有勇气、有能力、积极地团结进步,是能实现的。消极的人会腐蚀管道和路径,造成泄漏。在国家组织中,你能成为一块坚实的砖块吗?
M.L. Gupta
India has the pential. Cor ion and destructive po itical policies of all players have adversely affected the march to prosperity. About 98% population is victim of adulteration in food, healthcare, education, policing, justice dispensation, governance and ethics. If it is changed, which is possible if the countrymen decide to act honest for the next five years, 5 tr is a small dream. Agents of change know what is possible and what not. Let us try to do something to realize these small goals as citizens and employees in private as well as public sector and all categories of businesses. Our individual efforts will bring about a magical change. Can the citizens take a solemn vow not to indulge in co ption or adulteration?
印度有这个潜力。所有参与者的和破坏性的政策对印度经济的繁荣产生了不利影响。约98%的人口是食品、医疗、教育、警务、司法、治理和道德掺假的受害者。如果作出改变,这是可能的,如果国人决定在未来五年诚实行事,5万亿只是一个小小的梦想。变革的推动者知道什么是可能的,什么是不可能的。让我们作为各行各业的从业者,努力改变,实现这些小目标。我们个人的努力将带来神奇的变化。公民可否庄严宣誓,不*、不作假?
V K Gupta
Let your dream becomes a reality. With regards.
让你的梦想成为现实。致敬。
abhinav
Our country can reach even 10trillion economy if - (1)- our population is controlled (2child policy) (2)- tax filing mandatory , with uniform tax rates for all (3) sever punishment for co ption (starting from the top like ias ,ips , mla. Which do co ption in 100s crores ) , not from the bottom .(4)- and providing social security like usa , amount calculated depending on the amount of tax filed
如果(1)控制人口,实行2孩政策、
(2)强制报税,对所有人实行统一的税率、
(3)严厉惩治、
(4)提供社会保障,就像美国一样,根据税收的多少来计算数额,我们印度可以达到10万亿经济规模。
karuna
with the estimated economy, can our roads be better, our Schools/ teachers ratio will be better, our employment will be better and our Medical services will be better ?
根据预估的经济情况,我们的道路会不会更好,我们的学校/教师比例会不会更高,我们的就业情况会不会更好,我们的医疗服务会不会更好?
Merry Airman
Basically , India under Modi is trying to catch up with Sri Lanka in GDP per capita in PPP terms. What a joke this gt. is !!!
基本上,莫迪领导下的印度正试图在按购买力平价计算的人均GDP方面赶上斯里兰卡。这届政府真是个笑话!
Charanjit Singh
Hopefully, the weaker dollar will also contribute a part to the trillion dollars....
希望疲软的美元也能对一万亿美元的目标做出一点贡献。
Logical Indian
Any country can develop only & only when it has a highly performing population. In India people do not perform their duties. This kind of mentality doesnt est in developed countries. We hv labour unions and various other unions which do not think positively to develop the peoples well being. Their leader''s selfish po itical interests has ruined the nation. No other highly develo country has unions stop contrymen from performing. Again we are a consuming country instead of a producing country.Unless people start performing we cannot reach the goal.produce quality goods at cher rates
对任何国家而言,只有拥有高素质人口,国家才能发展。印度人不履行自己的职责。这种心态在发达国家是不存在的。我们的工会和各种组织对提高人民的福祉不感兴趣。他们领导人的自私的利益毁了这个国家。没有哪个高度发展的国家会有工会来阻挠农民的工作。同时,我们是消费国,不是生产国。除非人们开始努力,否则无法实现以较低的价格生产优质产品的目标。
Vitthal P
After highest unemployment of 45 years during the last tenure of Modi, should one believe his words? He is the biggest liar wasting public money with no idea about the economy. They have taken away Railway budget. Main budget after hearing the current FM, has become a frivolous exercise. No plan to control the population growth. Idiotic vers have ved for master liar again. He only diverts attention from real issues and escapes.
在莫迪上一任期内,印度的失业率达到45年来的最高水平,人们应该相信他的话吗?他最会说谎了,浪费公共资金却对经济一无所知。他们取消了铁路预算。他们没有控制人口增长的计划。愚蠢的选民又把票投给了欺诈大师。他只是把注意力从真正的问题上转移开,然后继续逃避。
Cyboy
Borrowing beyond ones means has always led to downfall of individuals, industries & whole nations. Hope we dont go down that route.
借贷过多会导致个人、行业乃至整个国家的垮台。希望我们不要重蹈覆辙。
Parambir Hanjra
Modi is going to blame Pakistan for the dilemma as usual whereas the last 5 years Modi was in power of everything including media
莫迪将一如既往地把这一困境归咎于巴基斯坦,而过去5年莫迪管控着包括媒体在内的一切。
ashok surana
Things are going to get much worse before they change for better. The whole sy em is to blame and an unexpected source is going to be the reason.
情况在好转之前会变得更糟。这要归咎于整个体系,而意想不到的源头将是原因所在。
Parambir Hanjra
Things are already out of hand India is on a steep slope to destruction and Modi is not responsible as uneducated it is the dumbest ver who is or is it the EVM
事态已经失控了,印度正濒于毁灭的陡坡上,莫迪不应该对此负责,因为他没有受过教育,将投给他,是最愚蠢的事。
Kl Jain
What a foolish debate ? Mr. Modi is master of engaging peoples in useless debates. The size of Indian economy at the time of Independence was just 30 billion USD which has risen by more than 80 times in last 70 years. What a big deal if the same is again double in next 5 - 6 or 8 years. This has to happen despite any Go nment.
这是多么愚蠢的辩论啊?莫迪擅长让人们参与无聊的辩论之中。印度独立时的经济规模只有300亿美元,在过去70年里增长了80多倍。如果同样的数字在未来5 - 6或8年内再翻一番,那将多么可观。不管哪个政府上台,这都会实现的。
Valerian Pereira
Set your Targets first. Your Visionand work hard to achieve it. In fact, every Indian needs to be part of it in making things happen. to make better.nothing is impossible. Every sector and walk of life we need to work..
首先设定目标和愿景,并努力实现。事实上,每一个印度人都需要参与其中,让印度变得更美好,没有什么事是不可能的。各行各业的我们都需要努力。
abhinav
I just don't understand one thing , our auto sector is in the worst crisis , aviation sector is in crisis , nbfc are down , real estate is down , how come the stock market ( nifty) still going up , and lol how is growth 6.8 
我只是不明白一件事,我们的汽车行业处于最严重的危机中,航空行业处于危机中,非银金融在下跌,房地产在下跌,股市怎么还在上涨,哈哈,增长率还能达到6.8。
abhinav
Sir if goverment makes tax rate 10 percent for every one , then only we can move forward , i have seen people like kachori w , sweet shops etc have daily sales of more than 50000 rs and tgey do not even file taxes , and i think atleast tax filing should be made mandatory for every citizen , while providing full rebate to the poor while decreasing the tax rates , and sops like social security , medical security should be provided like other countries
先生,如果政府规定,每个公民的税率为10%,我们就足以得到发展。印度小吃、糖果店等日常销售超过50000卢比,可他们都不报税,我认为至少应该强制要求每个公民进行纳税申报,同时向穷人提供全额退税,降低税率,像其他国家一样提供社会保障、医疗保障等。
Sanjay Chowdhury
The go nment should talk about per capita income of 90% (i. e. excluding 10% upper start) instead of GDP. This GDP figure is of no use for the common man.
政府应该讨论的是90%的人均收入(不包括10%的高收入群体),而不是GDP。这个GDP数字对普通人来说毫无用处。
Jai Hind
all round development is important than a this number game. let''s look at how we work on water conservation, sanitary, health and education... once we achieve betterment in these parameters, size of the economy is biproduct.
全面发展比这种数字游戏更为重要。让我们看看我们在水资源保护、卫生、健康和教育方面是如何做的。只要我们在这些方面做了改进,就能扩大经济规模。
Logical Indian
Dont u think nothing will improve ever unless exploding indian population is immediately controlled?
难道你不觉得,除非印度人口爆炸得到立即控制,否则一切都不会改善吗?
Rguru Prasad Jakk
There is no point in drumming up for $5 trillion economy, when your people are still living on platforms, babies are dying, people are struggling for medical care, farmers are committing suicides. If you come up with means and ways to fix these things we will automatically be there.
如果你的人民仍然生活在站台上,婴儿死亡率不减,人们还在为医疗保健而挣扎,农民自杀现象不断,那么为5万亿美元的经济摇旗呐喊是没有意义的。如果你能想出办法来解决这些问题,我们自然能实现这个经济发展目标。
Pradeep Rao
If rupee value appreciates to $50 levels.. we will reach it in few months
如果卢比升值到50美元的水平,绝对没问题…我们几个月内就能实现。
thomas
If we don''t stretch,we may take 10 years to reach that milestone.Is that what you want.Or we may not reach there at all.People like you will say why stretch and exert.Lets stick to the Hindu rate of growth of 3% which we have been averaging for the best part of our Indipendance.No body has achieved any thing without stretching my friend.
如果我们不努力,可能需要10年才能达到这一里程碑。你想要的就是这句话吗?或者我们可能根本无法实现这个目标。像你这样的人会说为什么要那么拼命。让我们维持印度3%的增长率,就如同我们在独立后的大部分时间里一样。没有人能不费力气、随随便便达成目标,我的朋友。