After girlfriend gets engaged, 22-year-old streams suicide live on Facebook
女友订婚后,22岁男子在Facebook上直播自杀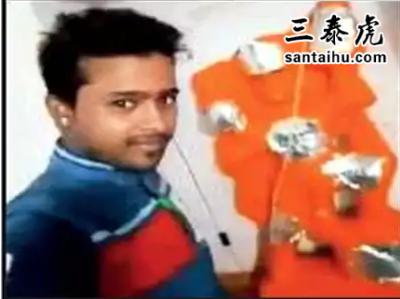 AGRA: Unable to cope up with his girlfriend's engagement with another man, a 22-year-old youth committed suicide and live-streamed the act on Facebook from a temple in Raybha village under Achhnera police station in Agra district. The victim also left a four-page suicide ne, wherein he apologised to his family for his extreme step and urged them to donate his organs.What is more worrying is the fact that a few of his Facebook friends witnessed the in dent live as he had informed his friends and family members about his decision beforehand, sources said.
阿格拉: 由于无法接受女友与另一名男子订婚,一名22岁的年轻男子在一寺庙内自杀,并在Facebook上直播了这一行为。死者还留下了一份长达四页的遗书。在遗书中,他为自己的极端行为向家人道歉,并要求家人捐献自己的器官。消息人士称,更令人担忧的是,他在Facebook上的一些朋友亲眼目睹了这一事件,因为他事先已将自己的决定告知了朋友和家人。
The in dent took place early on Saturday. The body of the victim, identified as Shyam Sikarwar alias Raj, was found hanging inside the temple premises by the local resi nts.
事件发生在星期六早上。当地居民发现死者的尸体悬挂在寺庙内,死者的身份被确认为希亚姆·西卡尔瓦尔。
In the four-minute-long video, Sikarwar asked the police authorities not to take any action ag inst anyone while he requested his family members to put a few pictures of his corpse on his Facebook account.
在这段四分钟长的视频中,西卡尔瓦尔要求警方不要对任何人采取行动,同时他要求家人在其Facebook账户上上传几张他的尸体照。
"I miss her and can't live without her. I can't bear the fact that she is getting married to someone else. The stress of losing her has affected me so much that I lost my job," said the suicide ne left behind by Sikarwar, who used to work in a Gurugram-based factory
西卡尔瓦尔曾在古鲁格兰的一家工厂上班,他在遗书中写道:"我想她,没有她,我活不下去。我不能忍受她要和别人结婚的事实。失去她对我的影响太大了,而且我失业了。"
Ajay Kaushal, station house officer of Achhnera, said, "The victim's body was found hanging inside the temple premises by local resi nts. During the probe, we found out that the victim was unemployed and depressed because the girl he was in love with was getting married to someone else. We have conducted the autopsy and handed over his body to his family."
Achhnera派出所阿杰伊·考沙尔称:"当地居民发现死者的尸体悬挂在寺庙内。在调查过程中,我们发现受害者失业和抑郁是因为他爱的女孩要和别人结婚了。我们已经进行了尸检,并将他的尸体交给了他的家人。"
By the time this report was filed, the victim's profile was deactivated from the Facebook by his family members.
死者的家人已经在Facebook上注销了他的个人资料。
印度时报读者的评论:
译文来源:三泰虎 http://www.santaihu.com/48078.html 译者:Jessica.Wu
外文:https://timesofindia.indiatimes.com
Manish Gupta•2 hours ago
Such a foolish step to someone.
在别人看来,这太蠢了,
Kaushal•India•2 hours ago
So sad,His love is real, great.. not fake ,So it''s very painful to him,But suicide for a ch girl like this,It''s not good yar
太悲哀了,他对女孩的爱是真实的,伟大的,不是虚情假意的。所以"他非常痛苦,但是为这种女孩自杀不值得。
Shailesh Chavan•Panaji Goa•2 hours ago
Result of non sense stupid bollywood romantic movies.
这就是看宝莱坞无脑爱情片的后果
Patrick Lopez•3 hours ago
What a waste of life for just an mundane phase of life.....
浪费生命
Pk•3 hours ago
RIP
安息吧
Anand•4 hours ago
one more ideot ...
又是一个傻子
Saurav•3 hours ago
Suicide is a word that many people like to avoid. Talking about suicide makes most people cringe and makes them very uncomfortable. Suicide affects teenagers and young adults around the globe each year. Every day, families around the world lose someone close to them due to suicide. Suicide is an unfortunate occurrence that happens among all age groups
很多人都不愿谈论自杀。谈论自杀让大多数人畏惧,让他们非常不舒服。每天,世界各地的家庭都有亲人因自杀而离世。自杀是不幸事件,所有年龄段都会发生。
Saurav•3 hours ago
Suicide is a subject that is not talked about often. Suicide does not only affect adults, but it affects teenagers as well. Suicide can happen to anyone. The age group that is most affected would be teenagers.
自杀是一个不常被提及的话题。自杀不仅影响成人,也影响青少年。受影响最大的年龄段是青少年。
Nation•3 hours ago
Poor Guy? Should use Brain over heart?
可怜的家伙。应该理智点,不能感情用事。
Aniket Masurkar•Mumbai•3 hours ago
Such a big loser
太失败了
Medha•4 hours ago
it's sad why mental health is so ignored in the society. it should be normal to feel depressed, people should be able to ask for help when needed. it shouldn't be seen as a weakness, but a temporary problem which can be taken care of.
心理健康被严重忽视,这是可悲的。抑郁是正常的,应该在需要的时候寻求帮助。这不应该被视为弱点,而是一个暂时的问题,是可以解决的。
S Palraj•4 hours ago
worth your life. Almost all the marriages anyway end up the same way. Be it love marriage, arranged marriage or even a child marriage for that matter. No love stays forever.
珍惜生命。几乎所有的婚姻都以同样的方式结束。无论是爱情婚姻,包办婚姻,甚至是童婚。没有永恒的爱。
Jagdish Naik• S Palraj•3 hours ago
Love Jesus. His love is permanent
爱耶稣吧,他的爱是永恒的
Ashish•Pune•4 hours ago
Height of idiocity... life is long journey many people come and depart. detachment from an attachment is way of life.
大傻子。人生是一段漫长的旅程,许多人来来去去,都是过客,分手是常事。
Dreet•4 hours ago
Are their no other girls left ? Mental health problems with the youths are increasing by the day.
就没有别的女孩了吗,非要在一棵树上吊死?青少年的心理健康问题日益严重。
Surendra• SHIRI S K•4 hours ago
No regret for this Death. Deep regrets for his parents.
对他的死不感到惋惜。对他的父母深表遗憾。
Riyfkm•5 hours ago
If you ditch the girl and she files a r*pe compn, you're dead.,However if you are a rapist, you roam free... Welcome to Indian Justice Sy em
如果你抛弃了一个女孩,而她告你强奸,你就死定了。然而,如果你是一个强奸犯,那你便可逍遥法外……欢迎来到印度司法系统
Mowgli•Unknown•5 hours ago
a woman is never so much attached to us as when we suffer.
女人就没这么爱男人
Expert Oion• Mowgli•3 hours ago
This is where bad boys win. They bangg girls and leave so no emotional sentiment
坏男人没有感情,这就是他们获胜的地方,他们会打女人,然后抛弃她们。
Aakash•5 hours ago
Though life is precious, we will never understand his pain...No one likes to die...
生命诚可贵,我们永远无法理解他的痛苦……没人想死……
Aditya Jha•5 hours ago
Life must go on. Must not end life for only one thing. There are many things to do in life.
生活还得继续。不能为了一件事而结束生命。生活中有很多事情要做。
Snkumar•5 hours ago
it's nothing but foolish. It's okay to fall in love but if it doesn't get reciprocated or result the way one like, one has to move on and look for someone else who may at times may turn out to be a better option. He has foolishly dest yed three families, including the girl he loved.
太蠢了。坠入爱河可以理解,但这种爱如果没有得到对方的回报,或者没有得到自己喜欢的结果,那么你就必须向前看,去寻觅另一个人,这个人有时可能会成为一个更好的选择。这个男孩毁了三个家庭,包括他所爱的女孩。
Deep Kahlon•5 hours ago
good this idiot died ... he was not fit for lyf
死得好,这种白痴不适合活在世上