Rich Indians to the rescue as Chinese tourists shun Thailand
中国游客避开泰国,印度富人伸出援手
NEW DELHI: Thailand's struggling tourism industry is finding support with visitors from the population colossus to its west, just as the years of bumper arrivals from the giant to its north are beginning to wane.
新德里:泰国苦苦挣扎的旅游业得到了来自印度这个人口大国的游客的支持,而与此同时,来自中国这个大国的游客正开始减少。
At a beachfront hotel on the tropical island of Phuket, the occupancy rate from Chinese clientele has stalled, while bookings from India have begun to rise. The Vijitt Resort is one of many in Thailand that has more cause for optimism.
在热带岛屿普吉岛的一家海滨酒店,中国客户的入住已陷入停滞,而来自印度的订房量已开始上升。维吉特度假村是泰国众多较为受欢迎的度假胜地之一。
"We're starting to see new growth," said Kongsak Khoopongsakorn, Vijitt's general manager and vice president of the Thai Hotels Association. "Indians are now driving industry growth like the Chinese had previously done."
维吉特度假村总经理兼泰国酒店协会副会长Kongsak Khoopongsakorn称:"我们开始看到新的增长。印度人现在正在推动行业增长,就像中国人以前所做的那样。"
What's happening to Thai tourism could prove a canary in the coal mine for the leisure sector in other Asian economies as China matures and a new India emerges. The Thai industry had been expanding at about about 10% a year on escalating inbound Chinese arrivals, but a 2018 boat accident in Phuket that killed dozens of mainlanders and a slowing economy at home have triggered a drop in numbers.
随着中国的成熟和新印度的崛起,泰国旅游业的状况可能会成为其他亚洲经济体休闲产业的金丝雀。由于之前中国入境游客不断增加,泰国旅游业一直在以每年约10%的速度阔张,但是2018年普吉岛的一艘船只发生事故,造成数十名中国人死亡,加上中国国内经济放缓,导致中国游客人数减少。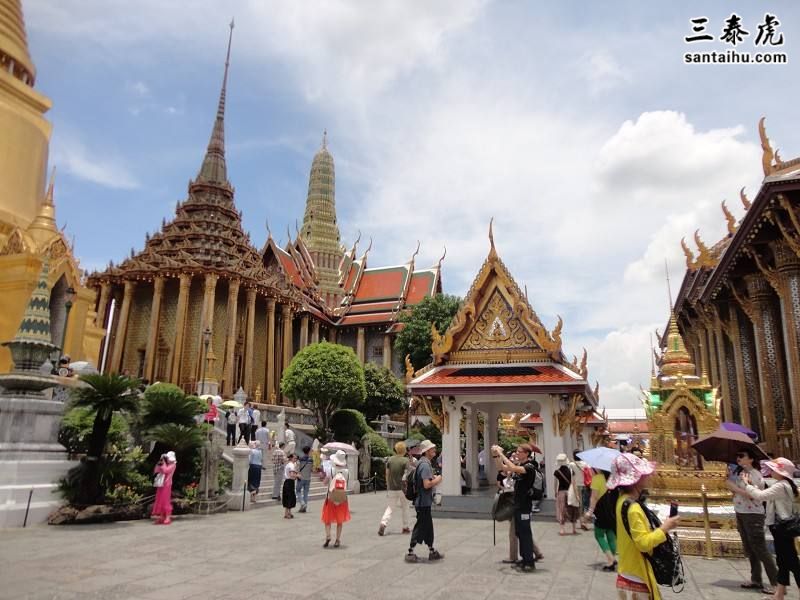 In contrast, Indian arrivals accelerated in recent months due to more direct flights, a visa waiver and, most importantly, increasing wealth.
相比之下,由于直飞航班增多、免签证,以及最为重要的财富增加,近几个月来印度游客数量有所增加。
The rapid expansion of the middle class among India's 1.3 billion people has prompted Thai authorities to upgrade their estimates of Indian visitors. At least 10 million are now expected to arrive in 2028, a more than five-fold increase on 2018 visits. That sort of growth trajectory would mimic the rise of Chinese tourists, who jumped from 800,000 in 2008 to more than 10 million last year.
在印度13亿人口中,中产阶级迅速壮大,促使泰国当局提高了对印度游客的预期。到2028年,预计将至少有1000万印度游客抵达,是2018年游客人数的五倍多。这种增长轨迹将与中国游客的增长类似。中国游客数量从2008年的80万跃升至去年的逾1000万。
Although China will remain an important market, it is likely to offer less growth potential in the years ahead. India, meanwhile, is set to become the new expansion story in Thai tourism, an industry that accounts for about 20% of gross domestic product.
尽管中国仍将是一个重要的市场,但未来几年的增长潜力可能会有所下降。与此同时,印度将成为泰国旅游业的新增长点。泰国旅游业约占泰国GDP的20%。
Chinese visitors currently make up 28% of total foreign arrivals, well ahead of Indians at 4%. But within a decade, Indian arrivals are forecast to surge to about 15% of the total, while Chinese are predicted to edge up to about 30%.
中国游客目前占泰国外国游客总数的28%,远远超过印度游客4%的比例。但预计在10年内,印度游客数量将激增至15%左右,而中国游客数量预计将小幅上升至30%左右。
Thailand received about 180,000 Indian tourists in June, a record, the tourism ministry reported last week. It also said Indians spend 11% more per trip than average foreign visitors.
泰国旅游部上周报告称,泰国6月份接待了约18万名印度游客,创历史新高。报告还称,印度人每次旅游的花费比外国游客平均高出11%。
Chinese arrivals could actually fall this year from 2018 as the yuan has weakened against the baht, according to Bloomberg Intelligence. That might deter more cost-conscious Chinese tourists, or see them spend less if they do make the trip.
彭博社数据显示,由于人民币兑泰铢走软,中国游客今年的入境人数实际上可能会开始下降。这可能会让更注重成本的中国游客望而却步。
印度时报读者的评论:
译文来源:三泰虎 http://www.santaihu.com/48032.html 译者:Jessica.Wu
外文:https://timesofindia.indiatimes.com
Pk007•Member • Pk007•Mumbai•6 days ago
Thai people do not treat Indians or Asians any better or equally in comparison to the way they treat the western white people. Thai people first learn to show some respect for the Indians and treat them equally without any discrimination.
与对待西方白人的方式相比,泰国人对印度人和亚洲人的态度没有任何转变,一点不平等。泰国人首先要学会尊重印度人,平等地对待他们,不能有任何歧视。
shail•6125•Influencer Movie Buff Wordsmith • Pk007 •US•6 days ago
Whoever spends more, gets more respect. Straight and simple.
谁花的钱多,谁就会得到更多的尊重,就这么简单。
Yogibkk•7274•Influencer Moderator Movie Buff • Pk007 •6 days ago
There is a saying that you harvest the fruit of seeds you have sawn
有句话说得好,种瓜得瓜种豆得豆。
Anilk Khan•11643•Influencer Moderator Wordsmith • Anilk Khan•6 days ago
Tiny Thailand get more tourists per year than might India!! They keep the country clean, don''t have beggars at every corner, and a public service employees who actually do their jobs without being bribed. Tourist sites are clean, have working toilets and running water.
小小的泰国每年吸引的游客数量比印度还多!
泰国保持卫生整洁,没有遍地的乞丐,公务员不收贿赂。旅游景点很干净,有厕所可上,能用上自来水。
I Love Saffron•21544•Influencer Moderator Wordsmith • Anilk Khan•india•6 days ago
Went to THAILAND FOR PROSTITUTION?
去泰国嫖妓?
Ekdesi•19407•Influencer Moderator Wordsmith • Ekdesi•USA•6 days ago
Rich Indians to the rescue! RaGa is one of them.
拉胡尔就是这些印度富人中的一员。
Me Mumbaikar•3142• Ekdesi •Mumbai•6 days ago
looks like raga is your dad
看来拉胡尔是你爸
Bonny Moraes•11751•Influencer Wordsmith News King • Ekdesi •Goa•6 days ago
You sound healous.
听起来你有点嫉妒
Ashish Jain•4195•Influencer Wordsmith Member • Ashish•6 days ago
What a joke! People going to Thailand for tourism are not rich, mostly middle-class, trying a low cost foreign trip.
真是个大笑话!
去泰国旅游的人并不富裕,大多是中产阶级,他们只是想尝试海外穷游
Bonny Moraes•11751•Influencer Wordsmith News King • Bonny•Goa•6 days ago
We should encourage Chinese tourist to visit India. But mind you, they are dirtier than us.
我们应该鼓励中国游客来印度旅游
Yogibkk•7274•Influencer Moderator Movie Buff • Bonny Moraes•6 days ago
Better do not encourage as they do not spend any money, they visit Thailand on zero dollars which means their counter parts set up business for every thing and leave nothing for the locals
最好不要鼓励他们来印度,他们不愿意花钱,他们去泰国都不消费,没有给当地人带来好处。
Ashu Chhajer•2095• Ashu Chhajer•6 days ago
Indians forget beautiful destinations like Kerala,Andaman,Sikkim,Himachal to go to Thailand where there's nothing much beautiful than India
Kerala is more beautiful than Thailand been to both
印度人不去喀拉拉邦、安达曼群岛、锡金、喜马偕尔等地的旅游胜地,反而去泰国旅游,那里并不比印度更美。
喀拉拉邦比泰国更美。
wreck it ralf•2038• Ashu Chhajer•6 days ago
but red light areas are better in Thailand
泰国的红灯区更赞哦
Yogibkk•7274•Influencer Moderator Movie Buff • Ashu Chhajer•6 days ago
Somehow travelling overseas end up cheaper than travelling in India especially the hotels and food
不知何故,出国旅游比在印度旅游要便宜,尤其是酒店和餐饮
Strong Voice•5178•Wordsmith News King Frequent Flyer • Strong Voice•6 days ago
Thai tourists are not rich
去泰国的游客并不富裕啊
Ash•2788• Ash•6 days ago
Everyone knows why people go to thailand. Most of the men go without their families. If Indians were of a good character, then maybe thailand will see a decline in tourist from India too.
大家都知道为什么人们会去泰国。大多数男性游客去泰国没有家人陪伴。
Ulhas Kulkarni•2766•Influencer Wordsmith Frequent Flyer • Ulhas•Navi Mumbai•6 days ago
You have to carry large amounts of Bahts or USDs on you. They can send you back otherwise!
你必须随身携带大量泰铢或美元。否则他们会把你遣返!
Sudhir Kale•1387•Influencer Wordsmith Member • Sudhir Kale•Centreville VA•6 days ago
Is Rahul-ji going there? He is an old customer & has a lot of time on his hands now!
拉胡尔也要去泰国吗?他是个老客户,现在有很多空闲时间。
Madan Mohan Siddhanthi•5704•Influencer Wordsmith News King • Madan Mohan Siddhanthi•Mumbai•6 days ago
Indian public and go nment seems to be taking care of rest of the world better than India
不呆在国内旅游,印度游客似乎更照顾其他国家啊
shail•6125•Influencer Movie Buff Wordsmith • shail•US•6 days ago
There are a lot of beautiful places, temples to visit in Thailand. Hoping to visit Thailand some day with my wife.
泰国有很多风景胜地,可以参观寺庙。希望有一天能和妻子一起去泰国旅游。
realIndians• realIndians•cow land•6 days ago
Indians like to praise themselves.
印度人喜欢自夸。