Why doesn't China play cricket?
中国人为什么不玩板球?
以下是Quora读者的评论:
Rishabh Maheshwari, passing interest in Cricket
1.China places utmost importance to Olympics. As Cricket is not a part of Olympics and neither will be in forseable future, China doesn 't invest heavily in "production line of Cricketers."
2.China was never colonized by British. All major Cricket playing countries have a history of long British colonization.
3.Cricket is not really a popular global sport. Except for rabid following in sub continent, it is actually not a very popular sport in all other test playing nations and is virtually a minority sport in rest of world. It means that while players like Kohli are earning big (thanks to India), they are not really global sport icons. What I am trying to say here is Cricket has no wildly popular players that Chinese kids would like to emulate.
4.Cricket is indeed a complicated sport and more of an acquired taste. Making it popular in a huge country without any Cricket culture is phenomenally difficult. There are dozens of cheaper and much more accessible sports available. Apart from Basketball and Football, which are popular, Chinese players are considered best in sports like badminton, TT etc.
1.中国非常重视奥运会。板球不是奥运会的比赛项目,短期内也难以进入奥运会,所以中国不会为"板球运动员生产线"投入巨资。
2.中国从未沦为英国殖民地。所有主要的板球运动国家都有被英国长期殖民的历史。
3.板球并不是一项真正受欢迎的全球性运动。除了在次大陆的狂热追随者,它并不是一个广受欢迎的运动,在所有国家只是小众运动。这意味着,虽然像Kohli这样的球员收入很高(多亏了印度),但他们并未成为真正的全球体育偶像。我的意思是,板球界没有中国孩子愿意追随的知名运动员。
4.板球是一项复杂的运动,更是一种后天培养的爱好。在一个没有任何板球文化的大国,要让其流行起来,难度相当大。民众有几十种成本更低、更容易练习的运动可供选择。除了大受欢迎的篮球和足球,中国运动员在如羽毛球,网球等运动中已成为顶级选手。
Setu Purohit, Ex-District team Captain, School team Captain.
China does play cricket, and actually has an ambitious goal of becoming a test playing nation by 2020!
China has an official club handling its cricket aspirations from as late as 1858, known as Shanghai Cricket Club. It has played against touring teams since then. The first international match of China was against Iran in 2009.
However, one of the important facts that the public misses is that even countries like Maldives, Iran, etc., also play cricket and all of these countries are under direct supervision of an ambitious and an important organisation for spreading the game's demography, The Asian Cricket Council (ACC). One should really appreciate this organisation because even though the progress has been slow at least there has been progress and countries like China, Maldives and Iran are really benefitting.
中国也打板球,而且他们还有一个雄心勃勃的目标,那就是到2020年成为一个参加板球比赛的国家!
早在1858年,中国就有一个官方的板球俱乐部,名为上海板球俱乐部。从那时起,它就一直与巡回球队比赛。中国的第一场国际比赛是在2009年对阵伊朗。
然而,公众忽略的一个重要事实是,就连马尔代夫、伊朗等国家也打板球,而且所有这些国家都处在亚洲板球理事会(ACC)的直接监督之下。我们应该感谢这个组织,因为尽管进展缓慢,但至少已经取得了进展,中国、马尔代夫和伊朗等国确实从中受益。
Puru Mehta, Cric fanatic
Well who says there isn't Cricket in China?
China has had the Shanghai Cricket Club which acts as a de facto national side and has been playing interport matches against international teams since 1866!
China has its international cricket team which is an affilate member of the ICC since 2004, and made its international debut in 2009. It also reached the quarter finals of the 2010 Asian Games and participated in the 2014 edition.
But international cricket did not evolve in China mainly because it never had a colonial rule. Cricket evolved at all formats in the countries where there was a rule by the English. Take South Africa, Zimbabwe and the Indian Subcontinent as examples.
谁说中国没有板球?
中国有上海板球俱乐部,它实际上是一个国家的球队,自1866年以来一直在与国际球队进行比赛!
自2004年起,中国就有了自己的国际板球队,国际板球队是ICC的正式成员,并于2009年首次亮相国际赛场。中国打入了2010年亚运会四分之一决赛,参加2014年亚运会。
但国际板球运动并没有在中国得到发展,主要是因为中国从未经历过殖民统治。板球运动在英国殖民过的国家以各种形式得到了发展。以南非、津巴布韦和印度次大陆为例。
Pratham Dhoka, Cricket lover. Dream that one day 32 teams play at the WC
Many big countries of the world like China, France, US, Germany, Russia, Japan do not play cricket. It is because the game never really reached those countries. Cricket is famous in India because it was used by the British to keep the Rajas busy and to impress them.
China is a big sporting country if you see. They are, most of the time, 2nd ranked in the Olympics medals tally. The country's near half population plays table tennis. Chinese people also love football. But if you go to China, you would find 'cricket' only in restaurant menu cards.
China should start playing cricket. They have very good reflexes in addition to their exemplary concentration skills. They also have the world's highest population and can find talented youngsters also…….. Good luck China!
译文来源:三泰虎 http://www.santaihu.com/47985.html 译者:Joyceliu
世界上许多大国,如中国、法国、美国、德国、俄罗斯、日本都不打板球。这是因为足球从未真正进入这些国家。板球在印度很有名,因为英国人用它来让拉贾人保持忙碌,并给他们留下深刻印象。
中国是一个体育大国。在大多数情况下,他们在奥运会奖牌榜上排名第二。这个国家近一半的人口打乒乓球。中国人也喜欢足球。但如果你去中国,你只会在餐馆的菜单卡上看到"蛐蛐"。
中国应该开始打板球。他们有很好的反应能力,除了他们的模范集中技能。他们也有世界上最多的人口,也能找到有才华的年轻人中国好运!
Shubham Tiwari, studied at Delhi Public School, R.K. Puram
Because they don't trust the quality of bat ,ball and specially the abdomen gaurd made in China
I hope u understand
因为他们不相信球拍、球的质量,尤其是中国制造的羽毛球球拍。
我希望你能理解。
Rahul Singh, Company Secretary
China will not only play Cricket but will invest very heavily in it the very moment cricket get into Olympics. China has already invested very heavily in Football, example being buying out Italian legendary football club AC Milan and investing heavily in another Milanese club Inter Milan.
China will invest in everything which affirm it's status in the world as 'Superpower' be it in Economy, Defence, science, sports or in any other cultural field to show itself as 'Softpower' and not only as a manufacturing powerhouse.
ICC just have to ensure that Cricket enter into Olympics and Cricket will get another financial behemoth in China rivalling India's dominance.
中国不仅会打板球,而且会在板球进入奥运会后立刻投入巨资。中国已经在足球上投入了大量资金,比如收购意大利传奇足球俱乐部AC米兰,还大举投资另一家米兰俱乐部国际米兰。
无论是在经济、国防、科学、体育还是任何其他文化领域,只要能确保中国在世界上的"超级大国"地位,中国就会投资一切,以显示自己除了制造业大国之外的"软实力"。
ICC只需要确保板球进入奥运会,板球就能在中国找到可与印度抗衡的另一家金融巨头。
Abhishek Kumar, studied Software Engineering at National Institute of Information Technology , New Delhi
If you notice, most developed countries like America, Japan, Russia etc don't play cricket.
Only private bodies who handle cricket like BCICI, CA etc and Players and sponsors get benefited from cricket.
如果你留心,就会发现美国、日本、俄罗斯等大多数发达国家都不打板球。
只有像BCICI、CA等经营板球的私人机构以及球员和赞助商才能从板球中受益。
Arvind Balasubramaniam
They do. However their team was bowled out after reaching double digits playing against the mighty cricketing giant called Nepal quite recently.
Okay, jokes aside, if China really decides to get serious, you can expect legions of Chinese boys trained from birth to becoming super cricketers.
他们也打的。但他们的球队在最近与强大的板球巨人尼泊尔队的比赛中,得分达到两位数后被淘汰出局。
好吧,不开玩笑了,如果中国真的认真重视板球,你可以预见大批中国男孩出生后就接受训练,直至成为为超级板球运动员。
Biraj Thapa, Passionate Cricketer
China plays cricket !!
But the problem is they don't play the noticeable level of the cricket. The china women's team recently took part in the Womens WT20 qualifiers, and they played well beating a team like Nepal !!! And China though don't give much emphasis to cricket because of their low fan base and low interest,but they do play cricket . Even the teams like Germany , Italy & Argentina plays cricket as well but they are not noticeable.
中国也是打板球的!!
但问题是,他们打板球的水平没有明显提高。中国女队最近参加了女子WT20资格赛,她们击败了尼泊尔这样的球队,打得很好!!中国不太重视板球,是因为他们的球迷基础低,兴趣低,但他们确实也打板球。德国、意大利和阿根廷等国也打板球,但他们还默默无名。
Ramnath Nayak, works at Novartis
Cricket is a fast-growing sport in china. It is already a well-established sport in Hong Kong, a former British Colony.
板球在中国是一项快速发展的运动。在曾经是英国殖民地的香港,乒乓球已经是一项成熟的运动。
Mitul Shona, BTech Biju Patnaik University of Technology, ST Joseph's Convent Higher Secondary School, Sambalpur (2009)
China does not belon o the Commonwealth group of Countries. Cricket is mostly played by he countries either ruled by British Government or under the dominion of the Queen. Thus the India,Pakistan, Australia, Newzealand,the Caribbean island, Bangladesh ,England, and Ireland to name a few. As China never came under English Dominion so also Cricket is not played by China
中国不属于英联邦国家集团。板球运动主要在英国政府统治或女王统治的国家广为流行。印度、巴基斯坦、澳大利亚、新西兰、加勒比岛、孟加拉国、英国和爱尔兰等地都是如此。由于中国从未受过英国统治,中国不打板球。
Pradeep Kumar, studied at The Institute of Chartered Accountants of India
They do have a national team, FYI.
China national cricket team is the team that represents the People's Republic of China in international cricket. They are a member of the ICC since 2004. They are being coached by Rashid Khan, a retired Pakistani cricketer.
嗯,我跟你们说吧,他们有一支板球国家队的。
中国国家板球队是代表中华人民共和国参加国际板球比赛的球队。自2004年以来,他们一直是板球世界杯的成员。他们的教练拉希德汗是一名退役的巴基斯坦板球运动员。
Thisura Thenuka, I love cricket more than anything
I just found out the real reason.
ICC didn't let them play cricket because all of their faces are alike. They are afraid that the batsman who gets out will come into the ground as the next batsman. He only needs to change his shirt.
P.S.- No offense. Quoted from Facebook
我刚找到真正的原因。
板球世界杯不让他们打板球,因为他们长得都一样。他们担心出洞的击球手会成为下一个击球手。只需要换件衬衫,根本看不出区别。
注:无意冒犯。我是从Facebook拷来的。
Barrichello Brawn, Played cricket for 10 years
They are still in practice sessions. Hope they will join soon
他们还在练习。希望他们能尽快加入比赛。
Vee Keyan, Toilet Cleaner and Garbage Remover (2006-present)
China was not a true British colony ever, more a Japanese colony than British
中国历史上并未真的成为英国殖民地,更像是一个日本殖民地。
Mankaran Singh, Have been playing Cricket cousin attended U-19 camp Simran
Only 12 nations play cricket if some poor Asian nations and nations with a bit of poverty like India,Pakistan,Bangladesh,Afghanistan,Nepal are taken out then Cricket would have zero value in India and India might fund more on Hockey again and get an Olympic medal atleast n make Hockey popular and commercial sport in modern era by getting sponsors,glamors and making it popularized in urban areas .China doesn't plays cricket because they focus on Olympics always and Cricket is not an Olympic sport and has long duration of game
In India cricket rules but in most of world Cricket is a crap game as compared with Hockey. Field hockey is played by 100 nations and India won 8 Olympic gold medals and 5 as an independent nation in Field Hockey and only 1 in shooting thanks to a Punjabi Sikh boy named Abhinav Bindra. Why would china waste their precious time in slapping balls for 4 hours in shorter format or play for 5 days are they are so unemployed and jobless?
USA considers cricket a game of jobless and even England doesn't take it much seriously except Ashes.
只有12个国家打板球,如果一些贫穷的亚洲国家,比如去掉印度、巴基斯坦、孟加拉国、阿富汗、尼泊尔,板球在印度就毫无价值了,印度会为曲棍球多提供资金,至少获得一枚奥运奖牌,通过赞助商、传播魅力、在城市范围推广普及,令曲棍球成为广受欢迎的具有商业价值的现代运动。中国不玩板球,是因为他们只盯着奥运会,而板球不是奥运项目,比赛时间过长。
在印度,板球地位超然,但在世界大部分地区,板球相较于曲棍球,只是一种垃圾游戏。100个国家参加了曲棍球比赛,印度赢得了8枚奥运金牌,作为一个独立的国家,印度在曲棍球比赛中获得了5枚金牌,在射击比赛中只获得了1枚金牌,这都要归功于一个名叫阿比纳夫·宾德拉的旁遮普锡克教男孩。为什么中国要浪费4小时的宝贵时间击球,或打上5天的比赛,他们难道就那么无所事事吗?
美国认为板球是一项失业者的游戏,就连英国,除了Ashes,也并不太重视。
Rushikesh Gawali, No more a cricket fan...
If you take a look at China's sporting culture, it mostly plays only individual sports especially olympic sports.
They dont play other team sports like football(soccer), rugby, etc. either.
They do play cricket but only as an associate nation.
They did play cricket in the Asian Games 2014.
They are improving in cricket, but it is some time before they rock the cricketing world so to speak.
如果你看一下中国的体育文化,你会发现中国大多只玩个人项目,尤其是奥运会项目。
他们也不热衷其他团队运动,如足球、橄榄球等。
他们确实也打板球,但只是作为一个会员国。
他们在2014年亚运会上确实打过板球。
他们的板球水平正在提高,但要撼动板球界还需要一段时间。
Jibin Matthew Joy, works at Royal Enfield Motorcycles (2015-present)
As a matter of fact china does have its own cricket team with the CCA (Chinese cricket association ) being an ICC affiliate member since 2004 The association has over 680 member clubs under it, and according to their wikipedia page aim to attain a test match status by 2020. The chinese team was also part of the Cricket event during the Guangzhou Asian Games in 2010
事实上,中国确实有自己的板球队,自2004年起,中国板球协会(CCA)就成为国际板球联合会(ICC)的成员之一,该协会拥有680多个会员俱乐部,根据他们的维基百科页面,他们的目标是到2020年获得测试赛资格。2010年广州亚运会期间,中国队也参加了板球比赛。
Hariharaprasaad Pethaperumal, B.Tech Electronics and Communication Engineering, Amrita University (2021)
China plays international cricket. They have an international team. But it is only an affiliate member. This point can answer your question better. All the 12 full members and a few associate members are popular because they play more number of matches and take part in major ICC tournaments. But China hasn't become popular because it has played only a few number of matches and has not taken part in major ICC events
中国也打国际板球。他们有一支国际队伍。但它只是一个附属会员。这一点可以更好地回答你的问题。所有的12名正式会员和一些准会员都很受欢迎,因为他们参加的比赛更多,会参加主要的国际商会锦标赛。但中国并没有因此出名,因为它只踢了几场比赛,也没有参加ICC的重大赛事。
Gopal Iyer, Loves all sports at Movies
Cricket is more or less a game of Commonwealth nations. China has never been a part of it. They have never been under English rule completely. Moreover, with a long history of civil war and strife, they try to excel in games that test the individual's strength . Cricket is a laidback game, a spectator's delight. Individual sports are demanding and more dangerous.
板球可以说是英联邦国家的运动。中国从未参与其中。他们从未完全处于英国的统治之下。此外,由于长期内战和冲突,他们更希望在考验个人力量的比赛中脱颖而出。板球是一种休闲运动,对观众而言是一种乐趣。个人运动要求高,也更危险。
Hemanshu Desai, B.E. Computer Engineering, University of Mumbai
China does play international cricket.
It is an associate member of ICC.
The Chinese have been playing cricket since the 19th century within the country while their first international match was against Iran in Thailand in 2009.
中国确实打国际板球。
它是国际商会的准会员。
自19世纪以来,中国人一直在国内打板球,他们参加的第一场国际比赛是2009年在泰国对阵伊朗。
Koustav Garai, studied at National Institute of Technology Durgapur
why do they need to play cricket to rock the world? they are doing it anyway.
moreover cricket is played only in about 10 odd countries. so by playing cricket, they can rock at most those countries.
为什么他们需要打板球来震撼世界?但不管怎样,他们现在也打。
此外,板球只在大约10多个国家普及。所以若论打板球,他们最多只能震撼那些国家。
Shubham Trigunait, B.Tech in Electronics & Communication
It is simply because to take part in a world cup you need to qualify for the world cup. And the chinese team is no where near to the standards that have been set by other teams.
Untill and unless they start performing well in Associate Nations tournaments, it js very difficult for them to feature in a world cup.
Especially since the ICC has decided to allow only 13 teams now to play world cup!
这只是因为若要参加世界杯,你首先要有资格参加世界杯。而中国队离这个标准还差得很远。
除非他们在联盟国家的比赛中表现出色,否则他们很难进入世界杯。
特别是在ICC决定现在只允许13支球队参加世界杯之后!
Chanchal Mehra, Cricket lover..
China does play cricket but is not a big force.
Also the agenda of China is to reign Supreme in games and sports of Olympic distinction for a global visibility. Cricket though popular is not a part of the Olympic events.
If it is inducted in the Olympic games I am sure China will dash for better emphasis to cricket.
中国也打板球的,但实力不强。
此外,中国的目标是在奥运会和具有奥林匹克特色的体育项目中斩获头角,以获得全球的知名度。板球虽然很受欢迎,但并不是奥运会项目的比赛项目。
如果它被纳入奥运会,我相信中国将会更加重视板球。
Nripinder Kaul, Stranded on the pretty blue planet...Well over 3000 movies and 200 TV series
Why isn't India a recognized football team...same answer, Lacks Talent and less viewship
为什么印度不是一支实力获得认可的足球队…答案是一样的,缺乏天赋和视野。
Anonymous
It's Easy because they cant see the ball, fielder, baller, boundary, umpire simultaneously.
It's like this- what they supposed to see
这很容易,因为他们不能同时看到球、外野手、垒球手、界外球和裁判。
这是他们应该看到的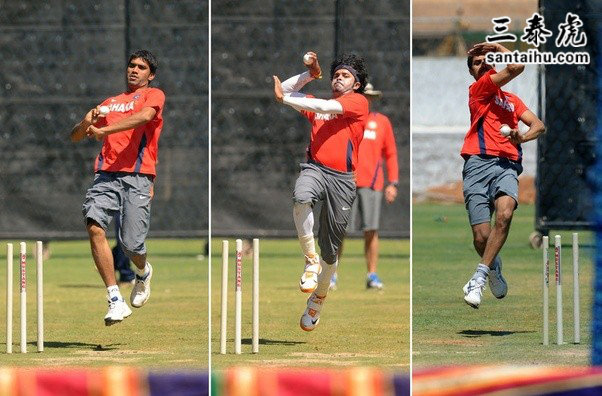 and what they actually see
而这是他们实际看到的

Ratnakar Mittal, Reading and thinking.
Is cricket really a game. Its played by a bunch of lousy laggards. Is there a game on this planet, where almost 40% of the palyers are in dressing room at time of match, at any situation of match. Where you just need to keep stand until ball comes to you or perhaps in your direction. where there is no fixed size of ground. Where you have opportunity to sell things every 2 and a half minutes. Where you can have the luxry of lunch and tea breaks. Does lawn tennis badminton boxing hockey swimming football have those luxuries. Is it really a game. Why should any country and its people bother about cricket. Chinese must be having better things to do and that they must be doing, that is why on all world events like Olympics, Asian games and grand prixs they win loads of medals and we indians try and hide our faces even after being 1 billion plus.
板球真的是一项比赛运动吗?这是一群脏兮兮的落后分子玩的。在这个星球上有这样一种比赛吗,几乎40%的球员在比赛的时候都在更衣室里。你只需要一直站着,等着球飞到你身边,或者朝着你的方向飞来。没有固定大小的比赛场地。你每2分半钟就能找到机会兜售东西。在那里你可以享受丰足的午餐和茶歇。草坪网球、羽毛球、拳击、曲棍球、游泳、足球有那些奢侈品吗?这真的是比赛吗?为什么一个国家和它的人民要为板球而烦恼呢?中国人肯定有更好的事情要做,而且他们肯定正在忙着呢,这就是为什么在世界上所有的项目上,比如奥运会、亚运会和大普利克斯,他们都赢得了很多奖牌,而我们印度人尽管拥有10多亿人口,也大失脸面。
Satya Jeet, Aspiring High
Cricket is famous in countries where Britain ruled . China was never under the British crown. So cricket is minority sports there. But Chinese cricket team is affiliated to ICC since 2004. Their board have ambitious aims to play in 2019 world cup and Get test status in 2020. Their coach is a Pakistani cricketer Rashid khan .
So they are trying to get in international mainstream cricket.
All the best to Chinese team . may be a shaolin cricket match can be seen
板球在英国统治过的国家很热门。中国从未被英国统治过。所以板球是小众运动。但自2004年以来,中国板球队就加入了ICC。他们有雄心壮志,希望能参加2019年世界杯,并在2020年获得测试资格。他们的教练是巴基斯坦板球运动员拉希德·汗。
所以他们正努力进入国际主流板球赛。
祝中国队一切顺利。也许我们能观看到一场少林板球赛呢!