14 dead, 9 missing after dam breach in Ratnagiri
拉特纳吉里一大坝决口,造成14人死亡,9人失踪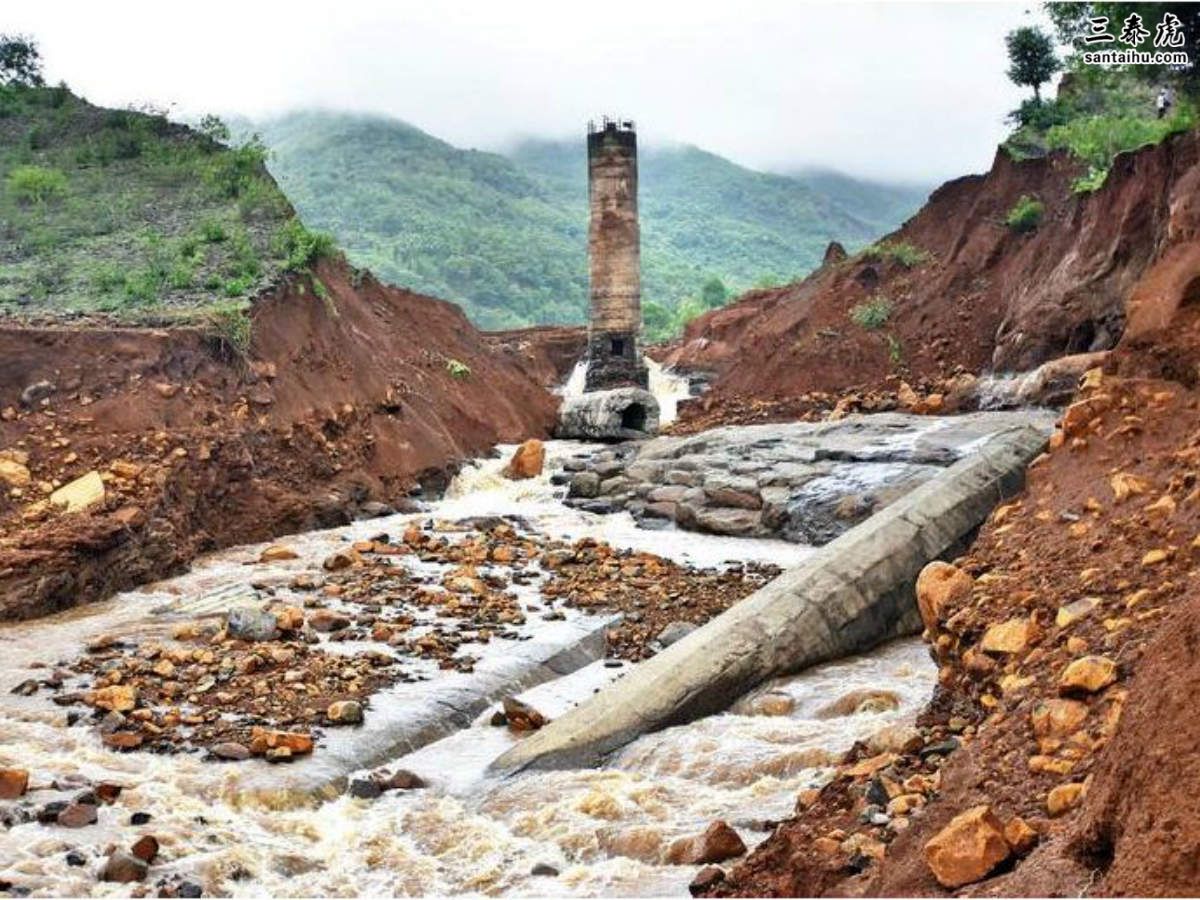 RATNAGIRI, MAHARASHTRA: Fourteen people, many of them from an extended family, were killed when a dam in Ratnagiri district's Tivare village, 250 km from Pune, breached late on Tuesday night, resulting in a torrent washing away many houses. Nine people were still missing when rescue operations were halted for the night on Wednesday.
马哈拉施特拉邦,拉特纳吉里: 周二深夜,位于距离普纳250公里的拉特纳吉里区蒂瓦雷村的一座大坝决口,洪水冲走了许多房屋,造成14人死亡,其中大都来自一个家庭。周三晚间,救援行动暂停,目前仍有9人失踪。
A massive 100-metre portion of the 308-metre-long dam was washed away, taking in its sweep nine of the 13 houses in the village and two bridges, officials said.
官员称,大坝长308米,决堤部分长100米,洪水冲走了村里9户房子(总共13户),两座桥梁。
Villagers told TOI that the tragedy was waiting to happen, claiming they had been complaining to the authorities for at least two years about major leakages from the dam, which was built in 2014.
村民告诉《印度时报》,悲剧势必会发生,大坝发生重大渗漏,他们已向当局投诉了至少两年。该大坝建于2014年。
On Wednesday, relatives of the victims refused to take their bodies till action was taken against the officials who did not listen to their complaints. However, they relented after state water resources minister Girish Mahajan met them and assured that a proper inquiry would be conducted into their allegations.
周三,遇难者家属拒绝带走遗体,除非对那些不听取他们投诉的官员采取行动。然而,在水资源部长吉里什·马哈詹接见了他们并保证将对他们的指控展开调查之后,他们的态度有所缓和。
Meanwhile, Mumbai received light showers on Wednesday — a relief after days of heavy rainfall. Firemen recovered four more bodies from the two wall collapse sites in Malad, taking the death toll in Tuesday's tragedy to 26.
与此同时,在连续几天的强降雨后,周三孟买转为小雨,算是有所缓解。消防队员在马拉德的两处墙体倒塌地点又发现了四具尸体,使周二的悲剧死亡人数达到26人。
Maharashtra water resources minister Girish Mahajan said each family would be given Rs 5 lakh as ex gratia. "We will build temporary homes for them immediately and later permanent structures. One person from each family in the village will be given a government job," he said.
马哈拉施特拉邦水资源部长吉里什·马哈詹表示,每个家庭将获得50万卢比的特惠补偿。"我们将立即为他们建造临时住所,之后将建永久性住所。村里每户都将有一人在政府里获得一份差事"
Two teams of the National Disaster Response Force are engaged in rescue operations.
On Wednesday, a few villages downstream did not even have drinking water as the wells were filled with muddy water. Even the rescue teams were fetching drinking water from a town 30 km away.
周三,下游的几个村庄甚至喝不上水,水井里都是浑水。救援队也在30公里外的一个小镇取水。
印度时报读者的评论:
译文来源:三泰虎 http://www.santaihu.com/47956.html 译者:Jessica.Wu
外文:https://timesofindia.indiatimes.com
Kumar • 11 hours ago
After looting major part of the project money they build substandard infra which would end up in tragedies, shameless indian politico and bureaucrac
无耻的印度政客和官僚,侵吞了大部分款项,修建的基础设施不合标准,这必将导致悲剧。
John Verghese• Mumbai • 8 hours ago
sir they greedy bastar,,s should be thrashed in public on their bluddy buttocks till it bleeds . No excuse for these people
应该在公共场合鞭打这些贪婪的混蛋,绝不宽待
Arvind Shah • 10 hours ago
Shameless politicians Bureaucrat and administrator are responsible. AS A head of nation prime minister and maharashtra chief minister and all party supporting government is responsible.please stop blaming opposition parties.
无耻的政客、官僚和行政官员应对此负责。印度总理、马哈拉施特拉邦首席部长以及政府都负有责任。
ChowkidarJail • 9 hours ago
Buddy, this is their job. Destroy India and Indians.
伙计,这就是他们的工作:毁掉印度,害死印度人。
BOOTOUT SARKAARICLASS• ChowkidarJail • 4 hours ago
Haha! Firstly I am not a supporter of any party. Secondly this dam was built in 2014. I hate the party that is in power (whichever) most, because they can do something about current problems.
首先,我不是任何党派的支持者。其次,这座大坝建于2014年,这么快就决口。我最讨厌执政党,他们本可以对当前的问题有所作为的
Rahul • 12 hours ago
Dam built in 2014 collapsed. While British era dams are still functional.
Britishers were right when they said at the time of independence, Indians can't rule themselves.
建于2014年的大坝决堤了,而英国殖民时代的水坝仍屹立不倒。
在印度独立时,英国人说过印度人自己管不好自己,看来说对了
Mbai • 8 hours ago
yes sir well said. India would have been better if India was still under the British Rule. they politicians have mess up everything since 1947 till today. Even the present Parliament cannot clean the mess in 5 or 10 years time.
说得好。如果还在英国的统治下,印度会更好的。从1947年到今天,印度政客们把一切都搞砸了。即使是现任政府在5年或10年内也收拾不了残局。
Surinder Gujjar• Haryana • 11 hours ago
True. Even if you look in Delhi or any major city for that matter, those areas that have British era sewage systems and storm water drains never get flooded. Only the new areas get flooded. They had preplanned everything so that the city can bear with more people migrating and can last hundreds of years.
你去德里或其他大城市看看,那些英国殖民时代就建立污水系统和雨水渠的地区都不会被淹。只有新规划的地区会被洪水淹没。
Dreet • 12 hours ago
Repair dams not build majestic statues with the money.
修水坝吧,不要拿钱去造雕像。
Dreet • 12 hours ago
Still want to compete with ? Infrastructure in shambles.
印度基础设施一团糟,还想和竞争?
Jagdish Madan • Vancouver BC • 10 hours ago
Built in 2014, the dam is relatively new and such a major breach should not have happened. Those responsible for building the dam as well as politicians and bureaucrats who ignored the complaints of the villagers over last two years must be identified and neutered.
大坝建于2014年,是一座相对较新的大坝,这么严重的决口本不应该发生。调查那些负责修建大坝的人,还要调查过去两年中无视村民投诉的政客和官僚。
Sl • Secunderabad • 12 hours ago
Some of these officials must be jailed for culpable homicide
其中一些印度官员必须因过失杀人而坐牢
BOOTOUT SARKAARICLASS • ChowkidarJail • 9 hours ago
LOL. You are reading too much foreign news. This is India.
哈哈,这是印度,你是外国新闻看多了吧。
Common Man • India • 10 hours ago
It was due to poor governance in last 5 years.
这是过去5年的治理不善造成的
Ananthan Nair • 8 hours ago
Built in 2014 and leakages since last 2 years... washed away in 2019.... what type of crony conatruction may have happened in Pawar Gang''s land !!!
建于2014年,过去2年以来一直漏水…2019年就决堤了…
Rajiv • 9 hours ago
Such sloppy work and carelessness will not help build a modern India. Most of projects in Congress time were of questionable quality and need to be reevaluated for safety and security.
如此草率工作、粗心大意将无益于建设一个现代化的印度。在国大党执政期间,大多数项目存在质量问题,需要重新评估其安全性。
Tara • New Delhi • 9 hours ago
Lackadaisical work of state irrigation deparnent, who didn't act timely and so nany lives and property lost.
Precaution is best thing to avoid accidents. Punish those who ignored the villagers request.
国家水利部门工作不力,没有及时采取措施,造成了巨大的生命财产损失。
预防是避免事故的最好办法。惩罚那些无视村民要求的人。
Common Man • India • 10 hours ago
Which misgvt is ruling since last 5 years?
过去5年,是哪个政党在执政?
Prabhakar Naik • 10 hours ago
Incompetency, lack of knowledge and laziness are some of the causes for the mishap.thorough enquiry is a must.
无能、无知和懒惰是造成这次事故的部分原因,必须彻查。
BOOTOUT SARKAARICLASS• ChowkidarJail • 9 hours ago
We Indians are like this only. That is why we voted Modi and shiv sena gobarmint. Yes we booted out Congress, and then brought another corrupt party.
我们印度人就这样。所以我们才会投票给莫迪。是的,我们赶走了国大党,然后又迎来了另一个腐败的政党。
ONE LINER Challenge • 13 hours ago
DAMS SHOULD SUPPORT LIFE NOT TAKE IT. R.I.P
水坝应该是用来守护生命的,结果反倒夺走了人民的生命。安息吧
Whadafa • Here • 12 hours ago
Was the dam built during Modi leadership?
大坝是在莫迪执政期间修建的吗?
Mohit Goyal • 7 hours ago
this is a result of collusion between corrupt politicians & contractors. nothing is going to happen apart from some enquiry just for formality.
这是腐败政客与承包商勾结的后果。
Rohan Seth• Location • 6 hours ago
Dam built in 2014 collapsed in 2019? How?
2014年修建的大坝,2019年就决堤了?怎么回事?