Magnificent SHANGHAI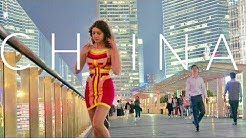 以下是youtube用户的评论:
视频:https://www.youtube.com/watch?v=vFQQNPT2wdY
DWTO offi al Digital World Tourism Organization
Very beautiful country
I love . Pakistan friendship a example in the Asian region. I am going to start my own import business from to Pakistan. I will visiting Shanghai soon
这个国家很美。
我喜欢。巴基斯坦和的友谊是亚洲地区的榜样。
我打算从进口一些商品到巴基斯坦。很快会去上海的
Paul H
I am surprise that looks like this
This not what they show on TV
大感意外,居然长这样
跟电视上看到的不一样
Chen Zhang
Just a ticket man, go travel by yourself and have your own impression about !
买一张机票,就可以亲自来看看了
Eros
goverments only let u c what they want u to, eventhough in western countries people say they have news liberty but the truth is no matter where u r, the news are always sed.
即便在西方国家,人们虽说有新闻自由。其实,不管在哪里,新闻都是选择性报道
sim here
Not the American dream anyone, it's the dream now!!!!
And I'm living it.
现在不谈美国梦了,现在只谈梦
Jehpu Lallawm Ngente
Shanghai is such a beautiful city. Our ancestors were from , sichuan provice. But due to some reasons they moved down to India around 15 century(at that time NE was not a part of India yet). I just love because our origin was from there. God bless ... Much love from North East India.
上海这个城市很美!
我们的祖先来自四川。由于各种原因,我们的祖先于15世纪迁来印度,当时东北邦还不是印度的一部分。
就因为我的祖先来自,我喜欢。愿神保佑。
我在印度东北为你们送去爱
Scythian Lord
You can go back to ? Why are you still here in India, no offence but just a question...
你可以回到去啊。为什么还呆在印度。
无意冒犯,我只是问问
fun vid clips
Don't say this I m also from NE India... I love India. I know is much more developed than India... But this doesn't make me go to .. Who the fuck told you that NE was under ...it was neither nor India... But India gave us our identity.. Don't forget that... I love India I m from A pradesh. Love india
别这样说。我也来自印度东北。我爱印度
没错,比印度发达得多。
然而,仅凭这一点,并不能促使我去。
谁跟你说,东北邦曾经是的。
以前既不是的,也不是印度的。
别忘了,现在印度给了我们身份。
我爱印度,我来自a
Mi Min
im also from Manipur State of north-east India, the people of NE looks like our brother , Burmese, Japanese, etc.. and im very proud of it. North-east was actually independent before british occupation of India, there were many small kingdoms in NE india, after world war2 the British merge NE with India, and today we are part of India, damn... those bloody british.
我来自印度东北的曼尼普尔邦。
东北邦人的长相和、缅甸人、日本人一个样。
我为此感到很骄傲
英国占领印度后,印度东北其实是独立的,当时有很多个小王国。
二战后,英国把东北并入了印度。
今天,我们就成为了印度的一部分,该死的,那些可恶的英国人,太可恶了
译文来源:三泰虎
Bappy Roy
Go to CHINA. Why you are here.
那你去啊,为什么还赖在这里
Mi Min
@Scythian Lord who are you telling to go back, North-East is our ancestral land, if you dare to say this to the people of NE while you are in NE, you will get a hard slap ok....
你胆敢叫我们回去。东北本来就是我们祖先的领土。
在东北,你要是敢这样说,会被狂揍的
Ice baby
@Scythian Lord After 600 years he is already a 100% Indian, he has no relatives and no connections in . If you ask Americans to go back Europe, they have nowhere to go as they have lost their roots there.
已经过去600年了,他们已经是100%的印度人了,在已经没有亲戚了,与没有关联了。
你让美国人回到欧洲去,美国人会不知往哪里去的,他们已经在欧洲失去了根
Raahil Kashmiri
A Pradesh , Sikkim are parts of not India
"a"和锡金是的一部分,不是印度的
Nishant Duhan
@Raahil Kashmiri Kashmir, Sikkim and A are part of India you looser.
克什米尔、锡金和"a"是印度的一部分,你们这些失败者
mccolock maq
@Nishant Duhan
pretty hard to teach people who believe cow is god
你们这些人相信牛是神圣的,难以教化啊,不可理喻
serial killer at street 48
Why india cant be like ? is progressing day by day and we are still lacking toilets .
I am ashamed of my country .
为什么印度就发展不成那样?每天都在进步,而我们连厕所都不够
我为自己的国家感到耻辱
Pawan Kumar
India is not develo just bcoz of people like you
印度为什么没有发展起来?还不是因为你们这些人
Omar Abid
I am coming soon. Love from Islbad Pakistan
我来自巴基斯坦ysl堡,很快就要去了
Shehryar Khan
Shangai the City of Love . I love from Pakistan
上海是一座充满爱的城市。我来自巴基斯坦,我爱
Noble Six
when you go to u will realize that is more modernized than many western countries including america
去了后,你会发现,比很多西方国家更现代化,也比美国更现代化
Johnlim40
i was thinking about going to Shanghai or seoul. But after watching your video, you make me pick Shanghai.
本来我想着到底是去上海还是去首尔。看了你的视频后,我现在决定去上海了
Raahil Kashmiri
OMG I can't imagine that is so developed best wishes ahead
哦天啊,无法想象居然已经如此发达了!
vovevo offi al
is the future world...
will lead the world.
是这个世界的未来所在
会引领全球的
Asdf
No, all innovations come from the west. only copy them.
得了吧,所有的创新都来自西方,只会抄袭
Ishan Khri
wow ..... is a good country and the people of are looking very beautiful educated and they are so humble .....we have border problem but I love and their citizens love from india ..........jai hind
哇塞,这个国家好啊,民很美,很有文化,很谦逊
虽然我们两国闹边界纠纷,不过我还是爱的。
印度必胜
Jifin Varghese
I m from India. We're like 1.5 billion people. But we don't have a single city in India like this. Good job
我来自印度。我们有15亿人口,不过没有一座印度城市如此发达的。
Rahul anand
visit Gurugram and Bangalore
你去古尔冈和班加罗尔看看
diga Melo
But India has de acy , so India wins hands down.
印度有啊,印度赢了
SohaiL Rehman
Miss U Shanghai I have best memories In this City
我怀念上海,我在这座城市留下了美好的回忆
Sam L
I went there in 1995, lots if construction were going on. This city looks nothing like what I saw. Amazing, time to go again.
我1995年去过上海,当时到处在施工。
看了视频后,感觉和我当初看到的上海不一样啊。
真了不起,看来我得再去上海了
Curious mind
As an indian i love
作为一位印度人,我爱
RAJA PAK-CHINA
i visit Shanghai in 2010,zing Country, Shanghai Tour is so beautiful view on top
我是2010年那会去上海的,了不起的国家
ResearchShyVids
is better than America and western
No doubt
Love to from new Delhi,india
我来自印度德里。
比美国好,比西方国家好,这是毫无疑问的
ninglumKS
Shanghai is very clean and classic.
上海非常干净,非常古典
donden nguyen
I'm from Vietnam
I love Shanghai because it is very beautiful
我来自越南,我喜欢上海,不为别的,就因为其很美
REVOLUTION ON
Shanghai is world class city Love from Sikkim
我来自锡金。上海是一座世界级的城市
Lucky Land 17
I am never gone to but still i can say that...Shangai,,even all cities of are much more better than USA....love ....from Pakistan
我来自巴基斯坦,从来没去过。
感觉上海、等城市,比美国发达多了
cand sand
You re So beautiful everybody watch you
你好美啊,大家都在看你呢
Seputar Apple
I love you girl. Where are you from? You are so beautiful. I like love your eyes and face
美女,你来自哪里?你好美啊。我喜欢你迷人的眼睛,喜欢你美丽的脸庞
Nabakrishna Avenger
You look so beautiful with that fluorescent dress...
你穿着那套连衣裙,好美啊
Noah Kürstein
5:00 in the background: Literally me being carried away after watching this overwelmingly beautiful city
:O
I'm not going to Shanghai, but I am going to next month. Can't waiiiit
5秒处,我被这座美丽的城市吓到了
我下个月不是去上海,而是去,快等不及了
Asad Ansari
Really nice view of the . already seem to became superpower .Thanks for video. AA from Karachi Pakistan
似乎已经是超级大国了
Rudolph 7
Shanghai looks beautiful at night. Love it. Thanks for posting a cool vid.
上海的夜景很美,我喜欢
savan kumar durge
U look beautiful than Shanghai City
你看起来比上海这座城市更美
Mr. iK
You looking beautiful not Shanghai
美的是你,不是上海