PM Modi holds separate talks with presidents of Indonesia, Brazil; focus on bilateral ties, trade
莫迪总理分别与印尼、巴西总统举行会谈,重点讨论双边关系及贸易问题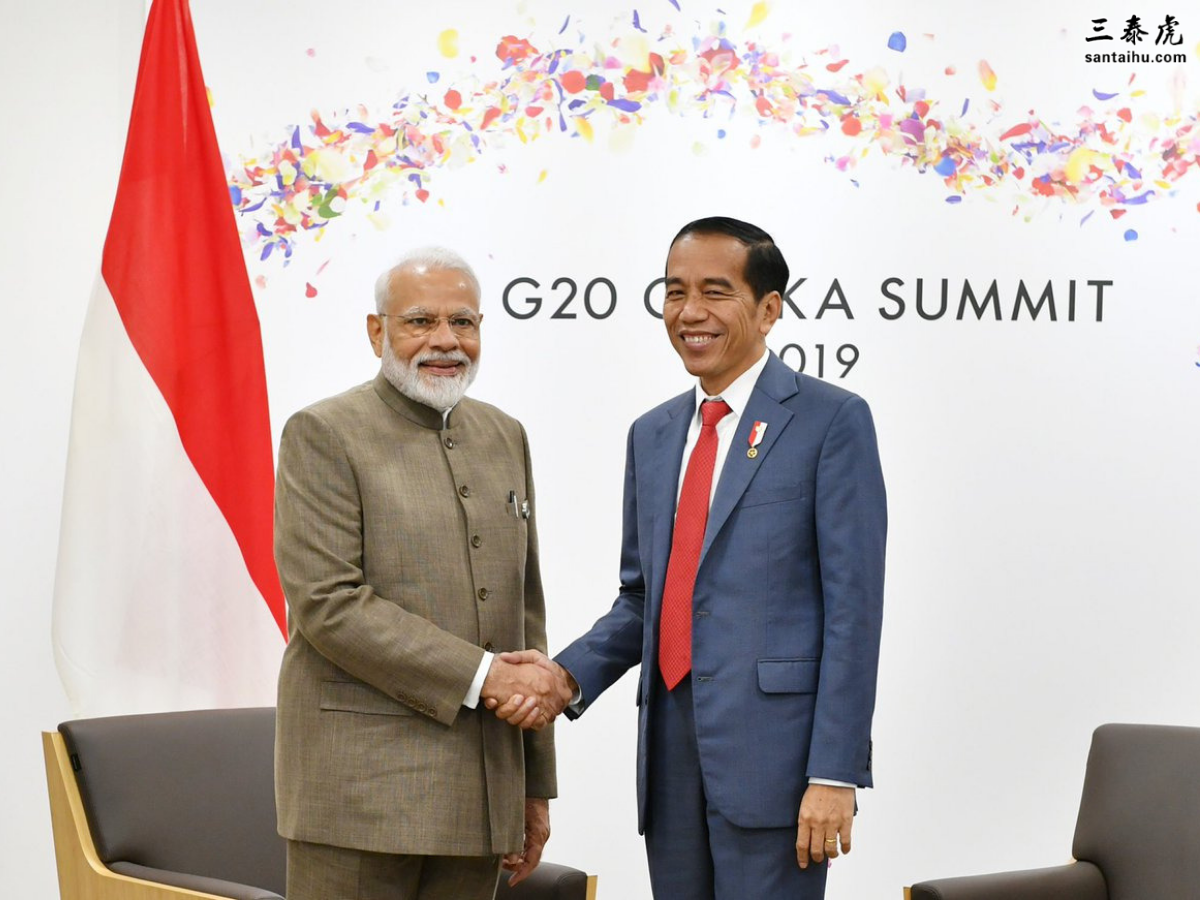 OSAKA: Prime Minister Narendra Modi met the presidents of Indonesia and Brazil separately on the sidelines of the G-20 Summit here Saturday, and discussed ways to boost bilateral ties and enhance cooperation in trade and investment.
大阪:周六,莫迪总理在G2峰会间隙分别会见了印尼和巴西总统,并讨论了加强双边关系、加强贸易和投资合作的途径。
During his meeting with Indonesian president Joko Widodo, the prime minister discussed ways to deepen bilateral cooperation in trade and investment, defence and maritime fronts.
在会见印度尼西亚总统佐科·维多多期间,莫迪总理讨论了如何深化双边在贸易和投资、国防和海洋领域的合作。
"Beginning Day 2 of the # G20 Summit by meeting a valued friend. PM @narendramodi holds talks with President @jokowi on ways to deepen India-Indonesia cooperation," the prime minister's office tweeted.
总理办公室在推特上写道:"G20峰会的第二日就要开始了,我要会见一位重要的朋友。莫迪总理同佐科总统就深化印印合作举行会谈。"
In a tweet, Ministry of External Affairs spokesperson Raveesh Kumar said, "Taking forward the comprehensive strategic partnership. PM @narendramodi had a productive meeting with Indonesian President @jokowi on margins of #G20Summit. Discussed expanding cooperation in trade & investment, defence, maritime, space & exchanged views on Indo-Pacific vision."
印度外交部发言人库马尔在推特上表示:"推进全面战略伙伴关系。莫迪总理在G20峰会间隙与印尼总统佐科维举行了富有成效的会晤。讨论了扩大在贸易投资、国防、海事、航天等领域的合作,并就印太愿景交换了意见。"
Soon after, Modi met Brazil president Jair Bolsonaro.
稍后,莫迪会见了巴西总统雅伊尔·博尔索纳罗。
"Deepening the close & multifaceted strategic partnership. PM @narendramodi & Brazilian President @jairbolsonaro held wide-ranging discussions on bilateral relationship, specially cooperation in trade & investment, agriculture & bio-fuels in the context of climate change," Kumar tweeted.
库马尔在推特上写道:"深化密切多方战略伙伴关系。莫迪总理和巴西总统雅伊尔·博尔索纳罗就双边关系,特别是气候变化背景下的贸易投资、农业和生物燃料合作进行了广泛讨论。"
Later in the day, the prime minister will meet leaders of Turkey and Australia among others.
当天晚些时候,总理将会见土耳其和澳大利亚等国领导人。
印度时报读者的评论:
译文来源:三泰虎 http://www.santaihu.com/47921.html 译者:Jessica.Wu
外文:https://timesofindia.indiatimes.com
Rajendra Chouhan • us • 8 hours ago
Prime Minister Modi has raised the profile of India in this meeting and other international forums, as India is paid attention to and listen to. He is taking India to its rightful place in world affairs, after 60 years of CORRUPT CONGRESS RULE.
莫迪总理在本次会议及其他国际论坛上提升了印度的形象,印度受到关注和倾听。在国大党60年的附败统治之后,他将带领印度在国际事务中重拾其应有的地位。
Prateek Trivedi• 9 hours ago
India should request Turkey to not support Pakistan at FATF forums.
印度应该要求土耳其不要在FATF(反洗钱金融行动特别工作组)论坛上支持巴基斯坦。
Dilip • 8 hours ago
Modiji is great. He is proud of India. Bharat Mata ki Jai. Bande Mataram.
莫迪太棒了,他是印度之光。
sagebox plaz • 8 hours ago
Modiji
is best
莫迪是最棒的
Aarko Romeo • 8 hours ago
G 20 members r- Argentina, Australia,Brazil, China,Canada, France, Germany, INDIA, Indonesia, Italy, Japan, Mexico, Russia, Republic of Korea, Saudi Arebiya, South Africa,Turky, USA, UK & European Union.
G20 members represent around 85 per cent of global gross domestic product, over 75 per cent of global trade, and two-thirds of the world's population.
it means incredible INDIA, Go on.. and keep going on...
G20成员包括阿根廷、澳大利亚、巴西、中国、加拿大、法国、德国、印度、印度尼西亚、意大利、日本、墨西哥、俄罗斯、韩国、沙特阿拉伯、南非、土耳其、美国、英国和欧盟。
G20成员国约占全球GDP的85%,全球贸易的75%以上,以及全球人口的三分之二。这意味着印度也是了不起的,再接再厉……
Harish PK• Bangalore • 6 hours ago
Excellent Modiji, every minute is a productive in the interest of nation great...:)
莫迪太棒了,每一分钟都在为国家的利益而奋斗,每一分钟都富有成效。
Sureshi • 6 hours ago
Modi is doing very good for India. The focus on having good international relations and economic deals will give all the more push and fillip to the growth and development story of India.
莫迪为印度做了很多好事。把重点放在建立良好的国际关系,达成经济协议上,这将为印度的增长和发展提供更大的推动力。
aaaa bbbb • 6 hours ago
We must find good friends and collaborate to achieve win win for both parties
我们应结交朋友,合作实现双赢
Hemant • Mumbai • 6 hours ago
This man knows that his political and diplomatic initiatives will bring stability prosperity and goodness for the people of India.
Awaiting the results Sir.
莫迪知道,他的政治和外交倡议将为印度人民带来稳定、繁荣和福祉。
静待结果。
Sudhansu Sekhar Das • 6 hours ago
Prim Minister is doing the good job.
莫迪做得很好
mohammed mansoor • 6 hours ago
he will make Indian 20 years backward
莫迪会让印度倒退20年的
Helen Ccream • 8 hours ago
Probably Modiji will get to hug all prime ministers and presidents as usual
莫迪可能会像以往一样拥抱各国总理和总统
Masudur Rahman• 7 hours ago
Water crisis is becoming a reality, kindly take some emergency steps.
水资源危机已成事实,赶紧采取措施。
Kricket• 7 hours ago
What about last 70 years, last 200 years and eclast 900 years loot and mismanagement? it's a bit rich to expect this to be fixed in 5 years.
那么过去70年,过去200年,过去900年的掠夺和治理不善呢?
指望在5年内解决这个问题有点不切实际啊。
sushant thorat • 8 hours ago
Feku begging to developed countries for loan hahahaha
莫迪向发达国家乞求贷款,哈哈哈
Rocker• India • 6 hours ago
Wish you and your family will beg on the streets!
愿你和你的家人在街上乞讨!
RASESH CHOKSI • 8 hours ago
I would like to understand how these meetings and deals are going to help India and common man in India.
我想了解这些会议和协议对印度有什么帮助,对印度普通老百姓有什么帮助
satya murthy• 9 hours ago
What happened during last five yrs will repeat in next five years.
过去五年发生的事情将在未来五年重演。
Dilip Kumar Sarma• 8 hours ago
During last five years India was upgraded a lot and it will continue atleast for another five years.
在过去五年里,印度已经进步很多,至少未来五年将继续发展。
Shakuni Mama• 8 hours ago
India has made such tremendous strides in last five years in terms of respect from around the world. Besides infrastructure development in terms of electricity and natural gas supplies for homes......Lot more than previous decades combined. I guess only people who are opposed to it is co ption benefiting class.
印度过去五年里取得了巨大的进步,赢得了全世界的尊重。电力和天然气供应方面的基础设施建设比过去几十年建的加起来还要多
Sharma Narendra • Bharat • 4 hours ago
Na Mo will take India at top
莫迪将带领印度登峰造极
Aman Nigam • 4 hours ago
OUR Prime Minister NARENDRA MODI IS Best
我们的莫迪总理是最棒的
Gururaj Babu • 5 hours ago
Unlike the previous PM''s is not running behind only US, UK, China . He is having talks with so many countries. moreover , many countries are looking forward to having talks with him. Evey country is interested in investing in India.
与前任总理不同的是,莫迪并不围着美国、英国和中国转。他正和许多国家进行会谈。许多国家的元首期待着与他举行会谈。每个国家都对投资印度感兴趣。
Jaganntha • Bengaluru • 5 hours ago
Modi will talks with Brazil America China etc he will not have time in India to discuss different issues.
莫迪将与巴西、美国、中国等进行会谈,在印度国内,他却没时间讨论问题。
Sabian • 5 hours ago
People of India have not given you mandate... You have hacked the EVMs
莫迪,印度人民没投票给你…是你黑了电子投票机
kannan dhanya • 5 hours ago
Prime Minister Modi has raised the profile of India in this ..
莫迪总理提升了印度的形象。
Richard • 6 hours ago
India should avoid any bilateral relations with Indonesia and Turkey...
印度不应与印尼和土耳其建立双边关系。
truthconscience81 • US • 6 hours ago
Turkey has not been a good friend of India. It occasional colludes with porkiland in backstabbing India
土耳其不是印度的好朋友。它偶尔会和波尔串通一气,在背后中伤印度。
Amrita • Surat • 6 hours ago
Well done Modi ji. Open up more trade opportunities for Indian goods and bring in more investments into India.
干得好,莫迪。为印度商品创造更多商机,吸引更多投资。
Rahul s • 7 hours ago
the strategy of PM Modi is Best to keep India far ahead in terms of Business Growth & Economy.
莫迪总理的战略是保持印度在商业增长和经济方面遥遥领先。
Alex Mothilal • 7 hours ago
Why F.Chowkidar wearing Western dress instead of vedic atire?
为什么莫迪要穿西装,而不穿印度传统服装?