Delhi-Mumbai in 10 hours by train?
德里到孟买,坐火车10小时?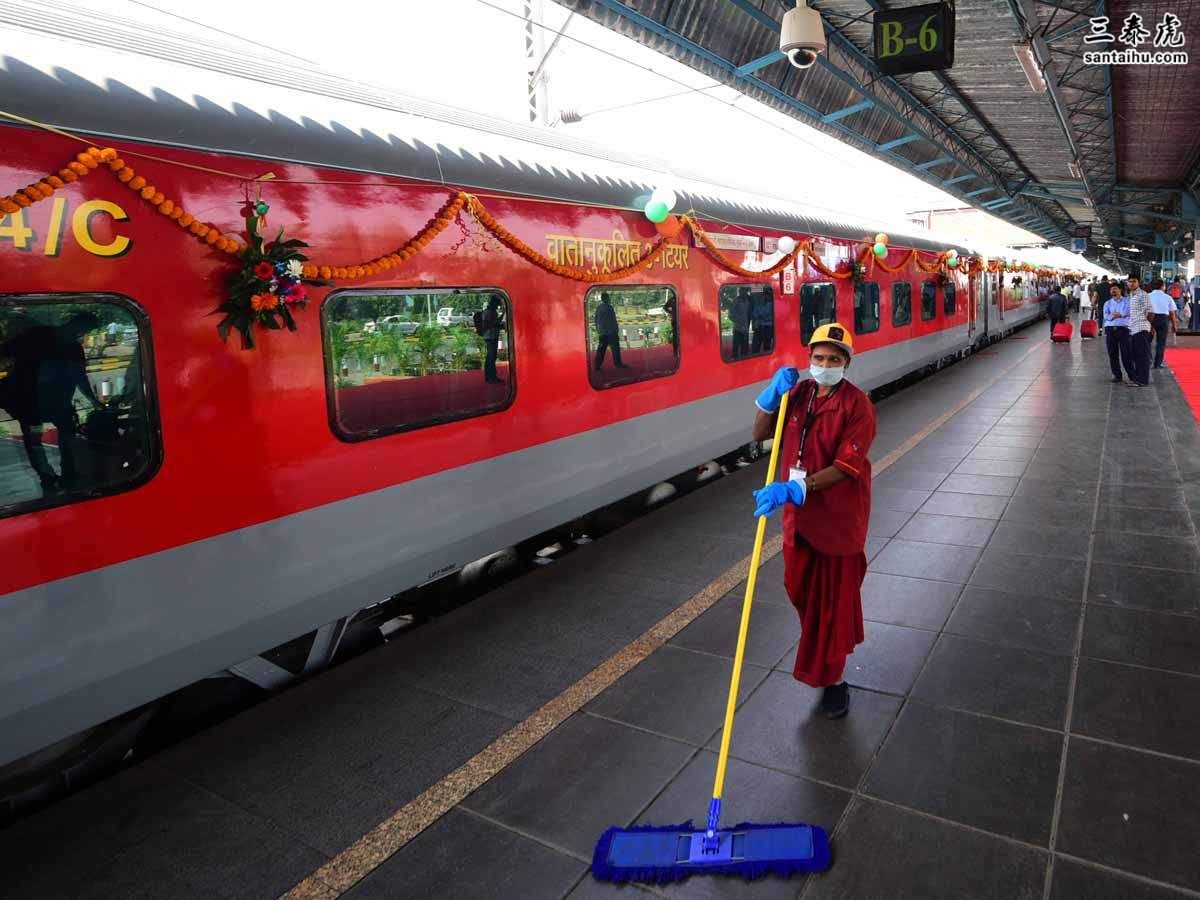 NEW DELHI: In the next four years, you can hope to reach Mumbai from Delhi in just 10 hours boarding a superfast train. Similarly, the journey from Delhi to Howrah could be completed in just 12 hours.
新德里:四年后,从德里到孟买乘坐超高速列车仅需10小时,从德里到豪拉可能只需要12个小时。
The railways has set the target to increase the mamum speed of trains on these routes to 160 kmph to cut down the travel time between the national capital and financial capital by five hours and save five-and-half-hours' journey time between Delhi and Kolkata. The fastest trains now (Rajdhani) can run at mamum speed of 130 kmph.
印度铁路公司已设定目标,将两条铁路提速至160公里,届时首都德里和金融中心孟买之间的通勤时间将缩短5个小时,德里和加尔各答之间的通勤时间缩短5个半小时。目前最快的火车(Rajdhani)时速可达130公里。
This is among the clutch of proposals that the railways has finalised as a part of its 100-day agenda under the second edition of the Narendra Modi go nment. The railways estimates to spend about Rs 13,500 crore in shoring up the national transporter's infrastructure over the next four years.
这是印度铁路公司在莫迪政府第二任期内敲定的一系列提议之一,这些提议是其100天议程的一部分。印度铁路公司估计,未来四年将花费约1350亿卢比升级铁路基础设施。

印度时报读者的评论:
译文来源:三泰虎 http://www.santaihu.com/47872.html 译者:Jessica.Wu
外文:https://timesofindia.indiatimes.com
Sandip • 8 hours ago
Modi(2.0) as a leader with a vision and action.. feels good when taxpayers money is ly utilized
莫迪是一个有远见而且务实的领导人。纳税人的钱用到了实处,太好了。
Sandip Debbarma • 2 hours ago
Bhakts always see a modi hand in development and Congress hand in his failures.
发展都是莫迪的功劳,失败都是国大党的责任。
Dr Vidyadhar Yellutla• Bangalore • 2 hours ago
Sonia mafia was purchasing AGusta VIP choppers for family trips, Modi ministers are giving priority to common man
索尼娅花公款购买直升机,用于家庭旅行之用,而莫迪优先考虑老百姓的利益。
modi modi • cow country • 9 hours ago
Fantastic! Great achievements by Modi.
太棒了! 这是莫迪的丰功伟绩。
Prakash Kumar• 2 hours ago
Absolutely. Had Modi been in power for the last 20 years then Mumbai to Delhi would have been possible in less than 3 hours. Congress really cheated the people for 60 years. Our Make in India initiatives has produced some great super fast locomotive. Soon we will be exporting the engines and our forex reserves will explode even further.
过去20年要是莫迪执政,现在从孟买到德里坐火车不用3小时就能到的。60年来,国大党一直在欺骗人民。承蒙我们的"印度制造"计划,现在造出了高速火车,不久就可以出口了,我们的外汇储备将激增。
Satish Sharma• Amrotsar • 5 hours ago
lucky to have piyush goel as railway minister. He is man of actions like Gadkari. In near future we will see so many new developments.
好在是皮尤什·戈埃尔出任铁道部长,他是实干家。在不久的将来,我们将迎来更大的发展
Neeraj • 4 hours ago
We are lucky to have Narendra Modi as our PM. If 10% of the po itician work to have the dedication like him, no one can stop India from reaching heights never seen before.
有莫迪这样的总理,是我们的荣幸。政客中有10%像他一样矜矜业业,印度一定能达到前所未有的高度,而且这一进程无人能阻止!
shaleen mathur • 6 hours ago
First improve security of tracks before increasing speed.
首先要升级铁路,然后再提速。
Sanjoy Pandey • Kolkata • 5 hours ago
This will be a great advantage. Security aspects should also be taken care of.
会是很大的进步,还应注意安全方面的问题。
Dharmendra • 6 hours ago
Go nment in action mode.
政府开启了行动模式
Vipul Bhagat • 3 hours ago
Will go on for next 4.5 years until next ion
And the Indian public loves it
Any information on Bullet train
I just came back from india Not even a Inch Of work is done
这个牛可以吹到下一次,印度公众就喜欢这一套。高铁有进展了吗?一点动静都没有啊
Jai Bharat • 52 mins ago
This is what expected from Modi 2.0 . This man can set and achieve the target what other useless po itician not able to even think.
这就是人们所期待的,莫迪说到做到,其他政客想都不敢想。
Cn Rsubrnian • New Delhi • 2 hours ago
Good move by Railways. Tax payers money is spent ly spent, everybody will be happy. Modi Sarkar Zindabad.
印度铁道部做得好。纳税人的钱花到了实处,皆大欢喜,莫迪万岁。
Manoj • Bangalore • 3 hours ago
Cant imagine Congress past Rule RUINED our Nations Growth !
国大党过去的统治太烂,葬送了我们国家的发展!
Awadhesh Kumar • 3 hours ago
Great now India is growing fastly
印度发展得很快,太棒了!
Subrniam Dharana • 7 hours ago
All these sounds good. But, let the basics of running trains ON TIME be seriously implemented. This will repose fa th of passengers in railways.
听起来不错。但是要认真落实列车准点运行的基本原则。准点运行后,旅客对坐火车就更有信心了。
Om Prakash • Ludhiana, Punjab, India • 7 hours ago
The punctuality data of railways is very bad. Just by increasing the speed of trains will not help. Traffic management needs tremendous improvement.
火车都不准点,仅仅提速是没有用的,管理需要大力改进。
Anand • 55 mins ago
Great. Speed and quality should go hand in hand.
太好了。速度提上去了,服务质量也应该抓上去
ames James • 3 hours ago
Ridiculous. has had trains travelling at speeds of nearly 400 Km per hour for decades and here these guys are making a big deal about 160 Kph in the 21st century. If you think at slow speeds you get slow speed results.
太可笑了。火车以每小时近400公里的速度跑,已经跑了几十年了。21世纪了,印度火车时速才160公里,还有脸在这大做文章。
R Aloor• 3 hours ago
Have some sense. It cannot be done overnight. It needs decades of planning implantation and funds. The first bullet train on its way. Slowly all major cities will be covered.
不可能在一夜之间完成,需要几十年的规划,还需要大笔资金。印度第一条高铁正在修建,印度高铁网将逐步覆盖所有主要城市。
asian highway• kuiper belt outer space • 2 hours ago
dont compare with , japan etc. besides didnt start building railways with 300,400 k speeds upfront. they improved gradually. similarly, we are also a work in progress.
不要和、日本等国家比较。火车时速也不是一下子就提高到300-400公里的,也是逐步提速的。同样的,我们也应一步步来。
Sanjay • Pune • 4 hours ago
Good move by go nment. Please pay attention to passenger safety as well.
政府做得好。同时也要重视乘客的安全。
Yashodhan Patwardhan • Mumbai • 4 hours ago
instead you can build some dams so people can get water to drink
还不如多建一些水坝,这样人们就有水喝了
Francis Coutinho • safat • 28 mins ago
this is a good promise for the convenience of our people we should all pray that this project is implemented and ex ted in time
这个可以有,利国利民,祈祷这个项目能及时实施。
cpl new • 1 hour ago
Modi Baba answer for below
Distance between mumbai to banglore -1000 kms and time taken train -about 24 hours (that too if luckily train on time,which mostly are not on this route)
Distance between mumbai to delhi-about 1450 kms and time taken train -about 15 hours (most of time trains are prompt)
why banglore is so ignored being IT HUB
莫迪,请回答下面的问题
孟买到班加罗尔的距离是1000公里,坐火车需要大约24小时(如果幸运的话,火车也能准点到达,但大多不准点)
孟买到德里的距离大约1450公里,坐火车需要大约15个小时(大多数时候火车很准时)
为什么作为IT中心的班加罗尔这么不受重视?
Vivek Bharti • 1 hour ago
Why we don't have basic health infrastructure ???if not like US/UK at least like Ethopia. If we don't have basic health/ nutrition and education issues addressed we can not considered a civilized nation..lest compare with any good country
为什么我们连基本的卫生设施都没有?
就算不能达到美国和英国的水准,至少要比得上埃塞俄比亚吧。
如果连基本的健康和教育问题都解决不了,我们就不算是一个文明国家,和别的国家就没得比。
chanakya • Mumbai • 1 hour ago
Extend bullet train from ahmedabad to delhi so that mumbaikars reach delhi in 6 hrs
把目前在建的高铁从艾哈迈达巴德延伸到德里,那孟买人坐高铁6小时内就能到德里
Santimay Basu • New Delhi • 2 hours ago
If there is a will, there is a way. PM Modi is always proving this . Sincerity, commitment and determination lead to the success.
有志者事竟成。莫迪总理一直在努力证明这一点。真诚、承诺和决心必定会带来成功。
mohammed mansoor • 2 hours ago
it will another scam by BJP
又是人民党的骗局
Pawan Pankaj• Bangalore, India • 3 hours ago
Good step....though late
做得好,虽然来得有点迟了。
Anushka • Surat • 3 hours ago
Fast train in India is a risky. Accident prone tracks needs to repair.
在印度,坐高铁是有风险的。先升级铁路,否则容易发生事故