China to curb some technology exports to U.S.: Global Times editor
《环球时报》总编辑:中国将限制对美国的一些技术出口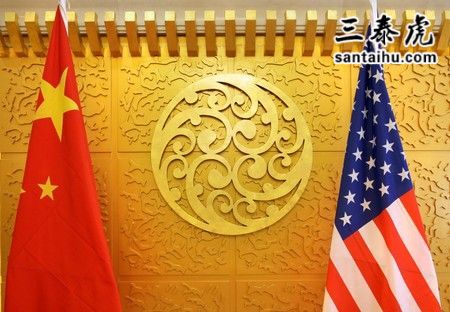 AI (Reuters) - China is preparing to curb some technology exports to the United States, the chief editor of China's Global Times newspaper said on Saturday.
上海(路透社)——周六,中国《环球时报》总编辑表示,中国正准备限制对美国的一些技术出口。
If enacted, the measures suggest Beijing would retaliate over U.S. restrictions imposed on Shenzhen-based Huawei Technologies Co Ltd due to what Washington said were national security issues.
这些措施若生效,则表明北京将对美国以国家安全为由而对华为施加的限制进行报复。
In a tweet, the pro-CCP paper's editor-in-chief Hu Xijin said that China "is building a management mechanism to protect China's key technologies."
总编辑胡锡进在推特上表示,中国"正在建立一套保护中国关键技术的机制"。
美国雅虎读者的评论:
译文来源:三泰虎 http://www.santaihu.com/47810.html 译者:Jessica.Wu
外文:https://finance.yahoo.com
Red9 hours ago
That is very funny
这也太逗了
kevin35 minutes ago
Don't sell 5G tech & rare earths to U.S. mafia.
不要把5G技术和稀土卖给美国黑手党。
kevin39 minutes ago
And should never sell 5G tech to U.S. let uncle Sam uses 4G he does not know how to use 5G yet it's too complicated for him.
永远不要把5G技术卖给美国,让山姆大叔用4G吧,山姆大叔不知道怎么用5G,5G对他来说太复杂了。
Rex10 hours ago•Last reply 57 minutes ago
Full force. Go full force On MADE IN CHINA 2025. China now knows where its weaknesses are. Now they will form their own technologies and chip production. This is the start.
中国现在知道自己的弱点在哪里,以后会全面实施"中国制造2025"计划。中国自主研发技术,自主生产芯片。这只是个开始。
Lao Tzu7 hours ago•Last reply 1 hour ago
American Export to China - Soybeans
China Export to the USA - Hi technology items
Any questions?
美国向中国出口大豆
中国向美国出口高新技术产品
看出什么问题了吗?
zho4 hours ago•Last reply 1 hour ago
in the field of sanction, China is now learning from the US.
中国正在向美国学习如何制裁其他国家呢

Media Lies10 hours ago•Last reply 1 hour ago
This is hilarious - like what technology do they have we don't? Ha Ha Ha.
太搞笑了——搞得好像他们掌握了我们没有的技术似的,哈哈哈。
American3 hours ago
US is an agriculture country today. China is technological leaders.
如今的美国是一个农业国,而中国是技术引领者。
john10 hours ago•Last reply 1 hour ago
But I'm already tired of our go nment having to support farmers with billions in welfare.
美国政府为农民提供数十亿美元的补贴,这个补贴什么时候是个头啊,我受够了
bill10 hours ago•Last reply 1 hour ago
Trump holding Huawei hostage in trade war is what is causing China's actions now. 70% of electrono s used in manufactoring here in the US and the already built electronics we use come from China.
中国出此下策,还不是特朗普封杀华为所逼的。在美国,70%电子产品零配件来自中国。
Ron10 hours ago•Last reply 1 hour ago
Funny, Their technology?
搞笑, 他们有什么技术?
Legally freedom1 hour ago
Chinese Export tech to US??????
中国向美国出口技术??
Gfind13 hours ago•Last reply 2 hours ago
It's funny,
The latest technology that was invented in China was gun powder and the fireworks.
Maybe these two technologies will be banned.
太逗了。算起来,中国发明的技术无非是火药和烟花
alan10 hours ago•Last reply 2 hours ago
The thing is the U.S. is only blocking Huawei they aren't block Oppo and Xaiomi which also hails from China soo.... if anyone can explain why but besides the so called supposed relation investment from the chinese go nment and maybe spying. Is it only with Huawei? They found nothing from the other 2 brands?
问题是美国只封杀华为,没有封杀同样来自中国的Oppo和小米。谁能解释下原因吗?为什么只封杀华为?美国难道没有发现其他两个品牌的有什么问题吗?
Michael2 hours ago
What technology? You mean the technology they stole from American corporations?
限制出口哪些技术?从美国公司窃取的技术吗?
Freedom8 hours ago•Last reply 2 hours ago
so they r protecting their stolen technology? wow!!
他们这是在保护偷来的技术?哇! !
Roy8 hours ago
The United States needs to do the same. Pinpoint companies that will impact China the greatest and move to completely block all technologies and suspend all support. Hit em where it hurts the most. Then ban all Chinese attending colleges in the United States. Deport them.
God bless America and boycott all Chinese products.
美国也回敬下吧。对中国影响最大的美国公司应封锁技术,暂停所有技术支持,打到他们最痛的地方。然后禁止中国人来美国留学。
上帝保佑美国,抵制中国货。
Tom7 hours ago•Last reply 2 hours ago
"China to curb some technology exports to U.S". We do not need their bogus technology. We only need them to stop spying on us, stealing our technology ideas and copycat what we have done.
我们不需要他们的菜鸡技术。别偷我们的技术就行,还有别山寨我们的产品。
galyna2 hours ago
China's key technology is a fluffy. Stop espionage and start respect intellectual property
中国所谓的关键技术是浮云。
Just another guy6 hours ago•Last reply 2 hours ago
Meanwhile, they won't be charging a tariff on US oil imports
他们不会对美国石油征收进口关税的
Youreyes3 hours ago
Huawei 5G will slap on all Americans faces !!! This is Chinese invention and Chinese Technology, I saw CIA crying in the toilet !!!!
华为5G打了所有美国人的脸!!
华为5G是中国人自己研发出来的技术,中情局在厕所里哭了!!
Ronnie H3 hours ago
Wan Ton Soup technology? LOL
做混沌的技术吗?哈哈
Latn Gbs4 hours ago
China makes no innovations in technology! It's all stolen, reverse engineering....so what exactly is it that their going to stop sending to the U.S. that's so innovative?
中国不会技术创新!
技术都是偷来的,要么就是逆向工程捣鼓出来的…
那么,他们究竟要向限制向美国出口哪些技术呢?
A4 hours ago
Yeah, they're curbing the export of Huawei phones to the USA. lol
他们限制对美国出口华为手机呢,哈哈
VQG4 hours ago
I guess we have to wait for China to invent some new tech before it can ban exporting to the US. In reality this will never happen but in China's WET Dream, it is happening right now.
我想得等中国发明一些新技术来,然后才有技术禁止向美国出口。现实中这是不可能的,梦中或许还有可能。
Zatterson4 hours ago
Made in China parts? we don't need it ain't last long tho
中国制造的零件? 不需要,不耐用
Joe6 hours ago•Last reply 4 hours ago
China have the best high speed rail technology, meanwhile today in Boston a slow train got derailed....lol...so who is winning ?
中国拥有最先进的高铁技术,而今天在波士顿,一辆龟速火车出轨了。哈哈,究竟谁是赢家呢?
John Wayne10 hours ago•Last reply 4 hours ago
copy their's like they do ours
那就抄袭他们的技术,他们不也抄袭我们的技术
Gregorio5 hours ago
What!!!??, stolen technology!!! Lol!
是偷来的技术吧! ! !哈哈!
stormhawk315 hours ago
LOL
China doesn't export technology to us, they steal it FROM us.
哈哈
一方面,中国不向我们出口技术,另一方面,他们偷我们的技术。
william5 hours ago
Their tech is ours, just repackaged with cheap parts and child labor
他们的技术都是我们的,让童工组装廉价的零部件,就是他们的技术硕果
Mark5 hours ago
What technology? Or they mean the ones stolen from the US.
什么技术?难道他们指的是从美国偷来的技术?
Arvin6 hours ago
Hahaha. So funny what technology they talking about
哈哈哈,太搞笑了,他们说的是什么技术?
ALIEN THOUGHTS6 hours ago
Remember trump and the gop in 2020, they must go
特朗普和共和党在2020年必须下台
Lao Tzu6 hours ago
Get real, China is already ahead of us in some fields like AI and we have near no chance to catch up with them.
现实点,中国人工智能技术已经领先我们,我们几乎没有机会赶上他们。
Bret7 hours ago•Last reply 7 hours ago
So pfunny...we gave to them everything they have
太搞笑了,他们的技术都是我们给的。
Robert7 hours ago
USA totally dependent on China for ALL rare earth minerals used in our military, from planes to weapons to ships.
从飞机到武器再到军舰,美国武器所需要的稀土完全依赖中国。
tim7 hours ago
China has 5G technology, ways ahead of the US
中国拥有5G技术,远远领先于美国
Das7 hours ago
All China's tech is copied from US.
中国的技术都是抄袭美国的。
john10 hours ago
chop sticks?
筷子吗?