Putin stands by China, criticizes U.S., in trade, Huawei disputes
普京支持中国,就贸易及华为争端批评美国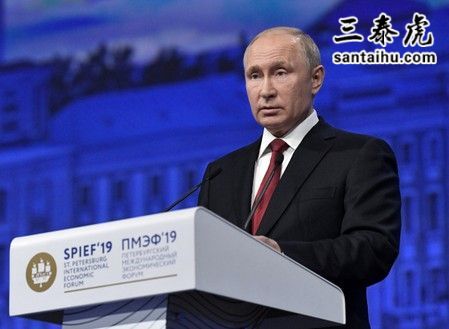 美国雅虎读者的评论:
译文来源:三泰虎 http://www.santaihu.com/47806.html 译者:Jessica.Wu
外文:https://news.yahoo.com/
force.sinyesterday
In the emerging new multi-polar world order.. Putin and China are working closely ...on replacing the dollars as the currency for international trade...replacing US control over the trade payment system (banking)....replacing the power granted to the USA for sanctions and tariff..revising WTO rules to be fairer to developing countries...
China and Russia have now signed a declaration ...to be strategic partners (in trade, in security, in technological innovation, in economic development..)
在新的多极世界秩序中…普京和中国正在密切合作,取代美元的国际贸易货币地位,取代美国对贸易支付系统的控制,取代美国实施制裁和征收关税的权力,修订世贸组织规则,使之对发展中国家更加公平……
中国和俄罗斯签署了一份声明,成为了战略伙伴
Life Made Simpleyesterday
the russian go nment is already using Huawei equipment?
俄罗斯政府已经在用华为设备啦?
Grantyesterday
I think a good question is: Is Russia willing to use Chinese technology for it's security systems?
俄罗斯是否愿意在其安全系统中使用中国技术?
right wing and lovin ityesterday
no surprise here
没什么好奇怪的
John17 hours ago
Great, maybe Russia can start importing $600 Billion a year of Chinese goods to make up for everything the US is going to stop buying.
很好,也许俄罗斯要开始每年进口6000亿美元的中国商品,以弥补美国停止购买而造成的亏空。
bdr19 hours ago
I heard the total Russian economic worth is about the size of the state of Texas
听说俄罗斯的经济规模和德克萨斯州差不多
Bob17 hours ago
Of course Putin sides with China. But, that does not mean he trusts China... and should not.
普京肯定会站在中国那边。但是,这并不意味着他信任中国……
Jerryyesterday
NATURALLY CHINA & RUSSIA ARE FRIENDS, OUR MILITARY-INTELLIGENCE TEAMS HAVE NAMED THEM AS "THREATS", SOME SAYING RUSSIA, SOME SAYING CHINA, THOUGH NEITHER NATION HAS GONE TO WAR AGAINST THE US, NEITHER IS MAKING THREATS AGAINST THE US. RUSSIA & CHINA ARE NEIGHBORS, WITH THE WORLDS LONGEST MUTUAL BORDER, RUSSIA A HUGE EXPORTER OF RAW MATERIALS, CHINA THE WORLDS LARGEST EXPORTER OF MANUFACTURED GOODS, THEY FIT TOGETHER LIKE HAND IN GLOVE, WE ARE FOOLISH TO CONSIDER GOING TO WAR AGAINST THEM, THEY WILL DEFEND THEMSELVES TOGETHER.
中国和俄罗斯是朋友,我们的军事情报小组称他们为"威胁",有的说俄罗斯是威胁,有的说中国是威胁。俄罗斯和中国是邻居,有着全球最长的共同边界,俄罗斯是主要的原材料出口国,中国是全球最大的制成品出口国,两国紧密合作,我们还蠢到考虑向他们开战,他们会联手保卫自己的。
Athenayesterday
Putin pretty much stands against the USA for everything, while Trump usually sides with Putin
普京几乎逢事必反美国,而特朗普通常站在普京那边
Myesterday
Push China to Russia???? Seriously?? When was China an ally? What the US is doing now is trying to level the playing field against a China that plays an asymmetrical trading game. China has been playing an unfair game for years (as others in Asia as well) and its time that a western leader started standing up to it. If you think this is bad now, just imagine what another 10 yrs of "turning the other way" would have done. Its now or never, and Mr Trump has chosen now. This should have been done 10-15 yrs ago.
把中国推向俄罗斯?有什么大不了的,中国是美国的盟友吗?美国现在所做的,是试图创造一个公平的竞争环境,而中国正在玩一场不公平的贸易游戏。多年来,中国(和亚洲其他国家一样)一直在玩一场不公平的游戏,早该有一位西方领导人站出来发声了。
Gary19 hours ago
China believes that they can replace the dollar with the yuan as the standard with the IMF. IF this ever happens they can call our debt and ruin our economy.
中国以为可以用人民币取代美元,成为国际货币基金组织的标准货币。
Ian15 hours ago
So in summation, two of the world's superpowers, are coming out against the most powerful Democratic Republic in the world.
两个超级大国,正站出来反对全球最强大的皿煮共和国。
Randy13 hours ago
It is hard not to share the technology if U.S keeps on trading with China, so I predict China and U.S will split and go their own way, China will mainly trade with EU, Russia, South America and Africa the future
如果美国要继续和中国做生意,就不得不和中国分享技术,所以我预测美国和中国会分道扬镳。中国未来将主要与欧盟、俄罗斯、南美和非洲进行贸易。
Bill15 hours ago
these two countries would sell each other out for a pack of gum. they have a very long history of hating and fighting against each other. the only interest they have in each other is that no one else will truly work with them.
这两个国家甚至会为了一包口香糖而出卖对方。他们之间的恩怨已久,他们会走到一起是因为没有其他人愿意和他们合作。
Eric13 hours ago
Wait a minute, I'm confused. Why would Putin criticize America? According to Democrats, he and Trump are good buddies I don't get it
我有点困惑,普京为什么要批评美国?据皿煮党人说,他和特朗普是好朋友,把我整蒙了。
Donald2 days ago
Trump re gie destroyed credibility of Washington DC. People are scared of political risks of purchasing U.S. goods and services.
特朗普将华盛顿的信誉毁于一旦,以后人们不敢购买美国商品和服务了,担心有政治风险。
ZAPP12 hours ago
China can end this by leveling trade imbalances. The world knows without Americas buying power China will diminish.
中国可以平衡贸易失衡。全世界知道,如果美国人不购买中国产品,中国会衰落。
MICHAEL19 hours ago
Putin has played Trump for the dupe he is.
特朗普被普京耍了。
B19 hours ago
Trump has been played by Putin ever since he helped him win election.
自从普京帮助特朗普赢得大选以来,特朗普就一直被普京耍。
d12 hours ago
We finally have a leader in Trump. Manufacturing is back in the USA and alive again. Trump 2020. The mainstream media in the USA is worse than Russian spying in dividing the country.
我们终于有了特朗普这样的领袖,制造业又回到了美国,并再次活跃起来。特朗普2020年大选连任吧。美国的主流媒体在不遗余力地分裂国家,比俄罗斯的间谍还卖力。
2zeroyesterday
Making Russia and China Great Again. MRCGA?
让俄罗斯和中国再次伟大。
Tariffied Dotard Trump17 hours ago
Russia is hardly the only one standing by China in terms of Huawei and everything else related to trade. The US is at odds with the EU, South America, Africa, Asia and the WTO.
在华为问题和贸易问题上,俄罗斯并不是唯一支持中国的国家。美国与欧盟、南美、非洲、亚洲和世贸组织都存在分歧。
r13 hours ago
Russia has ZERO influence economically. If I'm not mistaken Texas has a greater GDP then the entire country
俄罗斯经济没有影响力。如果我没记错的话,德州的GDP比俄罗斯经济总量还高
s22 hours ago
We finally have a President standing up for the USA. MAGA!
我们终于有了一位能为美国而战的总统。让美国再次伟大!
Daniel9 hours ago
The USA needs to stop all trade with China and Russia.
美国应暂停与中国和俄罗斯的所有贸易往来。
Chris Platt15 hours ago
Translation: Putin needs Chinese technology.
换句话说,普京需要中国的技术。
Smoke4 hours ago
Russia and China will do anything to undermine US's status of hyper Power. We are still stranding. God bless the USA.
俄罗斯和中国将不惜一切代价削弱美国超级大国的地位。我们是虎落平阳,上帝保佑美国。
gordon19 hours ago
Time to increase sanctions on Putin
现在该加大对普京的制裁了
Kevin18 hours ago
Evil partners with evil.
一丘之貉
Conrad13 hours ago
I can see U.S. dollar losing dominance as the world currency- eventually some type of currency pegged to gold will have to be used to prevent currency manipulation.
我可以预见美元作为世界货币的主导地位将会丧失。
Jes12 hours ago
Birds of the same feather flock together. The enemy of my enemy is my friend.
物以类聚,人以群分。敌人的敌人就是朋友。