US cuts off India preferential trade access
美国终止对印度的普惠制待遇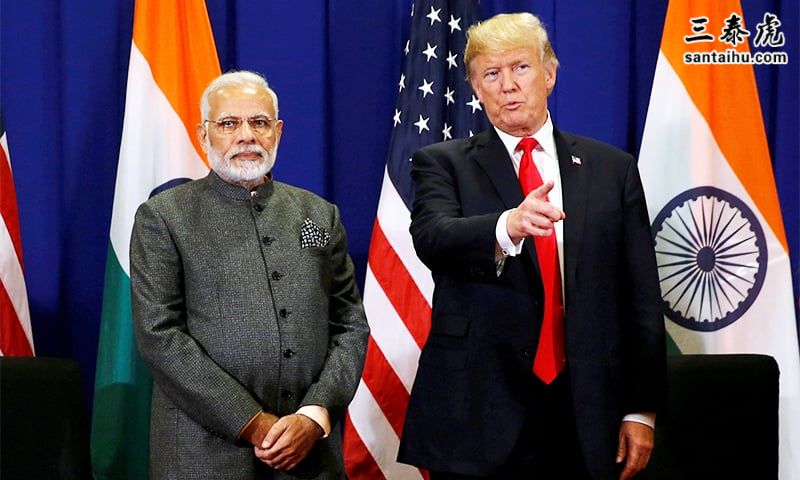 The United States will end preferential trade treatment for India from Wednesday, US President Donald Trump has announced, in a fresh economic headwind for New Delhi alongside slowing growth and record unemployment.
美国总统唐纳德•特朗普宣布,美国将从周三起终止对印度的普惠制待遇,这对新德里来说是经济逆风,与此同时印度经济增长放缓,失业率创下新高。
巴基斯坦黎明报读者的评论:
译文来源:三泰虎 http://www.santaihu.com/47772.html 译者:Jessica.Wu
Alla Bux3 days ago
Not going to make much difference. India exports were about $56 billion in 2018 to USA and out of that only 5.7 billion (about 10% of total exports) received 'preferential tariff'
不会产生多大影响。2018年,印度对美国出口约为560亿美元,其中只有57亿美元(约占出口总额的10%)获得了"优惠关税"。
Ranger3 days ago
So be it. India will not let large US corporations like Walmart kill small mom and pop stores.
就这么着吧。印度不会让沃尔玛等美国大企业扼杀印度本土小型零售店。
Priyesh3 days ago
Only 190 Million dollars will be the actual loss... it's like a drop in the ocean.
实际损失只有1.9亿美元,这就像大海里的一滴水。
Shaikh masood3 days ago
Instead of opening market for mighty American companies, it is better to lose few 100m dollars. It can be recovered by other means. Make in India first
与其为强大的美国企业开放市场,不如损失1亿美元。损失可以通过其他方式弥补。"印度制造优先"
ob3 days ago
Great news for India. This is a recognition by the US that India is now a developed nation and does not need a 'developing' nation concessions. India should open all its markets to the US to further deepen the social, economic, diplomatic, defence ties between US and India.
对印度来说是个利好。这表明美国承认印度现在是一个发达国家,不需要享受"发展中国家"的优惠待遇。印度应该向美国开放所有市场,以进一步深化美印之间的社会、经济、外交和防务关系。
Naxalite3 days ago
Sigh! Such short honeymoon period for Indo-US ties.
唉!印美关系的蜜月期如此之短。
Asif3 days ago
We don't need the access. We are happy with our 7% growth. We are better than everyone, please bow and acknowledge.
我们不需要这种待遇。我们对7%的印度增长感到满意。我们比谁都强。
MANISH3 days ago
India will sort out its differences with America eventually.
印度最终会解决与美国的分歧。
Desi Dimaag3 days ago
India has moved on to be global superpower. This designation was created for developing countries, this move is symbolic that India is fast moving to next bracket of developed countries.
印度已经成为全球超级大国。普惠制是给发展中国家准备的,取消印度的普惠制,也就象征着印度正迅速迈入发达国家行列。
Hari3 days ago
Indian software exports around 150 USD Billions and exports many countries. Modi don't bend for US tricks. We will buy cheap oil from Iran.
印度软件出口约为1500亿美元,出口到许多国家。莫迪不会屈服于美国的诡计。我们将从伊朗购买便宜的石油。
Imran3 days ago
Pakistan media is trying to give pakistani people some relief By telling them they are not alone with their falling economy but the fact remains. India is growing and will be second largest economy only next to china in less than 15 years.
巴基斯坦媒体试图安慰巴基斯坦人民,告诉他们经济下滑并不只有他们一家。其实啊,印度经济正在增长,将在15年内成为仅次于中国的第二大经济体。
Hafeez3 days ago
No longer buddies???
不再是好伙伴了??
Askari3 days ago
India will decide its own destiny
Why is this news here?
This will benefit India
It is a loss for USA not India
印度将决定自己的命运
这是美国的损失,不是印度的损失
为什么这会上巴基斯坦的新闻?
R S SHARMA3 days ago
At last some good news for Pakistan
巴基斯坦终于迎来了一些好消息
Straight talk3 days ago
Trump is isolating the USA because of their own ineffectiveness on trade, they have had the monopoly on the US petrodollar for decades which gave them a head start.
美国贸易表现不行,特朗普正在孤立美国。
Mohan3 days ago
India is a planet in itself. India with robust domestic consumption does not have to export in a big way like the ambitious China to sustain the welfare of her people.
印度国内消费强劲,不必像雄心勃勃的中国那样,为了维持本国人民的福祉而如此依赖出口
ali3 days ago
Don't wory India is way ahead of Pakistan
别担心,印度遥遥领先于巴基斯坦
M V K3 days ago
With Modi at helm, things are going to only improve further from here
有莫迪掌舵,情况只会越来越好
MazZak2 days ago
India is relatively a strong nation with independent policies. It does not bow to US or IMF.
印度是一个相对强大的国家,政策独立,不会向美国低头,也不会向国际货币基金组织低头。
Hwh3 days ago
So is Pakistan planing to fill the gap?
巴基斯坦打算填补这一空白吗?
Lutera3 days ago
Unlike China, India's economic growth is dependent on internal consumer spending. Exports are important but ending this facility will not make much of an impact on multi-trillion dollar economy. Good relations between India and US will continue to progress.
与中国不同,印度的经济增长依赖于内需。出口固然重要,但终止这一待遇不会对数万亿美元的印度经济产生多大影响。印度和美国之间的良好关系将继续取得进展。
RAja Raman2 days ago
There are no buddies, Iron brothers in diplomacy. It's all interest.
外交上没有铁哥们,只有利益。
hallian2 days ago
this shows unlike Pakistan, India has something to export
这表明,与巴基斯坦不同的是,印度还是有拿得出手的东西用于出口
Pervez2 days ago
India always stood by its people in past. I dont think it will be different this time.
印度过去一直站在人民的立场上,我认为这次也一样。
Pankaj3 days ago
Diplomatic test for Modi go nment. And Trump can't be sharper than Modi
这下考验莫迪政府的外交了。特朗普不可能比莫迪更聪明
Siddharth2 days ago
Party time in pakistan.
巴基斯坦可以开party庆祝了。
Friendly_Neighbourhood3 days ago
Will this development help improve the economic condition of Pakistan?
这是否有助于改善巴基斯坦的经济状况?
Desi jat3 days ago
We know how to deal with it,stop worrying about ourselves...mind your own crippling economy.
我们知道如何处理,别为我们担心了,操心你们自己的经济吧
Sunil BURMAN2 days ago
@Zak, With fifth largest economy and growing at fast speed of little more than 7% pa and Modi ji again in helm of Affairs, India only to way forward. Now it's time to lead the World. But with huge external unpaid liabilities Pakistan will collapse sooner than expected.
印度是第五大经济体,增长速度仅略高于7%,莫迪现在连任了,印度势必向前发展,现在是时候引领世界了。而由于巨额外债尚未偿还,巴基斯坦将比预期更快崩溃。
Neha2 days ago
@Zak,
Mumbai ahmedabad bullet train costs 15 billion dollars. It might cover your deficit.
孟买-艾哈迈达巴德高铁耗资150亿美元
Zak3 days ago
Living on generosity of Americans.
靠美国人的慷慨生活。
Shahid Hassan3 days ago
Trump has started a trade war with China , India , Mexico , Germany , NATO allies . The bottom line is he would be taking the US economy towards a recession. His policies have not yielded so far the stock market is reflecting pessimism. The last two years are not the next two years and the card of economy as a means of re-election is falling apart . . Most people in India as well as the rest of the world know that trump policy influence has less than 12 months on the clock .
特朗普已经在与中国、印度、墨西哥、德国和北约盟国打贸易战。他将把美国经济带入衰退。到目前为止,他的政策尚未取得成效,股市反映出悲观情绪。作为连任手段的经济牌正在土崩瓦解。大多数印度人和世界其他国家的人都知道,特朗普只有不到12个月的时间了。
A shah3 days ago
Two superpowers know how to treat each other
两个超级大国知道如何相处
Mohan2 days ago
5.6 billion may seem huge to Pakistanis. That's what they expect to get from the IMF over the next three years.
56亿对巴基斯坦人来是巨额资金。
Bhaijan3 days ago
Unfortunately India is under continued illusions that it's a US minion, in fact it's not minion, nor preferred nation to US, the bilateral relations are based on mutual benefits in equal terms. There's a trade favor in India kitty, and US had been repeatedly asking India to buy more from US, but nothing happened. Hence a businesslike policy is imperative like ending preferential trade status to India. There are no free breakfast in US I hope the Indians know this.
不幸的是,印度一直误以为自己是美国的附庸,事实上,印度不是美国的附庸,也不是美国偏爱的国家,双边关系建立在平等互利的基础上。印度有贸易优惠,美国一再要求印度加大从美国进口,但印度并没有这么做。因此,结束对印度的优惠待遇这样的务实政策势在必行。美国不会提供免费的早餐,我希望印度人知道这一点。
Fittay Mu2 days ago
India GDP growth is still 5.8% -- that is still higher than China's GDP growth, India's main competitor.
Other small economy and poor nations in the region, such as Nepal and Bhutan and Maldives and Myanmar and Pakistan are struggling to attain even 2% growth -- that is the main concern for these poor countries in the region.
印度的GDP增速为5.8%,仍然高于印度的主要竞争对手中国。
尼泊尔、不丹、马尔代夫、缅甸和巴基斯坦等本地区其他小经济体和贫困国家正在努力实现哪怕2%的增长
Feroz2 days ago
India has the lowest Exports/GDP ratio among large economies, to that extent impact on GDP will be minimal. It is exporting countries like Germany, China, Japan and many in SE Asia who are going to be negatively impacted in a trade war.
在各个大型经济体中,印度的出口占GDP的比例最低,出口对GDP的影响将是最小的。德国、中国、日本和许多东南亚国家等出口国将在贸易战中受到影响。
Zak3 days ago
Much more to come. This is just the start.
这仅仅是个开始,好戏还在后头。
Tariq3 days ago
No big deal. Indian exporters of these goods will lose about 10% of sales as a result in the short term. Not a calamity.
没什么大不了的。短期内,印度出口商将损失约10%的销售额,不是灾难啦
KJ3 days ago
5.7 billion is a very small fraction of the GDP of India - 0.2% of GDP
57亿美元只占印度GDP的0.2%,微不足道
zeeshan3 days ago
who cares US now...
现在还有谁在乎美国
Faisal3 days ago
Now India knows there is NO free lunch
现在印度知道天下没有免费的午餐
Shehbaz3 days ago
It doesn't effect India at all. India is already rich enough.
这对印度一点影响都没有。印度已经足够富裕了。
Aravind2 days ago
Not a big issue for India.
对印度来说不是什么大问题。
外文:https://www.dawn.com/news/1485924/us-cuts-off-india-preferential-trade-access