Chinese restaurant apologizes for writing the n-word on a customer's takeout order
中餐馆为在顾客的外卖单上写下"n字词"而道歉
A Chinese restaurant employee wrote the n-word on a takeout receipt, alleging he misheard the customer's name.
一名中国餐馆的员工在外卖收据上写下了这个"n字词",称他听错了顾客的名字。
Brandon Hart, a regular patron of Eddie's Carry Out in Washington, D.C. went to pick up his May 24th order of Singapore noodles and beef fried rice, and saw the racial slur rather than his name, on the $19.89 receipt.
布兰登·哈特是华盛顿特区"Eddie's Carry Out"餐厅的常客。5月24日,他点了一份新加坡面条和牛肉炒饭。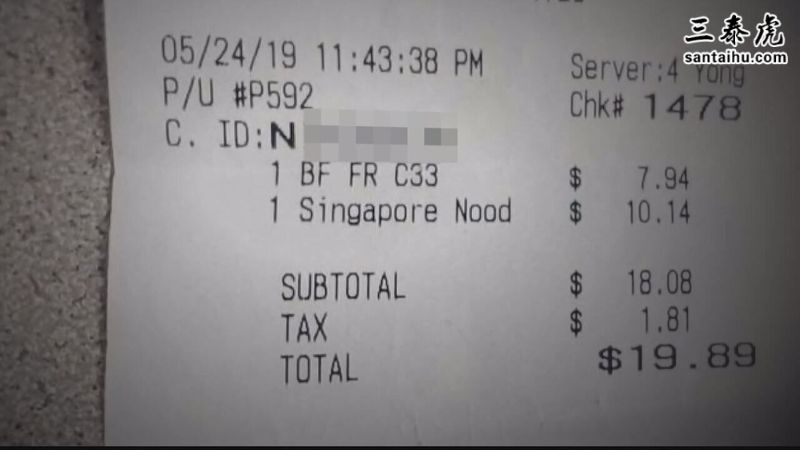 "Just flabbergasted that you can actually write that on a ticket or receipt or any piece of paper," Hart told Fox 5. "How can you write that word unintentionally and then print it?"
哈特在接受福克斯5频道采访时说:"我很惊讶,你们居然把这个词写在票据、收据或随便一张纸上。你们怎么可能会无意中写下这个词,然后打印出来呢?"
The television station showed the receipt to customers outside the restaurant. "I don't think I'll be eating there," said a man. "I've switched my diet up anyways."
电视台向餐厅外的顾客出示了收据。"我想我不会去那里吃饭了,"一个男人说。"反正我的饮食习惯已经调整了。"
"For real?" said another man. "I think I'm going to leave."
另一个人说。"真的吗?我想我得马上离开这里。"
Owner Yung Lan would not agree to an interview. "We speak Chinese and our English is limited, so we ask customers to spell their names on the phone," an Eddie's server tells Yahoo Lifestyle. "We typed the name he spelled."
餐厅的主任兰洋不同意接受采访。"我们都是说中文,英语水平一般,所以我们要求客户在电话里拼一下自己的名字",Eddie餐厅的服务生告诉雅虎生活(Yahoo Lifestyle),"我们输入的名字确实是他拼给我们的。"
The restaurant was busy that night, she says, and although the receipt suggests that a server named "Yong" took Hart's order, the staff cannot recall who answered the phone. "I don't think anyone would do that intentionally," the worker says. "We don't have bad intentions."
她说,那天晚上餐厅很忙,尽管收据上显示是一位名叫"勇"的服务员接了哈特的订单,但工作人员记不起到底是谁接的电话。"我认为没有人会故意这么做,"这位工人说。"我们没有恶意。"
The person who answered the phone may have believed that Hart said "Nigel," confusing him for another regular, she says, although "Brandon" sounds nothing like the name. "Maybe it was a prank call to make us look bad," suggests the employee.
她说,接电话的人可能以为哈特说的是"奈杰尔",把他和另一个常客搞混了,但是"布兰登"听起来跟那个名字一点也不像。"也许这是一个恶作剧电话,就是想让我们难堪。"这名员工猜测。
Lan told Fox 5 the customer spelled out his name and the restaurant copied it down. But Hart told the station he did not say the slur, only his first name.
兰告诉福克斯5频道,这位顾客拼出了自己的名字,餐厅把他的名字记了下来。但是哈特告诉电视台,他没有说脏话,只报了他的名字。
The employee tells Yahoo Lifestyle that Hart didn't say anything about the receipt when he picked up his food. People have been calling Eddie's to make death threats, although Lan made an apology to Fox 5.
这名员工告诉雅虎生活频道,当哈特拿走食物时,他对收据只字未提。尽管店主兰向Fox 5频道道歉,但人们还是打电话到Eddie 's餐厅,发出死亡威胁。
以下是美国雅虎网站读者评论:
译文来源:三泰虎 http://www.santaihu.com/47736.html 译者:Joyceliu
外文:https://www.yahoo.com
Lee
Why did the news show the receipt to customers outside? I thought the local news was supposed to unbiased but they believed his word instead of the Chinese restaurant saying he spelled it.
为什么新闻把收据给外面的顾客看?我认为当地的新闻应该是公正的,但是他们相信他的一面之词,而不是中餐馆解释的是他自己拼的。
Jose
If you watch the news report of Fox 5 ...extremely believable that is was a prank to get some publicity . First of all how was his order even looked up ? Clearly not by the name . Second how would the clerk know his race by a phone call. Owner mentions that they usually spell out the name as they are typing it in . If it's mispronounce and spelled out for some people it's hard to connect right away . Like say ( yes) now add an e before it and pronounce it .
如果你看过福克斯5频道的新闻报道……非常可信,那就是一个恶作剧。首先,他的订单是怎么被查到的?显然不是通过这个名字。第二,接电话的服务生怎么可能通过电话知道顾客的族裔。店主提到他们在输入名字的时候常常会拼写出来。对某些人来说,如果发音错误进行拼写,是很难马上发现的。
Greg
If it was a phone order....how would the restaurant employee know....and why would he type it on the order? Sounds like the customer spelled it to someone with limited English skills to get publicity....and it worked.
如果是电话订购……餐厅员工怎么会知道……他为什么要在订单上打上那个词呢?听起来好像是客户为了宣传故意对着一个英语水平有限的人拼出来的……。
Lord Vader
Hmm...I can see this person taking advantage of the fact that the restaurant employees English isn't so great. He's a regular patron. I'm sure he's looked at the receipt before and saw they put his name on them. Sounds like it was knowingly done for attention, ala Jussie Smollett style.
嗯…我可以看到这个人利用了餐厅员工英语不太好这一事实。他是常客。我肯定他以前看过收据,看到上面有他的名字。听起来像是故意这样做是为了引起注意,这很像尤西·斯莫列特的风格。
TrueToMyself
I believe the restaurant owner on this. I believe the customer spelled it wrong on purpose, maybe as a joke to see what would happen or to play victim and sue later.
我相信餐馆老板说的。我相信顾客是故意拼错的,也许是为了开玩笑,看看会发生什么,或者是装做受害者,然后起诉。
Mila
I was a foreign exchange student in 1970. I made a language and a cultural error that sounded inappropriate--which was not my intent--but someon privately explained them to me later. Until then, nobody made a big deal about them, and nobody thought my actions were purposeful.
1970年的时候,我是一名交换生。我犯了一个不太适宜的语言和文化错误——这并非我的本意——但后来有人私下里向我解释了。在那之前,没有人对此大惊小怪,也没有人认为我是有意为此。
Ocasio Cortez eats paint chips11 hours ago
$50 says it was a prank phone call and the person is trying to cash in. These people at the restaurant barely speak English. They probably have no idea how to even spell the word. And they certainly wouldn't knowingly print it on paper!
我赌50美元,这是一个恶作剧电话,这名男子就是想骗钱的。餐厅里的这些人几乎不会说英语。他们可能连这个词怎么拼写都不知道。他们当然不会是故意把它印在纸上的!
John
The Media needs to remove the blur from that image so we can all make sure that is what was actually spelled and no just take their word for it!
媒体需要从表象中去伪存真,这样我们才能知道事实真相是什么,而不只人云亦云!
AnnMarie
let me fix this headline.... man spells the n word as his name, to race bait.
Its called Smollet disease. He spelled the name like they said, he picked up food with his receipt, threw a fit about it, made sure the news heard about it and boom... 5 minutes of fame.
我要修改一下这个标题…那个人把n字当做自己的名字报给餐厅,让餐厅上钩。
他按餐厅所说的拼写了名字,拿起收据拿起食物,大发脾气,故意让新闻知晓这件事,然后轰的一声……5分钟就一炮成名。
anon
If someone speaks English as a second language and comes from another culture I can see how this mistake could be easily made. Always give people the benefit of the doubt till they prove to you otherwise.
如果有人把英语作为第二语言,又来自另一种文化,我认为这个错误很容易犯。在别人向你证明之前,要先假定他们是无辜的。
Dave1001
How could they know on a phone order what someone looked like? Yahoo! News needs to give Brandon Hart a call. Reminds me of the guys who were videoing the Chipotle manager for making them pay up front and claimed racism. Further investigation of the guy's Twitter account finds episodes of him talking about his "dine and dash" exploits. I have a feeling a little digging will find much.
他们怎么可能通过电话订单上知道电话那端的人长什么样?雅虎新闻必须给哈特打个电话。这让我想起了那些家伙,他们因为经理让他们先付钱就给Chipotle餐厅的经理录像,还声称受到了种族歧视。对这名男子推特账户的进一步调查发现,有几段视频显示他在谈论自己的"吃喝玩乐"。我有一种感觉,只要稍微挖掘一下就能发现很多。
MEEEJ11 hours ago
It is possible the guy saw the struggling asian as a target? The guy can't understand english, so i'll spell out the N-word adn see if it shows up on a reciept, so I can make a big deal out of it and get my name in the news. It's quite possible.
有没有可能,这个家伙把苦苦挣扎的亚洲人当作目标?这个人英语不精,所以我拼出这个N字词,看会不会出现在收据上,这样我就可以小题大做,让我的名字出现在新闻里。嗯,这么一想,是很有可能的。
Kevin
Is it a bad word? Because I hear it in most Rap songs?
这个词有什么问题?我在大多数说唱歌曲里都听到过呀?
Daniel9 hours ago
True story: a Korean owned a convenience store in DC in early 90's. A friend came to visit him from Korean and was fascinated with AA people since he had never met one. After hearing a lot of people calling the N word, the visitor thought this was a name and called a person the N word while extending his hand to shake. He got a beatdown of his life and the shop was trashed. Talk about lost in translation.
真实故事:90年代初,一个韩国人在华盛顿开了家便利店。一个朋友从韩国来拜访他,他听到很多人说N字词,误以为这是一个名字,于是一边和别人握手一边说着N字词。他的生命受到了威胁,商店被人捣毁。论语言翻译中的迷思。
ADRIENNE11 hours ago
I'm willing to bet that that customer spelled out that word calling hisself being funny. I'm black and find it hard to believe a phone order taker would decide to randomly write that down. especially if this is a location with a minority population.
我敢打赌那个顾客拼的就是那个词,他是故意的。我是黑人,很难相信一个接电话的人会随机写下那个词。况且,这里是一个 聚居的地方。
Andrew11 hours ago
Well obviously if that is not his name (and it isn't) then that was not his order. So let the real "N Word" step up and pay for his take-out and get on with biz.
很明显,如果那不是他的名字,那就不是他点的外卖。所以,让真正的"N字词"下单人现身,为他的外卖买单吧。
Ashley9 hours ago
This to me, sounds like a set-up. I think this person (who claims to eat their often) knew that the employees there don't speak English well and from past experienced knew that they always ask for the spelling of a name so Brandon Hart decided to get his 5 minutes of fame and maybe looking for a lawsuit. Unfortunately, we live in a world where there are people who will try to exploit any opportunity they can at the expense of others...I'm thinking this might be another instance
对我来说,这听起来像是一个圈套。我认为这个人(自称是餐厅的常客)知道员工英语说得不好,这从他过去的经验就能得知,他们会让客人拼出自己的名字,所以布兰登·哈特决定借此博出名或者提起诉讼。真不幸,我们生活在这样一个世界里,人们以牺牲他人为代价,不放过他们所能利用的一切机会。
DouglasandLeah11 hours ago
When they stop using the word, then we will … until then … well, it's open season on the word for all. Don't like it, then clean up in your own backyard first.
他们什么时候不再使用这个词,我们就……直到那时……呃,现在这个词不算什么了。别点赞了,先把自家后院打扫干净再说吧。
Busted knuckles
Another set up. He called and spelled that to them so they would put it on the ticket. He must have thought Ron Burgundy would read it.
这又是个陷阱。他打电话给他们,把这个词拼写出来,让他们把它写在小票上。他一定以为罗恩·勃艮第会认出来的。
Robert S10 hours ago
I thought the restaurant I frequent only takes the number to prevent mix-up in people have the same name or to verify legitimate orders...maybe this is the reason.
我经常光顾的那家餐厅只留号码,我还以为是为了防止混淆,以防人们会有重名的情况,或者是为了核实有效订单……也许这才是原因。
ROBERT
Just people taking advantage of the employees bad English skills. At least they are trying to learn the language and assimilate. A non-story for sure.
这个人就是利用员工糟糕的英语水平找事呢。至少他们正在努力学习语言并吸收学习。这肯定不是真实情况。
Eighty
Either that or Brandon called and spelled the word out for the person who took the order. Did Brandon ask for a free meal?
要么就是布兰登打来电话,为接电话的人拼出了这个词。布兰登要求免除餐费了吗?
bob11 hours ago
Total BS the dude had to give his name to pick up order so no way he sees it sfter he leaves receipt only had the last name that the dude used to set him up
这家伙必须报出他的名字才能取餐,所以他不可能看不出来,这绝对是陷阱。
Brian8 hours ago
'The television station showed the receipt to customers outside the restaurant.' What business does a TV station have in adding fuel to this fire? Something about the whole story doesn't pass the smell test.
电视台向餐厅外的顾客出示了收据。电视台火上加油是要干嘛?整件事情有些地方不对劲。
Dirt11 hours ago
This sounds like a setup to take advantage of the fact that the restaurant workers don't speak or understand English very well--let alone regional dialects and slang.
这听起来就像是一个利用餐厅员工英语听说能力差或理解力差这一事实的圈套——更不用说还有地方方言和俚语了。
JC16 seconds ago
BLACK people use the N word more than anyone else in AMERICA, and then want to complain about it when "others" do what they do .... hypocrisy as bad as the Democrats
在美国,黑人比任何人都更喜欢使用N这个词,然后当"其他人"也跟着这么做的时候,他们就怨声载道……他们和皿煮党一样严重伪善。
ThaddeusMaximus
$8 for fried rice? $10 for singapore noodles??? That better be the best chinese take-out place in the city to be charging that much.
炒饭8美金?新加坡面条10美金??那家餐馆最好是最好的中国外卖餐馆,收费那么贵!
Richard Marx8 minutes ago
Fake story. Fake news. He set them up and took advantage of them not speaking English, that is the real racism here.
假故事。假新闻。他是故意找事儿的,利用了他们不会英语的劣势,这才是真正的种族主义。
Glen20 minutes ago
I think all the coloreds should not only boycott this restaurant, but all restaurants, movie theaters, parks, malls, freeways, amusement parks, and all other public places. What a wonderful world it would be. (The term "colored" is used by the NAACP, so it's OK to use).
我认为所有的有色人种不仅应该抵制这家餐馆,而且应该抵制所有的餐馆、电影院、公园、商场、高速公路、游乐园和所有其他公共场所。这会是一个多么美好的世界。(全国有色人种协进会也使用"有色"一词,因此这么说没问题)。
Russell20 minutes ago
Think about it people, all of these things Yahoo puts on here is made up. Why? For one, why don't you see it EVER happening to another ethnic group? Yahoo wants you to believe that this ONLY happens to black people.
想想看,人们,雅虎所做的一切都是编造的。为什么?首先,你为什么没有听说过这种事发生在别的种族身上?雅虎希望你相信这种事只发生在黑人身上。