Quora读者的评论:
Nik Rao, worked at India
One would be crazy to file a patent in India. Unless it's a company with a powerful legal team and a bank vault which is full of money. If someone disputes this patent or even infringes it, the poor inventor will waste his entire life fighting a slow moving court case which will probably pass to his/her grandchildren, when they die. Better to file in the US of A or some other better country. I have faith in the integrity of the judiciary of india, but have absolutely no faith in the people who elect criminals ( upto 50% of the elected representatives in the Indian parliamentary system have serious crimes like murder/ rape etc cases against them pending in court) . Why would the elected representative even want to increase the speed of justice? It's not to their benefit. Net effect is that it impacts not just the very people who elect them, but also entrepreneurs, inventors and a whole range of productive contributors to the Indian economy.
在印度申请专利简直能把人搞疯。除非是拥有强大法律团队和资金雄厚的公司。如果有人对这项专利提出异议,甚至侵犯了专利权,可怜的发明家就得把他的一生浪费在进展缓慢的官司上,而这个官司很可能会在发明家死后延续到他/她的孙辈。最好是在美国或其他更好的国家申请专利。我对印度司法的正直有信心,但对那些选举罪犯的人绝对没有信心(印度议会中有高达50%的当选代表有严重的犯罪行为,如谋杀/强奸等案件,在法庭上一直未能定案)。为什么当选代表甚至想要加快司法速度?这对他们没有好处。净效应是,它不仅影响到选举他们的人,还影响到企业家、发明家和对印度经济做出贡献的所有人。
Neena Kumtakar, domain investor, engineer
Indian go nment and its agencies like ntro do not respect the intellectual property rights of citizens and are openly involved in intellectual property theft from small business owners for a decade, so few citizens are motivated to innovate and file patents
In India, large companies in the it and internet sector including google,tata , are allegedly bribing ntro employees to steal the memory of small business owners without a legally valid reason, without any kind of compensation , using brainwave reading technology. These companies are specializing in demonizing the harmless small business owner without any legally valid proof, so that it is difficult to get any kind of help.
The memory is the intellectual property of the small business owner, yet it is stolen repeatedly since 2010 as these large companies do not wish to spend money on salaries, business expenses, stealing the memory of a small business owner by bribing corrupt go nment officials to steal memory is far more lucrative and profitable .
The small business owner whose memory is stolen works like a slave making very less money,is also subjected to identity theft, and held a virtual prisoner, with almost all correspondence diverted and stolen by the local intelligence and security agency employees.
译文来源:三泰虎 http://www.santaihu.com/47645.html 译者:Joyceliu
印度政府及其技术研究组织等机构不尊重公民的知识产权,十年来一直公开参与窃取小企业主的知识产权,因此很少有公民有动力去创新和申请专利。
在印度,包括谷歌、塔塔在内的IT和互联网行业的大公司涉嫌贿赂全国技术研究组织的员工,在没有合法正当理由、没有任何补偿的情况下,使用脑电波阅读技术窃取小企业所有者的记忆。这些公司专门妖魔化无害的小企业主,没有任何合法有效的证据,小企业主所以很难得到任何形式的帮助。
记忆是小企业主的知识产权,但自2010年以来,由于这些大公司不愿意把钱花在工资、商业开支上,因此,通过贿赂附败的政府官员来窃取小企业主的记忆更为有利可图。
Ramesh Kakkad, Ph.D. from Pennsylvania State University
I worked in China (as well as other East Asian countries) as a scientist, and the quality of most of patents filed in China (and many East Asian countries) is crap. Quantity does not equal quality. Companies encourage to write patents as a corporate strategy but there is not much high level research going on. Patent filing goes towards employee evaluation (here the evaluation depends upon number of patents, not on quality). When the patent deadline is approaching, some people are scratching their heads to find something to write. What I have been doing all my life is to do good research and if the results are significant, I apply for a patent. Thus the East Asian approach (China, Korea etc) of ganging up on writing patents seems totally meaningless and waste of resources.
我在中国(以及其他东亚国家)当过科学家,中国(以及许多东亚国家)境内申请的大部分专利质量都很糟糕。数量不等于质量。企业将专利作为一种企业战略,但并没有进行什么高水平的研究。专利申请跟员工评估挂钩(这里的评估取决于专利数量,而非质量)。当专利截止日期临近时,有些人就绞尽脑汁想找些东西写。我这辈子一直在做的就是做好研究,如果研究结果很重要,我就申请专利。因此,东亚国家(中国、韩国等)拼命搞专利似乎毫无意义,完全是浪费资源。
Dabru Anand, works at Chief Exective of Parakletos Worldwide Intelligence Network
Patent and granting is much slow process comparison to developed or under developing countries. Chinese go nment forces companies to give patents as much as possible. There have scientist to grant. If in calculations Indian patents are granted after 4 to 8 years whereas in China it takes a month time. Scientists prefer for opportunities to go abroad and do Research.
Government of India never plays on this important point.
与发达国家或发展中国家相比,印度的专利和审批过程要慢得多。中国要求企业尽可能多地授予专利。印度的专利得等上4到8年才能获批,而在中国只需要一个月时间。科学家们更喜欢有机会出国做研究。
印度政府从不重视这一方面。
Navdeep Singh, studied at Akademi Laut Malaysia
I just want to say one thing though. If in India one applies for a patent he can apply in his own name and the credit goes to the inventor. Whereas in china if one applies for a patent the credit goes to the entire organisation or the go nment instead .Thats the co unist theory. I am not commenting that one is better from another, I am just saying that this might just be a factor.
Companies in china may be promoting employees to innovate because it will benefit the company, whereas in India an employee inventing something means he may become bigger and richer than the employer/system, and so the companies/organisation undermine and discourage innovation.
我只想说一件事。在印度,如果一个人申请专利,他可以用自己的名字申请,专利归于发明者。而在中国,如果一个人申请了一项专利,功劳就归整个组织或政府所有。我并不是说谁就比谁好,这可能只是一个因素。
中国的公司可能会鼓励员工创新,因为这将使公司受益,而在印度,员工发明某种东西意味着他可能比雇主/制度更强大、更富有,因此公司/组织会破坏和阻扰创新。
Harvey Yuen, lives in Jiangmen
I am a Chinese, I do not know about India, but I can talk about my experience,I work in a small FPC factory ,My company is headquartered in Shenzhen.
The local go nment said to my company that if your company's annual patent reaches a certain amount, there will be a certain percentage of tax returns.The go nment has additional incentives. So my company introduced incentives for all employees:
If you put forward a good idea, the company reward up to 1,500 yuan.
If you apply for a patent through the company, the maximum reward of 500 yuan, if the patent application passed, additional rewards of 1,000 yuan.
If you have a patent, you can apply for additional incentives to the local go nment, the maximum award of 4,000 yuan.[1]
In addition, if the company has invention patents and innovative technology, you can apply to the Shenzhen Municipal Government for incentives, up to 3 million yuan.If the Shenzhen Municipal Government through your reward, will apply for rewards to the country, up to 10 million yuan.[2]
I am from a small city, my hometown welfare is not high, I hope to join the big city, if I have a patent, it will help me. Shenzhen naturalization needs to score 100 points, if you have a patent it will give the highest reward of 50 points.
PS:China's top leaders give great importance to innovation. talks about innovation[3]
PS:I graduated from college many years ago, And I haven't been using English much since then. wrote with Google translation.
我是中国人,我不了解印度,但我可以谈谈我的经历,我在一家小型FPC工厂工作,公司总部设在深圳。
当地政府对我公司说,如果贵公司每年的专利达到一定数量,就会享受一定比例的退税。政府还有额外的奖励措施。因此,公司向所有员工推出了激励措施:
如果你提出一个好点子,公司最高奖励1500元。
如果你通过公司申请专利,最高奖励500元,如果专利申请通过,额外奖励1000元。
如果你有专利,你可以向当地政府申请额外的奖励,最高奖励4000元。
此外,如果公司拥有发明专利和创新技术,可以向深圳市政府申请奖励,最高可达300万元。如果深圳市政府给你发放奖励,还能向国家申请奖励,最高可达1000万元
我来自一个小城市,我老家的福利不高,我希望在大城市定居,如果我有专利,会有帮助的。深圳落户需要100分积分,如果你有专利,最高奖励50分。
PS:中国最高领导人非常重视创新。
PS:我大学毕业很多年了,毕业后我就很少用英语了。这是我用谷歌翻译写的。
Patrick Donohue, Inventor
Originally Answered: Why has China been leading the world in patent filing, over 1.1 m patent filing in 2015 alone?
Do you know what the population of China is?
In 2011, estimates from the U.S. Census Bureau put China at 1.34 B. The United States is a distant third with 311.1 million people.
Of course given that was 5 years ago the number for China is much higher now.
(For the sake of argument and illustration, we will use these numbers.)
Now, to put this in perspective, there is one patent for every 1,218.18 Chinese.
Given 311.1 M US residents 589,410 patents granted in 2015 that's about one patent for every 5.28 people.
But these numbers are muddied by people/companies from foreign countries who apply for patents in other countries.
In China in 2004, there were roughly equal resident to non-resident applications. Fast-forward to 2014, and we see a dramatic growth in patent applications from residents – a more than 12-fold increase over 2004. By comparison, non-resident filings doubled.
最初的问题是:为什么中国在专利申请方面一直领先世界,仅2015年就有110多万件专利申请?
你知道中国有多少人口吗?
2011年,美国人口普查局估计中国人口为13.4亿。美国人口仅有3.111亿,差距很大。
当然,这是5年前的数字了,中国现在的数字要高得多。
(为了论证和说明,我们就用这些数字来说明。)
现在从这个角度来看,每1218.18个中国人就有一个专利。
考虑到2015年美国有3.111亿居民获得了589,410项专利,大约每5.28人就有一项专利。
但这些数字被在其他国家申请专利的外国人士/公司搅得一团糟。
2004年,中国居民和非居民的申请数量大致相当。快进到2014年,我们看到居民的专利申请急剧增长——比2004年增长了12倍多。相比之下,非居民的申请增加了一倍。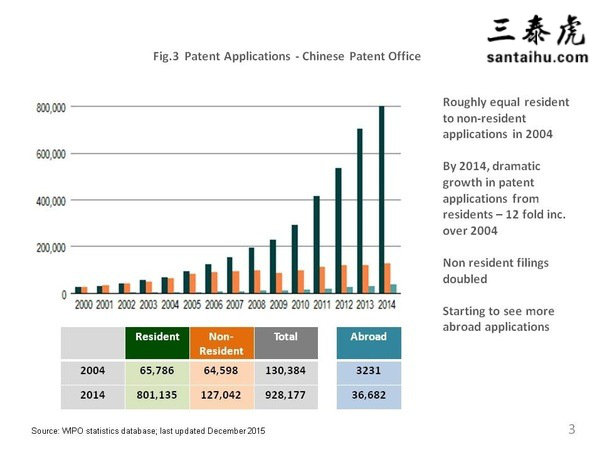 So what we have here is a numbers game that needs to be cleaned up.
However the enormous size of China's population must be brought into focus. That number alone serves to explane much. It woul also be interesting to see the average age.
Though in the end there will be a much lower ratio of patents granted in the USA than in China or another way to put it is that the Chinese would need to grant 243 times more patents to catch up to the USA.
Mind you, these numbers are a gross estimation to illustrate the effect of population alone on the outcome of the Chinese patent numbers as that plays a major role.
Unfortunately I just don't have the time to be more accurate. But the basic picture is still there however fuzzy it may be.
(I am also be curious if there is a difference in the amount of time it takes the Chinese patent office to grant a foreign patent versus a domestic one.)
所以我们这里需要弄清楚的是一个数字游戏。
然而,我们必须考虑中国庞大的人口规模。仅这个数字就足以说明很多问题。
虽然最终美国的专利获批率会比中国低很多,或者换句话说,中国需要授予243倍的专利才能赶上美国。
请注意,这些数字只是粗略的估计来说明人口对中国专利数量结果的影响,因为这一点很重要。
可惜我没有时间更进一步解释清楚。但无论数字精确与否,基本就是这个情况。
(我还想知道,中国专利局授予外国专利与国内专利所花的时间是否相同。)
George Sawyer, Working in Intellectual Property since 1995
The Chinese go nment (both central and provincial) wants people to file patents and is making sure it happens.
The go nment provide substantial incentives to file patents. Many provinces will give you a tax credit that covers filing fees, some will give you a tax credit that will cover the cost of drafting the patent application - so filing patents is either very inexpensive or free. In certain provinces, any firm with more than a certain number of patents (3~5) qualify as a "high-tech" firm and qualify for a lower tax rate. Having patents was also promoted as a status symbol among millionaires.
The entire cost of getting a patent in China is much lower than any other major country, the process is very fast. The majority of patents in China are 'utility patents' which are basically approved with only minor review, so it is not clear what percentage of them actually contain 'new' inventions. Multi-national firms often notice that their suppliers in China extensively file patents on the technology they learn from their foreign customers.
A few patent infringement trials resulted in huge monetary settlements to Chinese firms, these were heavily publicized by the go nment, and provide further incentive for Chinese firms to file for patents.
中国希望人们申请专利,并确保专利申请的顺利进行。
政府为申请专利提供了实质性的激励。许多省份会提供包含申请费的税收抵免,一些省份会提供包含起草专利申请费用的税收抵免,所以申请专利要么非常便宜,要么免费。在某些省份,任何拥有一定数量专利(3~5项)的企业都有资格成为"高科技"企业并享受较低的税率。拥有专利在百万富翁中也成为一种地位的象征。
在中国获得专利的总成本比任何其他主要国家都要低得多,申请过程非常快。在中国,大多数专利都是"实用专利",基本上不需要太多审查就能获得批准,因此不清楚其中有多少比例的"新"发明。
一些侵犯专利权的案件给中国公司带来了巨额的金钱赔偿,政府对此进行了大量宣传并进一步鼓励中国公司申请专利。
Ray Comeau, lives in China (2009-present)
1 - The question is limited to the number of applications submitted not patents granted.
2- The majority of these patent applications are for Chinese patents.
3- Until 1990 China filed almost no patent applications.
Why the big change in the number of patent applications?
A - Until recently China's legal system did not recognizes the concept of intellectual property rights.
B - The go nment has encouraged R&D work and filing patent applications.
C - China is now rated below the US as one of the best countries for science and it is now #2 in investment of R&D.
D - The financial rewards of a successful patent and/or the financial rewards for having you Chinese patent violated is now well understood by Chinese businesses.
1 -问题只提到提交的申请数量,而不是获批的专利数量。
2-这些专利申请大部分是中国专利。
3-直到1990年,中国都几乎没有专利申请。
为什么专利申请数量会有这么大的变化?
A -直到最近,中国的法律制度才承认知识产权的概念。
B -政府鼓励研发工作和专利申请。
C -中国现在被评为位列美国之后的最佳科学国家之一,在研发投资方面排名第二。
D-中国企业现在很清楚一个成功专利的经济回报和/或中国专利被侵犯的经济回报了。
Allen Inks, Many of the patent applications I prepare are filed in US and China (PRC)
Years ago, we would never advise our clients to file for patent protection in th People's Republic of China. It would have been a waste of money; you couldn't get a judgement against an infringer. Now we do, as the courts there are beginning to enforce patents, and we expect patent enforcement to continue and even get more robust as Chinese companies develop valuable IP of their own.
多年前,我们从不建议我们的客户在中华人民共和国申请专利保护。那纯属浪费钱;你不能拿侵权者怎么办。现在我们这样建议客户这么做,因为中国的法院开始执行专利权法,我们认为随着中国公司开发出自己有价值的知识产权,专利执行将继续下去,甚至会变得更加有力。
Aditya Kochhar, lives in India
True. However, the current Indian go nment has done a number of things to improve upon the current status and we may see the numbers rising in the future.
One important recent development is the Start-up India program: The start-up India program offers many incentives for patent filing, namely:
a) the patent office fee for start-ups is miniscule in comparison or large companies. For example, the patent filing fee for startups is RS. 1600, while for large companies is RS. 8000 per patent application.
b) fast track examination for startups, i.e. there is a fast track mechanism available for startups to get there applications processed within 1–2 years at max rather than the conventional 4–5 year process.
c) tax benefits: if your company develops an innovative product and licensed the technology out, you will get tax benefits. There is a flat 10% tax on licensing revenue, which is much lower than the regular corporate income tax.
d) SIPP scheme: there are a number of patent agents registered as startup facilitators whose professional fee is paid plby the go nment for filing a patent application for a registered startup. I.e. the startup only has to pay statutory fee, which is as low as rs. 1600.
是真的。不过目前的印度政府已经采取了一些措施来改善目前的状况,我们可能会看到未来这个数字的上升。
最近一个重要的进展是"印度创业计划":"印度创业计划"为专利申请提供了许多激励措施,即:
a)与大公司相比,初创公司的专利费微不足道。例如,初创公司的专利申请费是1600卢比,而大公司的申请费是8000卢比。
b)对初创企业快速审查,对初创企业有快速审查机制,可以在1-2年内完成申请,而非传统的4-5年流程。
c)税收优惠:如果你的公司开发了一种创新产品,并将该技术授权出去,你将获得税收优惠。许可证收入有10%的统一税率,这比普通企业所得税低得多。
d) SIPP计划:注册为创业服务企业的专利代理机构数量众多,注册创业专利申请的专业费用由政府支付。也就是说,初创公司只需要支付法定费用,最低只需1600卢比。
However, there are still caviats in Indian policy, the University system still needs upgrading to start-with. Despite being the biggest engines of innovation in the country, universities are poised at a number of disadvantages, namely,
a) lack of procedural and legal awareness, simply put, patent applications are to be filed before public display of the invention, it is crucial for protecting the invention. However, patents are mostly an afterthought if the project is lauded in public presentations. This public display results in loss of patent rights in many cases.
b) Sub-optimal utilisation of funds: the universities are charged large entity fee for their patent filings: i.e. they are charged with fee that is equal to the fee charged to large companies. This makes it difficult and very expensive to hold patent application on limited funds of a university. Also, universities rarely make any profits out of their patents. Thus, unvirsity funds are sub-optimally utilised if not burdened by the current patent system. A better solution would be to treat universities as startup incubators.
c) ownership of the patent is entirely of the University/institute, thus the inventors are not very much persuaded to take the invention forward.
然而,印度的政策中仍然有一些不足之处,大学系统仍然需要升级。尽管大学是印度最大的创新引擎,但它们也面临着一些劣势,
a)缺乏程序和法律意识,简单地说,专利申请是在发明公开展示之前提出的,这对保护发明至关重要。然而,如果该项目已进行公开说明,专利申请通常是事后才想到的。这种公开说明在许多情况下导致专利权的丧失。
b)资金使用不理想:大学专利申请的费用很高,与大公司支付的申请费用不相上下。这使得大学在有限的资金下进行专利申请变得困难、昂贵。此外,大学很少从专利中获利。因此,更好的解决办法是把大学当作创业孵化器。
c)专利的所有权完全属于大学/研究所,因此发明者没有动力去推进创新发明。
There could be many bureaucratic hurdles that I have not mentioned, but these are the main ones according to my understanding.
However, things are moving in a positive direction and we can keep our fingers crossed as we may see a gradual rise in patent filings in India.
In a nutshell, right now in 2017, if you have an idea you want to patent and sell, you should register a startup in India to get the most out of your investment both in terms of money and time.
可能还有许多我没有提到的官僚障碍,但根据我的理解,这些是主要的障碍。
不过事情正朝着积极的方向发展,我们可以祈求好运,因为我们可能会看到印度专利申请量逐渐上升。
简而言之,现在是2017年,如果你有一个想法想要申请专利并出售,你应该在印度注册一家初创公司,这样可以从资金和时间两方面最大限度地利用你的投资。
Global IP India, Obtaining & Protecting Intellectual Property Worldwide
This is a very interesting question. I had the honour of exhibiting in one of the biggest patent conferences in China last month. It was my first time to an IP event in China, and I was amazed by the rapid pace of development in China. Just to give you numbers, China sees more than 1 million patent applications every year. The number of professionals in China are mor than 100,000 and it is ecommon for a big patent firm in China to have more than 200 or so employees.
Below are few pictures of the biggest patent conference in China.
这是一个非常有趣的问题。上个月,我有幸参加了中国最大的专利会议之一。这是我第一次在中国参加知识产权活动,我对中国的高速发展感到惊讶。我给大家列举一些数字吧,中国每年有超过100万的专利申请。中国的专业人员超过10万人,对于中国的大型专利公司来说,拥有200多名员工是司空见惯的事。
From the first day of conference, I was curious to explore about the reasons for such a high pace of development. Chinese patent office is one of the recent patent offices in the world. It was founded only in 1980. Yet it is seeing such huge numbers of IP filings. How and why?
Upon inquires, one of the points that was echoed by everyone who knows the field of patents in last 20 years. That of go nment support. The ubiquitous Chinese go nment places huge value in the value patent protection could bring to Chinese businesses and Chinese economic ecosystem. That is why it promotes Chinese corporations to file patents by encouraging tax breaks and other benefits.
Usually, the norm is that the incentive to innovate leads to patents. With China the theory is reverse. That is the incentive to file patents has driven their creativity. Against popular belief, I do not believe that all the inventions in China are sub standard. The level of their inventions are much higher than people believe.
In addition to that the Chinese go nment also considers patents of nationalistic pride. For their go nment, patent is a game they want to beat the west on. That is why they encourage Chinese companies to file a certain minimum numbers every year.
从会议的第一天开始,我就很好奇的去探究为什么发展速度如此之高。中国专利局是世界上成立时间最短的专利局之一。它成立于1980年。但是它收到了非常庞大的知识产权申请数量。它是如何做到的,原因是什么?
在被问及这个问题时,在过去的20年里,每一个了解专利领域的人都赞同这一点。这就是它得到了政府的支持。无处不在的中国高度重视专利保护给中国企业和中国经济生态系统带来的价值。这就是为什么它通过税收减免政策和其他福利来推动中国企业申请专利。
通常是创新带来专利。但在中国,情况正好相反。申请专利的动机驱动了他们的创造力。与普遍的看法相反,我并不认为中国的发明质量不佳。他们的发明水平比人们想象的要高得多。
除此之外,中国还考虑了民族自豪感的专利。对他们的政府来说,专利是一场他们想要打败西方的游戏。这就是为什么他们鼓励中国公司每年提交一定的申请数量。