India's Aircraft Carrier Future: British Designed and F-35 Armed?
下一艘印度航母: 英国设计,搭载F-35?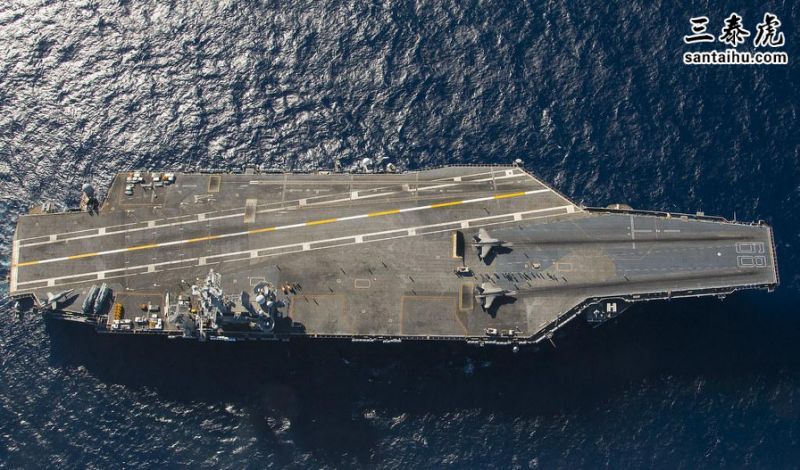 by Charlie Gao
India's search for a third carrier recently made big news in the United Kingdom when it was announced that Indian Navy officials visited the Rosyth dockyard in Scotland, where the Royal Navy's HMS Queen Elizabeth carrier was built. Reports have suggested that this delegation was interested in buying plans for the QE as a basis for their third carrier, the INS Vishal.
最近印度要造第三艘航母的举动,在英国引起了轰动。印度海军官访问了苏格兰的罗塞斯造船厂,英国皇家海军"伊丽莎白女王"号航母就是在那里建造的。有报道称,该代表团有意购买""伊丽莎白女王"号"的图纸,为其第三艘航母"维沙尔"号提供参考。
But why is India interested in a British design? What planes might it use? Could it lead to an F-35 purchase by India?
为何印度对英国的设计感兴趣呢?这艘航母可能搭载什么飞机?印度会购买F-35吗?
India's prior experience with the INS Viraat, a former Royal Navy aircraft carrier could have lead to their preference for British design. The INS Viraat was decommissioned in 2017 after serving the Indian Navy for over thirty years. It was replaced by the INS Vikramaditya, a former Russian carrier, but the INS Vikramaditya has had significant issues with its powerplant and boilers. The INS Vikramaditya's issues have proven deadly, with a boiler fire killing an officer on board in April 2019.
印度之前使用"维拉特"号(前身为英国皇家海军航母)航母的经验,可能会使他们偏爱英国的设计。"维拉特"号航母在服役印度海军30多年后,于2017年退役。它被"维克拉玛蒂亚"号(前身为俄罗斯航母)所取代,不过"维克拉玛蒂亚"号的发动机和锅炉存在严重问题。事实证明,"维克拉玛蒂亚"号航母的问题是致命的,2019年4月,该航母起火并导致一名军官遇难。
While the INS Viraat also killed one of its officers in a similar fire in 2016, the INS Viraat is far older than the INS Vikramaditya and served for far longer. The INS Vikramaditya has killed three people in the five years she has been in service.
虽然"维拉特"号航母也在2016年的一场类似火灾中致一名军官遇难,但"维拉特"号比"维克拉玛蒂亚"号的服役时间长得多。在服役的五年中,"维克拉玛蒂亚"号已造成3人死亡。
This abysmal safety record probably has driven interest in British designs, which are known to be generally safer and feature modern gas turbines in contrast to the INS Viraat and INS Vikramaditya's boilers.
这一糟糕的安全记录可能激发了人们对英国设计的兴趣。众所周知,英国的设计总体上安全性更好,而且采用了现代燃气轮机,与"维拉特"号和"维克拉玛蒂亚"号的锅炉形成了鲜明对比。
With regard to planes, both the INS Vikramaditya and the INS Vikrant (India's second carrier, currently undergoing trials) are designed to use MiG-29Ks, navalized variants of the MiG-29. However, problems with these aircraft may lead to the procurement of a new carrier-borne aircraft in the near future.
关于舰载机,"维克拉玛蒂亚"号和"维克兰特"号(印度的第二艘航母,目前正在试验中)都使用米格- 29ks,也就是米格-29的改型。然而,这些飞机的问题可能促使印度海军在不久的将来采购一种新舰载机。
India buying the F-35 could be potentially politically toxic due to America's relationship with Pakistan. However, after India's withdrawal from co-developing the Su-57 jet with Russia, there have been rumbles of F-35 interest within the Indian Air Force. Classified briefings were said to have taken place early in 2018, and Lockheed's pitch of the "F-21" jet to India was accompanied by the tagline "India's pathway to F-35", though this was quickly redacted.
在印度退出与俄罗斯共同开发苏-57战机之后,印度空军内部已经传出了对F-35感兴趣的传言。据称,机密简报已于2018年初举行,洛克希德公司向印度推销"F-21"战机时,还附带了一句口号"印度通往F-35之路",不过这句话很快就被改写了。
美国雅虎读者的评论:
译文来源:三泰虎 http://www.santaihu.com/47622.html
外文:https://news.yahoo.com
grignon13 hours ago
This is pointless posturing by India's leaders. All of India's territory is well within fighting range of land based aircraft. As is the whole of its main adversary's territory. Aircraft carriers cannot function as a single ship. They require an extensive and expensive support fleet if they are not to be neutralized by a single submarine or air attack.
印度领导人这是故作姿态,毫无意义。印度国土在陆基飞机的作战范围之内。航母不能单独行动,需要一支庞大的护卫舰队。
Brianyesterday
If it's a British design...will the planes taxi on the wrong side, like English cars....?
如果是英国设计……飞机会像英国汽车那样靠左侧滑行吗?
Meyesterday
Will India buy England design toilets too ?
印度会购买英国设计的厕所吗?
sbiyesterday
Indian armed forces may be the 4th largest in the world in numbers but the equipment in use is woefully outdated and manpower poorly trained. India took over 30 years to design plan and build the prototype of its small third generation fighter aircraft the Teja which according to media report is now being inducted into the air force UK aircraft technology is old and outdated.
从人数来看,印度军队是世界第四大军队,使用的装备已经过时,训练不足。印度造"光辉"战机,花了30多年的时间
West8 hours ago
What about building some toilets in India ?
先在印度修厕所吧?
drew17 hours ago
India has operated two British built aircraft carriers.
印度已经有两艘英国建造的航母了。
r3yesterday
we can only hope india continues to grow strong.
希望印度日益强大。
Dyesterday
We wouldn't sell them F35s, but we can sell them our old Harriers.
我们不卖F-35给他们,可以卖老款鹞式喷气战机。
Anonymousyesterday
India is top recipient of US economic aid. . .
印度获得的美国经济援助最多……
true telleryesterday
Is that aircraft carrier expired for British Navy?
那艘航母在英国海军的服役期满了吗?
Jimyesterday
Indian built aircraft carriers are not one I would dare serve.
印度造的航母,我可不敢上去服役
Robertyesterday
And just what would India do with an aircraft carrier.
印度拿航母来干嘛?
Romney 20122 days ago
Powered by cows.
用牛来拉吧
davidlyesterday
Why India will want to waste $billion to build up its military instead of building up its infrastructure and improve the standard of livings for its citizens?
这10亿美元还不如用来修基础设施呢,可以提高人民的生活水平
Syesterday
Why can't Indians make their own? Indians are super-smart people. Why does the West have to keep everyone dependent on them?
为什么印度人不自己造航母? 印度人非常聪明,为什么要依赖西方?
FISH..yesterday
WANNA CUT COST...BUILD IT OUT OF BAMBOO.
想降低成本…那就用竹子造。
Hassanyesterday
Will it have enough toilets?
厕所够用了吗?
Al Frankenyesterday
Powered by curry
烧咖喱提供动力
Garyyesterday
And yet the Indian military continues to woo the Russians. Amazing.
印度军方仍在继续向俄罗斯示好,很奇怪。
byyesterday
Will they lease it like they did the Russian carrier?
会选择租航母吗?就像租俄罗斯航母那样
Puneethyesterday
India does not need all this. It is a peace loving country. In case of a war Russia and America will fight for India.
印度是一个爱好和平的国家。万一发生战争,俄罗斯和美国将为印度而战
eeyaw2 hours ago
Indian aircraft carrier powered by cow dung.
印度航母由牛粪驱动。
johnyesterday
India got no money
印度没钱买
M B7 hours ago
India will never buy F35 because US will not sell it to India.
印度永远买不到F35,美国不会卖给印度的。
Jagmohan7 hours ago
Most of the comments are feel superior and stupid. India is a giant waking up.
印度是一个觉醒的巨人,印度已经是世界第四大经济体了。
Me3 hours ago
Buy from Russia...get junk!
从俄罗斯买,结果买到的是垃圾。