IAF jets intercept Georgian cargo plane after it deviates from flight path, force it to land at Jaipur
印度空军战机拦截偏离航线的格鲁吉亚货机,迫使其降落在斋浦尔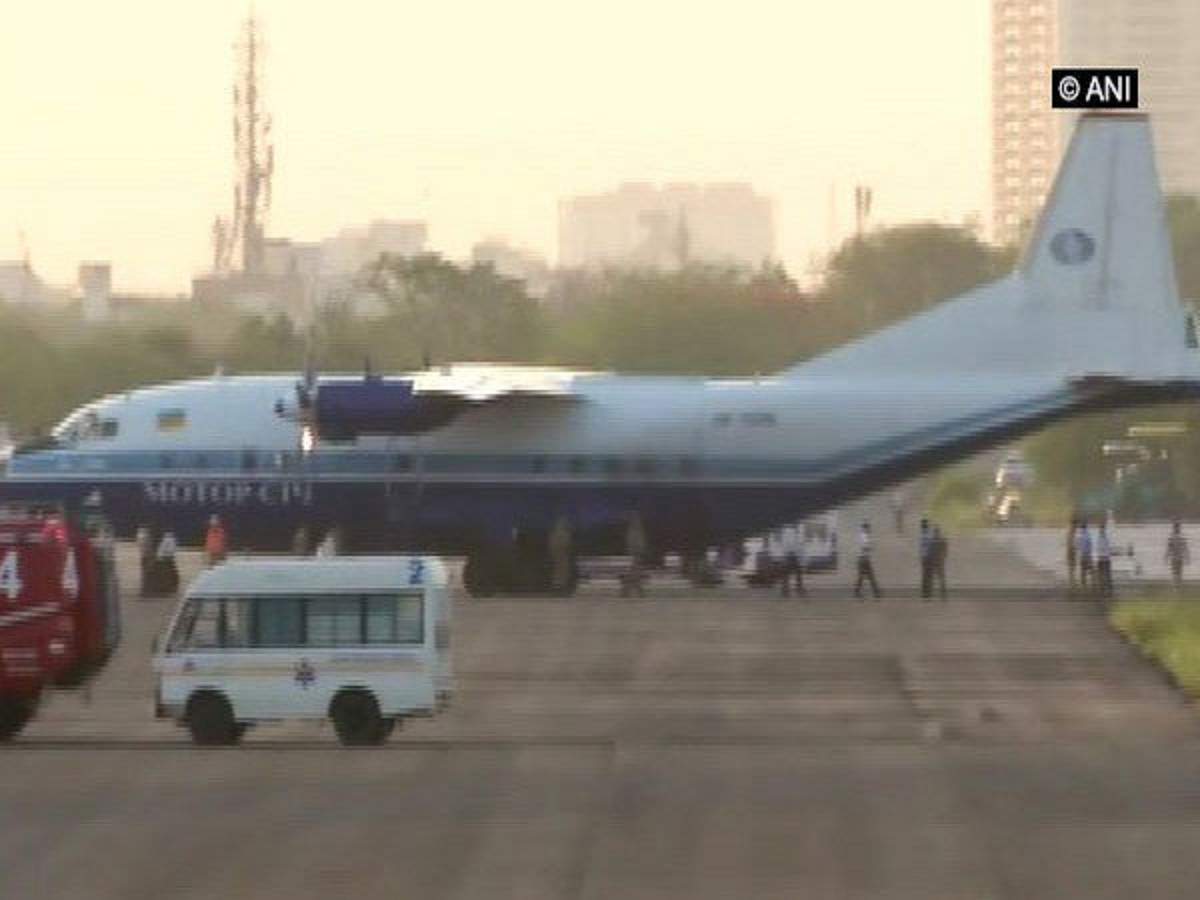 NEW DELHI: India scrambled fighters to force an Antonov AN-12 commercial cargo aircraft of Georgia to land at the Jaipur airport after it diverted from its scheduled flight path from Pakistan and entered Indian airspace in north Gujarat on Friday afternoon.
新德里: 周五下午,格鲁吉亚一架安东诺夫安AN-12型商用运输机从巴基斯坦改道进入印度古吉拉特邦北部领空,随后印度紧急出动战斗机进行拦截,迫使该飞机降落在斋浦尔机场。
"The AN-12 aircraft, which had got airborne from Tbilisi in Georgia for Delhi via Karachi, was forced to land at Jaipur at 4.30 pm. Intelligence Bureau, CISF and local police offi als are questioning the two pilots and six others on board the aircraft as well as inspecting the cargo to ascertain more details," said an offi al.
一位官员称:"这架AN-12货机从格鲁吉亚第比利斯出发经卡拉奇飞往德里,于下午4时30分被迫降在斋浦尔。情报部门CISF和当地警官正在审问机上的两名飞行员和另外六名人员,并检查货物,了解更多细节。"
Flying cargo for an aircraft engine-manufacturing company called Motor Sich based in Ukraine, the AN-12 entered Indian airspace north of Nalia at about 3.15 pm from a route closed for air traffic by Pakistan ever since the Bkot air strikes on February 26.
这架AN-12货机为乌克兰一家名为Motor Sich的飞机发动机制造公司运送货物,于下午3点15分左右从2月26日巴拉克特空袭以来一直被巴基斯坦关闭的航线进入位于纳利亚北部的印度领空。
"Though the aircraft had its IFF (Identification, Friend or Foe) transponder switched 'on' as per procedure, it did not follow the authorized Air Traffic Services (ATS) route and entered Indian airspace from an unscheduled point. It was also not responding to radio calls from Indian controlling agencies," said an IAF offi al.
印度空军一名官员表示:"尽管这架飞机的敌我识别应答器按程序打开了,但它没有遵循经授权的空中航线进入印度领空,也没有回应来自印度方面的无线电呼叫"
The IAF then swiftly scrambled two fully-armed Sukhoi-30MKI fighters from Jodhpur to intercept the plane
印度空军随后迅速从焦特布尔紧急调来两架全副武装的苏霍伊- 30mki战斗机ng拦截这架飞机
印度时报读者的评论:
译文来源:三泰虎 http://www.santaihu.com/47603.html 译者:Jessica.Wu
外文:https://timesofindia.indiatimes.com
Arun Choudhary • 19 hours ago
It is effect of Modi Ji ,,,,modi ji has given full flames
莫迪效应,莫迪已经发威了。
Rahul Sc • india • 8 hours ago
Rahul does not understand about plane. He will just bang his head on wall. We will hear loud head bangging responses from ANTI-INDIA Rahul, Arvind and Mamta. They work for PAK. For them it was sacred plane from Jannat called PAK.
拉胡尔不懂飞机,他只会用头撞墙。我们将看到反国家的拉胡尔、阿尔温德和玛玛塔跳出来表示强烈反对,他们为巴基斯坦效力。对他们来说,这是来自巴基斯坦的神圣飞机。
krishnamurthi narrainen • QUATRE BORNES MAURITIUS • 19 hours ago
DON''T MESS WITH PM MODI
别惹我们莫迪总理
Arun Choudhary • Pakistan • 14 hours ago
What will Modi do when he is leaving the office now?
莫迪卸任后要去干嘛?
Mr Facts • 6 hours ago
He is not leaving, but coming back to do another BALAKOT boom boom of your Pakistan and eradicate all of you slump1g bhikariii Pakistani sl ves
莫迪不会卸任的,他会连任,然后再给巴基斯坦来一次打击
Shankarnarayan Sarma • Ghaziabad(UP) • 18 hours ago
Well done IAF. Congrats.
印度空军,干得好,向你们表示祝贺。
HSF • Australia • 18 hours ago
This is the result of Modi giving total fre m to defense forces to prect India and Indian air space.
莫迪放权给国防部队,让他们保护印度领土和领空,这就是成果。
HSF • 15 hours ago
Lol...it''s cargo plane...fekku adventure resulted in two plane loss
哈哈,就一架货机而已,莫迪还冒着损失两架战机的风险去拦截。
Machine • 18 hours ago
This is Modi''s governance model. Always on alert. Don''t spoil the future of your kids by voting for any other . We want Modi only.
这就是莫迪的治理模式,时刻保持警惕。别把票投给别的政党,以免毁了你孩子的未来。我们只要莫迪当总理。
Sachin Choudhry • Mumbai • 18 hours ago
Level of Indian alertness and detection - wow. Hats off.
印度人的警觉性和侦查水平真高,致敬。
Sachin Choudhry • 16 hours ago
A big aircraft flying at27000 ft with transponder switched on is like a car coming in at night with headlights switched on..I dont think IAF is blind
一架开着应答器在27000英尺高空飞行的大型飞机,就像一辆开着大灯的汽车在夜间进站一样。印度空军又不是瞎子。
Bhanwar Awat • JODHPUR • 19 hours ago
ALERT INDIAN AIR FORCE .SALUTE ...JAI HIND.
向印度空军的高警惕性致敬,印度必胜!
Siv Sarkar • 19 hours ago
Good job Indian Airforce Pilots ! But the overall credit goes to Modiji ! Jay Ho Modiji!
印度空军飞行员做得得好 ! 莫迪功不可没!莫迪必胜 !
Kamginvaiphei • 18 hours ago
At Abbas Nath. Indian pilots are patriotic and fa thful.
印度飞行员爱国、忠诚。
Kamginvaiphei Vaiphei • Mackay • 18 hours ago
Paki pilot shot down Wing commander Abhinandan Varthn of the IAF
巴基斯坦空军飞行员击落了印度空军中校阿比纳丹·瓦尔塔曼驾驶的战机
Hindustan • Hindustan Hindu Rashtra • 18 hours ago
Proud of Air Force of Hindustan which is given free hand under leadership of PM Modi ji.
Our Air Force is the most Superior in the whole World.
Jai Hind
为印度空军感到骄傲。在莫迪总理的领导下,他们可以放开手行事。我们的空军是全球最强的。印度必胜!
Hindustan Hindu Rashtra youtub • Kolkata • 18 hours ago
Forces report to Presi nt, not modiji
军队向总统汇报,不是莫迪
Syma ZW Khan • Delhi • 16 hours ago
Country is run by PM not Presi nt
印度是总理执政,不是总统。
IndiaFirst Gujarati • Kolkata • 16 hours ago
The Presi nt of India is the Supreme Commander of the Indian Armed Forces.
印度总统是印度武装部队的最高统帅。
Bharath Reddy • 18 hours ago
Before Modi, no unity among Hindus. Now they are united and few like you are jealous and Fuming.
莫迪当总理之前,印度人不团结,现在他们都团结在一起了。
Sridhar Reddy • 18 hours ago
Country is in safe hands .. big salute to IAF and army for being alert 24*7..
印度很安全,向印度空军和陆军致敬,感谢他们时刻保持警惕。
Sridhar Reddy • 18 hours ago
Salute Navy as well who lost 3 billion dollars submarine
向断送价值30亿美元潜艇的印度海军致敬
Rajesh Singhal • 18 hours ago
If it had been the Congress go nment, the cargo air flight would have flown past over the Indian territory peacefully.
如果是国大党执政,这架货机就会顺利飞越印度领土。
Gopalkrishnan • Hyderabad • 18 hours ago
kudos. we are alert. IAF or Army need not to seek advise from po itical command as they have a free hand now
我们时刻保持警惕,印度空军和印度陆军不需要征求政治领袖的建议,现在有了自行决定的权利。
Iffi J • bangalore • 18 hours ago
Credit goes to IAF and Air traffic controllers.only..a job well done
这要归功于印度空军和空管人员,做得好
Bhanwar Awat • JODHPUR • 18 hours ago
INDIAN AIR SPACE, INDIAN WATER AND LAND EVEN SPACE IS SAFE NOW, EVERY INDIAN FEEL SAFE AND PROUD , BECAZ MODI HE TO MUMKIN HE.....JAI HIND.
现在每个印度人都有安全感了,我感到自豪,一切归功于莫迪。印度必胜!
Pavneet Singh • New Delhi, India • 18 hours ago
Only possible because of Modi . Never before modi was our air force this effective
有莫迪在,这才有可能。在莫迪上台之前,我们的空军从来没有这么高效过。
Venkat Apr • Location • 18 hours ago
Wow again modi is great, irrespective of kind of news
哇,不管是什么样的新闻,反正高喊莫迪伟大就对了。
Apurba Putatunda • 18 hours ago
IAF is always prepared to prect India, as is Modiji.
印度空军时刻准备保护印度,莫迪也是。
Harris • 18 hours ago
wish they had actually shot a Pakistani plane
真希望他们击落了一架巴基斯坦飞机